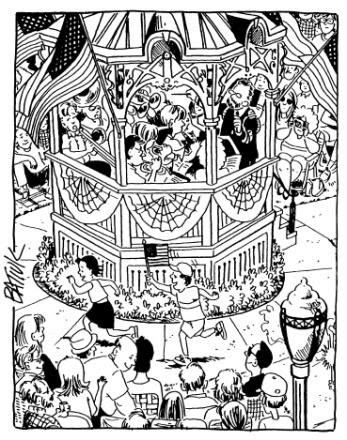 Medina Community Band
Complete information on the each concert, literature performed, soloists, and guest conductors, as well as personnel for each concert can all be found on our website: http://www.medinacommunityband.org/
This material covers the 7th concert – Friday, July 15th, 2011, 8:30p – 9:30p
Site: Medina's Uptown Park Square (intersections of Rts 18, 42, Broadway and Liberty Street)
Cancellation of concerts due to the weather will be posted on the above website!
MEDINA: Medina Community Band will continue the 2011 summer season, a celebration of 152 years of presenting community concerts in Medina, on Friday, July 15th, 2011, at 8:30p, in Medina's Uptown Park Square Gazebo.
Featured soloists on this hour-long concert will be: John Connors, trombone, and Dixieland ensemble members: Vicki Smith, clarinet; Marcia Nelson-Kline, trumpet; Lee Harper, trombone; and Kyle Snyder, tuba. The Medina Community Band is under the baton of conductor Marcus Neiman and associate conductor Curtis Amrein. Special guest conductor for the evening will be Nathan Stark, director of the Case Western Reserve University Marching Band. The 60 minute concert will feature works by von Suppé, Clarke, Anderson, McLeod, and marches by King, Fillmore, and Sousa. Medina Community Band is sponsored by the Medina Community Band Association, a standing committee of the Medina Breakfast Kiwanis Club.
This program is dedicated to the memory of Medina Community Band long-time fan F. Eugene Smith.
Featured Soloists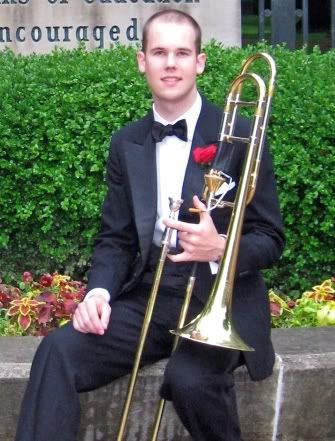 John Connors
is a 2007 graduate of Highland High School and pursuing a bachelor of music degree in trombone performance. While at Ohio University, he has played in the Symphonic Band, Jazz Ensemble I, the Wind Ensemble, the Symphony Orchestra, and the Marching 110. In addition to being a full-time student, John is also a Specialist in the United States Army, serving as a trombone player in the 122
nd
Army Band of the Ohio National Guard. John has been of fan of the Medina Community Band since his parents brought him to the summer concerts as a young child. He was very excited to be welcomed into the band in the 8
th
grade, and this summer is his 7
th
playing on the gazebo. John feels that performing summer concerts in the square have been some of his most enjoyable musical experiences thus far. He is a resident of Granger Township.
Conductors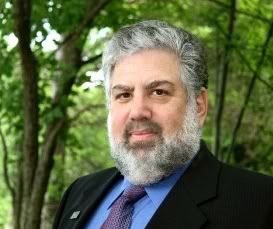 Marcus Neiman
(left) celebrates his 39
th
season as conductor of the Medina Community Band. Neiman continues in the position of interim director of concert band at Kent State University where he teaches their on-campus "Music Teaching as a Profession" course and supervises music education student teachers, serving as a part-time assistant professor.
He received his bachelor of science in music education degree from The University of Akron; master of music in music education degree from The University of Michigan; and, post-degree doctorial work at The Kent State University.
He is a member of the 1993-94 class of Leadership Medina County. Neiman remains active with Ohio Music Education Association (OMEA), having served as state president of that organization from 1998-2000, and currently serves as a woodwind adjudicator and state historian. He is the recipient OMEAs highest honor, the "Distinguished Service Award," presented to him on January 29th, 2010. Neiman is the artistic director and founding conductor of the professional concert band – The Sounds of Sousa Band and appears throughout the nation as a guest clinician and conductor.
Marcus and his wife Mary Ann, who is a professional clarinetist and program administrator - preparatory and continuing education department for the Cleveland Institute of Music, reside in Medina with their two cats Sasha and Dmitri. Marcus has two daughters (Nancy and Jennifer) from a previous marriage, three granddaughters, one grandson, and a godson.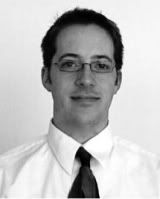 Curtis Amrein
(associate conductor, at right) is the director of bands at U.L. Light Middle School in Barberton, Ohio. His responsibilities include teaching sixth, seventh, and eighth grade bands in addition to jazz and percussion ensembles. Under his direction, students at U.L. Light have received superior ratings at Ohio Music Education Association large group and solo and ensemble adjudicated events. 
Curtis received his bachelor's degree in music education from The Ohio State University in 2004, where he graduated Magna Cum Laude. While there, Mr. Amrein performed with the Symphonic Band, Wind Symphony, and Symphony Orchestra. He is a trumpet student of Timothy Leasure and was the 2004 recipient of the Richard Burkart Trumpet Award. Curtis' conducting teachers include Dr. Richard Blatti and Marcus Neiman.
Mr. Amrein serves as both an associate conductor and trumpet player with the Medina Community Band. He also performs with the Sounds of Sousa Band, also under the direction of Marcus Neiman. Curtis is an active member of the Ohio Music Educators Association, National Association for Music Education (MENC), and Ohio Education Association. The 2011 season is Curtis' first as associate conductor of Medina Community Band.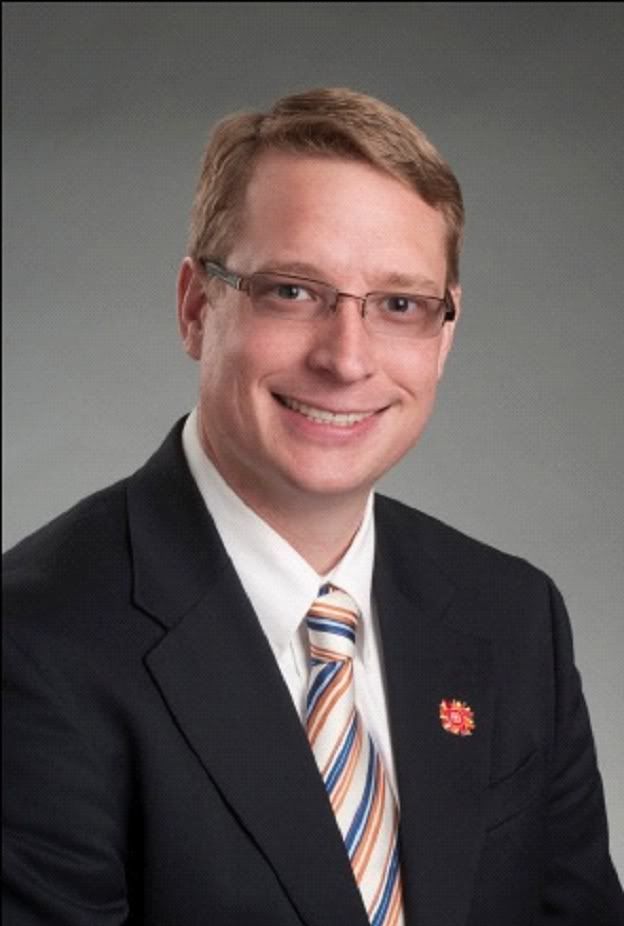 Dr. Nathan Stark
(at left) is an active musician, whose concentrations include ensemble directing, free-lance performing, and marching band show production. Prior to his current appointment as Marching Band Director at CWRU, Dr. Stark served as visiting professor of athletic bands at Boise State University, with the primary duty of directing the Keith Stein Blue Thunder Marching Band. In addition to his recent involvement as band director in the 2010 Fiesta Bowl, Nathan conducted the 2009 Humanitarian Bowl Pre-Game Show. Nathan is also an active clinician, adjudicator, and drill writer for high school bands around the country.
Nathan has worked as a free-lance performer in both Idaho and Arizona. He has participated in numerous festivals and workshops around the country and in Mexico, as well as touring the nation as a member of the Santa Clara Vanguard drum and bugle corps. He has performed in many orchestral "back-up" ensembles for famous professional acts, most notably the
Three Tenors
,
Les Miserables
, The Bolshoi Ballet, the Moody Blues and Riders of the Purple Sage. Dr. Stark holds his B.M. in Music Education from Boise State University, and his M.M. and D.M.A. in French Horn Performance from Arizona State.
Program Notes
Star Spangled Banner (John Stafford Smith arranged by John Philip Sousa) uses lyrics from a poem written in 1914 by Francis Scott Key, a then 35-year-old amateur poet after seeing the bombardment of Fort McHenry at Baltimore, Maryland, by Royal Navy ships in Chesapeake Bay during the War of 1812.
The poem was set to the tune of a popular British drinking song, written by John Stafford Smith for the Anacreontic Society, a London social club. Set to Key's poem and renamed "The Star-Spangled Banner," it would soon become a well-known American patriotic song. It was recognized for official use by the United States Navy in 1889 and the President in 1916, and was made the national anthem by a congressional resolution on March 3, 1931 (46 Stat. 1508, codified at 36 U.S.C. § 301), which was signed by President Herbert Hoover.
Before 1931, other songs served as the hymns of American officialdom. Most prominent among them was "Hail, Columbia" which served as the de facto national anthem from Washington's time and through the 18th and 19th centuries. Following the War of 1812 and subsequent American wars, other songs would emerge to complete for popularity at public events, among them "The Star Spangled Banner."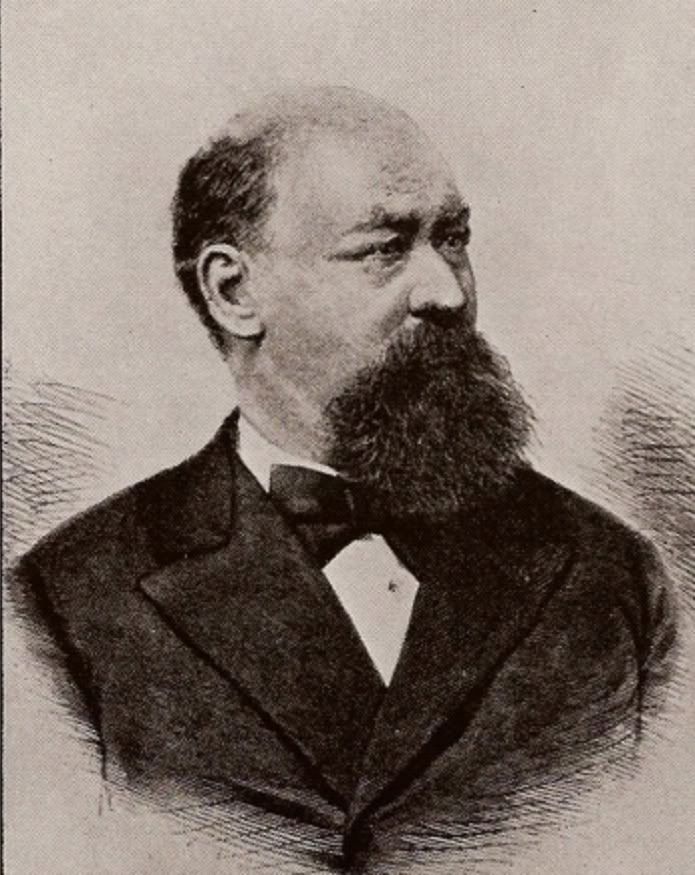 Franz von Suppé
(pictured at right) was born in Spalato, Dalmatia (now Split, Croatia). His father was a Belgian working for the Austrian civil service, and his mother was Viennese. In spite of both parents' opposition, Suppé showed an early interest in music and proved himself a capable flutist. He studied law at the University of Padua in Italy, but moved with his mother to Vienna in 1835 after his father's death.
In Vienna, Suppé began to study music in earnest. He composed and conducted for several Viennese theatres, producing over 30 comic operas and operettas and over 180 other stage pieces. Suppé is best known for his opera Boccacio, but has been introduced to band audiences world-wide through transcriptions of his overtures to Morning, Noon, and Night in Vienna and Poet and Peasant.
The story of Poet and Peasant, one of the earliest Viennese operettas, has long since fallen into oblivion, but the portraits of the two title characters stand before us, with their features clearly defined, in the ever-popular overture to the piece. After a short introductory fanfare, der Dichter spricht ("the Poet speaks"), to borrow the title of the last movement of Schumann's piano cycle Scenes from Childhood, Op.15 - written only eight years before Poet and Peasant. The solo cello is the Poet's voice, accompanied by the harp, that most poetic of instruments. Yet the Poet is soon awakened from his Romantic reverie by the lively dance of the village people, and he is soon swept up in the festivities, with a glass of wine in his hand.
Franz von Suppé's first language was Italian (he was a distant relative of Donizetti), but he moved to Vienna at the age of sixteen and soon became connected with the Theater in der Josefstadt and later with the Theater an der Wien. These were places where a special, and typically Viennese, form of popular theater was developing, and Suppé used his talents to increase the role of music in these productions. But the line between high-brow and low-brow had not been drawn yet; Suppé's more than 200 stage works include grand operas as well as Viennese farces and operettas after the French models of Offenbach.
Romantic poetry and rustic entertainment seem to co-exist happily in Poet and Peasant - just as they do in Beethoven's Sixth Symphony, where the dreamy "Scene by the Brook" is immediately followed by the "Merry Gathering of the Countryfolk." A true heir to the Viennese tradition, H.K. Gruber also straddles the fence of two worlds (and more!) in his orchestral "pandemonium," Frankenstein!!

Henry Fillmore
was one of our most prolific composers with 256 compositions to his record and almost 800 arrangements. He published under various pseudonyms as well as his own name: Henry Fillmore -114; Gus Beans – 2; Harold Bennett – 65; Ray Hall – 3; Harry Hartley – 6; Al Hayes – 57; Will Huff – 8; and Henrietta Moore – 1.
According to Herb Block, Henry got into a conflict with his father (who composed and published liturgical music in Cincinnati) over the kind of music that Henry was composing. Henry liked march music and said, "I will huff and puff and I will write my own music." Hence, the name Will Huff.
Fillmore was a true free spirit. He was brought up by a conservative family in a conservative town. When he couldn't do as he wished, he ran away with a circus and played trombone in the circus band. To top it all off, he married an exotic dancer.
Rolling Thunder (March). Fillmore composed the march in 1916 and dedicated it to Ed Hicker, presumably a trombonist since the piece was advertised as a "trombone ace." It has subsequently by circus bands for diverse acts, including High Sway Poles, Elephants, and Roman Rides.
In America, in the small towns and burgeoning industrial metropolises of the turn of the "last" century, cornetist were heroes. Small girls and boys would flock to hear them and their bands, resplendent in paramilitary costume, filled the Sunday-park air.
Herbert L. Clarke
(pictured at right), certainly the most famous cornetist of his time, would in his long career conduct ensembles with such bizarre names as the Huntsville Leather Company Band of Ontario.
Clarke was probably one of the two best-known players in cornet history. Proud of his Yankee heritage, he was born into a musical family in Woburn, Massachusetts, where his organist father assured all his sons through training in several instruments apiece, but tried to dissuade them from pursuing musical careers. Nevertheless, Herbert and his trombonist brother Ernest were to become famous soloists, first in Patrick Gilmore's historic ensemble (then conducted by Victor Herbert), later with John Philip Sousa.
At one time, Clarke was Sousa's highest-paid soloist, but despite efforts of the great man to keep him permanently, Clarke's band leading and composing interests were to take him on long sojourns. Much to Sousa's frustration, in fact, Clarke insisted on retiring from solo performance on the cornet at age 50 (a cut-off point he had set for himself in his youth – that on one might ever say to him, "he doesn't play as well as he did in his prime.") A composer of 240 works, Clarke brought the curiously rigid form of the cornet solo as far as it could reasonably go in harmonic interest and wealth of musical ideas.
Clarke recorded most of his 50-odd solo cornet compositions, including Bride of the Waves (recorded five times, the earliest in 1904), Sounds from the Hudson (1904), Caprice Brilliante (1908), Southern Cross (1911), and Stars in a Velvety Sky (1911).
Karl Lawrence King
(at left) was born February 21, 1891 in Paintersville, Ohio. His family moved to Xenia a short time later, and around the turn of the century, the King family moved to Canton, where young Karl would begin to develop an interest in bands and music. After receiving some instruction on the cornet, King switched to baritone. His first band experience was with the Thayer Military Band of Canton, while in his teens. In 1909 King spent some time as a member of bands in Columbus and also Danville, Illinois. While a member of these bands, King began to compose marches and other works. Beginning in 1910, King began a decade-long career as a circus musician, spending one season each as a baritone player in the bands of Robinson's Famous Circus, Yankee Robinson Circus, Sells Floto Circus, and the Barnum and Bailey "Greatest Show On Earth." He continued to write music while a member of these bands, and in 1913 wrote what would become his masterpiece, "Barnum and Bailey's Favorite."
In 1914 King accepted the position as bandleader on the Sells Floto/Buffalo Bill Combined Shows, a position he would hold for three seasons. In 1917 and 1918 he returned to the Barnum and Bailey Circus band, this time as its leader and conductor. Recently married and intent upon settling down, King ended his circus "trouping days" and returned to Canton in 1919, where he led the Grand Army Band. In 1920 King relocated to Fort Dodge, Iowa, where he assumed leadership of the municipal band and operated his own publishing company, the K. L. King Music House. During his tenure, the Fort Dodge band gained national recognition, and King became a beloved member of the community as well as a band musician of national and international repute. Among many honors bestowed upon King was membership in the prestigious American Bandmasters Association. He served as ABA President in 1938 and was later named an Honorary Life President. He lived in Fort Dodge for the remainder of his life, passing away on March 31, 1971. His Fort Dodge band was subsequently renamed the "Karl L. King Municipal Band" in his honor. On October 22, 2006, a life-sized bronze statue of Mr. King was unveiled on the city square in Fort Dodge, as a testament and monument to the city's most famous musician and citizen.
As a composer, King was one of the most prolific and popular in the history of band music. He composed at least 291 works, including 185 marches, 22 overtures, 12 galops, 29 waltzes, and works in many other styles. Not only did he compose some of the most brilliant and famous marches for experienced bands at the professional and university levels; he also displayed a remarkable ability to compose first-rate music for younger, less experienced musicians and bands. His music continues to be performed worldwide by bands of all experience levels.
Of the many serenades King wrote, A Night In June (1915) seemed to be one of the most popular. The piece has been transcribed for solo flute, clarinet, alto saxophone, trumpet, trombone, baritone, as well as various duets. It was also considered to be one of Mrs. Karl King's favorite serenades.
Ohio composer Karl King probably wrote Hosts of Freedom (1920) as a fast circus march, as a finale for the elephant act by the circus band in residence. What is so wonderful about the march is how well it flows.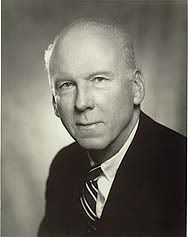 Clarinet Candy.
Composed by
Leroy Anderson
(pictured at right). Written in 1962 as a showpiece for four solo clarinets in the style of
Bugler's Holiday,
we feature our entire clarinet section.
Born in Cambridge, Massachusetts to Swedish parents, Anderson was given his first piano lessons by his mother, who was a church organist. He continued studying piano at the New England Conservatory of Music. In 1925 Anderson entered Harvard University, where he studied theory with Walter Spalding, counterpoint with Edward Ballantine, and harmony with George Enescu, composition with Walter Piston and double bass with Gaston Dufresne. He also studied organ with Henry Gideon. He graduated with a Bachelor of Arts degree in 1929 and Master of Arts in 1930.
Anderson continued studying at Harvard, working towards a PhD in German and Scandinavian languages. (Anderson spoke English and Swedish during his youth but he eventually became fluent in Danish, Norwegian, Icelandic, German, French, Italian, and Portuguese.) During this time he was also working as organist and choir director at the East Milton Congregational Church, leading the Harvard University Band, and conducting and arranging for dance bands around Boston. His arranging work came to the attention of Arthur Fiedler in 1936 and Anderson was asked to show Fiedler any original compositions. Anderson's first work was Jazz Pizzicato in 1938. Fiedler suggested that a companion piece be written and thus Anderson wrote Jazz Legato in 1938.
In 1942 Leroy Anderson joined the U.S. Army, and was assigned to Iceland as a translator and interpreter. Later in 1945 he was assigned to The Pentagon as Chief of the Scandinavian Desk of Military Intelligence. But his duties did not prevent him from composing, and in 1945 he wrote "The Syncopated Clock" and "Promenade". Anderson was a reserve officer and was recalled to active duty for the Korean War. In 1951 Anderson wrote his first hit, "Blue Tango", earning a Golden Disc and the No. 1 spot on the Billboard charts.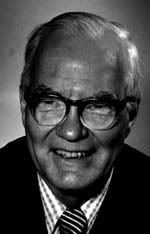 Radio Rag
(Dixieland) by Rod "Red" McLeod (at left). Minnesota born and educated, his career included a rich diversity of activities. Red's 19-year tenure as musical director and arranger for The Golden Strings serves as an invaluable reference in his preparation of editions for student performers. In addition, he has written hundreds of arrangements for radio programs, touring acts, ice shows and more, and was entertainment director for the Minnesota Vikings football team for 25 years.
Shoutin' Liza Trombone carried the subtitle "Mose Trombone's Ah-finity." Recalling Henry's early conflicts with his father about his music, it is interesting to note that this was originally titled "Hallelujah Trombone" in reference to the opening motif which is taken from Handel's "Hallelujah Chorus." Knowing that his hymnal-publishing father would never approve of such blasphemy, Henry recalled the first printing which did go out with the title "HallelujahTrombone" and retitled it Shoutin' Liza Trombone. When performing the work as a guest conductor, Henry would bring the trombone section to the front of the stage, play the introduction and, before the pick-ups to the first strain, would say to the audience. "Let us have a moment of prayer for the trombone section." He would they yell "Shoot em!" and tear into the first glissando, that section marked "with pep."
Henry Fillmore
gained fame as the Father of the Trombone Smear wrote a series of 15 novelty characteristic tunes featuring trombone smears called "The Trombone Family. Written in strong ragtime or Vaudeville style, the smear features the trombone section. Shoutin' Liza Trombone was the eighth characteristic smear composed by Fillmore.
It is a curious fact of the music world that marches written for fairs and expositions almost always fade into oblivion. Two notable exceptions are Mr. Sousa's King Cotton and The Fairest of the Fair. The former was written for the Cotton States and International Exposition of 1895, and the latter for the Boston Food Fair of 1908.
Mr. Sousa and his band had great drawing power at fairs and expositions and were much sought after. But, officials of the Cotton States and International Exposition in Atlanta attempted to cancel their three-week contract with the Sousa Band because of serious financial difficulties. At Mr. Sousa's insistence, they honored the contract, and at the first concert they became aware of their shortsightedness. Atlanta newspapers carried rave reviews of the band's performance. For example:
… The band is a mascot. It has pulled many expositions out of financial ruts. It actually saved the Midwinter Fair in San Francisco. Recently at the St. Louis and Dallas expositions Sousa's Band proved an extraordinary musical attention, and played before enormous audiences. It is safe to predict that history will repeat itself in Atlanta, and that the band will do the Exposition immense good. A great many people in South Carolina, Alabama and Georgia have postponed their visit to the Exposition so as to be here during Sousa's engagement, and these people will now begin to pour in.
Sousa's latest march, "King Cotton," has proved a winner. It has been heard from one end of Dixie to the other and has aroused great enthusiasm and proved a fine advertisement for the Exposition.
The Sousa Band did indeed bring the exposition "out of the red," and the same officials who had tried to cancel Sousa's engagement pleaded with him to extend it. King Cotton was named the official march of the exposition, and it has since become one of the perennial Sousa favorites.
Stars and Stripes Forever
(John Philip Sousa – pictured at left) The march is considered the finest march ever written, and at the same time one of the most patriotic ever conceived. As reported in the
Philadelphia Public Ledger
(May 15, 1897)
" ... It is stirring enough to rouse the American eagle from his crag, and set him to shriek exultantly while he hurls his arrows at the aurora borealis."
(referring to the concert the Sousa Band gave the previous day at the Academy of Music).
The march was not quite so well received though and actually got an over average rating for a new Sousa march. Yet, its popularity grew as Mr. Sousa used it during the Spanish-American War as a concert closer. Coupled with his Trooping of the Colors , the march quickly gained a vigorous response from audiences and critics alike. In fact, audiences rose from their chairs when the march was played. Mr. Sousa added to the entertainment value of the march by having the piccolo(s) line up in front of the band for the final trio, and then added the trumpets and trombones join them on the final repeat of the strain.
The march was performed on almost all of Mr. Sousa's concerts and always drew tears to the eyes of the audience. The author has noted the same emotional response of audiences to the march today. The march has been named as the national march of The United States.
There are two commentaries of how the march was inspired. The first came as the result of an interview on Mr. Sousa's patriotism. According to Mr. Sousa, the march was written with the inspiration of God.
"I was in Europe and I got a cablegram that my manager was dead. I was in Italy and I wished to get home as soon as possible, I rushed to Genoa, then to Paris and to England and sailed for America. On board the steamer as I walked miles up and down the deck, back and forth, a mental band was playing 'Stars and Stripes Forever.' Day after day as I walked it persisted in crashing into my very soul. I wrote it on Christmas Day, 1896."
The second, and more probable inspiration for the march, came from Mr. Sousa's own homesickness. He had been away from his homeland for some time on tour, and told an interviewer:
"In a kind of dreamy way, I used to think over old days at Washington when I was leader of the Marine Band ... when we played at all public functions, and I could see the Stars and Stripes flying from the flagstaff in the grounds of the White House just as plainly as if I were back there again."
"Then I began to think of all the countries I had visited, of the foreign people I had met, of the vast differences between America and American people and other countries and other peoples, and that flag our ours became glorified ... and to my imagination it seemed to be the biggest, grandest, flag in the world, and I could not get back under it quick enough."
"It was in this impatient, fretful state of mind that the inspiration to compose 'The Stars and Stripes Forever' came to me."
Medina Community Band
Program – Friday, July 15th, 2011
Anthem, Star Spangled Banner................. Francis Scott Key/John Philip Sousa
Overture, Poet and Peasant (1846)................ Franz von Suppé/Henry Fillmore
March, Rolling Thunder (1916)...................................................Henry Fillmore
Trombone Solo, Bride of the Waves (1915).......................... Herbert L. Clarke
John Connors, soloist
Serenade, A Night in June (1915)................................................  Karl L. King
March, Hosts of Freedom (1948)................................................... Karl L. King
Dr. Nathan Stark, guest conductor
Clarinet feature, Clarinet Candy (1962)................................ Leroy Anderson
Dixieland, Radio Rag (1974).............................................  Rod "Red" McLeod
Vicki Smith, clarinet; Marcia Nelson-Kline, trumpet;
Lee Harper, trombone; and, Kyle Snyder, tuba
Two-Step, The Walking Frog (1919)..........................................  Karl L. King
Characteristic, Shoutin' Liza Trombone (1919).....................  Henry Fillmore
March, King Cotton (1895)................................................. John Philip Sousa
National March, The Stars and Stripes Forever (1897).... John Philip Sousa
Patriotic, God Bless America (1936)....................... Irving Berlin/Erik Leidzen
In memory of  F. Eugene Smith
2011, July 15th, Concert #7, as of 6-20
Medina Community Band Personnel
 

Flutes

 Elizabeth Jorgensen, counselor (Wadsworth)

  Sue McLaughlin, sys analyst (Medina)

 Karen Rinehart, spec ed teacher (Green)

  Amy Thach-McArtor, band director (Wads)




Oboe

 Lisa Klatka, med epidemiologist (Strsvl)




Bassoon

  Lynne Herrle, retired music teacher (Medina)




E-flat Clarinet

  Mary Ann Grof-Neiman, music adm (Medina)




B-flat Clarinet

  Ben DiFranco, personnel mgr (Strgsville)

  Amy Dragga, grant writer (Bedford)

  Mary Ann Grof-Neiman, music adm (Medina)

  Laura Nary, vocal music teacher (N Roy)

 Ashley Rilling (North Royalton)

  Vicki Smith, band director (Wadsworth)

  Carl Stefaniak, dentist (Hinckley)




B-flat Bass Clarinet

  Al Clapp, materials receiver (Spencer) 




E-flat Alto Saxophone

 Carly Schafer, transportation biller (Cleveland)

  David Willkom, HS student (Medina)




B-flat Tenor Saxophone

  Brie Evans, health services (Medina)




E-flat Baritone Saxophone

  David Igoe perfusionist (Akron)

 

Horn

  Michelle Kupiec, college student (Middleburg Hts)




 Tammi Rice, college student (Lodi)




  Michael Robinson, music teacher (Brunswick)




  Gail Sigmund, retired – math teacher (Medina)





Cornet

 Glenn Baughman, retired – chemist (Wads)




  Marcia Nelson-Kline, ophthalmic tech (Medina)




  Mary Phillips, retired - media specialist (N Roy)




  Paul Rocco, retired - police officer (Medina)

 Russ Tietz, accountant (Akron)




Trumpet

  LuAnn Gresh, music teacher (Wadsworth)





Trombone

  John Blasko, band director (Lakewood)




  John Connors, college student (Medina)




  Lee Harper, retired - U. S. Postal Service (Medina)




  Kenneth Kriebel, retired – manuf mgr (Wads)




 

Euphonium BC




  Matthew Kreglow, college student (Medina)




  Clayton Van Doren, HS science teacher (Lodi)




Tuba




  Megan Alcox, deputy clerk (Medina)




  Allan Kelley, retired (Cleveland)





Percussion

  Doug Dzurilla, college student (Medina)




  Jack Keating, retired (Grafton)





Conductors

  Curtis Amrein, band director (Akron)




 Marcus Neiman, college band director (Medina)





Listing as of 6/20/11