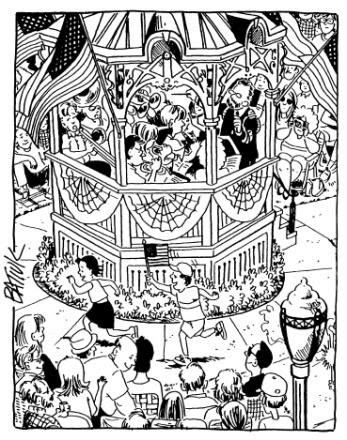 Medina Community Band Complete information on the each concert, literature performed, soloists, and guest conductors, as well as personnel for each concert can all be found on our website: http://www.medinacommunityband.org/ This material covers the 6th concert – Friday, July 8th, 2011, 8:30p – 9:30p Site: Medina's Uptown Park Square (intersections of Rts 18, 42, Broadway and Liberty Street) Cancellation of concerts due to the weather will be posted on the above website!  MEDINA: Medina Community Band will continue the 2011 summer season, a celebration of 152 years of presenting community concerts in Medina, on Friday, July 8th, 2011, at 8:30p, in Medina's Uptown Park Square Gazebo. Featured soloists on this hour-long concert will be: Kyle Snyder, tuba, and Ann Marie Wilcox-Daehn, vocal soloist. The Medina Community Band is under the baton of conductor Marcus Neiman and associate conductor Curtis Amrein
. The 60 minute concert will feature works by Mendelssohn, Berlioz, King, Anderson, Gershwin, Molloy, Goldman, Fillmore, and Sousa. Medina Community Band is sponsored by the Medina Community Band Association, a standing committee of the Medina Breakfast Kiwanis Club. This program is dedicated to the memory of Medina Community Band long-time fan
Patricia Smith
.
Featured Soloists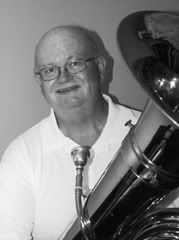 Kyle Snyder, tuba solist (at left). Kyle Snyder is a claims adjuster with Liberty Mutual Insurance.  He has been a member in the Tuba Section of the Medina Community Band for 25 years. He also plays with the Sounds of Sousa Band. The genre he enjoys playing most though, is "Dixieland" music.  He currently performs with the Earlville Jazz Band, River City Jazz Band, and the Minstrels of Earlville. He also plays big band music with the Patriots Dance Band and at various church functions.
When not playing his tuba, Kyle enjoys riding his Harley Ultra with other band members and friends His winter project is his American Flyer model train layout, which is totally functional.  With his down time he enjoys sharing the couch with his wife Jan (who is a narrator with MCB) their dog Jessie and cat Harry while watching television or listening to music.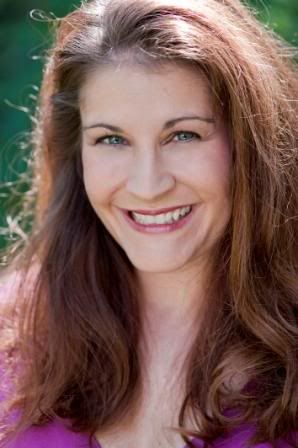 Ann Marie Wilcox-Daehn (mezzo-soprano, at right), thrives on a career that includes a variety of musical genres including opera, art song, oratorio and musical theater. Favorite opera roles have included: Dorabella in Cosi; Carmen; Isabella in The Italian Girl from Algiers; Maddalena in Rigoletto; Prince Charming in Cendrillon; Dido in Dido & Aeneus; and the Mother in Amahl and the Night Visitors. In 2009, Ann Marie created the role of Rosemary Sidney in Libby Larsen's new opera, Picnic , and will be returning to Baltimore as Angelina/Cinderella in Opera Vivente's production of Cenerentola. Ann Marie's musical theater portrayals have included: Aldonza in Man of La Mancha at Arizona Broadway Theater; Petra in Utah Opera's production of A Little Night Music (which was also part of the 2002 Salt Lake City Cultural Olympiad); Carlotta in Phantom; Nettie in Carousel; Meg Brockie in Brigadoon; and Mad Margaret in Ruddigore. Ann Marie can be heard on the Albany Record label as Adah in Naughty Marietta, Bertha in The Red Mill, singing "You'll Never Walk Alone" on Gold & Silver: Celebrating 25 Years of Ohio Light Opera. She also recorded composer Luis Andrei Cobo's song cycle titled, On the Strength of All Conviction and the Stamina of Love.
Conductors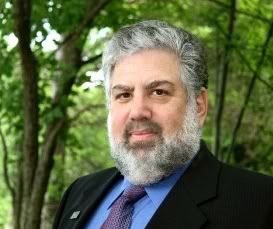 Marcus Neiman (left) celebrates his 39th season as conductor of the Medina Community Band. Neiman continues in the position of interim director of concert band at Kent State University where he teaches their on-campus "Music Teaching as a Profession" course and supervises music education student teachers, serving as a part-time assistant professor.
He received his bachelor of science in music education degree from The University of Akron; master of music in music education degree from The University of Michigan; and, post-degree doctorial work at The Kent State University.
He is a member of the 1993-94 class of Leadership Medina County. Neiman remains active with Ohio Music Education Association (OMEA), having served as state president of that organization from 1998-2000, and currently serves as a woodwind adjudicator and state historian. He is the recipient OMEAs highest honor, the "Distinguished Service Award," presented to him on January 29th, 2010. Neiman is the artistic director and founding conductor of the professional concert band – The Sounds of Sousa Band and appears throughout the nation as a guest clinician and conductor.
Marcus and his wife Mary Ann, who is a professional clarinetist and program administrator - preparatory and continuing education department for the Cleveland Institute of Music, reside in Medina with their two cats Sasha and Dmitri. Marcus has two daughters (Nancy and Jennifer) from a previous marriage, three granddaughters, one grandson, and a godson.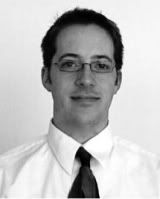 Curtis Amrein (associate conductor, at right) is the director of bands at U.L. Light Middle School in Barberton, Ohio. His responsibilities include teaching sixth, seventh, and eighth grade bands in addition to jazz and percussion ensembles. Under his direction, students at U.L. Light have received superior ratings at Ohio Music Education Association large group and solo and ensemble adjudicated events. 

Curtis received his bachelor's degree in music education from The Ohio State University in 2004, where he graduated Magna Cum Laude. While there, Mr. Amrein performed with the Symphonic Band, Wind Symphony, and Symphony Orchestra. He is a trumpet student of Timothy Leasure and was the 2004 recipient of the Richard Burkart Trumpet Award. Curtis' conducting teachers include Dr. Richard Blatti and Marcus Neiman.
Mr. Amrein serves as both an associate conductor and trumpet player with the Medina Community Band. He also performs with the Sounds of Sousa Band, also under the direction of Marcus Neiman. Curtis is an active member of the Ohio Music Educators Association, National Association for Music Education (MENC), and Ohio Education Association. The 2011 season is Curtis' first as associate conductor of Medina Community Band.
Program Notes
Star Spangled Banner (John Stafford Smith arranged by John Philip Sousa) uses lyrics from a poem written in 1914 by Francis Scott Key, a then 35-year-old amateur poet after seeing the bombardment of Fort McHenry at Baltimore, Maryland, by Royal Navy ships in Chesapeake Bay during the War of 1812.
The poem was set to the tune of a popular British drinking song, written by John Stafford Smith for the Anacreontic Society, a London social club. Set to Key's poem and renamed "The Star-Spangled Banner," it would soon become a well-known American patriotic song. It was recognized for official use by the United States Navy in 1889 and the President in 1916, and was made the national anthem by a congressional resolution on March 3, 1931 (46 Stat. 1508, codified at 36 U.S.C. § 301), which was signed by President Herbert Hoover. Before 1931, other songs served as the hymns of American officialdom. Most prominent among them was "Hail, Columbia" which served as the de facto national anthem from Washington's time and through the 18th and 19th centuries. Following the War of 1812 and subsequent American wars, other songs would emerge to complete for popularity at public events, among them "The Star Spangled Banner."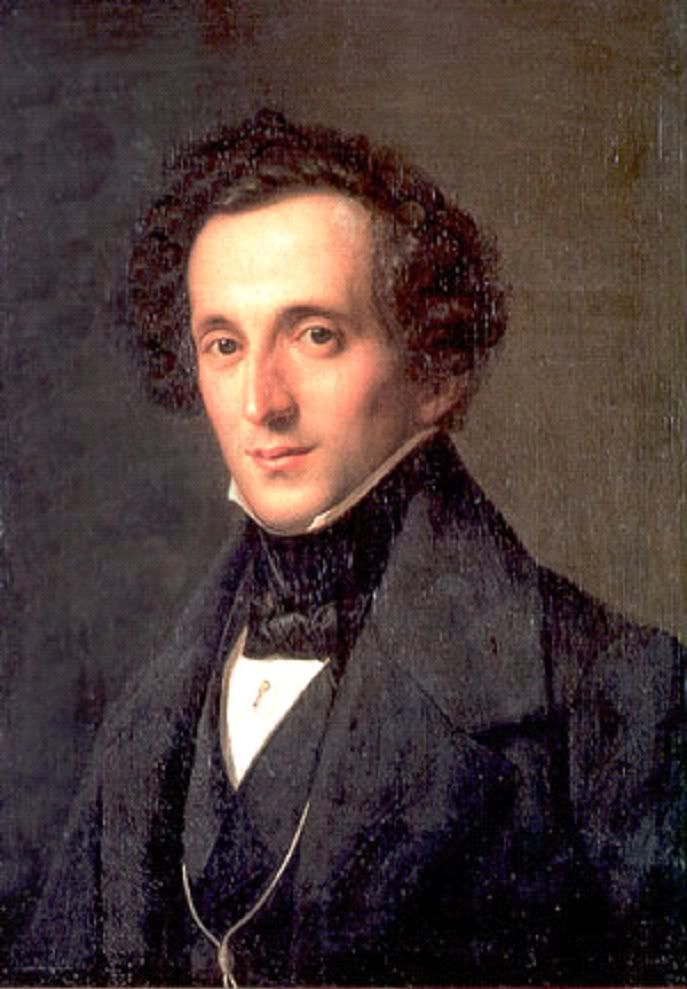 Ludwig Felix Mendelssohn Bartholdy, (at left) was a German composer, pianist, and organist conductor of the early Romantic period. The grandson of the philosopher Moses Mendelssohn, he was born to a notable Jewish family which later converted to Christianity. He was recognized as a prodigy, but his parents were cautious and did not seek to capitalize on his abilities. Indeed, his father was disinclined to allow Felix to follow a musical career until it became clear that he intended to seriously dedicate his life to music. Early success in Germany was followed by travel throughout Europe; Mendelssohn was particularly well received in England as a composer, conductor, and soloist, and his ten visits there, during which many of this major works were premiered, form an important part of his adult career. His essentially conservative musical tastes however set him apart from many of this more adventurous musical contemporaries such as Liszt, Wagner, and Berlioz. The Conservatoire he founded at Leipzig became a bastion of this anti-radical outlook. Mendelssohn was invited by the Theatrical Pension Fund in Leipzig to write an overture and romance for Victor Hugo's Ruy Blas, to be performed for charity. Though Mendelssohn regarded Hugo's play as "detestable and beneath contempt," he complied. The overture was played for the first time (on March 11, 1839) as the musical introduction to the play. It begins with four bars of stately music in brass and woodwinds. After the principal theme has been foreshadowed in the strings, it is given by the first violins and flutes. The introductory slow measures are then repeated, followed by a suggestion of the second theme, staccato in clarinet, bassoon, and cellos. All themes are then developed. The overture ends with an energetic coda.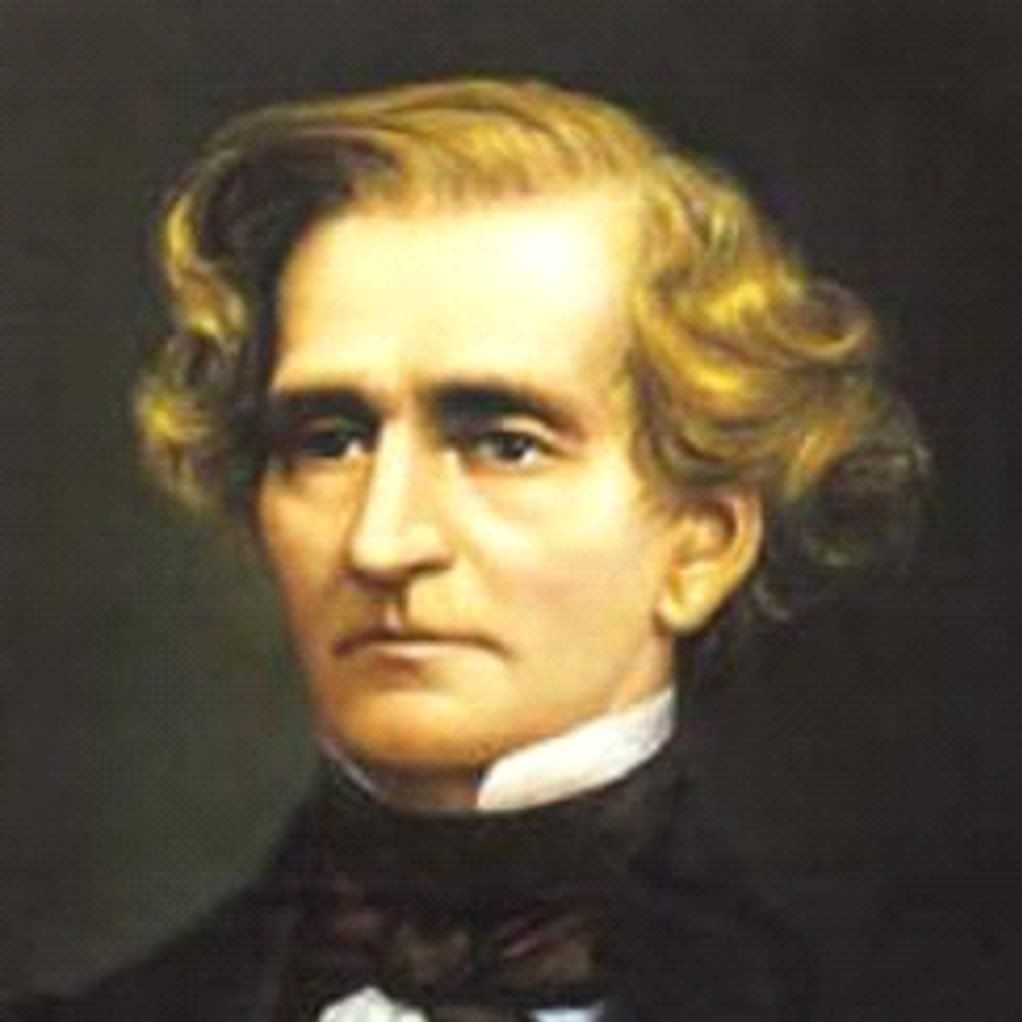 Hector Berlioz (at right) was a French composer who lived from 1803 to 1869. His father, a prosperous physician, wanted him to follow in his footsteps and become a doctor, but he preferred music rather than medicine. Berlioz did attend medical school for a while, but eventually was able to convince his father that this was the wrong career for him. In 1826, he entered the Paris Conservatory where, four years later, he won the Prix de Rome, an important award which included a fellowship for further work and studies in Rome
.
Berlioz achieved his first major success in 1830 with his Symphonie fantastique, a programmatic symphony that brought the orchestra to new heights by employing the standard instruments in new ways and unusual combinations.
Berlioz soon became well known for his flamboyant style and brilliant orchestration. For him, bigger was better, and he loved to write for large instrumental forces. In his music, it was not unusual to find gentle, lyrical episodes standing side-by-side with powerful, bombastic ones. In addition to being a composer, Berlioz was well known as a perceptive music critic and a gifted writer on musical subjects. The textbooks, which he wrote on orchestration, are still used in music schools today.
Berlioz composed his Hungarian March in 1846 for a concert in Budapest. The march used a favorite Hungarian national tune called the Rakoczy theme, which was named for the famous Hungarian patriot Ferenc Rakoczy. That same year, Berlioz incorporated this march into The Damnation of Faust, his large-scale setting for vocal soloists, chorus, and orchestra of the great German dramatist Goethe's story about a man who sells his soul to the devil in exchange for knowledge. The Hungarian Mach begins with a trumpet fanfare, after which the flutes and clarinets softly introduce the Rakoczy theme. Through a long crescendo, this theme grows steadily in power and sonority until it blazes forth in its full glory, majestically proclaimed by the brasses and carried by them to a rousing conclusion.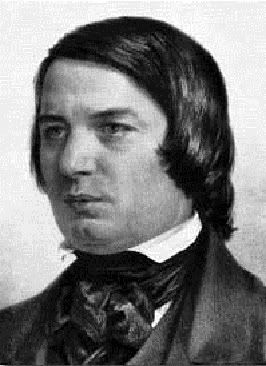 Robert Schumann, the German composer (at left), is regarded as one of the greatest of most representative composers of the Romantic era. He left the study of law to return to music, intending to pursue a career as a virtuoso pianist. He had been assured by his teacher, Fredrich Wieck, that he could become the finest pianist in Europe, but a hand injury caused by a device he created with the false belief that it would help increase the size of his hands, prevented that dream from happening.
His Kinderszenen ("Scenes from Childhood"), Op. 15, is a set of 13 pieces of music for piano written in 1838. In this work, Schumann provides us with his adult reminiscences of childhood. Träumerei (dreaming) is one of the best known pieces of the series.  Tuba Tiger Rag, the term "Dixieland" came from the Original Dixieland Band, which was a group of while musicians who began performing in 1917 in a style that was previously played only by black musicians in New Orleans. (The style in sometimes called "New Orleans Jazz" or "Traditional Jazz.") The "Dixieland band took this infectious, uniquely American style of music all over the world, and the 1920s. The Dixieland style had a resurgence of popularity in the 1950s and has remained an active part of the American musical life since that time. "Tuba Tiger Rag" is one of those classic, timeless Dixieland titles that are at the core of the New Orleans style. Our rendition adds many special touches unique to The Canadian Brass, thanks to Luther Henderson's brilliantly creative setting of the piece for brass quintet. For the last ten yeasr, when asked for an encore, we have played "Tuba Tiger Rag" more often than any other piece. Playing this novelty number gives us some of the best fun we ever have on stage. We hope it's the same you and your band. 


Henry Fillmore was a true free spirit. He was brought up by a conservative family in a conservative town. When he couldn't do as he wished, he ran away with a circus and played trombone in the circus band. To top it all off, he married an exotic dancer.
Footlifter
(March). The march was composed for a Cincinnati insurance agency which sponsored the radio broadcasts of the Fillmore Band, and was dedicated To Harry T. Garner, Secretary of the Cincinnati Automobile Dealers' Association. The motto of the agency was "A penny a day" for insurance and, as he had done with other marches, Henry used the rhythm of the phrase "A penny a day" to dictate the opening rhythm of the march. The title was suggested by a personal friend of Henry's who made the comment that the march was "a footlifter."  The National Game march, by John Philip Sousa. Judge Kennesaw Mountain Landis, baseball's high commissioner, asked Sousa to compose this march on the occasion of the National League's 50th anniversary. Earlier the two had met in Havana. No doubt Sousa told him of his enthusiasm for this game and of the Sousa Band own team
Nothing among Sousa's memoirs reveals the identity of the "gladiator," but the first printing of the sheet music carried a dedication to Charles F. Towle of Boston. Towle was a journalist who was editor of the Boston Traveller at the time this march was written, but the nature of his association with Sousa is not known.
The Gladiator was the first Sousa composition to reach over 1,000,000 copies in sales. Sousa was unaware of its popularity until its strains startled him one day while in Philadelphia on business. Many years later he gave this dramatic account: "I was taking a stroll along Broad Street. At a corner a hand-organ man was grinding out a melody which, somehow, seemed strangely familiar. As I listened more intently, I was surprised to recognize it as my own 'Gladiator' march. I believe that was one of the proudest moments of my life, as I stood there on the corner listening to the strains of that street organ!"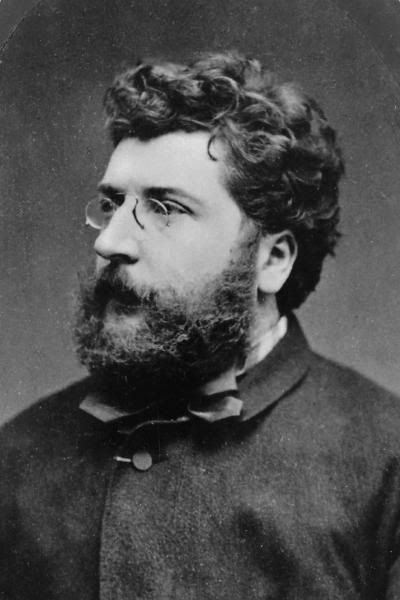 George Bizet (at left) composed his opera Carmen following the old tradition of setting operas in Spain, more than 20 in Seville alone. It opened in 1875 at the Opera Comique in Paris.The story-line is more complicated than Prosper Merimée's novel; more characters were added and stereotypes exaggerated by the libbrétists Meilhac and Halevy.   The original story had to be adapted to conform to the conventions and expectations of the audience accostumed to bourgeois melodrama. The result was a little too shocking for the family theater (Carmen was a public enemy, a threat to law and order, conjuring revolutionary ghosts, and inevitably had to die in the end, something unseen in the Opera Comique) but also a little too diluted and denaturalized for the purist, who considered it basically a French opera imbued with Spanish gypsy motifs, perhaps a Spanish reflection of a moment in French history, after the failed revolution of the Paris Commune.
The Habanera area is one of the highlights of the opera, since by Carmen.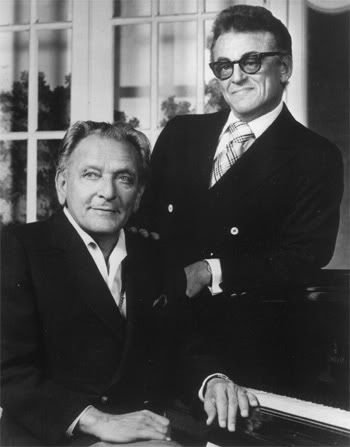 Alan Jay Lerner's lyrics and Frederick Loewe's music coupled with George Bernard Shaw's delightful Pygmalion gives us the story of the Cockney flower girl, Eliza Doolittle, who takes speech lessons from Professor Henry Higgins, a phoneticist, so she can pass as a proper lady. The musical's 1956 Broadway production was a hit, setting what was then the record for the longest run of any major musical theater production in history. It was followed by a hit London production, a popular film version, and numerous revivals. It has been called "the perfect musical".
I Could Have Danced All Night from My Fair Lady. Eliza endures speech tutoring, dreams of killing Higgins while the servents lament the hard "work" Higgins does." After hours or work, Eliza is successful in her quest to be transformed into an impeccable upper class English! Too tired to sleep, she treats us with one of the musicals most delightful ditties.  Valdres March is a charming and inspiring masterpiece in miniature. In 1904, Hanssen completed the march, which he began in 1901. He played in the band that premiered the work in an Oslo outdoor concert. Only two people applauded, and they were his best friends. Subsequently he sold the work to a publisher for the equivalent of about five dollars. Today the march is internationally popular. The title was taken from the Valdres region- about half-way between Oslo and Bergen and one of the most beautiful places on earth. The first three measures of the march contain the Valdres Battalion's signature fanfare, which is based on an ancient melody for the lur (a straight wooden trumpet). The second theme is an old tune for Hardanger-fiddle. In the Trio Hanssen uses a drone bass- a characteristic trait of Norwegian music- beneath a simple tune based on the pentatonic scale.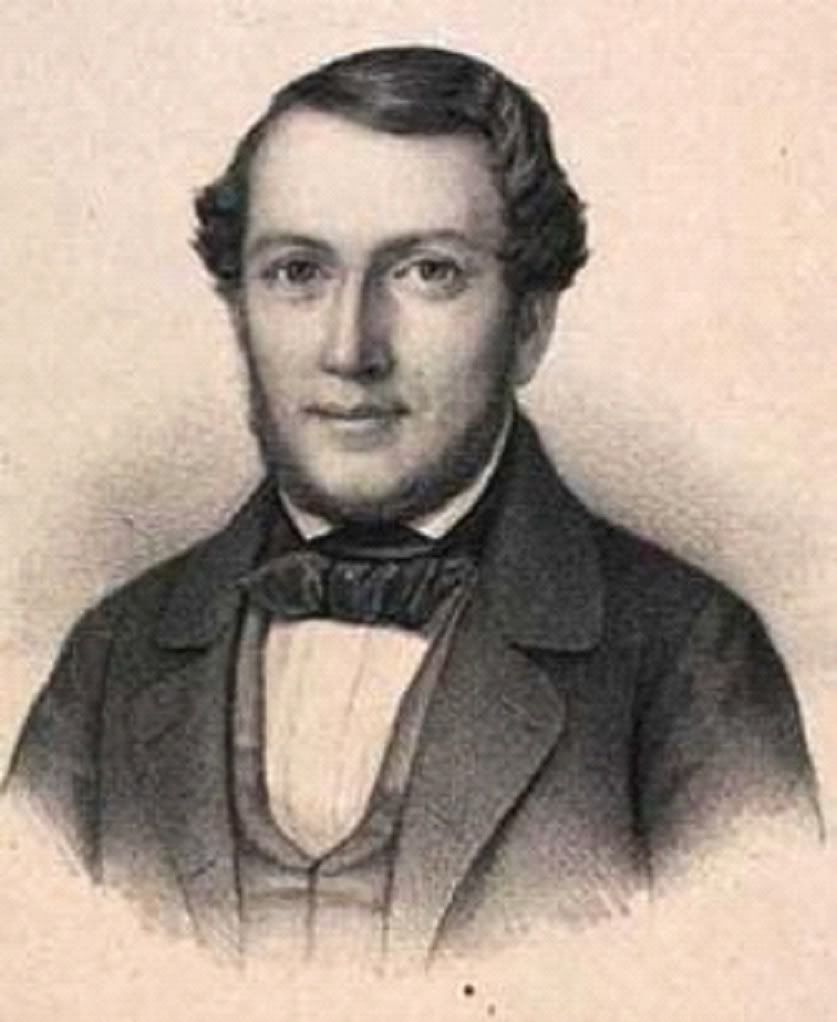 Johannes Hanssen (at left) was one of Norway's most active and influential bandmasters, composers, and teachers during the first half of the twentieth century. As a young boy, he played in a military band in Oslo. He was bandmaster of the Oslo Military Band from 1926 to 1934 and from 1945 to 1946, his career there having been interrupted by the Second World War. He played double bass with the National Theatre, the Norwegian Radio Orchestra, and other orchestras. He taught conducting and music theory for several years and wrote music texts for a correspondence school.
During his long career, he composed many works and received many honors. His most famous works for band include Valdres March, The Olympic Fanfare (1952), and Humoreske. Incredibly, the majority of his band compositions remain in manuscript with the Oslo Military Staff Band. 
Stars and Stripes Forever (John Philip Sousa – pictured at right) The march is considered the finest march ever written, and at the same time one of the most patriotic ever conceived. As reported in the Philadelphia Public Ledger (May 15, 1897) " ... It is stirring enough to rouse the American eagle from his crag, and set him to shriek exultantly while he hurls his arrows at the aurora borealis." (referring to the concert the Sousa Band gave the previous day at the Academy of Music).
The march was not quite so well received though and actually got an over average rating for a new Sousa march. Yet, its popularity grew as Mr. Sousa used it during the Spanish-American War as a concert closer. Coupled with his Trooping of the Colors , the march quickly gained a vigorous response from audiences and critics alike. In fact, audiences rose from their chairs when the march was played. Mr. Sousa added to the entertainment value of the march by having the piccolo(s) line up in front of the band for the final trio, and then added the trumpets and trombones join them on the final repeat of the strain.
The march was performed on almost all of Mr. Sousa's concerts and always drew tears to the eyes of the audience. The author has noted the same emotional response of audiences to the march today. The march has been named as the national march of The United States.
There are two commentaries of how the march was inspired. The first came as the result of an interview on Mr. Sousa's patriotism. According to Mr. Sousa, the march was written with the inspiration of God.
"I was in Europe and I got a cablegram that my manager was dead. I was in Italy and I wished to get home as soon as possible, I rushed to Genoa, then to Paris and to England and sailed for America. On board the steamer as I walked miles up and down the deck, back and forth, a mental band was playing 'Stars and Stripes Forever.' Day after day as I walked it persisted in crashing into my very soul. I wrote it on Christmas Day, 1896."
The second, and more probable inspiration for the march, came from Mr. Sousa's own homesickness. He had been away from his homeland for some time on tour, and told an interviewer:
"In a kind of dreamy way, I used to think over old days at Washington when I was leader of the Marine Band ... when we played at all public functions, and I could see the Stars and Stripes flying from the flagstaff in the grounds of the White House just as plainly as if I were back there again."
"Then I began to think of all the countries I had visited, of the foreign people I had met, of the vast differences between America and American people and other countries and other peoples, and that flag our ours became glorified ... and to my imagination it seemed to be the biggest, grandest, flag in the world, and I could not get back under it quick enough."
"It was in this impatient, fretful state of mind that the inspiration to compose 'The Stars and Stripes Forever' came to me."
Medina Community Band Program
Friday, July 8th, 2011
Anthem, Star Spangled Banner................................ Francis Scott Key/John Philip Sousa
Overture, Ruy Blas (1839)................................................... Felix Mendelssohn/T.M. Tobani
March, Damnation of Faust: Hongroise-Rakoczy (1846).... Hector Berlioz/Leonard B. Smith
Lullaby, Träumerei (1838)............................................... Robert Schumann/Warren Barker 
Tuba Solo, Tuba Tiger Rag (1991) arr. Luther Henderson/Adapted for band by David Marshall 
Kyle Snyder, soloist 
March, Footlifter (1935)............................................................................. Henry Fillmore 
March, American Bandsman (1921).................................... Hiram C. Miller/John C. Emory 
March, National Game (1925)................................................................John Philip Sousa 
Mezzo Soprano Solos 
Habanera from Carmen (1873)......................................... Georges Bizet/Leonard B. Smith 
I Could Have Danced All Night from My Fair Lady (1956)................................... F. Loewe 
Ann Marie Wilcox-Daehn, soloist 
March, Valdres (1904)......................................................................... Johannes Hansen 
March, The Gladiator (1914)............................................................... John Philip Sousa 
National March, The Stars and Stripes Forever (1897)......................... John Philip Sousa 
Patriotic, God Bless America (1936)......................................... Irving Berlin/Erik Leidzen 
In Memory of Patricia Smith 
As of June 29, 2011 
2011, July 8th, Concert #6, as of 6-20
Medina Community Band Personnel
Flutes
  Elizabeth Burdick, teacher (Brunswick)
 Elizabeth Jorgensen, counselor (Wadsworth)
 J.T. Mitchell, HS student (Richfield)
  Karen Rinehart, spec ed teacher (Green)
Oboe
 Lisa Klatka, med epidemiologist (Strsvl)
Bassoon
  Lynne Herrle, retired music teacher (Medina)
B-flat Clarinet
  Ben DiFranco, personnel mgr (Strgsville)
 Cassie Franks, deposits ops asst (Wooster)
  Ed Lichtenberg, retired – sch adm (Medina)
  Brenda Marshall, home care (Seville)
 Ashley Rilling (North Royalton)
  Vicki Smith, band director (Wadsworth)
  Carl Stefaniak, dentist (Hinckley)
B-flat Bass Clarinet
  Dayna Lanyi, retired school adm (Wooster)
E-flat Alto Saxophone
  Claire Krupp, industrial engineer (Medina)
  David Willkom, HS student (Medina)
B-flat Tenor Saxophone
  Brie Evans, health services (Medina)
E-flat Baritone Saxophone
  David Igoe perfusionist (Akron)
Horn
  Michelle Kupiec, college student (Middleburg Hts)
 Tammi Rice, college student (Lodi)
  Michael Robinson, music teacher (Brunswick)
  Gail Sigmund, retired – math teacher (Medina)
Cornet
 Glenn Baughman, retired – chemist (Wads)
  Marcus Collins, mech engine (Wads)
  Marcia Nelson-Kline, ophthalmic tech (Medina)
  Mary Phillips, retired - media specialist (N Roy)
  Paul Rocco, retired - police officer (Medina)
Trumpet
  LuAnn Gresh, music teacher (Wadsworth)
Trombone
  John Blasko, band director (Lakewood)
  John Fenzel, retired - telecommunications (Hinckley)
  Kenneth Kriebel, retired – manuf mgr (Wads)
 Matt Stemple, band director (Norton)
Euphonium BC
  Matthew Kreglow, college student (Medina)
  Pat McDermott, band director (Medina)
Tuba
  Megan Alcox, deputy clerk (Medina)
  Kyle Snyder, insurance adjuster (Elyria)
Percussion
  Doug Dzurilla, college student (Medina)
  Jack Keating, retired (Grafton)
 Holly Troche, veterinarian, (Westfield Cnt)
Conductors
  Curtis Amrein, band director (Akron)
 Marcus Neiman, college band director (Medina)
Listing as of 6/20/11