This concert was cancelled due to bad weather, music selections may appear in future concerts. 
All music program listings are subject to change.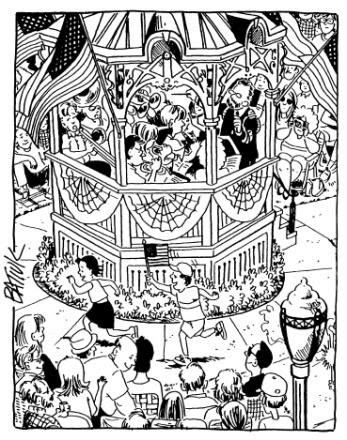 Medina Community Band
Complete information on the each concert, literature performed, soloists, and guest conductors, as well as personnel.
This material covers the 2nd concert – Friday, June 10th, 2011, 8:30p – 9:30p
Site: Medina's Uptown Park Square (intersections of Rts 18, 42, Broadway and Liberty Street)
Cancellation of concerts due to the weather will be posted on the website!
MEDINA:  
Medina Community Band will cotinue the 2011 summer season, a celebration of 152 years of presenting community concerts in Medina, on
Friday, June 10
th
, 2011
, at
8:30p
, in
Medina's Uptown Park Square Gazebo
.  
Featured soloists on this hour-long concert will be:
Mary Ann Grof-Neiman
, clarinet, and
Anna Marie Wilcox-Daehn
, vocal soloist.  The Medina Community Band is under the baton of conductor
Marcus Neiman
and associate conductor
Curtis Amrein.  
Special guest conductors will be
Matt Stemple
and
Dr. Patricia Grutzmacher
, both of Kent State University. The 60 minute concert will feature works by Suppé, Schumann, Mozart, Alexander, King, Fillmore, Shostakovich, Bizet, Lerner and Loewe, Lampe, and Sousa.  Medina Community Band is sponsored by the Medina Community Band Association, a standing committee of the Medina Breakfast Kiwanis Club.
Featured Soloists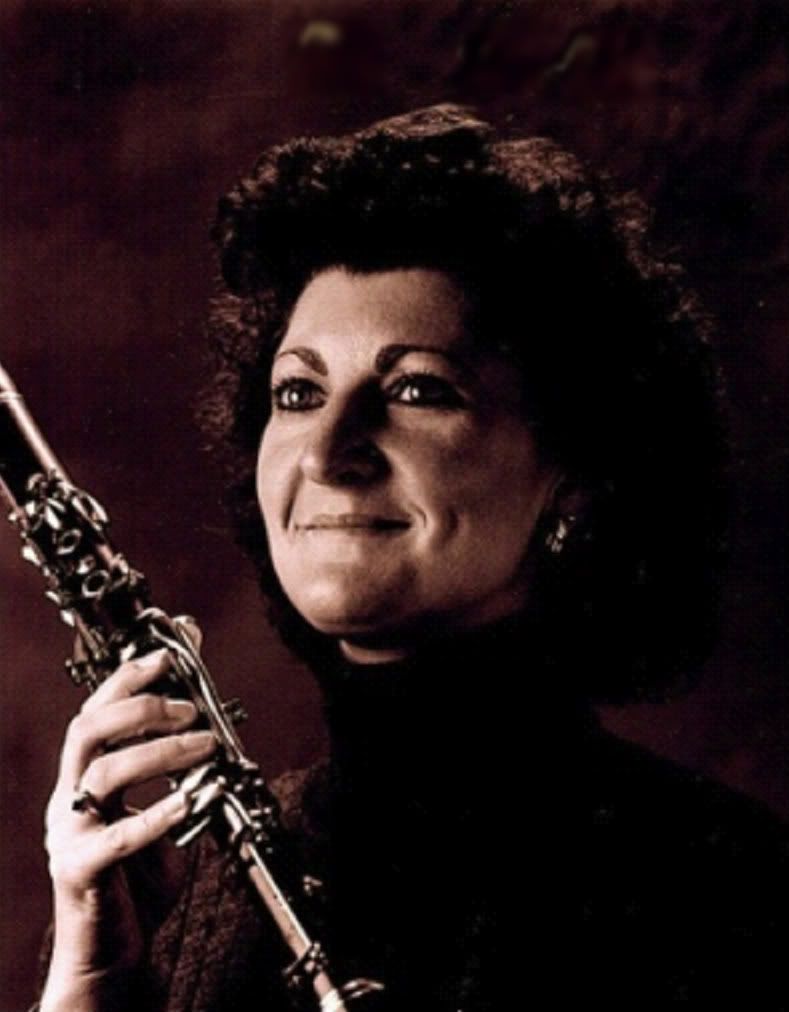 Mary Ann Grof-Neiman
(clarinetist, at left) is currently the Program Administrator of the Cleveland Institute of Music's Preparatory and Continuing Education Division. She received her bachelor of science in music education degree from the Bowling Green State University. Ms. Grof-Neiman has served as clarinetist for the Blossom Festival Band, Lakeland Civic Band, Lakeside Symphony Orchestra, Youngstown Symphony, Erie Philharmonic, and currently performs with the Cleveland Philharmonic Orchestra, Lakewood "Home Town" Band, Medina Community Band, the Cleveland Winds, and is principal clarinetist with the Sounds of Sousa Band and the Chagrin Falls Studio Orchestra.  She maintains private studios at Baldwin Wallace College through their Conservatory Outreach Program as well as her home in Medina.  She has served the Ohio Music Education Association as a Woodwind Adjudicator for the last 18 years and is a member of AFM Local 24. She resides in Medina with her husband Marcus and their cats Dmitri and Sasha.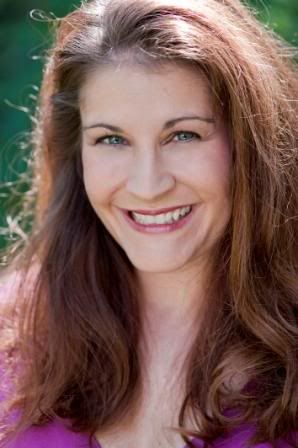 Ann Marie Wilcox-Daehn
(mezzo-soprano, at right), thrives on a career that includes a variety of musical genres including opera, art song, oratorio and musical theater. Favorite opera roles have included: Dorabella in
Cosi
; Carmen; Isabella in
The Italian Girl from Algiers
; Maddalena in
Rigoletto
; Prince Charming in
Cendrillon
; Dido in
Dido & Aeneus
; and the Mother in
Amahl and the Night Visitors
. In 2009, Ann Marie created the role of Rosemary Sidney in Libby Larsen's new opera,
Picnic
, and will be returning to Baltimore as Angelina/Cinderella in Opera Vivente's production of
Cenerentola
. 
Ann Marie's musical theater portrayals have included: Aldonza in Man of La Mancha at Arizona Broadway Theater; Petra in Utah Opera's production of A Little Night Music (which was also part of the 2002 Salt Lake City Cultural Olympiad); Carlotta in Phantom; Nettie in Carousel; Meg Brockie in Brigadoon; and Mad Margaret in Ruddigore. 
Ann Marie can be heard on the Albany Record label as Adah in Naughty Marietta, Bertha in The Red Mill, singing "You'll Never Walk Alone" on Gold & Silver: Celebrating 25 Years of Ohio Light Opera. She also recorded composer Luis Andrei Cobo's song cycle titled, On the Strength of All Conviction and the Stamina of Love.
Guest Conductors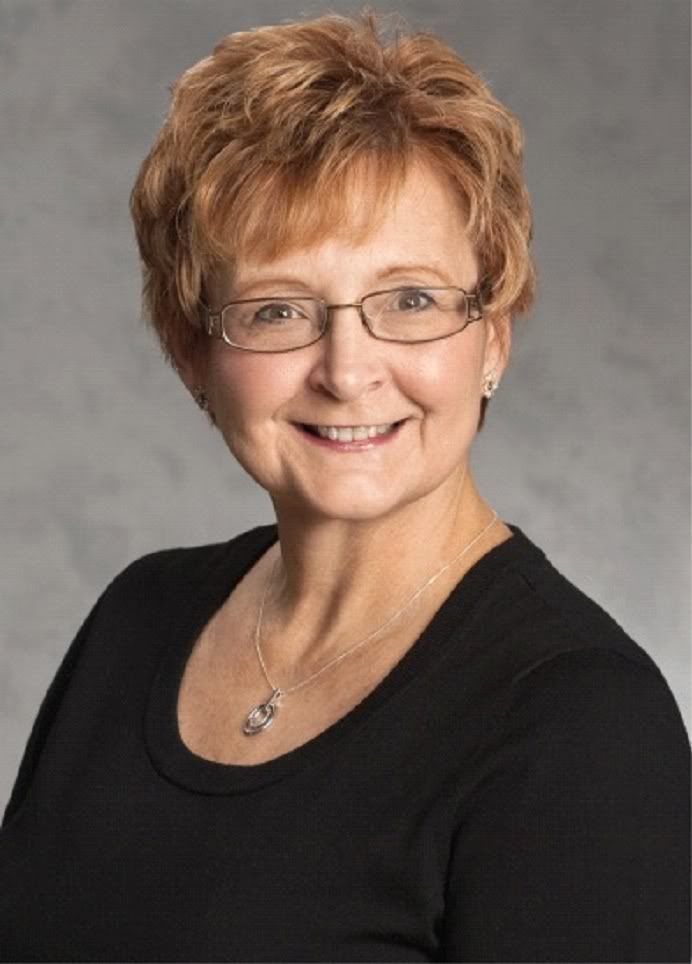 Dr. Patricia Grutzmacher
(at left) is an associate professor and the coordinator of music education in the Glauser School of Music at Kent State University, Kent, Ohio.  She serves as the curriculum coordinator for Kent State's on-line master of music education degree, supervises student teachers, and teaches music education courses.  She is the founder and conductor of the Kent State Stark Concert Band.  Under her direction, the band performed concerts at three OMEA state conferences, and was awarded the coveted Sudler Silver Scroll International Award presented by the John Philip Sousa Foundation. From 2002- 2009 she was the coordinator of the Kent State Stark Campus Department of Music in North Canton, Ohio. She was director of instrumental music at Kent State University Stark Campus from 1983-2009, and taught courses in music education, world music, music history, applied oboe, and directed chamber ensembles.  She is a Diplomate of the Sudler Order of Merit presented by the John Philip Sousa Foundation to recognize her contributions to the excellence of bands and band music performance.  Her biography is included in the 1998, 2003-2004, 2004-2005, and 2005-2006 editions of
Who's Who Among America's Teachers.
The University of Akron School of Music presented the Distinguished Music Educator Alumni Award to Dr. Grutzmacher in February, 2010.
In April 2001 she was presented an award by the American Association of University Women for her achievements in programming and promoting university diversity events. She holds a bachelor's degree in music education from the University of Akron, a master's degree from the Ohio State University and a doctor of philosophy degree from Kent State University. Prior to her work at Kent State University, she was the assistant director of bands at Wooster high school, and taught elementary general and instrumental music in the Wooster City Schools. She is a past recipient of the Kent State University Stark Campus Distinguished Teaching Award.  Grutzmacher has presented general music clinic sessions for the Ohio Music Education Association Districts V, VI, and VIII, for the Cleveland, Ohio parochial schools, and at state and national conferences. She has conducted high school honor bands for the Ohio Music Education Association Districts VI and VIII, in Wayne, Medina, and Tuscarawas Counties of Ohio, in Twinsburg, Ohio, and has guest conducted at OMEA conferences.  She has directed arts integration projects in numerous school systems in a four county area and has made presentations in curricular arts integration at international, regional, and state professional conferences.  She is currently the curriculum director for a summer arts-focused English language camp in Zalecze Wielkie, Poland.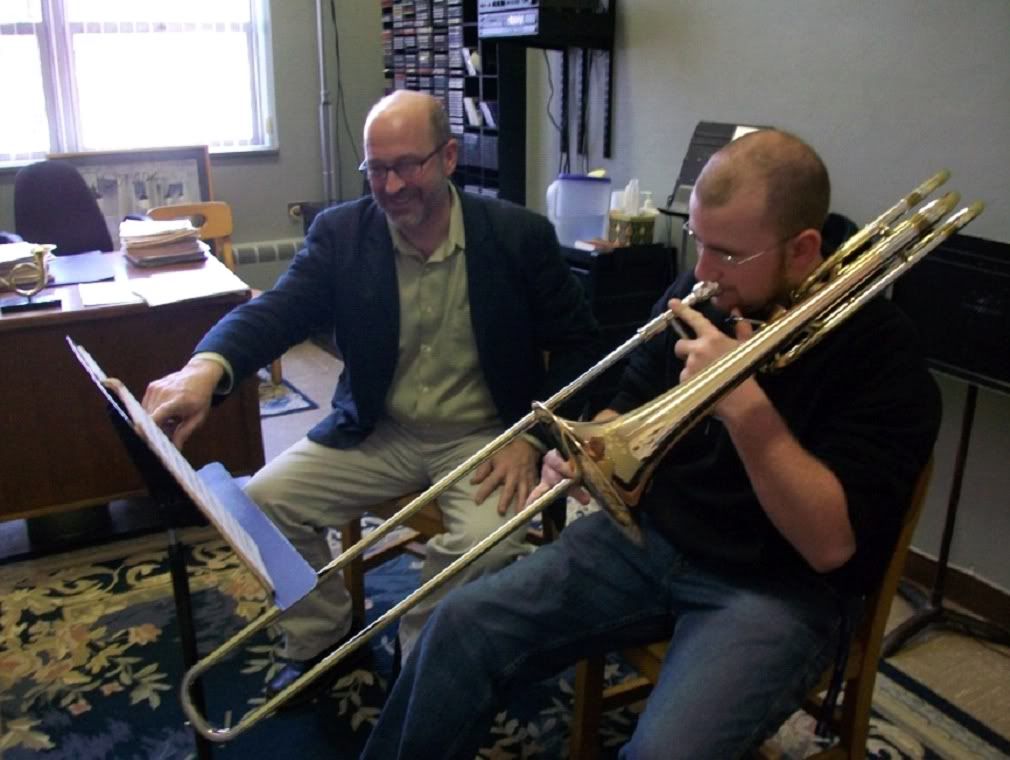 Matt Stemple
, (pictured at right) a June 2006 graduate of Norton High School in 2006, received his bachelor of science in music education from Kent State University in May of 2011.  While at Kent State, Matt was a member of the Kent Concert Band, Jazz Bands, Orchestra, Marching Golden Flashes, and the Wind Ensemble.  Matt was a field commander with the Kent State University Marching Golden Flashes where he has arranged music and wrote drill for the bands halftime shows.  He was a member of Matrix Indoor Marching Percussion Ensemble, a world class indoor drumline that competes in the WGI and MEPA circuits.  Matt has intensive conducting study with Mr. H. Scott Curfman and Dr. Wayne Gorder.  Matt plays Bass Trombone in the Medina Community Band, Kent Communiversity Band, and the Sounds of Sousa.
Conductors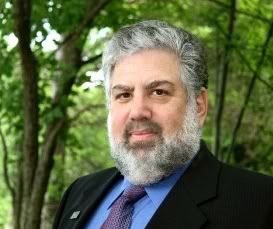 Marcus Neiman
(left) celebrates his 39
th
season as conductor of the Medina Community Band.  Neiman continues in the position of interim director of concert band at Kent State University where he teaches their on-campus "Music Teaching as a Profession" course and supervises music education student teachers, serving as a part-time assistant professor.
He received his bachelor of science in music education degree from The University of Akron; master of music in music education degree from The University of Michigan; and, post-degree doctorial work at The Kent State University.
He is a member of the 1993-94 class of
Leadership Medina County
.  Neiman remains active with Ohio Music Education Association (OMEA), having served as state president of that organization from 1998-2000, and currently serves as a woodwind adjudicator and state historian.  He is the recipient OMEAs highest honor, the "Distinguished Service Award," presented to him on January 29
th
, 2010.  Neiman is the artistic director and founding conductor of the professional concert band – The Sounds of Sousa Band and appears throughout the nation as a guest clinician and conductor.
Marcus and his wife Mary Ann, who is a professional clarinetist and program administrator - preparatory and continuing education department for the Cleveland Institute of Music, reside in Medina with their two cats Sasha and Dmitri. Marcus has two daughters (Nancy and Jennifer) from a previous marriage, three granddaughters, one grandson, and a godson.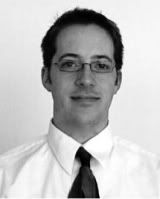 Curtis Amrein
(associate conductor, at right) is the director of bands at U.L. Light Middle School in Barberton, Ohio. His responsibilities include teaching sixth, seventh, and eighth grade bands in addition to jazz and percussion ensembles. Under his direction, students at U.L. Light have received superior ratings at Ohio Music Education Association large group and solo and ensemble adjudicated events. 
Curtis received his bachelor's degree in music education from The Ohio State University in 2004, where he graduated Magna Cum Laude. While there, Mr. Amrein performed with the Symphonic Band, Wind Symphony, and Symphony Orchestra. He is a trumpet student of Timothy Leasure and was the 2004 recipient of the Richard Burkart Trumpet Award. Curtis' conducting teachers include Dr. Richard Blatti and Marcus Neiman.
Mr. Amrein serves as both an associate conductor and trumpet player with the Medina Community Band. He also performs with the Sounds of Sousa Band, also under the direction of Marcus Neiman. Curtis is an active member of the Ohio Music Educators Association, National Association for Music Education (MENC), and Ohio Education Association. The 2011 season is Curtis' first as associate conductor of Medina Community Band.
Program Notes
Star Spangled Banner
(John Stafford Smith arranged by John Philip Sousa) uses lyrics from a poem written in 1914 by Francis Scott Key, a then 35-year-old amateur poet after seeing the bombardment of Fort McHenry at Baltimore, Maryland, by Royal Navy ships in Chesapeake Bay during the War of 1812.
The poem was set to the tune of a popular British drinking song, written by John Stafford Smith for the Anacreontic Society, a London social club.  Set to Key's poem and renamed "The Star-Spangled Banner," it would soon become a well-known American patriotic song.  It was recognized for official use by the United States Navy in 1889 and the President in 1916, and was made the national anthem by a congressional resolution on March 3, 1931 (46 Stat. 1508, codified at 36 U.S.C. § 301), which was signed by President Herbert Hoover.
Before 1931, other songs served as the hymns of American officialdom. Most prominent among them was "Hail, Columbia" which served as the de facto national anthem from Washington's time and through the 18
th
and 19
th
centuries.  Following the War of 1812 and subsequent American wars, other songs would emerge to complete for popularity at public events, among them "The Star Spangled Banner."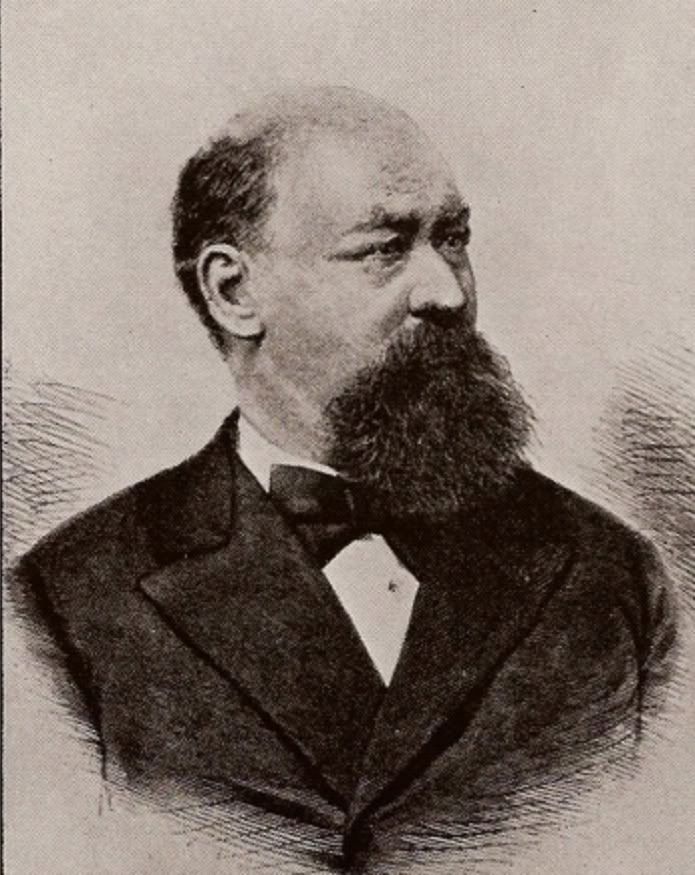 Franz von Suppé
(at left) was the father of the Austrian operetta which was to reach its summit with Johann Strauss II.  Like so many of his German compatriots, Suppé was a profound admirer of Offenbach.  His aim was to carry the techniques of
opera-bouffe
in Germany and Austria.  Actually, what he did was to create his own genre:  
the operetta
, which placed more stress on humor and less on satire; more on tenderness and sentimentality and less on burlesque; and in which the waltz became the favorite dance form.
The
Light Cavalry
Overture, written in 1866, is martial music at its best. Beginning with those wonderful fanfare calls in the brass, we are treated to one of the best examples of Saturday morning cartoon cavalry gallops imaginable.  The delicate transitional sections is actually a broad Hungarian-like song guiding us back to the vigorous military melody and opening brass calls and pushing us toward the
"blood and guts"
finale.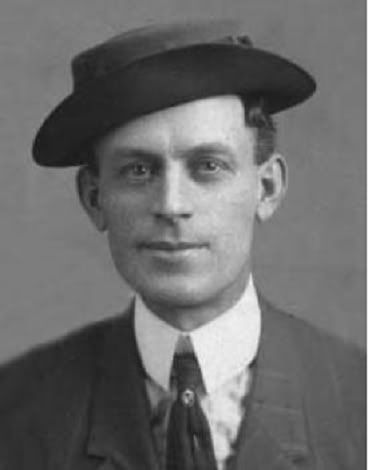 Russell Alexander
(at right) spent most of his adult life as a composer-arranger and euphonium virtuoso.  At the age of 18, Alexander joined the Belford Carnival Band.  Two years later, he joined the Barnum & Bailey's Greatest Show on Earth as solo euphonium, composer and arranger in time for their five-year tour of Europe.  Upon his return to the United States, he joined his brothers, Newton and Woodruff, and their partner James Brady, in a musical vaudeville act called the "Exposition Four."   
Alexander suffered from poor health, and died in Liberty, New York at the age of 38 on October 2, 1915. Over the course of his career he composed some 31 marches, six gallops, three overtures and several other works. Several of his marches are considered standard repertoire, and remain popular to this day.
Olympia Hippodrome
(march).  Written in 1898 and published by the C.L. Barnhouse Publishing Company (Oskaloosa, Iowa). The march was dedicated to Carl Claire, the director of the Barnum and Bailey Circus Band from 1893 to 1906.  Alexander must  have had the parade of the elephants in mind, as the march is more majestic in style than most of his other circus marches.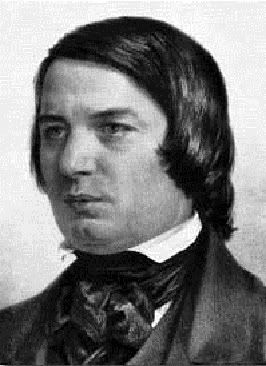 Robert Schumann
, the German composer (at left), is regarded as one of the greatest of most representative composers of the Romantic era.  He left the study of law to return to music, intending to pursue a career as a virtuoso pianist.  He had been assured by his teacher, Fredrich Wieck, that he could become the finest pianist in Europe, but a hand injury caused by a device he created with the false belief that it would help increase the size of his hands, prevented that dream from happening.
His
Kinderszenen
("Scenes from Childhood"), Op. 15, is a set of 13 pieces of music for piano written in 1838.  In this work, Schumann provides us with his adult reminiscences of childhood.  
Träumerei
 (dreaming) is one of the best known pieces of the series.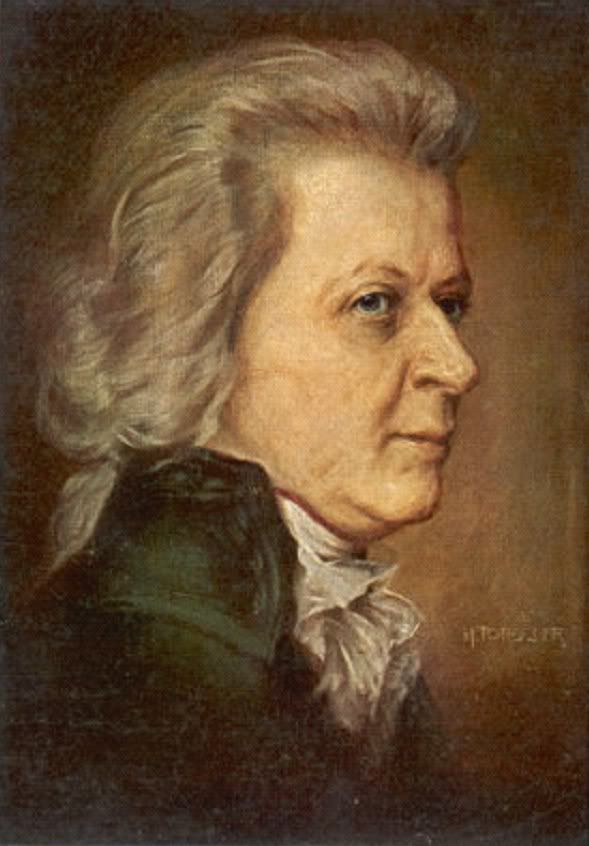 Wolfgang Amadeus Mozart's
(at right)
Clarinet Concerto in A Major, K. 622
, was written in 1791 for the clarinetist Anton Stadler.  It consisted of the usual three movements, in a fast-slow-fast form: allegro, adagio, and Rondo: Allegro. It was also one of Mozart's final completed works, and his final purely instrumental work (he died in the December following its completion).  The concerto is notable for its delicate interplay between the soloist and (originally) orchestra), and for the lack of overly extroverted display on the part of the soloist (no cadenzas are written out in the solo part).
Mozart originally wrote the work for basset clarinet, a special clarinet championed by Stadler that had a range down to low (written) C, instead of stopping at (written) E as standard clarinets do.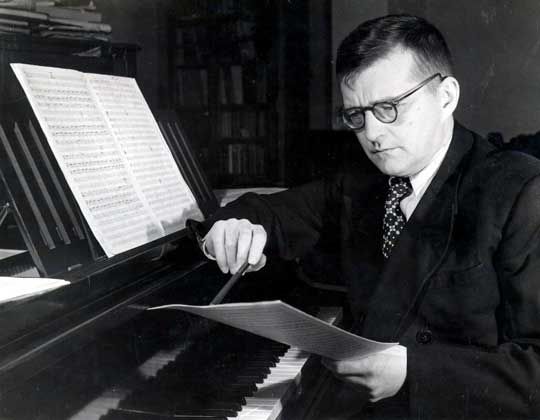 Dmitri Shostakovich
was one of the most celebrated Russian composers of the 20
th
century.  He achieved fame in the Soviet Union under the patronage of Leon Trotsky's chief of staff Mikhail Tukhachevsky, but later had a complex and difficult relationship with the Stalinist bureaucracy. In 1936, the government, most probably under orders from Stalin, harshly criticized his opera
Lady Macbeth of Mtsensk District
, causing him to withdraw his
Fourth Symphony
during its rehearsal stages.  Shostakovich's music was officially denounced twice, in 1936 and 1948, and was periodically banned.  Nevertheless, he also received the accolades and state awards and served in the Supreme Soviet of the RSFSR. Despite the official controversy, his works were popular and well received.
The
Suite for Variety Orchestra
(post-1956) is a suite of eight movements consisting of a collection derived from other works by the composer.  The Waltz No. 2 is a delightful and unexpected gift from the composer.
Ohio composer
Karl King
probably wrote
Hosts of Freedom
(1920) as a fast circus march, as a finale for the elephant act by the circus band in residence.  What is so wonderful about the march is how well it flows.
Karl Lawrence King began studying cornet at age eleven and later switched to baritone. His formal education ended around the 6th or 8th grade, but that in no way hindered his accomplishments. Through 1918, he mostly was a performer and sometimes leader of circus bands. At that time, he unsuccessfully applied to be Sousa's assistant. Sousa did, however, recommend King for a bandmaster position in the army. He reported for duty on the very day World War I ended, and he did not serve any time in active duty. After the War ended, he started his own thriving publishing business and directed various bands. For the last fifty years of his life he was always involved with music.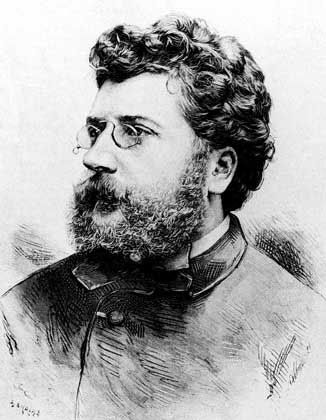 George Bizet
(at left) composed his opera
Carmen
following the old tradition of setting operas in Spain, more than 20 in Seville alone. It opened in 1875 at the Opera Comique in Paris.The story-line is more complicated than Prosper Merimée's novel; more characters were added and stereotypes exaggerated by the libbrétists Meilhac and Halevy.   The original story had to be adapted to conform to the conventions and expectations of the audience accostumed to bourgeois melodrama. The result was a little too shocking for the family theater (Carmen was a public enemy, a threat to law and order, conjuring revolutionary ghosts, and inevitably had to die in the end, something unseen in the Opera Comique) but also a little too diluted and denaturalized for the purist, who considered it basically a French opera imbued with Spanish gypsy motifs, perhaps a Spanish reflection of a moment in French history, after the failed revolution of the Paris Commune.
The
Habanera
area is one of the highlights of the opera, since by Carmen.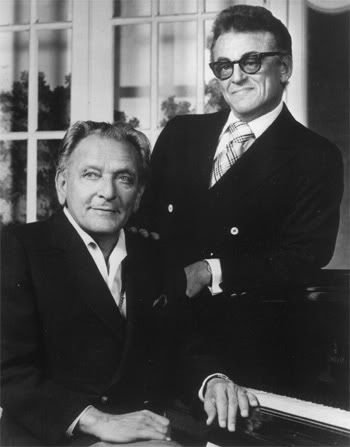 Alan Jay Lerner's
lyrics and
Frederick Loewe's
music coupled with George Bernard Shaw's delightful
Pygmalion
gives us the story of the Cockney flower girl, Eliza Doolittle, who takes speech lessons from Professor Henry Higgins, a phoneticist, so she can pass as a proper lady in
My Fair Lady
.  The musical's 1956 Broadway production was a hit, setting what was then the record for the longest run of any major musical theater production in history. It was followed by a hit London production, a popular film version, and numerous revivals. It has been called "the perfect musical".
I Could Have Danced All Night
from
My Fair Lady
. Eliza endures speech tutoring, dreams of killing Higgins while the servents lament the hard "work" Higgins does."  After hours or work, Eliza is successful in her quest to be transformed into an impeccable upper class English!  Too tired to sleep, she treats us with one of the musicals most delightful ditties.

Jens Bodewalt Lampe
(at left) was born into the large and musical family of Christian and Dorothea Lampe in Ribe, Denmark, in 1869.  A cobbler by trade, his father played tuba and bass violin in the summers with the band at the Tivoli Theater in Copenhagen, and several members of the family became well-known musicians.  In 1873, when J.B. (as he was later called) was four, his father accepted an offer to direct the Great Western Band in St. Paul, Minnesota, and the family moved to America.
In addition to a number of military style marches, Lampe composed many ragtime and two-step marches.  In 1900, when
Creole Belles
was composed, ragtime was beginning to be the big "noise" in American popular music.  Scott Joplin's
Maple Leaf Rag
became the first ragtime sheet music best-seller in 1899.  In 1900, the Sousa Band helped to popularize ragtime in Europe during its prolonged tour there.  
Creole Belles March
with its strong syncopation over a steady rhythmic accompaniment, rapidly became a favorite with band audiences everywhere.  The Sousa Band, with either Arthur Pryor or Herbert L. Clarke conducting, recorded the tune five times between 1902 and 1905.

Henry Fillmore was a true free spirit.  He was brought up by a conservative family in a conservative town.  When he couldn't do as he wished, he ran away with a circus and played trombone in the circus band.  To top it all off, he married an exotic dancer.
Footlifter  
(March).  The march was composed for a Cincinnati insurance agency which sponsored the radio broadcasts of the Fillmore Band, and was dedicated
To Harry T. Garner, Secretary of the Cincinnati Automobile Dealers' Association.
The motto of the agency was "A penny a day" for insurance and, as he had done with other marches, Henry used the rhythm of the phrase "A penny a day" to dictate the opening rhythm of the march.  The title was suggested by a personal friend of Henry's who made the comment that the march was "a footlifter."
Nathaniel C. "Shorty" Davis was an American bandmaster who was active in the early 20th century. In 1912, he was leader of an 18-piece Olympic Elks Band [location uncertain]. In 1914, he moved to Nashville, Tennessee, and led the band at the Tennessee School for the Blind. He and his brothers, Otis B. and Clarence M., operated a music enterprise that eventually included a music school and a small music publishing business. The music school, known as the Traveling Conservatory of Music and later as the Davis Band and Orchestra School, offered instruction on practically all instruments. Davis also led his own professional band, which presented concerts and performed at fairs and in parades. Judging by the titles of his compositions, he was probably a trombonist.
Trombone François
(trombone novelty) was copyrighted in 1921 and published by the Carl Fischer Music Publishing Company of New York.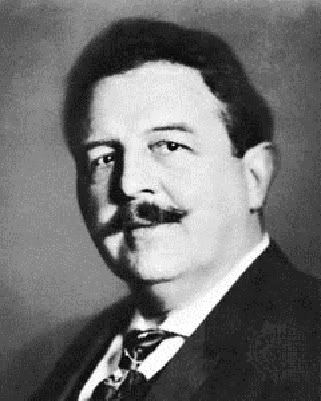 Victor August Herbert
(at left) was born in Ireland, received his education and early playing experience in German, and later earned his reputation as a cellist-composer-conductor in America.  Considered by many as one of the greatest American composer-arrangers of all time, his major operettas consist of
Babes in Toyland, Mlle. Modiste, The Red Mill,
and
Naughty Marietta.
The Gold Bug
march (1896) was extracted from the operetta of the same name.  The operetta, which opened at the Casino in New York in September of 1896, and closed one week later, was ill-fated from the beginning.  The early demise of the musical comedy was attributed to inadequate preparations as well as to the less-than-exciting plot.  The march was one of only two selections that survived the operetta.  With its catchy melodies and a whistling chorus in the trio, the march proved to be one of Herbert's most popular concert band works.
Stars and Stripes Forever
(John Philip Sousa – pictured at right) The march is considered the finest march ever written, and at the same time one of the most patriotic ever conceived.  As reported in the
Philadelphia Public Ledger
(May 15, 1897)
" ... It is stirring enough to rouse the American eagle from his crag, and set him to shriek exultantly while he hurls his arrows at the aurora borealis."
 (referring to the concert the Sousa Band gave the previous day at the Academy of Music).
The march was not quite so well received though and actually got an over average rating for a new Sousa march.  Yet, its popularity grew as Mr. Sousa used it during the Spanish-American War as a concert closer.  Coupled with his
Trooping of the Colors
, the march quickly gained a vigorous response from audiences and critics alike.  In fact, audiences rose from their chairs when the march was played.  Mr. Sousa added to the entertainment value of the march by having the piccolo(s) line up in front of the band for the final trio, and then added the trumpets and trombones join them on the final repeat of the strain.
The march was performed on almost all of Mr. Sousa's concerts and always drew tears to the eyes of the audience.  The author has noted the same emotional response of audiences to the march today.  The march has been named as the national march of The United States.
There are two commentaries of how the march was inspired.  The first came as the result of an interview on Mr. Sousa's patriotism.  According to Mr. Sousa, the march was written with the inspiration of God.
"I was in Europe and I got a cablegram that my manager was dead.  I was in Italy and I wished to get home as soon as possible, I rushed to Genoa, then to Paris and to England and sailed for America.  On board the steamer as I walked miles up and down the deck, back and forth, a mental band was playing 'Stars and Stripes Forever.'  Day after day as I walked it persisted in crashing into my very soul. I wrote it on Christmas Day, 1896."
The second, and more probable inspiration for the march, came from Mr. Sousa's own homesickness.  He had been away from his homeland for some time on tour, and told an interviewer:
"In a kind of dreamy way, I used to think over old days at Washington when I was leader of the Marine Band ... when we played at all public functions, and I could see the Stars and Stripes flying from the flagstaff in the grounds of the White House just as plainly as if I were back there again."
"Then I began to think of all the countries I had visited, of the foreign people I had met, of the vast differences between America and American people and other countries and other peoples, and that flag our ours became glorified ... and to my imagination it seemed to be the biggest, grandest, flag in the world, and I could not get back under it quick enough."
"It was in this impatient, fretful state of mind that the inspiration to compose 'The Stars and Stripes Forever' came to me."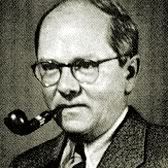 That America's entry into the First World War helped end it and most likely prevented a German victory is fact.  In popular music, 1917 and 1918 were almost exclusively patriotic with one of the most popular being Richard Whiting's
Till We Meet Again.
With music written by
Richard A. Whiting
(at left) and lyrics by Raymond B. Egan, the song tells of the parting of a soldier and his sweetheart.  As Whiting's sister Margaret tells it, the song was intended for a 1918 contest at a Detroit Theater.  Dissatisfied with the results, Whiting threw the manuscript in the trash.  His secretary retrieved it and showed it to their boss, publisher Jerome Remick, who submitted it in the contest, where it won top honors.
The Medina Community Band
Marcus Neiman, conductor
Friday Evening, June 10, 2011
8:30 P.M.
Program
National Anthem, The Star Spangled Banner (1931) Francis Scott Key/John Philip Sousa 
Overture, Light Cavalry (1866)......................................... Franz von Suppé/Henry Fillmore 
March, Olympia Hippodrome (1926)............................................... Russell Alexander 
Lullaby, Träumerei (1838).............................................................. Robert Schumann/Warren Barker 
Clarinet Solo, Rondo from Concerto (1791).................. Wolfgang Amadeus Mozart
Mary Ann Grof-Neiman, soloist 
Dance, Waltz No. 2 (post 1956)................................... Dmitri Shostakovich/James Curnow 
March, Hosts of Freedom (1920) ............................................................ Karl L. King
   Vocal solos 
   Carmen - Habanera (1875)......................................................... Georges Bizet/Barrow 
   My Fair Lady – I Could Have Danced All Night (1964)................... Lerner & Loewe
 Ann Marie Wilcox-Daehn, mezzo-soprano soloist 
Cakewalk, Creole Bells (1900)........................................ J. Bodewalt Lampe/Keith Brion 
March, The Footlifter (1935) ............................................................... Henry Fillmore 
Trombone Characteristic, Trombone François (1911) ............................ N.C. Davis 
March, The Gold Bug (1896)................................................................ Victor Herbert 
National March, The Stars and Stripes Forever (1896)...................... John Philip Sousa 
Patriotic, Till We Meet Again (1918)....................... Richard A. Whiting/William Teague
Medina Community Band Personnel for this concert
 

Flute




  Elizabeth Burdick, teacher (Brunswick)




  Karen Rinehart, spec ed teacher (Green)




  Amy Thach-McArtor, band director (Wads)





Oboe




  Cindy Ruhrkraut, retired (Medina)





Bassoon




  Monica Lenox, artist (Wadsworth)





E-flat Clarinet




  Mary Ann Grof-Neiman, prog adm (Medina)





B-flat Clarinet




  Amy Dragga, grant writer (Bedford)




  Mary Ann Grof-Neiman, prog adm (Medina)




  Harold Kasten-Krause, elect eng (Medina)




  Nancy Leahy, retired – CSU associate (Litchfld)




  Catherine Palcza, private music teacher (Stow)




  Vicki Smith, band director (Wadsworth)




  Carl Stefaniak, dentist (Hinckley)





B-flat Bass Clarinet




      Holly Troche, veterinarian, (Westfield Cnt)





E-flat Alto Saxophone




  Claire Krupp, industrial engineer (Medina)




  David Willkom, HS student (Medina)





B-flat Tenor Saxophone




  Mark Mirrotto, computer consult (Medina)





E-flat Baritone Saxophone




  David Igoe perfusionist (Akron)

Horn




  Melinda Kellerstrass, music teacher (N Roy)




  Tammi Rice, student (Lodi)




  Gail Sigmund, retired – math teacher (Medina)




  Alexis Trout, HS student (Medina)





Cornet




  Glenn Baughman, retired – chemist (Wads)




  Marcia Nelson-Kline, ophthalmic tech




  Mary Phillips, retired - media specialist (N Roy)




  Paul Rocco, retired - police officer (Medina)




  Russ Tietz, accountant (Akron)





Trumpet




  Curtis Amrein, band director (Akron)





Trombone




  John Fenzel, retired - telecommunications (Hinckley)




  Lee Harper, retired - U. S. Postal Service (Medina)




  Rob Lichtenberg, sys mgr (Copley)




  Matt Stemple, (Kent)




 




Euphonium BC




  Pat McDermott, band director (Medina)




  Clayton Van Doren, HS science teacher (Lodi)





Tuba




  Robert Jones, retired (Berea)




  Allan Kelley, retired – databs adm (Cleveland)





Percussion




  Doug Dzurilla, college student (Medina)




 





Conductor




Marcus Neiman, college band director (Medina)





Associate Conductor




  Curtis Amrein, band director (Akron)