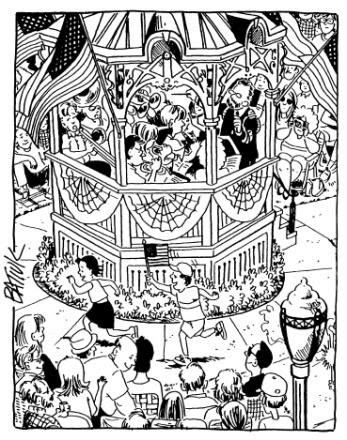 This material covers the 11th season concert – Wednesday, August 1st, 2012, 6p – 8:45p – Happy Days Community Band Festival.

Site: Conservancy for Cuyahoga Valley National Park – Happy Days Lodge, Rt 303, Boston Heights.

The concert is free and open to the public. Parking is on the North side of Rt. 303 – the Lodge is on the South side of R. 303.
MEDINA:  Medina Community Band will conclude the 2012 summer season, a celebration of 153 years of presenting community concerts in Medina with a concert in Boston Heights at Happy Days Lodge, on Wednesday, August 1st, 2012, at 8:15p. 
The Medina Community Band is under the baton of conductor Marcus Neiman, completing his 39th summer concert series. The Medina Community Band portion of the concert will feature works by Williams, Spears, Fillmore, Mancini, and Sousa.  Featured soloists will be: Vicki Smith, clarinet; Marcia Nelson Kline, trumpet; Lee Harper, trombone; and Kyle Snyder, tuba – Dixieland; and, Mary Ann Grof-Neiman, Ed Lichtenberg, and Vicki Smith, clarinetist soloists. 
The community band festival will feature the Western Reserve Community Band, Ralph Myers, conductor; Music Camp By Nature Band, Robert Jorgensen, conductor; Canal Fulton Music Makers Community Band, Inc., Charles R. Hass, conductor; and, The Medina Community Band.  Medina Community Band is sponsored by the Medina Community Band Association, a standing committee of the Medina Breakfast Kiwanis Club. Also featured will be clarinetists Libby Druesedow, Mary Ann Grof-Neiman, and Andy Stefaniak.
Conductor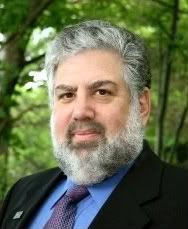 Marcus Neiman
(left) celebrates his 40th season as conductor of the Medina Community Band and 39th summer season.  Neiman is a part-time assistant professor of music education at Kent State University where he teaches the "Music Education as a Profession" course and supervises music education student teachers.  He was interim director of the Kent Concert Band during the 2010-2011 academic year, and also taught the "Instrumental Methods for Choral and General Music Majors." He received his bachelor of science in music education degree from The University of Akron; master of music in music education degree from The University of Michigan; and, post-degree doctorial work at The Kent State University.
He is a member of the 1993-94 class of Leadership Medina County.  Neiman remains active with Ohio Music Education Association (OMEA), having served as state president of that organization from 1998-2000, and currently serves as a woodwind adjudicator and state historian.  He is the recipient OMEAs highest honor, the "Distinguished Service Award," presented to him on January 29th, 2010.  Neiman is the artistic director and founding conductor of the professional concert band – The Sounds of Sousa Band and appears throughout the nation as a guest clinician and conductor.
Marcus and his wife Mary Ann, who is a professional clarinetist and program administrator - preparatory and continuing education department for the Cleveland Institute of Music, reside in Medina with their two cats Sasha and Dmitri. Marcus has two daughters (Nancy and Jennifer) from a previous marriage, three granddaughters, one grandson, and a godson.
Program Notes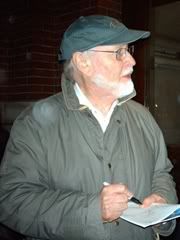 John Williams
(pictured at left) studied composition at UCLA with Mario Castel­nueovo-Tedesco and later attended the Juilliard School. In 1956, he started working as a session pianist in film orchestras. He has composed the music and served as music director for over 70 films, including
Jaws
,
E.T
.,
Star Wars
,
Superman
,
Raiders of the Lost Ark,
Schindler's List, Jurassic Park
and
Memoirs of a Geisha
. Williams has been awarded two Emmys, five Oscars, and 17 Grammy Awards, as well as several gold and platinum records. From 1980 to 1993, Williams served as conductor of the Boston Pops Orchestra. He has written many concert pieces and is also known for his themes and fanfares written for the 1984, 1988, and 1996 Olympics.
John Higgins did the arrangement and Paul Lavender the orchestration, but the sound is unmistakably Williams all the way – Symphonic Marches.  The arrangement features Raiders March from the 1981 motion picture Raiders of the Lost Ark; The Imperial March (Darth Vader's theme) from the 1980 motion picture Star Wars V: The Empire Strikes Back; and, Olympic Fanfare and Theme written in 1984 for the Olympic games in Los Angles, California.
John Philip Sousa observed, "Jazz will endure as long as people hear it through their feet instead of their brains." Interesting enough, Sousa's interest in Jazz began with ragtime. He programmed it sparingly during the late 1890s in the United Sates and found that his audiences loved it. And, it was Sousa who was initially responsible for the popularity of ragtime in Europe. He joined a few classical composers who experimented with ragtime and jazz by composing several compositions in the style. From concert programs, we also know that he featured ragtime and Dixieland ensembles with his band.
The Jared Spears - At a Dixieland Jazz Funeral is more a traditional approach to the style, featuring the small solo ensemble in two moods of the style (the first being a funeral wake, taking the recently departed soul to the cemetery for burial and the second, being the uplifting party for the spirit).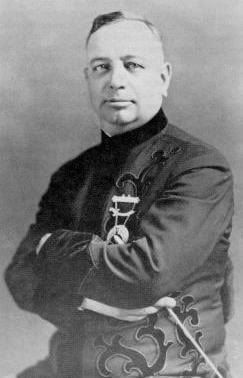 Henry Fillmore
(pictured at right) was one of our most prolific composers with 256 compositions to his record and almost 800 arrangements.  He published under various pseudonyms as well as his own name: Henry Fillmore -114; Gus Beans – 2; Harold Bennett – 65; Ray Hall – 3; Harry Hartley – 6; Al Hayes – 57; Will Huff – 8; and Henrietta Moore – 1. 
According to Herb Block, Henry got into a conflict with his father (who composed and published liturgical music in Cincinnati) over the kind of music that Henry was composing.  Henry liked march music and said, "I will huff and puff and I will write my own music." Hence, the name Will Huff.
Fillmore was a true free spirit.  He was brought up by a conservative family in a conservative town.  When he couldn't do as he wished, he ran away with a circus and played trombone in the circus band.  To top it all off, he married an exotic dancer.
Raggy Trombone  was published in 1918, one of a series of 15 trombone characteristics (smears) that Fillmore wrote.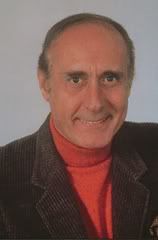 Henry Mancini
(pictured at leftt). The Great Race
is a 1965 slapstick comedy film starring Jack Lemmon, Tony Curtis, and Natalie Wood, directed by Blake Edwards, written by Blake Edwards
and Arthur A. Ross, and with music by Henry Mancini and cinematography by Russell Harlan. The supporting cast includes Peter Falk, Keenan Wynn, Dorothy Provine, Arthur O'Connell and Vivian Vance. The movie cost $12 million, making it the most expensive comedy film at the time.
The Great Race March was heard throughout the movie and functioned as a quasi-theme song.  It is a straight-ahead march typical of the period the movie hoped to show. The music is Mancini at his best!
Pie in the Face Polka. However, the movie is noted for one scene that was promoted as "the greatest pie fight ever." The Technicolor pie fight scene in the royal bakery was filmed over five days. The first pastry thrown was part of a large cake decorated for the king's coronation. Following this was the throwing of 4,000 pies, the most pies ever filmed in a pie fight. The scene lasts four minutes and twenty seconds and cost $200,000 to shoot; $18,000 just for the pastry.
The pie fight scene paid homage to the early Mack Sennett practice of using a single thrown pie as comedic punctuation, but to a greater degree it was a celebration of classic movie pie fights such as Charlie Chaplin's Behind the Screen (1916), The Battle of the Century (1927) starring Stan Laurel and Oliver Hardy, and The Three Stooges' In the Sweet Pie and Pie from 1941. In his script for The Great Race Edwards called for a "Battle of the Century-style pie fight". Though Edwards used 4,000 pies over five days, many of these were used as set dressing for continuity. Laurel and Hardy used 3,000 pies in only one day of shooting, so more are seen flying through the air. Leonard Maltin compared The Great Race pie fight to The Battle of the Century and determined that Laurel and Hardy's pacing was far superior; that the more modern film suffered from an "incomplete understanding of slapstick" while the 1927 pie fight remains "one of the great scenes in all of screen comedy."
Stars and Stripes Forever.
The march is considered the finest march ever written, and at the same time one of the most patriotic ever conceived.  As reported in the
Philadelphia Public Ledger
(May 15, 1897)
" ... It is stirring enough to rouse the American eagle from his crag, and set him to shriek exultantly while he hurls his arrows at the aurora borealis."
 (referring to the concert the Sousa Band gave the previous day at the Academy of Music).
The march was not quite so well received though and actually got an over average rating for a new Sousa march.  Yet, its popularity grew as Mr. Sousa used it during the Spanish-American War as a concert closer.  Coupled with his Trooping of the Colors , the march quickly gained a vigorous response from audiences and critics alike.  In fact, audiences rose from their chairs when the march was played.  Mr. Sousa added to the entertainment value of the march by having the piccolo(s) line up in front of the band for the final trio, and then added the trumpets and trombones join them on the final repeat of the strain.
The march was performed on almost all of Mr. Sousa's concerts and always drew tears to the eyes of the audience.  The author has noted the same emotional response of audiences to the march today.  The march has been named as the national march of The United States.
There are two commentaries of how the march was inspired.  The first came as the result of an interview on Mr. Sousa's patriotism.  According to Mr. Sousa, the march was written with the inspiration of God.
"I was in Europe and I got a cablegram that my manager was dead.  I was in Italy and I wished to get home as soon as possible, I rushed to Genoa, then to Paris and to England and sailed for America.  On board the steamer as I walked miles up and down the deck, back and forth, a mental band was playing 'Stars and Stripes Forever.'  Day after day as I walked it persisted in crashing into my very soul. I wrote it on Christmas Day, 1896."
The second, and more probable inspiration for the march, came from Mr. Sousa's own homesickness.  He had been away from his homeland for some time on tour, and told an interviewer:
"In a kind of dreamy way, I used to think over old days at Washington when I was leader of the Marine Band ... when we played at all public functions, and I could see the Stars and Stripes flying from the flagstaff in the grounds of the White House just as plainly as if I were back there again."
"Then I began to think of all the countries I had visited, of the foreign people I had met, of the vast differences between America and American people and other countries and other peoples, and that flag our ours became glorified ... and to my imagination it seemed to be the biggest, grandest, flag in the world, and I could not get back under it quick enough."
"It was in this impatient, fretful state of mind that the inspiration to compose 'The Stars and Stripes Forever' came to me."
Community Band Festival at the Conservancy
For Cuyahoga Valley National Park
Happy Days Lodge
Wednesday Evening, August 1st, 2012 
Western Reserve Community Band
Ralph Myers, conductor
6 p.m.
Program
Fanfare, Fanfare For the Common Man  .................................  Aaron Copland 
Selection, October  .................................................................. Eric Whitacre 
Suite, Carmina Burana  (Selections) ................................................. Carl Orff


Music Camp by Nature Band
Robert Jorgensen, conductor
6:45 p.m.
Program (to be taken from)
Patriotic, A Patriotic Salute .....................................................  James Hosay 
Overture, Belmont Overture  ................................................  Ralph Hermann
      or
Overture, Manatee Lyric Overture  .......................................  Robert Sheldon 
Tribute, Tribute   ......................................................................  Travis Cross 
Patriotic, The Blue and the Gray  ........................................  Clare Grundman
     or
Highlights, Carousel ............................................................  Richard Rodgers
     or
Broadway, Bricusse and Newley on Broadway  ................   arr. Warren Barker 
March, Queen  City  ..................................................................  W.H. Boorn
Canal Fulton Music Makers Community Band, Inc.
Charles R. Hass, conductor
7:30 p.m.
Program
Patrol, American Patrol  ......................................................  F. W. Meacham/Paul Yoder 
Song, How Are Things in Glocca Morra ............................ E. Y. Harburg/Lane 
Selections, Porgy and Bess  ........................... George & Ira Gershwin/Heyward 
Molly Filler, soloist 
Characteristic, Lassus Trombone  ...........................................  Henry Fillmore 
John Ulmer & Jim Linke, soloists 
Song, Young Love  .......................................................  Carol Joyner/Cartney 
Song, You Are My Sunshine ................................................  Davis & Mitchell 
Song, Just One of Those Things ...................................... Cole Porter/Teague 
March, U.S. Field Artillery  ................................................ John Philip Sousa
Medina Community Band
Marcus L. Neiman, conductor
8:15 p.m.
Program
Suite, Symphonic Marches (1984) ...........................................  John Williams/John Higgins 
Dixieland, At a Dixieland Jazz Funeral (1980) ............................. Jared Spears 
Vicki Smith, clarinet; Marcia Nelson-Kline, trumpet; Lee Harper, trombone
Kyle Snyder, tuba 
Characteristic, Raggy Trombone (1918) ....................................  Henry Fillmore 
From the movie – The Great Race  (1965) 
     The Great Race March ...................................................... Henry Mancini//John Moss 
          Pie in the Face Polka  ....................................................... Henry Mancini/Johnny Vinson 
Mary Ann Grof-Neiman, Edward Lichtenberg, and Vicki Smith, soloists 
National March, The Stars and Stripes Forever (1896)......... John Philip Sousa