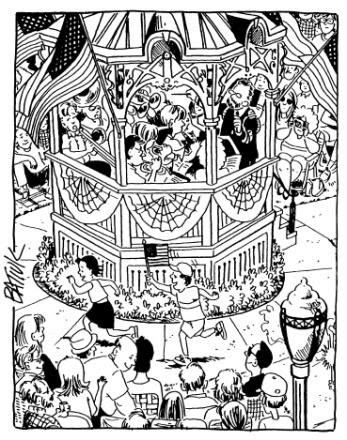 Celebrating their 150
th
season during the summer of 2009
Complete information on the history celebrated during each
concert, literature performed, pictures of guest narrators, soloists, and guest conductors, as well as personnel for each concert can all be found on our website:
This material covers the 10
th
and season final concert – Friday, August 7
th
, 2009, 7:30p – 8:45p
Site: Mercer (PA) Town Courthouse Square Band Stand. 
Rain Site: Mercer High School, 545 West Butler Street, Mercer, PA 16137
MEDINA:  Medina Community Band will present their tenth and season final concert of the 2009 summer season, a celebration of 150 years of presenting community concerts in Medina, on Friday, August 7th, 2009, at 7:30p, in Mercer (PA) Courthouse Square Bandstand.  The community band is under the baton of Marcus Neiman.
Featured soloists on this concert will be: Paul Rocco, Flugel horn soloist; Mary Ann Grof-Neiman, clarinet soloist, and Amy Thach-McArtor, flute soloist;  Hendley Hoge, guest conductor; Miki Saito, soprano soloist.  Jan Snyder will serve as the evening's guest narrator.
The evening's performance will feature works by Ambroise Thomas (Raymond Overture); and two pieces commissioned by and dedicated to Medina Community Band: Hometown Fanfare (Tadd Russo, 2009) and Windward Passage (John Shaffer).
Amy Thach-McArtor and Mary Ann Grof-Neiman will perform an arrangement Delibes' Flower Song from the opera Lakmé for flute and clarinet; guest conductor Hendley Hoge will conduct Sousa's march Semper Fidelis; Paul Rocco will be featured Flugel horn soloist performing Rodrigo's Adagio from Concerto de Aranjuez; soprano soloist Miki Saito will perform Puccini's O mio babbino caro and Lerner and Loewe's I Could Have Danced All Night.
Featured marches will be: Sousa's Aviators; Sound Off!, and Stars and Stripes Forever ; Grafulla's Washington Grays; Rauski's Le Régiment de Sambre et Meuse; and, Berlin's God Bless America. Fillmore's characteristic trombone smear Lassus Trombone; Pryor's ragtime That Flying Rag; and, Rice's Anthem from Chess will also be performed.
For further information on this free concert, contact Hendley Hoge, conductor of the Mercer Community Band (724.662.5104). 
Medina
Community Band - Friday, August 7
th
, 2009
7:30p – Mercer, Pennsylvania - Courthouse Square Bandstand
FINAL PROGRAM LISTING
Anthem,
Star Spangled Banner
....................................
Francis Scott Key/
John Philip Sousa
Fanfare,
Hometown Fanfare
.........................................................................
Tadd Russo
Overture,
Raymond
..........................................................
Ambroise Thomas/
V.F. Safranek
March,
Sound Off!
..................................................................................
John Philip Sousa
Flugel Solo, Concerto de Aranjuez: Adagio

............................

Joaqu

í

n Rodrigo/Arr. Bolton
Paul Rocco, soloist
March,
Washington
Grays
.............................................
Claudio S. Graffula/
G. H. Roberts
Duet, Lakm

é

: Flower Song – Sous la dome

é

pais

.........................

 

L

é

o Delibes/

James Curnow
Amy Thach McArtor, flute & Mary Ann Grof-Neiman, clarinet - soloist
March,
Semper Fidelis
...........................................................................
John Philip Sousa
Hendley Hoge, guest conductor
Ragtime,
That Flying Rag
..............................................................................
Arthur Pryor
March,
Black Horse Troop
.....................................................................
John Philip Sousa
Soprano Solos
Gianni Schicchi: O mio babbino caro
........................................
Giacomo Puccini/
Percy Hall
My Fair Lady: I Could Have Danced All Night
......................................

Lerner & Loewe
Miki Saito, soloist
Broadway, Chess: Anthem

 ................

Bj

ö

rn Ulvaeus, Benny Anderson, Tim Rice/

John G. Mortimer
March,
Aviators
...................................................................................
John Philip Sousa
March, Le R

é

giment de Sambre et Meuse

.......................................

Joseph Fran

ç

ois Rauski
Arranged by J.S. Seredy and edited by Frederick Fennell
Characteristic,
Lassus Trombone
............................................................
Henry Fillmore
March, Windward Passage

........................................................................

John Shaffer
Patriotic
Stars and Stripes Forever
..................................................................

 

John Philip Sousa
God Bless America 

.....................................................................................

Berlin/Leidzen
Medina Community Band - Friday, August 7th, 2009
7:30p – Mercer, Pennsylvania - Courthouse Square Bandstand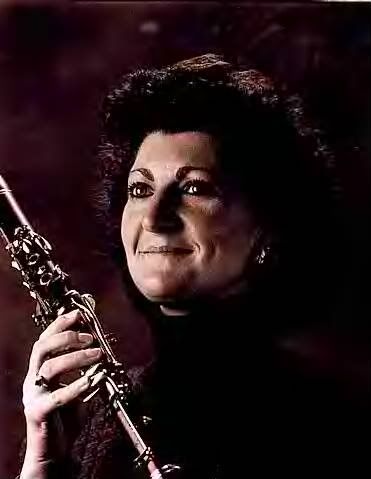 Mary Ann Grof-Neiman
, (clarinetist and pictured at left) is currently program administrator for the Preparatory and Continuing Studies division of the Cleveland Institute of Music.   She received her bachelor of science in music education degree from The Bowling Green State University. Ms. Grof-Neiman has served as clarinetist for a number of ensembles throughout the Northeastern Ohio area including: The Blossom Festival Band, The Cleveland Women's Orchestra, Lakeland Civic Band, Lakeside Symphony Orchestra, Lakewood "Home Town" Band, Medina Community Band, Youngstown Symphony, Erie Philharmonic, and is solo clarinetist with The Sounds of Sousa Band.  She also serves as the personnel manager for the Sounds of Sousa Band, woodwind adjudicator for the Ohio Musicians Education Association and is band librarian for the Medina Community Band. Her teachers include the late Dr. Alan Squire, Edward Marks and former Cleveland Orchestra clarinetist, Theodore Johnson.
Hendley Hoge, (guest conductor and pictured at right) principal of Mercer (PA) High School and the founding conductor of the 90 piece Mercer Community Band was born and raised in Lodi (OH) where he attended the Cloverleaf Local Schools.  While in high school over 40 years ago, Dr. Hoge performed with the Medina Community Band.  He attended The University of Akron, The Pennsylvania State University and Westminster College where he received his bachelor of arts, masters of music education and doctorate in educational administration.  The Mercer Community Band was founded in 1977 and performs weekly Friday night concerts in June, July and early August on the beautiful Mercer County Courthouse Square where the average weekly attendance is over 1000 people.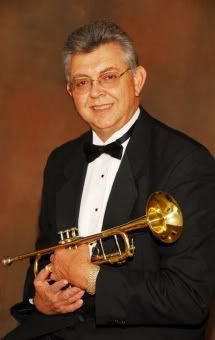 Paul V. Rocco, (Flugel horn soloist and pictured at left) originally from Brooklyn, New York, studied with Blair Moger and Joseph Andrucci in high school and the late Herbert W. Harp at SUNY at Fredonia. Rocco moved to Ohio to take the job of police officer with the City of Medina, where he is also the Police department's Forensic Artist. He became a member of the Medina Community Band in 1989. Since then he has completed his bachelor's degree in fine arts, music at The University of Akron, studying trumpet with Scott Johnston and Tucker Jolly. He is presently studying trumpet privately with Geoff Hardcastle. Besides playing with the MCB, he also performs with the Sounds of Sousa Band and the Brass Band of the Western Reserve. He is a member of the American Federation of Musicians (local 24-Akron, Ohio).
Miki Saito (pictured at right), a coloratura soprano, has enjoyed living in Medina (Ohio) since the spring of 2002.  Born and raised in Yokohama (Japan) she moved to the United States to study music and became an American citizen in 1997.  She has lived in Pensacola and Jacksonville, Florida, Boston, Massachusetts and Biloxi, Mississippi, performing with many musical organizations along the way.  Since her move to Ohio, she has appeared in eight productions with the Cleveland Opera Chorus, has toured the North East Ohio area with the Sounds of Sousa Band and has been a regular guest soloist of the Medina Community Band.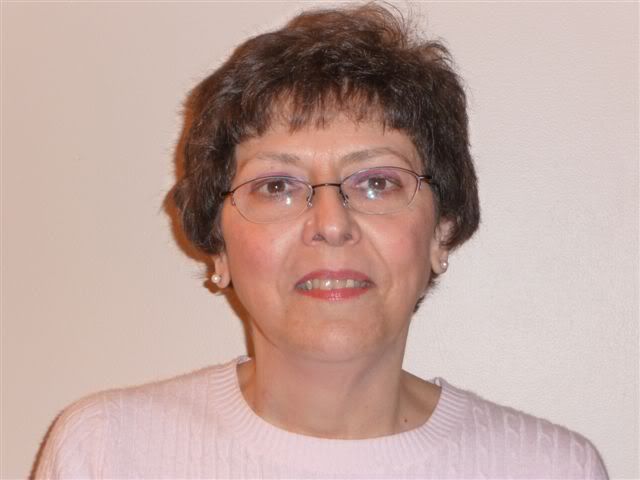 Jan Snyder (narrator, and pictured at left) was a baritone player with the Medina Community Band until her health began to deteriorate.  She then quit playing with the band and picked up as a narrator.  "I wanted to be part of the band and being a narrator was the perfect solution".  Then on February 2, 2007, she received her miracle....a heart transplant! Otherwise she is a Homemaker and wife to tuba player, Kyle.  Riding the Harley; walking the dog (Jessie); working out with Jazzercise; and reading, are just some of the things she does for fun.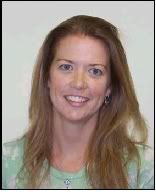 Amy Thach-McArtor (flute soloist, pictured at right) originally from Lyme, Connecticut, moved to Ohio to study music education at Oberlin Conservatory and graduated in 1995.  In 1997, Amy was given a full scholarship to Kent State University to work on her Master's Degree in Music Education which she completed in 1998.  Amy has held the position of Middle School band director in Wadsworth City Schools, and in the fall of 2003, she began teaching elementary instrumental music at Central Intermediate School in Wadsworth.  She has served as the director of bands for the Medina County Honors Fair Bands from 1998-2008.  Amy also plays flute/piccolo and piano and teaches private lessons, in addition to being a member of Medina Community Band and Sounds of Sousa Band.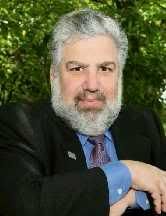 Marcus Neiman (pictured at left) has been the conductor of Medina Community Band since the fall of 1972. Retired (December, 2000) fine arts consultant for the Medina County Educational Service Center (since 1980), formerly as director of bands at Medina High School (1972 through 1980), he attended the Akron Public Schools, received his bachelor of science in music education degree from The University of Akron, master of music in music education degree from The University of Michigan, postgraduate hours at The Kent State University, and The University of Akron.
Active in the Medina community, Neiman was a founding trustee and a past-president of the Medina County Performing Arts Foundation. He continues to consult Medina County Educational Service Center to coordinate county arts festivals and honors programs, as director of fine arts tours and festivals (beginning March 5, 2001). He is also responsible for creating and implementing the Medina County Schools' Fine Arts Tours, an annual series of professional arts tours that reach out into all of Medina's seven school systems. Since its conception in 1980, over 800,000 students have experienced "first-time" live arts performances. He is the primary grant writer for the fine arts tours and highly regarded for his fundraising abilities for these arts programs.
Neiman has served The Ohio Music Education Association (OMEA) in a wide variety of elected and appointed posts culminating with his service as state president of the organization from July 1, 1998 through June 30, 2000 and continues to serve the association as state historian. His first book, edited for MENC, entitled Life in the Music Classroom, was published by MENC in April 1992. Neiman is listed in Marquis "Who's Who in America" (58th Edition).
Neiman has appeared with junior high/middle and high school, college and university, community bands, and American Federation of Musicians union professional bands as a guest conductor and in his characterization of famed bandmaster John Philip Sousa in Illinois, Indiana, Michigan, Ohio, New York, North Carolina, Pennsylvania, (state of) Washington, and Wisconsin. In addition to conducting the Medina Community Band, he formed his own professional touring band -- The Sounds of Sousa Band -- (in 1992) to commemorate the 100th anniversary of the formation of Sousa's first non-military band. To this date he has performed for over 250,000 people in the role of Sousa. Neiman is a member of Local 24 (Akron), American Federation of Musicians. Neiman appeared with the Volga Concert Band, Saratov, Russia in October of 2004. During his ten day trip to Russia, he lectured at The University of Cultural Arts in Moscow.
The 2008-2009 season will be his 37th summer season as conductor for Medina Community Band. The band continues to perform on the Square in Medina's Uptown Park Square and made their second Cleveland Severance Music Hall performance on Sunday, October 21st, 2007. Neiman is also on the adjunct music education faculty at Case Western Reserve University where he teaches their "Foundations in Music Education," and during the Spring 2009 term taught their "Instrumental Methods and Materials" course and supervises music education student teachers. He is also an assistant lecture for The University of Akron where he supervises visual arts education student teachers.
He and his wife Mary Ann and cats Sasha and Dmitri reside in Medina.
---
 The Medina Community Band
Fact Sheet 
Banding together to celebrate a new land.  The Medina Community Band traces its beginnings back to 1859, when a group of local people got together (some with formal training - others without) to perform music for the community.  That first "community band" was called The Medina Silver Cornet Band, probably since the instruments the musicians used were primarily "silver" cornets or percussion. Then, as now, the band performed on the public square.  Medina's uptown park was set aside in 1817 and cleared in 1819.  During the next two decades, the park was used as a parade ground for local militia and for town celebrations.  In the 1840s, the square was enclosed with a white picket fence to keep cattle being driven to market off the square. 
During the 150-years that the band has been in existence there have been 24 directors, with Marcus Neiman serving the longest consecutive number of years (1973 through present).  The band probably existed at the pleasure of the square's business community, who often funded the season and encouraged patrons to attend the concerts.  The performance night has changed over the years, in most cases at the urging of the business community, and season concerts have been given on Sunday, Monday, Tuesday, Thursday, Friday, and Saturday evenings. 
It should be stated that the Medina Community Band was only one of many bands in Medina Community.  Almost every town had its own band, and a just a few to mention were the Litchfield, Lodi, Seville, Spencer, and Wadsworth bands.  There were also school bands (from both the city and county districts) and even a Boy Scout band (in Westfield Center).  The Medina Community Band has been known as the Medina Silver Cornet Band, Medina Band, Grand Army of the Republic Band, Knights of Pythias Band, and now the Medina Community Band. 
The size of the band varied from 15 to 20 musicians through the end of last century, into the 50 and 60s through the 1940-1960s, and now boasts over 100 members on its personnel roster.  It should be understood that the "band" did not always perform in the gazebo.  During those early years, the band played on various corners of the square.  There was for a few years a band stand, which was destroyed by fire.  The "bandstand" on the north side of the square was large enough to seat a 100 piece band (somewhat tightly, but would accommodate that size group), which the current Gazebo will only allow 40 to 45 players.  The band itself determines "who will play" based on attendance at practice or business and vacation schedules. 
It is interesting to note that members of the band travel from all parts of Northeastern Ohio to play with the group.  Entire families (from grandparents to grandchildren are members of the band and it is most common to find husbands and wives, or parents and children playing in the group.  The Medina Community Band's membership is open and there are no dues or auditions; however, members are expected to maintain a regular attendance.  The band rehearses on Wednesday evenings September through July, providing three to four concerts during the fall, winter, and spring months both at home and on the road.  The band also presents an 8 to 10 concert summer season in Medina's Uptown Park gazebo. 
The Band now rehearses in the band room at Highland High School (4150 Ridge Road, Medina) on Wednesday evenings from 7-9p, performs their indoor concerts on the Middle Stage of Medina High School (777 East Union Street, Medina), and still performs their outdoor concerts in the public square gazebo. 
Additional information and pictures can be found at the Medina Community Band website (http://www.medinacommunityband.org/). 
For further information contact Marcus Neiman, conductor, 330.725.8198, or MarcusNeiman@medinacommunityband.org.