Medina Community Band – 1944 – 1960[1]
Concert 6 – Friday, July 10th, 2009
(as of July 07, 2009)
Friday, July 10th, 2009 - Medina Community Band will present the sixth concert in their Sesquicentennial season on Friday, July 10th at 8:30p, on Medina Courthouse Square Gazebo featuring music from 1944 through 1960. 
The activities of the first "modern" Medina Community Band began in 1943.  The activities, leadership, and finances of the Medina Community Band (MCB) were very straightforward.  Gone were the money-raising activities, the winter and out-of-town concerts, the Memorial Day parades or parades of any kind, the Band constitution, and elections of officers, the serenades, and political rallies.  All that was left were the seven, usually eight concerts, to as many as 11 annual, free, open-air concerts in the uptown Park on weekends sometime during June, July, and August.  The hour-long concerts started anywhere from 7:30 to 9 p.m. on Saturdays from 1943 to 1951, and Fridays thereafter because the merchants had decided to keep their establishments open on Friday evenings instead of Saturday evenings as before. 
Band directors during this period were all employees of the Medina Village/City School System, with all the background of schooling and directing that was necessary to obtain those jobs. They were paid for this extracurricular activity by the Band's sponsor, at least after the Medina Chamber of Commerce became sponsor in 1946.
The first Band director of this era was Paul T. Wagner (pictured at left), supervisor of music in the Medina City Schools. Public schools referred to classroom teachers who taught band in more than one building (at more than one level) as "supervisor's of music," rather than band directors. Wagner directed in 1943, but enlisted in the Marines and reported for duty just before the 1944 concert season began.  He served as a bandmaster at Parris Island, South Carolina, and later in Australia.  After the war, he returned to Medina for one more year in the school system, this time as director of instrumental music, and as director of MCB (1946).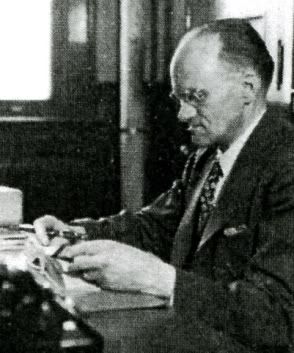 Fred Kelser (pictured at right), director of the Medina Band in the 1930s, filled in as MCB director in 1944, as well as bring principal for Medina City Schools' Garfield Elementary (234 South Broadway Street).  It should be understood that the Garfield Elementary Building was the first Medina High School.  When the school district moved the high school to 144 North Broadway Street, the old high school became Garfield Elementary.  When the school district moved the high school to 420 East Union Street, the old high school first became Medina Junior High School, then the County Administration Building. 
With the director of the Band now being a faculty member for the Medina Schools, to the best of our knowledge, we believe that rehearsals were held in the music rooms (or band rooms) of the high school. For this era, that would mean that rehearsals were held in the High School (Garfield Building, 234 South Broadway Street) from the beginning of this era (1944) through 1956, when the high school then moved to 144 North Broadway Street.  The Band rehearsed in the band room (and stage) in the 144 North Broadway Street building until the high school moved to 420 East Union Street in 1957.  From 1957 to the end of this era (1960), rehearsals were held in the band room of the then senior high school at 420 East Union Street (now Claggett Building).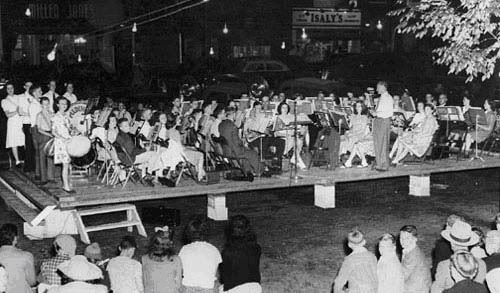 Pictured above is the Medina Community Band on a summer night in 1944 on the square in Medina.  Picture courtesy of the late Julia Hatch. We assume that Fred Kelser is conducting the band. 
The next director, Vance O'Donnell (pictured at left), served as director twice. The first time was in 1945, when he was supervisor of instrumental music for the Medina City Schools.  He had gone to Wadsworth and taught in the Wadsworth City Schools, in a similar position in 1946 and returned to Medina in 1947 as head of the music department at Medina High School.  O'Donnell then directed the MCB from 1947 through 1949, after which he moved to Alliance, Ohio, to become high school band director at Alliance High School.
Next came G. Gordon Ritter (1950 and 1951) who was hired in Medina as supervisor of instrumental music for the Medina City Schools.  Ritter had ten years of experience in Ohio and Florida leading marching and concert bands and orchestras before coming to Medina. Ritter left the Medina City Schools to teach in Dover at Dover High School beginning in the year 1952.
Following Ritter's short tenure as director of MCB was the much longer one of Richard N. Stacey (1952-1962). Stacey (pictured at right) was at one time a high school pupil of Ritter's in Marietta, Ohio.  Before being hired in Medina as supervisor of instrumental music, Stacey was director of music at Fredericktown, Ohio.  It should be known that Stacey was the longest surviving director of MCB prior to Marcus Neiman becoming conductor. He became principal at Medina Junior High School in 1963, and relinquished the role as director of the MCB. 
The first Band sponsor of this era was the Medina War Bond Committee. They were responsible for organizing whatever weekly program was to be in addition to or in place of the MCB.  They were also the sponsor in 1944 and probably in 1945 as well, though corroboration of the latter has not been found.  Programs included speeches about the patriotism of buying War Bonds, community singing led by Fred Kelser and assisted no end by song sheets passed out among the audience, plus outside musical combos such as the Sally West Trio from Cleveland and several aerial acts.  Concerts, in addition to those of the MCB, were performed by the LeRoy Boy Scout Band (1943-45), the Liverpool High School Band (1944), directed by Donald Parfitt, and the Berea Community Band (in 1945).
The Medina Chamber of Commerce was the next sponsor of the summer concerts starting in 1946 and continuing through the end of this era and well into the next era. The Chamber paid for "necessary expenses from treasury funds, thereby eliminating donations by businessmen." 
Band members were primarily drawn from the Medina High School Band, through some effort was made to enlist adults from the community. This differed markedly from prior eras in which most of the members were adult males. According to newspaper announcements of the upcoming rehearsals, participation seemed to be limited to those residing in Medina County.
At the very beginning of this era, there was also another major change in membership. A large number of the musicians were females!  Until 1937, the only female discovered to have been a Band member was Mildred Schlabach, who doubled as a clarinet player and vocal soloist in the late 1920s.  This occurred despite most, if not all, other County musical organizations having co-educational long before the Medina Band's temporary demise in 1937.  In contrast to the uniformed Medina Bands of earlier times, the MCB made no attempt to have uniformity of dress.
Band members no longer received any financial payments for their participation, but the Chamber of Commerce treated to a dinner the evening of the last concert of the season those musicians who had attended a specified minimum number of concerts (four to six) and/or the last concert.
Rehearsal from 1943 through 1956 were held for 90 minutes once a week in the band room at the high school at 144 North Broadway Street and started on April 5th in preparation for the May 29th first concert.  The rehearsal schedule changed to two rehearsals a week, only in 1948, in an attempt to "help the quality of the concerts." Thereafter, rehearsals started the week of the first concert of the season.
The "temporary" bandstand used during WWII continued to be used afterwards. In 1952, the bandstand had been moved to the north edge of the square. It was used for several years before being replaced there in 1956 by a concrete slab with low walls, donated by Albert Snyder, much like the present bandstand now occupying the site. The latter was given to the city by the Breakfast Kiwanis Club of Medina. The Band also had the use of loudspeakers by 1964.
Since neither these, nor any other bandstand used in the era, had any storage space, the Band had to move stands, folding chairs, and percussion equipment from rehearsal room in the high school to the bandstand and back again for each concert. While rehearsals were in the Broadway Street high school, this was not a major challenge as long as each student helped move their own equipment.  With the move of the high school in 1955 to 420 East Union Street (pictured at left and now called Claggett Building), all of this paraphernalia had to be moved by truck.
Vocal soloists, through technically not part of the Medina Bands, certainly have added to the variety and enjoyment of Band performances over the years. Some have been high school students, some college students, some were adult villagers, especially in the early part of the last century, and some also played instruments in the Band. Some sang the same song or songs several times during a given year and even year after year, perhaps because the Bands' libraries were limited, or perhaps on demand.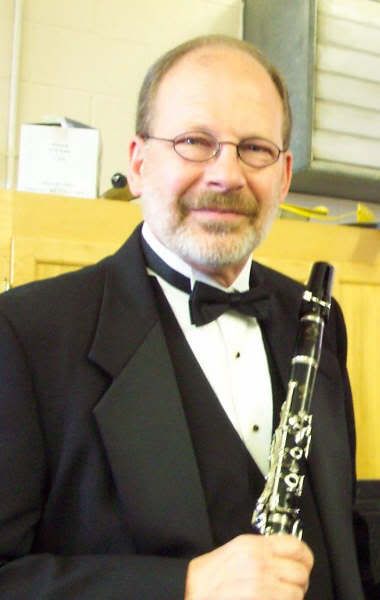 Guest conductor Edward Lichtenberg (pictured at left) retired in 1998 as assistant superintendent for Midview Schools (Lorain County) after 32 years in education. Before becoming assistant superintendent, he was a middle school administrator and director of bands at Midview, where his concert bands consistently earned superior ratings in class A, Ohio Music Education Association (OMEA) adjudicated events. Active as an OMEA adjudicator, Ed is a member of the Medina Community Band and the Sounds of Sousa Band and serves as a guest conductor and clinician. He is a staff member for the Ashland University Adult Music Camp. He and his wife Judy reside in Medina and are the parents of Medina Community Band members Rob and Beth (Burdick).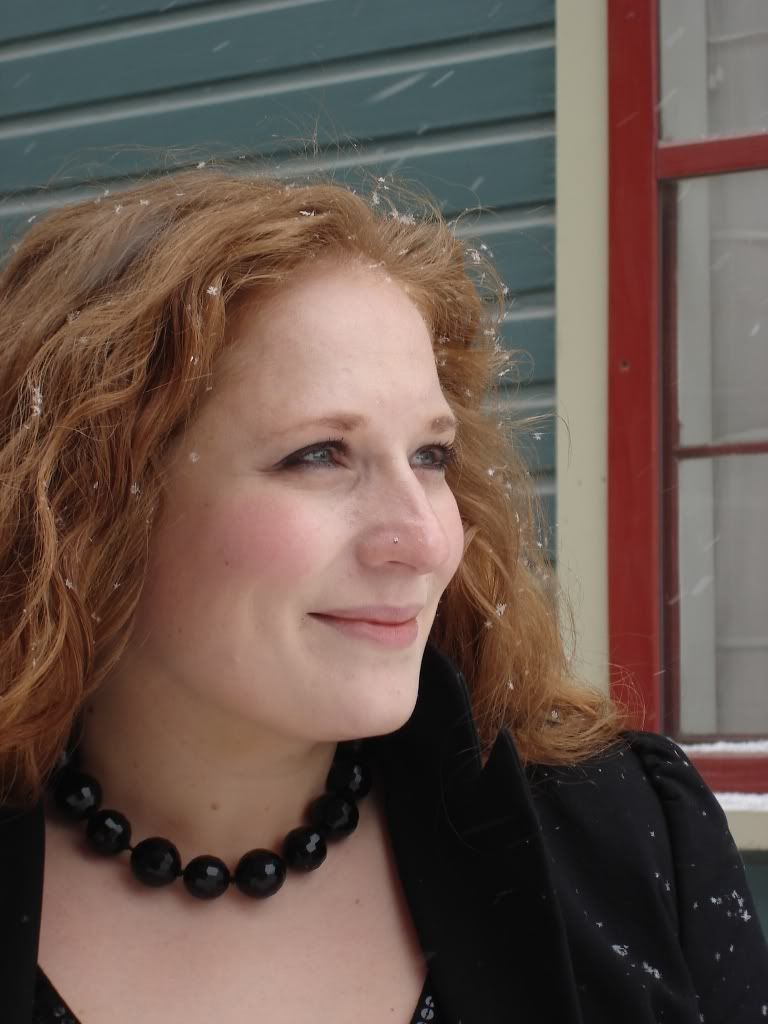 Susan Fletcher is a classically trained lyric soprano with a great affinity for jazz.  Her most defining moment thus far has been soloing at Severance Hall for the Cleveland Orchestra Christmas concerts.  Recent performances include the soprano solo from Handel's Messiah and playing Konstanze in Mozart's Die Entfuhrung aus dem Serail.  She is a member of the Opera Cleveland Chorus, most recently performing in Hansel and Gretel in the fall of 2008.  She holds a BBA in finance from Kent State University and is currently pursuing a MM in vocal performance she is also a graduate of Bay High School in Bay Village.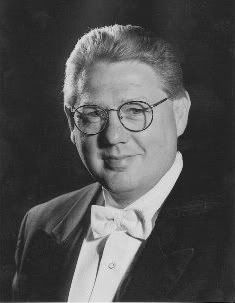 Robert D. Jorgensen, guest conductor, (pictured at left) is director of bands and professor of music at The University of Akron.  He also serves as assistant director of the School of Music.  Professor Jorgensen has been widely honored as a music educator and band conductor.  He received the Outstanding Bandmasters Award from the International Assembly of Phi Beta Mu, International Bandmasters Fraternity, at the Mid-West International Band and Orchestra Clinic in Chicago, Illinois, in 1999.  He received the Citation of Excellence Award from the National Band Association in 1981 and the A. Frank Martin Award from Kappa Kappa Psi in 1992.  In 1991, Mr. Jorgensen was elected to membership in the prestigious American Bandmasters Association and currently serves as president of this organization. He is also past president of the Mid-American Conference Band Directors Association. 
Mr. Jorgensen earned a bachelor's degree from the University of Illinois and a master's degree from Michigan State University, where he was a student of Leonard Falcone and Kenneth Bloomquist.  From 1969-1972, he was euphonium soloist with the United States Army Field Band in Washington, D.C.  Prior to joining the faculty at The University of Akron in 1987, Professor Jorgensen was on the faculty at Morehead State University, Kentucky, and was Director of Bands at Midwestern State University, Texas.  His concert band in Texas performed for the Texas Music Educators Association convention and the Texas Bandmasters Association convention.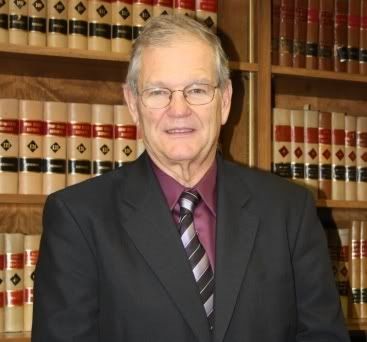 John Oberholtzer, narrator, John Oberholtzer is a Medina High School graduate of 1960, a graduate of The College of Wooster and Law degree from Case Western Reserve.  He has practiced law for 40 years at Oberholtzer & Filous, is a member of the Medina County Estate Planning Council, and is admitted to practice law in the states of Ohio and Florida.  John was a Medina County Commissioner from 1971-1978, Medina High School boys' soccer coach from 1983-87, Men's soccer coach at Baldwin Wallace College from 1988-96, and is currently treasurer for Medina Community Band Association.

---
Selections for the sixth concert, dedicated to the band's history from 1944 to 1960, have been entirely taken from music published and/or performed during this era.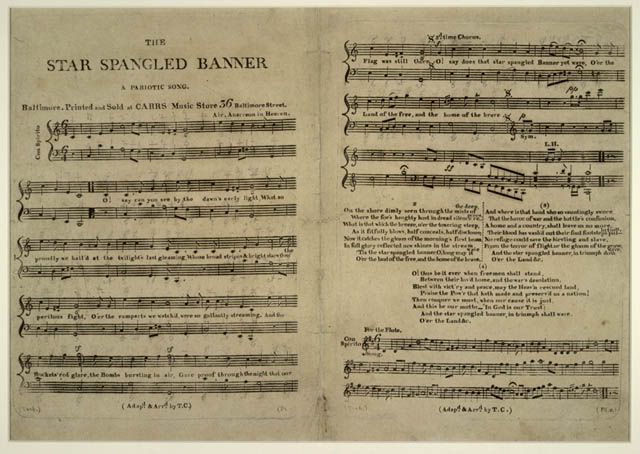 Star Spangled Banner (John Stafford Smith arranged by John Philip Sousa) uses lyrics from a poem written in 1914 by Francis Scott Key, a then 35-year-old amateur poet after seeing the bombardment of Fort McHenry at Baltimore, Maryland, by Royal Navy ships in Chesapeake Bay during the War of 1812.
The poem was set to the tune of a popular British drinking song, written by John Stafford Smith for the Anacreontic Society, a London social club.  Set to Key's poem and renamed "The Star-Spangled Banner," it would soon become a well-known American patriotic song.  It was recognized for official use by the United States Navy in 1889 and the President in 1916, and was made the national anthem by a congressional resolution on March 3, 1931 (46 Stat. 1508, codified at 36 U.S.C. § 301), which was signed by President Herbert Hoover.
Before 1931, other songs served as the hymns of American officialdom. Most prominent among them was "Hail, Columbia" which served as the de facto national anthem from Washington's time and through the 18th and 19th centuries.  Following the War of 1812 and subsequent American wars, other songs would emerge to complete for popularity at public events, among them "The Star Spangled Banner."
American Overture for Band was written in 1953 by Joseph Wilcox Jenkins (pictured at left). Wilcox wrote this classic overture for the United States Army Field Band, and dedicated to their conductor, Col. Chester E. Whiting. At the time of the writing, Jenkins was a 25-year-old staff arranger for the United States Army Field Band, stationed at Fort Meade, Maryland.  Both Whiting and the band's horn section requested that the work have more difficult horn parts than the usual military band fare. Jenkins came up with the title well after the piece was written. "It could have easily been Chesapeake Overture or Maryland Overture, but I settled on American Overture. The music is original and does not borrow any folk songs, although the sweeping melodies may give that impression. 

Nutmeggers March by Eric Osterling (pictured at right) takes its name from a nick-name given to the state of Connecticut many years ago – the early traders in the area reportedly sold wooden nutmegs for real ones. Born in Hartford, Connecticut, Osterling began his musical career as a professional pianist at age 14, accompanying and arranging music for several dance bands in the Hartford area. He continued his musical studies at Ithaca College, the University of Connecticut, and the Hartt College of Music, specializing in Music Education. As director of music in the Portland (CT) Public Schools for 34 years, Osterling became widely recognized for his contributions as a music educator. His high school band was in constant demand for conventions at the state, regional, and national levels, and was considered one of the finest bands in the East. Later, his teaching career led him to Florida Southern College, where he taught for 6 years. As a composer and arranger, Eric's extensive background as a music educator made him particularly aware of the specific needs of bands at all levels, and throughout his career he faithfully and continually provided them with challenging and satisfying works. An ASCAP award-winning writer, his concert marches and band arrangements are widely performed by school and college bands across the country.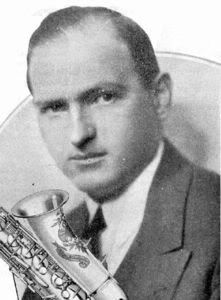 Tribute to Rudy Wiedoeft , music by Rudy Wiedoeft with arrangement by Gunter Shuller (Wiedoeft pictured at left).  During the period from 1900 to 1930 in America, there was a saxophone craze which made the electric guitar phenomenon of the 1960's look like nothing in comparison. The one person who best personifies this period is perhaps the biggest musical star of the 1920's, Rudy Wiedoeft. The fact that Wiedoeft is almost forgotten now takes nothing away from his essential role in establishing the saxophone in the public mind. It has often been put forward that the popularity of the saxophone was a direct result of its use in Jazz music at the beginning of the 20th century. When one examines the historical evidence, the opposite appears to be true: the great popularity of the saxophone in the early 20th century lead to its role in jazz and other popular music. In establishing Wiedoeft as a figure of popular culture, one forgets that it was Wiedoeft who organized the first concert in America devoted entirely to the classical saxophone in the Aeolian hall in New York on April 17, 1926. The concert, which was also broadcast to a million people on the radio featured classical transcriptions by Bach and Tchaikovsky as well as original works composed for the occasion. It is not entirely fair to dismiss Wiedoeft's musical career as that of a vaudeville artist. Rudy Wiedoeft (1893-1940) was born in Detroit Michigan to a large family of musicians, with whom he began his musical studies, playing in the family orchestra which toured as a professional ensemble. He began as a violinist, but had to switch to the clarinet after an injury to his bowing arm. In 1908 Rudy decided he would make something of the saxophone in a green sack he had noticed in a pawnbroker's shop.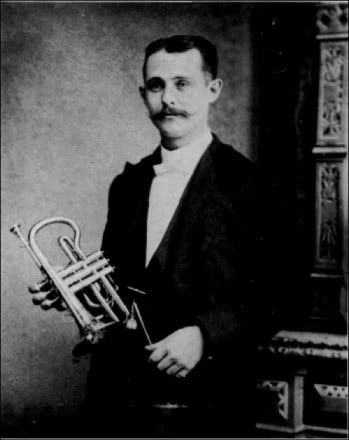 Gardes du Corps by R. B. Hall. Robert Browne Hall (pictured at right) inherited his love of music from his parents, both of whom were trained and academic musicians. Hall was associated with several other bands including the Bangor Band, Waterville Military Band (later known as R.B. Hall's Military Band), Chandler's Band, Cherryfield Band, Olympia Band of Augusta, and the Colby College Band. During this period he took time to rebuild the "musically bankrupt" Tenth Regiment Band of Albany, New York. Hall left the Albany assignment to return to his former position in Waterville as director of Waterville Military Band. While in Waterville several of his finest marches were written. He also enjoyed great popularity throughout New England as a cornet soloist.  Besides dedicating his compositions to people and places, dedications include local characters ("Uncle Dooley's Delight"), newspapers ("Richmond Bee", The Sentinel"), and Fraternal Orders ("Demolay Commandery" for Knight Templars, "The Redman's March" for Improved Order of Redmen, "Exalted Ruler" for Benevolent and Protective Order of Elks, and "Independentia" for Independent Order of Oddfellows). 
R.B. Hall died on June 8, 1907 in Portland, Maine. He had published more than 62 marches during his lifetime. The funeral procession included the Olympia Band, the Waterville Military Band, and Chandler's Band. "March Funebre", "Eternal Rest" and "Independentia" were among the Hall compositions played for that day. After his death, his wife sold many of his manuscripts. Publishers patched up the manuscripts and sold them under the R.B. Hall name.
Trombone King by Karl L. King (pictured at left). The Trombone King was published in 1945 and was dedicated to Charlie Toops, a trombonist and bandmaster in Wilmington, Ohio.  As might be expected, the trombone part rarely calms down during this march – nor any King march, for that matter.
Someone to Watch Over Me
.
George Gershwin (pictured at right), one of America's greatest songwriters, has left us a huge musical legacy from the Broadway stage.

 

His romantic ballad, "Someone to Watch Over Me," was heard for the first time when sung by Gertrude Lawrence at the opening of the hit Broadway show "Oh, Kay!" on November 8, 1926. The song was made famous to another generation in the 1996 movie Mr. Holland's Opus.

 

Jean Louisa Kelly played the part of Rowena, who sang "Someone to Watch Over Me" in the music.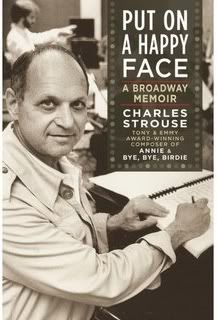 Bye Bye Birdie, with music by Charles Strouse, pictured at left, has found a good deal of not so innocent merriment in the younger generation, in the craze for Rock 'N' Roll, and in that apostle of Rock 'N' Roll music, Elvis Presley. The play opens with a motion-picture montage of Conrad Birdie, singing idol of teenagers, whose resemblance to Elvis Presley cannot be regarded as accidental. Most of the action takes place in the mythical town of Sweet Apple.
Bye Bye Birdie proved a smash success. It was riotously funny; it had considerable bounce and zest; it had some wonderfully imaginative dance routines; it had some good songs; and, most of all, it had the freshness, sparkle and impudence of youth. "Put on a Happy Face" was one of the more memorable tunes from the musical.

Fairest of the Fair by John Philip Sousa (pictured at right) was published in 1908 and first performed by the Band in 1950.
The march is generally regarded as one of Sousa's finest and most melodic marches. Its inspiration came from the sight of a pretty girl with whom he was not even acquainted. It was an immediate success and has remained one of his most popular compositions.  It stands out as one of the finest examples of the application of pleasing melodies to the restrictive framework of a military march.
The Boston Food Fair was an annual exposition and music jubilee held by the Boston Retail Grocers' Association.  The Sousa Band was the main attraction for several seasons, so the creation of a new march honoring the sponsors of the 1908 Boston Food Fair was the natural outgrowth of a pleasant business relationship.
In fairs before 1908, Mr. Sousa had been impressed by the beauty and charm of one particular young lady who was the center of attention of the displays in which she was employed.  He made a mental note that he would someday transfer his impressions of her onto music.  When the invitation came for the Sousa Band to play a 20-day engagement in 1908, he wrote this march.  Remembering the comely girl, he entitled the new march The Fairest of the Fair.
Because of an oversight, the march almost missed its premiere.  Nearly three months before the fair, Mr. Sousa had completed a sketch of the march for the publisher.  He also wrote out a full conductor's score from which the individual band parts were to have been extracted.  The band had just finished an engagement the night before the fair's opening and had boarded a sleeper train for Boston.  Louis Morris, the band's copyist, was helping the librarian sort music for the first concert, and he discovered that the impost important piece on the program — The Fairest of the Fair — had not been prepared.
According to Morris's own story, the librarian, whose job it had been to prepare the parts, went into a panic.  There was good reason; considerable advance publicity had been given to the new march, and the fair patrons would be expecting to hear it.  In addition, the piano sheet music had already been published, and copies were to be distributed free to the first five hundred ladies entering the gates of the fair.
Morris rose to the occasion.  He asked the porter of the train to bring a portable desk, which he placed on a pillow across his lap.  He worked the entire night, and the parts were nearly finished when dawn broke.  Morris was greatly surprised by the appearance of Mr. Sousa, who had arisen to take his usual early morning walk.  When asked about the frenzied activity, they had no choice but to tell exactly what had happened
There were many times in the life of Mr. Sousa when he demonstrated his benevolence and magnanimity, and this was surely one of them.  After recognizing Morris' extraordinary effort and remarking that it was saving the band from considerable embarrassment, he instructed him to complete his work, and to take a well deserved rest, even if it meant sleeping through the first concert. 
With no one the wiser, Louis Morris — hero of the day — was asleep in his hotel as the Sousa Band played The Fairest of the Fair for the first time on September 28, 1908.  Mr. Sousa did not mention the subject again, but Morris found an extra fifty dollars in his next pay envelope — the equivalent of two weeks salary.
Them Basses by Getty Herschel Huffine (1889-1947) was an American music composer, trombonist and tuba player. He was born in Bowling Green, Kentucky on August 25th, 1889, the eldest of four children. He was employed at an axe handle factory and, when the Bowling Green town band was organized in 1907, he was accepted on the condition that he play valve trombone, a trombone with a fixed slide and valves such as a euphonium. He was a self taught musician.  During the next five years Huffine taught himself tuba as well as the basics of harmony, counterpoint and composition.  It is reputed that he spent his mature years as a tubist in professional bands (including Pat Conway's Concert Band) and possibly circus bands. It is reputed that he worked for C.L. Barnhouse as a music engraver; however, there are no substantiating records. In 1919, Huffine settled in Binghamton, New York playing in the Endicott-Johnson Shoe Factory band playing tuba, as well as filling in on trumpet, trombone, and string bass (based on information from Endicott-Johnson Company).
Huffine died in Binghamton on February 12, 1947. The Endicott-Johnson shoe band, of which Getty Huffine was a member at the time of his death, played his famous march, "Them Basses," at the gravesite.
Them Basses March is sub-titled "A march in which the basses have the melody throughout." Huffine might have included the names of all of the lower brasses and the lower woodwinds in the sub-title, inasmuch as they also have the melody – after the introduction by the cornets. The march was written to sound complete with a minimum number of players, such as a circus band playing for the elephant act.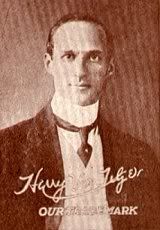 I Want a Girl, Just Like the Girl, Who Married Dear Old Dad, by Harry von Tilzer.  Von Tilzer (pictured at left) was born in Detroit, Michigan, under the name Aaron Gumbinksy (shortened to Harry Gumm). He ran away and joined a traveling circus at age 14, where he took his new name by adding 'Von' to his mother's maiden name 'Tilzer." Harry soon proved successful playing piano and calliope and writing new tunes and incidental music for the shows.  He continued doing this in burlesque and vaudeville shows for some years, writing many tunes which were not published or which he sold to entertainers for one or two dollars.  In 1898, he sold his song "My Old New Hampshire Home" to a publisher for $15, and watched it become a national hit, selling over two million copies of the sheet music.  This prompted him to become a professional songwriter. He was made a partner of the Shapiro Bernstein Publishing Company.  His 1900 number "A Bird in a Gilded Cage" became one of the biggest hits of the age. Von Tilzer became one of the best know Tin Pan Alley songwriters. In 1902, von Tilzer formed his own publishing company, where he was soon joined by his younger brother Albert Von Tilzer.
Harry Von Tilzer's hits included "Only a Bird in a Gilded Cage," "Cubanola Glide," "Wait 'Til the Sun Shines Nellie," "Old King Tut," "All Alone," "Mariutch," "I Love My wife, But Oh You Kid!," "They Always Pick On Me," "I Want a Girl Just Like the Girl Who Married Dear Old Dad," and many others." He died in New York City.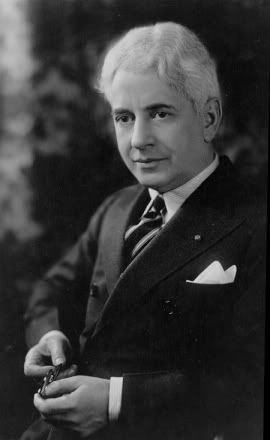 On the Mall, by Edwin Franko Goldman (pictured at right), founder and conductor of the famed Goldman Band of New York City, was the last of the great triumvirate, which set the course of American band history. This trio of bandsmen, which entertained and inspired the American public for over eighty years, consisted of Patrick Sarsfield Gilmore (active 1868-1892), John Philip Sousa (active 1880-1932), and Goldman (active 1911-1956).
Goldman was born on January 1, 1878, in Louisville, Kentucky, the son if David Henry and Selma Franko Goldman. His mother, a pianist, had been a member of the famous Franko Family, a group of five talented children. This trouping company of musicians inspired thousands of Americans, among them the very receptive John Philip Sousa.
Goldman became a professional musician in 1893, playing a variety of engagements around New York. Most notably among these were engagements with his famous uncle Nahan Franko, for whom he was librarian, contractor and principle trumpet. In 1901, he became a member of the Metropolitan Opera House orchestra, where he had a distinguished tenure of some nine years under such conductors as Mahler, Mancinelli, Mottl, Toscanini, and Damrosch. After 1909, he taught privately and worked part-time for the Carl Fischer Music House in New York. In 1911, he organized the New York Military Band, which later became known as the Goldman Band.
In 1918, Goldman planned, financed, initiated, and conducted the summer band concerts, which later became famous in New York and were known to many others through radio broadcasts. This series was given on The Green at Columbia University for five years. Later, the scene shifted to The Mall in Central Park, the Heights at New York University, and The Grove in Prospect Park. After success had been achieved, the concerts were underwritten (in 1924) by the Guggenheim family and later by the Daniel and Florence Guggenheim Foundation.
Goldman's On the Mall, which encourages the audience to sing along and then whistle along at the trio, was written in 1923 for the dedication of the Elkan Naumburg Bandshell in Central Park. The title derives from the park's spacious mall, where the bandstand is located, and where New Yorkers enjoy gatherings to listen to the music.
The Billboard  march, by John H. Klohr (pictured at left).  The march was dedicated to the general amusement paper of the same name and published in 1901.  Until its outdoor entertainment section was succeeded by Amusement Business in 1961, Billboard remained pre-eminent in its field.  Klohr didn't think much of this march at first, but conceded it was a success after the royalties paid for his home in Cincinnati, the trio is still known as a show business emblem, accompanying everything from circus parades to stand-up comedians' entrances. John Nicholas Klohr was born in Cincinnati, Ohio, on July 27, 1869, the son of Jacob and Barbara[?] Klohr.  He received his education in the Cincinnati public schools.  During an extremely long and active career, he won considerable fame for his accomplishments.  He was a vaudeville trombonist by profession and also played in various other types of music organizations, including the Syrian Temple Shrine Band of Cincinnati, conducted by Henry Fillmore.  However, it is as a composer of marches that he is best known.  His Billboard March has been one of the most popular marches ever written. Klohr died of a heart attack at the age of 85 at his home in Cincinnati on February 17, 1956, and is buried in the St. Joseph Cemetery in Cincinnati.
Stars and Stripes Forever by John Philip Sousa.  The march is considered the finest march ever written, and at the same time one of the most patriotic ever conceived.  As reported in the Philadelphia Public Ledger (May 15, 1897) " ... It is stirring enough to rouse the American eagle from his crag, and set him to shriek exultantly while he hurls his arrows at the aurora borealis."  (referring to the concert the Sousa Band gave the previous day at the Academy of Music).
The march was not quite so well received though and actually got an over average rating for a new Sousa march.  Yet, its popularity grew as Mr. Sousa used it during the Spanish-American War as a concert closer.  Coupled with his Trooping of the Colors , the march quickly gained a vigorous response from audiences and critics alike.  In fact, audiences rose from their chairs when the march was played.  Mr. Sousa added to the entertainment value of the march by having the piccolo(s) line up in front of the band for the final trio, and then added the trumpets and trombones join them on the final repeat of the strain.
The march was performed on almost all of Mr. Sousa's concerts and always drew tears to the eyes of the audience.  The author has noted the same emotional response of audiences to the march today.  The march has been named as the national march of The United States.
There are two commentaries of how the march was inspired.  The first came as the result of an interview on Mr. Sousa's patriotism.  According to Mr. Sousa, the march was written with the inspiration of God.
"I was in Europe and I got a cablegram that my manager was dead.  I was in Italy and I wished to get home as soon as possible, I rushed to Genoa, then to Paris and to England and sailed for America.  On board the steamer as I walked miles up and down the deck, back and forth, a mental band was playing 'Stars and Stripes Forever.'  Day after day as I walked it persisted in crashing into my very soul. I wrote it on Christmas Day, 1896."
The second, and more probable inspiration for the march, came from Mr. Sousa's own homesickness.  He had been away from his homeland for some time on tour, and told an interviewer:
"In a kind of dreamy way, I used to think over old days at Washington when I was leader of the Marine Band ... when we played at all public functions, and I could see the Stars and Stripes flying from the flagstaff in the grounds of the White House just as plainly as if I were back there again."
"Then I began to think of all the countries I had visited, of the foreign people I had met, of the vast differences between America and American people and other countries and other peoples, and that flag our ours became glorified ... and to my imagination it seemed to be the biggest, grandest, flag in the world, and I could not get back under it quick enough."
"It was in this impatient, fretful state of mind that the inspiration to compose 'The Stars and Stripes Forever' came to me."
The march evolved over its first few years of performance.  Mr. Sousa would premiere a new march and place it as an encore on the program.  It must be remembered that The Sousa Band was a concert band and performed in concert halls, opera houses, theaters, and other large rooms.  Mr. Sousa would verbally make changes on the march to his players during this time.  After the march was "broken in" the changes would become standard for future performances.  It would also seem logical that changes the musicians themselves did, either through intention or simply performance, would also be added to the march.
There are many reasons why the "authentic" Sousa style does not appear on most editions of the march today. Prime among them are the simple fact that most publishers will not go into that much detail for the interpretation of a "march."  Another probable cause is that Mr. Sousa was an entertainer and did not want the competition to "lift" his composition's unique performance quality.
God Bless America.  In 1918, Irving Berlin (pictured at left) produced Yip, Yip Yaphank, an all-soldier show at Camp Yaphank. God Bless America was one of the songs in that show, but Berlin decided to delete it from the production. In 1938, Kate Smith asked Berlin to write a song for her to use in her Armistice Day radio show. Unable to write anything that satisfied him, he remembered the song from Yip, Yip Yaphank and gave her, free of charge, exclusive performing rights. She first performed it on her radio show on November 10, 1938, the last peacetime Armistice Day this country celebrated before World War II.
In 1939, both major political parties used God Bless America in their Presidential nominating conventions. Kate Smith recorded the song for Columbia and it became immensely popular. It was heard or sung at rallies, balls, and athletic events nationwide.
Berlin was a passionate patriot and did not want to profit from this patriotic song. In 1939 he copyrighted it in the names of Gene Tunney, Mrs. Theodore Roosevelt, Jr., and A. L. Berman and stipulated that all proceeds go to the Boy and Girl Scouts.
This stately and reverent song represents the thoughts of the multitudes of immigrants such as Berlin, himself, who were grateful to this country for giving them the opportunity to transcend the limitations of their old world origins.
Israel Baline, the son of a Jewish cantor, immigrated to the United States from Russia with his family in 1893. Here, he spent his early years in great poverty. In 1904, he worked as a singing waiter in Chinatown and Bowery cabarets of New York City. After a printer erroneously printed his name "Irving Berlin" on a piece of music, he chose that name for his own. In 1911, he achieved success pioneering ragtime with Alexander's Ragtime Band (originally titled Alexander and his Clarinet) and Everybody's Doin' It.
In his incredibly successful career, he produced over 1500 songs including those from such memorable Broadway hits as The Cocoanuts, Ziegfield Follies, This is the Army,  Annie Get Your Gun, and Call Me Madame. His White Christmas has been the best-selling piece in all of music history except perhaps for John Philip Sousa's Stars and Stripes Forever. All this is particularly remarkable considering that he could not read music and could play the piano only in the key of F-sharp. That fact kept his fingers mostly on the black keys, but his special piano could automatically transpose, a feature he controlled with a lever under the keyboard.
Medina Community Band – 1944 – 1960

Concert 6 – Friday, July 10th, 2009

 

(Selections either published or performed by Medina Community Band on the listed year)
Anthem,
Star Spangled Banner
(perf. 1904)..............................
...
arr. John Philip Sousa
Overture,
American Overture for Band
.............................
(1953)
Joseph Wilcox Jenkins
March,
Nutmeggers
(1938)
.....................................................................
Eric Osterling
Alto Saxophone Solo,
Tribute to Rudy Wiedoeft
(1927)
......
Rudy Wiedoft/Gunter Shuller
Edward Lichtenberg, soloist


March,
Gardes du Corps
(performed in 1957)
...................................
Robert Browne Hall
March,
Trombone King
(1945)
.................................................................
Karl L. King
Soprano Solos
Oh, Kay: Someone to Watch Over Me (1926)............................. George Gershwin/Warren Barker 
   

 

Bye Bye Birdie: Put on a Happy Face (1960)

................................................................

Charles Strouse
March,
Fairest of the Fair
(performed 1950)
......................................
John Philip Sousa
Robert D. Jorgensen, guest conductor
March,
Them Basses
(performed 1936)
......................................
Getty Herschel Huffine
Sing-A-Long
I Want a Girl, Just Like the Girl
(performed 1947).................................... Harry von Tilzer
On the Mall
(performed 1949)....................................................Edwin Franko Goldman
March,
The Billboard
(performed 1926)
...................................................
John H. Klohr
Patriotic

Stars and Stripes Forever (performed 1901)................................ John Philip Sousa


     God Bless America (performed 1945)...................................................... Berlin/Leidzen


---
[1] It should be noted that information provided by a published Medina Community Band history by band member (and band historian) David Van Doren was instrumental in descriptions of Band activities given in this and all concert publications in this sesquicentennial celebration series.