Please note this updated program for Friday, July 16th. Because the July 9th concert was cancelled because of the weather, this program has been changed slightly to include some of those pieces.
Star Spangled Banner......................
(Key/Sousa)
Pineapple Poll – Finale.........
(Sullivan/Mackerras)
American Red Cross March...................
(Panella)
Melodie, Op. 42, No. 3............
(Tchaikovsky/Park)
Falcon March....................................
(Chambers)
Rakes of Mallow.................................
(Anderson)
Peck-Horn's Revenge.............................
(Bowles)
featuring the horn section
Regimental Pride......................................
(Heed)
Selections from "The Music Man".
(Willson/Lang)
Romance.............................................
(Althouse)
Washington Post.....................................
(Sousa)
March of the Women Marines...............
(Saverino)
The Stars and Stripes Forever March........
(Sousa)
God Bless America.......................
(Berlin/Leidzen)
Friday, July 16th, 2010 - Medina Community Band will perform their seventh concert of the 151st season on Friday, July 16th at 8:30 p.m., on Medina Courthouse Square Gazebo. 
Medina Community Band, under the baton of Marcus Neiman, will perform works by Karl King, John Heed, Peter Tchaikovsky, Paris Chambers, Leroy Anderson, Meredith Willson, N.C. Davis, M.A. Althouse, P.J. Lampe, and John Philip Sousa.
Featured soloists will be Bianca Murphy (alto saxophone) and Miki Saito (soprano voice). 
Bianca Murphy
(at left) is a native of
Strongsville
and a 1992 graduate of
Strongsville
High School
.  She went on to study music education at
Bowling Green
State
University
.  While at
Bowling Green
, Bianca was very active in the university ensembles and bands including Saxophone Quartet, Saxophone Choir, Concert Band, Athletic Band and Marching Band.  She was the 1995 recipient of the Falcon Marching Band's Outstanding Senior Female Marcher Award.  Her studies included saxophone with Dr. John Sampen and conducting with Mark Kelly.  Upon receiving her bachelor's degree in music education, Bianca taught general music, band and choir for six years in grades K-8 in both parochial and public schools.  She is currently taking time off from teaching to concentrate on raising her family.  Bianca has been playing with the Medina Community Band since 1998 and Sounds of Sousa Band since 2009.  She resides in Copley with her husband Patrick and their sons Sean, Jack, and Joe.
Miki Saito
(at left), a coloratura soprano, has enjoyed living in
Medina
(
Ohio
) since the spring of 2002.  Born and raised in
Yokohama
(
Japan
) she moved to the
United States
to study music and became an American citizen in 1997.  She has lived in
Pensacola
and
Jacksonville
,
Florida
,
Boston
,
Massachusetts
and
Biloxi
,
Mississippi
, performing with many musical organizations along the way.  Operatic roles she has performed include Yum Yum (
The Mikado
), Lucy (
The Telephone
), Donna Anna (
Don Giovanni
), Huegette (
The Vagabond King
) and Edith (
The Pirates of Penzance
).  Her concert solo performances include Beethoven
Mass in C major
, Mozart
Requiem
and
Catulli Carmina
by Orff.  Since her move to
Ohio
, she has appeared in eight productions with the Cleveland Opera Chorus, has toured the North East Ohio area with the Sounds of Sousa Band and has been a regular guest soloist of the Medina Community Band.
Star Spangled Banner (John Stafford Smith arranged by John Philip Sousa) uses lyrics from a poem written in 1914 by Francis Scott Key, a then 35-year-old amateur poet after seeing the bombardment of Fort McHenry at Baltimore, Maryland, by Royal Navy ships in Chesapeake Bay during the War of 1812.
The poem was set to the tune of a popular British drinking song, written by John Stafford Smith for the Anacreontic Society, a London social club.  Set to Key's poem and renamed "The Star-Spangled Banner," it would soon become a well-known American patriotic song.  It was recognized for official use by the United States Navy in 1889 and the President in 1916, and was made the national anthem by a congressional resolution on March 3, 1931 (46 Stat. 1508, codified at 36 U.S.C. § 301), which was signed by President Herbert Hoover.
Before 1931, other songs served as the hymns of American officialdom. Most prominent among them was "Hail, Columbia" which served as the de facto national anthem from Washington's time and through the 18th and 19th centuries.  Following the War of 1812 and subsequent American wars, other songs would emerge to complete for popularity at public events, among them "The Star Spangled Banner."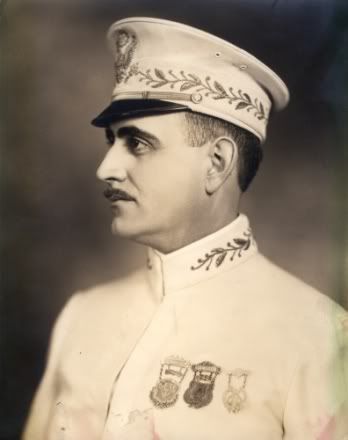 The Wanderer
(Overture) by Karl L. King (pictured at left). 
In 1920 King relocated to
Fort Dodge
,
Iowa
, where he assumed leadership of the municipal band and operated his own publishing company, the K. L. King Music House. During his tenure, the
Fort Dodge
band gained national recognition, and King became a beloved member of the community as well as a band musician of national and international repute. Research has not yielded anything on the overture
Wanderer
other than its publication year of 1926. 
To the best knowledge, the overture is a standalone composition without connection to an opera or operetta. 
Regimental Pride (John Clifford Heed) was published by the Carl Fischer Music Publishing Company. Since Heed was the solo and first cornet player with the Voss' First Regiment Band, we might assume that the march was dedicated, or at least inspired by the band.  Heed was a gifted young cornetist and bandmaster from Hackettstown, New Jersey. He was known as the March Wizard for his more than 60 marches, had a brief but productive career as a composer, teacher, and performer.  Heed joined the newly formed Hackettstown Cornet Band at the age of nine or ten and in a few years became the group's director.  During the 1890s, Heed's musical career flourished, but the following decade brought a change in his fortune.  He contracted tuberculosis, was forced to discontinue his career as a cornetist, and became weaker until his death in 1908 at the age of 45.
Melodie, Op. 42, No. 3
(Peter Tchaikovsky). Tchaikovsky (pictured at left) wrote this stunning melody for violin solo with piano. Alexander Glazunov arranged the piano part for orchestra.  And based on Glazunov, Bill Park wrote a setting for Alto Sax solo with Band.  This familiar lyric melody is straight out of the romantic tradition.
Falcon March (William Paris Chambers) was published in 1907, by Carl Fischer of New York (New York).  The dedication reads, to his Grace The Prince of Stolberg – Wernigerode. Chambers spent most of his yearly in nearby Newville.  He was self-taught (cornet) and became a proficient performer in a relatively short time.  At the age of 18, he became leader of the local band in Newville.  Although his conducting ability was widely accepted, it was his magnificent solo cornet work which made him famous. As a stunt, he once played a cornet solo on the summit of Pike's Peak (elevation 14,500 feet).
In the late 1890s and early 1900s, Chambers was manager of the C.G. Conn store in New York City, where he gave demonstrations of his great skill with the cornet for visiting musicians and others. In addition to his excellent marches, Chambers composed several cornet solos.  The majority of his marches are highly distinctive and of a structure sufficiently complex to tax the resources of even the finest musician.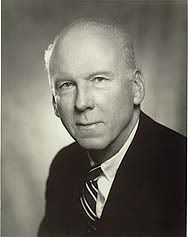 Rakes of Mallow from Irish Suite
(Leroy Anderson pictured at right). Evokes the carousing and rioting of the young bloods of Mallow.  Although accepted as an Irish tune (Mallow is a town in County Cork), there have been early versions of this tune with the title
The Rigs of Marlowe,
leading to speculation that this was an English tune to begin with. Whatever the origin, this tune has long been popular in
Scotland
, first published here in the 1780s. A
rake
was a fashionable youth who led a somewhat dissolute life, so this tune celebrates such young men from the town of
Mallow
.
Leroy Anderson was born in Cambridge, Massachusetts. His parents were Swedish immigrants who had come to the United States as children. Anderson moved to New York City in 1936, but he often returned to his parents' home and it was in this house that he arranged many Broadway show tunes for Arthur Fiedler and the Boston Pops Orchestra, and he composed his Irish Suite in eleven days. Anderson's suite is in five movements, each one based on a different Irish folk song. The work is dedicated to Arthur Fiedler.
The Music Man
(Meredith Willson pictured at left).
Set in 1912,
The Music Man
tells of a charming con artist who convinces the citizens of
River City
,
Iowa
to form a boys band. Meredith Willson's
Iowa
home town of
Mason City
, with its footbridge, pool hall, and annual Band Festival, is unmistakable as the inspiration for the fictional "
River
City
".
Willson played the flute in John Philip Sousa's famous band from 1921 to 1923. He then joined the New York Philharmonic Orchestra from 1924 to 1929.  
The Music Man opened on December 19, 1957 at the Majestic Theater in New York and ran for 1375 performances. Many of his songs have become standards, including "76 Trombones," "It's Beginning to Look Like Christmas," "You and I," "May the Good Lord Bless and Keep You" and "Till There Was You," a hit for the Beatles in 1963. 
Trombone Francois  (N.C. Davis).  Published in 1921, the characteristic for trombone section is listed as a trombone novelty.  It is more a ragtime offering of the first rank.
Romance
(M.A. Althouse).
It is difficult to say whether the fame of Monroe Althouse stems more from his long leadership of the famous Ringgold Band or from the many marches he composed.
Althouse's marches are considered by some march connoisseurs to be among the finest "street" marches ever written.  Monroe Althouse was born on May 26, 1853, in Centre Township, near West Leesport, Pennsylvania, the son of Jonathan and Mary Althouse, and spent his youth working with his father on the family farm.  He exhibited considerable talent as a youth.  His first instrument was the violin, and eventually he gained proficiency on the trombone and baritone horn.  He traveled with Buffalo Bill's Wild West Show while in his teens, and one of his early compositions, Always on the Road, was dedicated to that organization.
In 1880, after a period working as a cigar store operator and working briefly again at the hat factory, he established himself permanently as a professional musician.  He performed with virtually all instrumental groups in Reading, including the Philharmonic Orchestra.
His march, Romance was published in 1920. 
National Defense
(Jens Bodewalt Lampe).  Lampe was born into the large and musical family of Christian and Dorothea Lampe in
Ribe
,
Denmark
, in 1869.  A cobbler by trade, his father played tuba and bass violin in the summers with the band at the Tivoli Theater in
Copenhagen
, and several members of the family became well-known musicians.  In 1873, when J.B. (as he was later called) was four, his father accepted an offer to direct the Great Western Band in
St. Paul
,
Minnesota
, and the family moved to
America
.
J.B.'s major instruments were violin, piano, and trombone and he learned the fundamentals of several other instruments.  By 1881, there were ten children in the Lampe family and at age 12 J.B. had to leave school to help his parents at home.  He played in the violin section of what was to become the Minneapolis Symphony Orchestra.  He left the orchestra to begin a career as a conductor and began directing his own group at local hotels and at Lake Minnetonka during the summer season.  Lampe composed and arranged a large amount of music; one of his many pen names was Ribe Denmark (his birthplace).  He was a charter member of ASCAP (American Society of Composers, Authors, and Publishers). 
Stars and Stripes Forever
(John Philip Sousa)
The march
is considered the finest march ever written, and at the same time one of the most patriotic ever conceived.  As reported in the
Philadelphia Public Ledger
(May 15, 1897)
" ... It is stirring enough to rouse the American eagle from his crag, and set him to shriek exultantly while he hurls his arrows at the aurora borealis."
 (referring to the concert the Sousa Band gave the previous day at the
Academy
of
Music
).
The march was not quite so well received though and actually got an over average rating for a new Sousa march.  Yet, its popularity grew as Mr. Sousa used it during the Spanish-American War as a concert closer.  Coupled with his Trooping of the Colors , the march quickly gained a vigorous response from audiences and critics alike.  In fact, audiences rose from their chairs when the march was played.  Mr. Sousa added to the entertainment value of the march by having the piccolo(s) line up in front of the band for the final trio, and then added the trumpets and trombones join them on the final repeat of the strain.
God Bless
America
. 
In 1918,
Irving Berlin
(pictured at left) produced
Yip, Yip Yaphank
, an all-soldier show at
Camp
Yaphank
. God Bless America
was one of the songs in that show, but
Berlin
decided to delete it from the production. In 1938, Kate Smith asked
Berlin
to write a song for her to use in her Armistice Day radio show. Unable to write anything that satisfied him, he remembered the song from
Yip, Yip Yaphank
and gave her, free of charge, exclusive performing rights. She first performed it on her radio show on November 10, 1938, the last peacetime Armistice Day this country celebrated before World War II.
In 1939, both major political parties used God Bless America in their Presidential nominating conventions. Kate Smith recorded the song for Columbia and it became immensely popular. It was heard or sung at rallies, balls, and athletic events nationwide.
Berlin was a passionate patriot and did not want to profit from this patriotic song. In 1939 he copyrighted it in the names of Gene Tunney, Mrs. Theodore Roosevelt, Jr., and A. L. Berman and stipulated that all proceeds go to the Boy and Girl Scouts.
This stately and reverent song represents the thoughts of the multitudes of immigrants such as Berlin, himself, who were grateful to this country for giving them the opportunity to transcend the limitations of their old world origins.
Israel Baline, the son of a Jewish cantor, immigrated to the United States from Russia with his family in 1893. Here, he spent his early years in great poverty. In 1904, he worked as a singing waiter in Chinatown and Bowery cabarets of New York City. After a printer erroneously printed his name "Irving Berlin" on a piece of music, he chose that name for his own. In 1911, he achieved success pioneering ragtime with Alexander's Ragtime Band (originally titled Alexander and his Clarinet) and Everybody's Doin' It.
*Program – Friday, July 16th, 2010 - please see changes at top of page as of July 12th
Anthem, Star Spangled Banner.............................. Francis Scott Key/John Philip Sousa
Overture, The Wanderer (1926)..................................................................... Karl L. King
March, Regimental Pride ............................................................................... J.C. Heed
Alto Saxophone Solo, Melodie, Op. 42, No. 3 ......................... Peter Tchaikovsky/Bill Park
Bianca Murphy, soloist
March, Falcon March (1907) .................................................................. Paris Chambers
Suite, Rakes of Mallow (from Irish Suite) (1947)........................................ Leroy Anderson
Soprano Solo, The Music Man (1950)................................. Meredith Willson/Philip J. Lang
Miki Saito, soloist
Characteristic, Trombone François (1921)....................................................... N.C. Davis
March, Romance (1920)............................................................................ M.A. Althouse
March, National Defense (1916) ........................................................................... Lampe
 National March, The Stars and Stripes Forever (1897)............................ John Philip Sousa