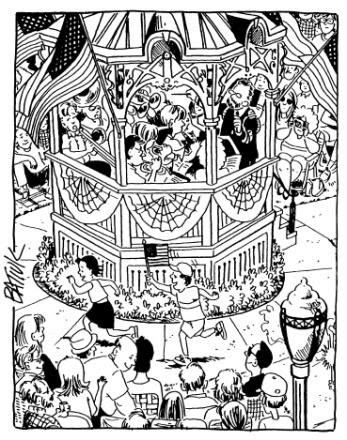 This material covers the ninth concert – Friday, July 20th, 2012, 8:30p – 9:30p

Site: Medina's Uptown Park Square (intersections of Rtes. 18, 42, Broadway and Liberty Street)

Cancellation of concerts due to the weather will be posted on the website!
MEDINA:  Medina Community Band will continue the 2012 summer season, a celebration of 153 years of presenting community concerts in Medina, on Friday, July 20th, 2012, at 8:30p, in Medina's Uptown Park Square Gazebo. 
Featured soloist on this concert will be: Susan Fletcher, soprano.  The Medina Community Band is under the baton of conductor Marcus Neiman, starting his 39th summer concert series. The concert will feature works by  Grundman, King, Goodman, Puccini, Strauss Jr., Lennon and McCartney, and Sousa.  Medina Community Band is sponsored by the Medina Community Band Association, a standing committee of the Medina Breakfast Kiwanis Club.
Featured Soloists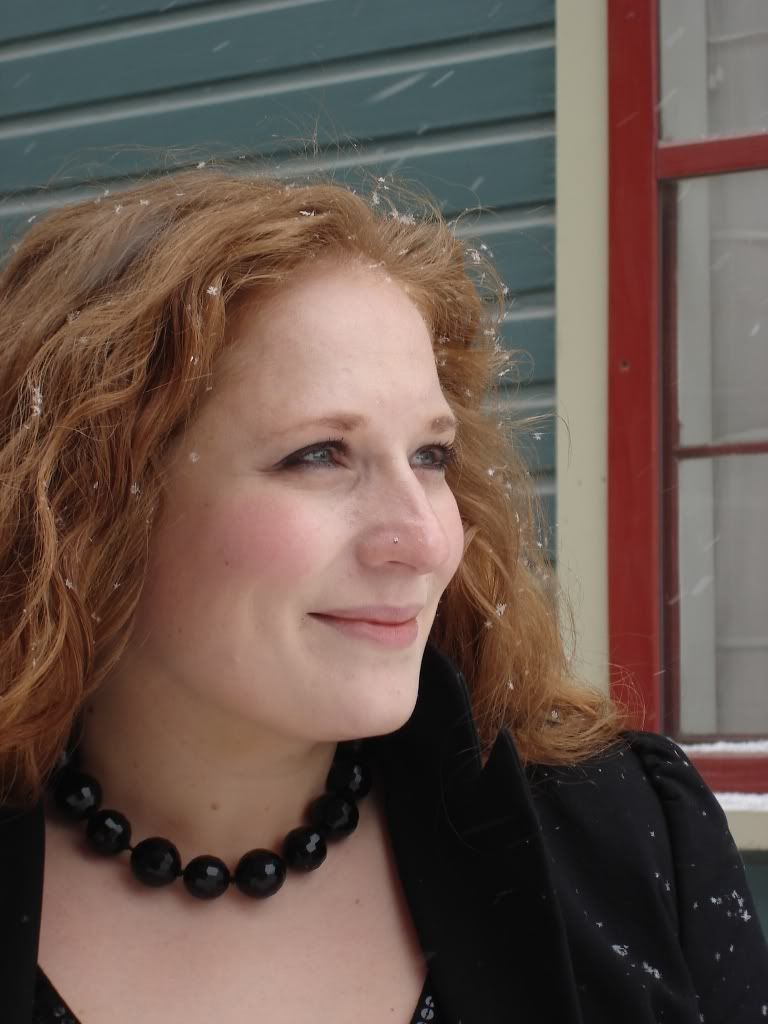 Susan Fletcher
(at left), a lyric soprano, was born and raised in Bay Village and currently resides in Ohio City.  She received her music degree from Kent State University in 2010.  Since then, she has performed with the Castleton Festival under the direction of Lorin Maazel, the Cleveland Orchestra with Franz Welser-Most, Opera Cleveland, The Savannah Music Festival, the Kent State University New Music Ensemble directed by Dr. Frank Wiley and the Kent State University Jazz Band under the direction of Chas Baker.
Conductor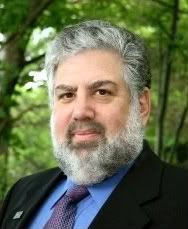 Marcus Neiman
(right) celebrates his 40th season as conductor of the Medina Community Band and 39th summer season.  Neiman is a part-time assistant professor of music education at Kent State University where he teaches the "Music Education as a Profession" course and supervises music education student teachers.  He was interim director of the Kent Concert Band during the 2010-2011 academic year, and also taught the "Instrumental Methods for Choral and General Music Majors."
He received his bachelor of science in music education degree from The University of Akron; master of music in music education degree from The University of Michigan; and, post-degree doctorial work at The Kent State University.
He is a member of the 1993-94 class of Leadership Medina County.  Neiman remains active with Ohio Music Education Association (OMEA), having served as state president of that organization from 1998-2000, and currently serves as a woodwind adjudicator and state historian.  He is the recipient of OMEA's highest honor, the "Distinguished Service Award," presented to him on January 29th, 2010.  Neiman is the artistic director and founding conductor of the professional concert band – The Sounds of Sousa Band and appears throughout the nation as a guest clinician and conductor.
Marcus and his wife Mary Ann, who is a professional clarinetist and program administrator - preparatory and continuing education department for the Cleveland Institute of Music, reside in Medina with their two cats Sasha and Dmitri. Marcus has two daughters (Nancy and Jennifer) from a previous marriage, three granddaughters, one grandson, and a godson.
Program Notes 
Star Spangled Banner (John Stafford Smith arranged by John Philip Sousa) uses lyrics from a poem written in 1914 by Francis Scott Key, a then 35-year-old amateur poet, after seeing the bombardment of Fort McHenry at Baltimore, Maryland, by Royal Navy ships in Chesapeake Bay during the War of 1812.
The poem was set to the tune of a popular British drinking song, written by John Stafford Smith for the Anacreontic Society, a London social club.  Set to Key's poem and renamed "The Star-Spangled Banner," it would soon become a well-known American patriotic song.  It was recognized for official use by the United States Navy in 1889 and the President in 1916, and was made the national anthem by a congressional resolution on March 3, 1931 (46 Stat. 1508, codified at 36 U.S.C. § 301), which was signed by President Herbert Hoover.
Before 1931, other songs served as the hymns of American officialdom. Most prominent among them was "Hail, Columbia" which served as the de facto national anthem from Washington's time and through the 18th and 19th centuries.  Following the War of 1812 and subsequent American wars, other songs would emerge to complete for popularity at public events, among them "The Star Spangled Banner."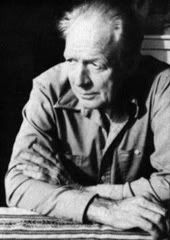 Clare Ewing Grundman
(pictured at left) (born 11 May 1913 in Cleveland, Ohio; died 15 June 1996 in South Salem, New York) is one of the most prolific and highly respected composers for band on the American scene today.  He is represented in one publisher's catalogue with nearly 50 works for band, in addition to other media.
Grundman grew up in Ohio earning both bachelor of science and master of arts degrees at The Ohio State University.  From 1937 to 1941, he taught arranging, woodwind, and band at OSU and during World War II, he was a member of the US Coast Guard.  He credits Manley R. Whitcomb with first encouraging him to write for band and Paul Hindemith with providing practical techniques for composition.
Grundman's activities also include scores and arrangements for radio, television, motion pictures, ballet, and Broadway musicals.  His arrangements have been used by many well-known entertainers including:  Carol Channing, Marge and Gower Champion, Sid Caesar, and Victor Borge.  He has taken a special interest in composition for school bands, and his works have been performed by school and college bands throughout the country. 
Third American Folk Rhapsody No 4 – is a worthy addition to the series.  It is an imaginative and colorful arrangement which readily demonstrates Grundman's skill and insight as a composer of band music.  This work was dedicated to Donald E. McGinnis and the Ohio State University Concert Band.  It is based on the following American folk songs: Down in the Valley; Little Brown Jug; Rosie Nell, and Hey Betty Martin, Tiptoe, Tiptoe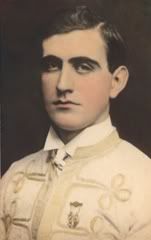 The Victor
(March). Karl L. King (pictured at right, at about the age when he wrote this march) was one of six marches included in the
Artarmo Band Book
published in 1910, which also contained six waltzes and one each of an overture, gallop, serenade, and schottische, all by King. As the copyright dates are January and March, 1910, the works were composed before his 19
th
birthday (February 21
st
).  He was then a member of the Thayer 5
th
Regiment Band of Canton (OH) and had seen a number of works including several professional grade marches in print:
Carrollton, Canton Aero Club,
and
Songs of Veterans
, among others.  Later that year, he would spend short stints playing baritone horn in the Neddermeyer Concert Band of Columbus (OH), and the Soldiers' Home in Danville (IN), before joining the Yankee Robinson Circus, beginning almost a decade trouping with a series of circus bands.
Originally scored for limited instrumentation to sound complete with small groups in outdoor venues, The Victor was written with a melody plus one line of direct harmony, bass line, and at times a counter melody. The complete harmony is at times only present in the four altos (horns). The arrangement you will hear is scored for modern concert band while retaining all of the original harmony and melodic content.  King did not write a score, but wrote out each part separately, leading to occasional inconsistencies that have been standardized in the edition you will hear.  Dynamics have been added for appropriate contrast in concert performances. (Gene Milford)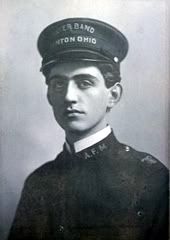 The Viking March
was originally published on March 9
th
, 1911, presumably written sometime in 1910.  It is believed that King was playing a two-month engagement gig on baritone in the Robinson's Famous Circus Band at the time.  Since the C.L. Barnhouse Company accepted the march for publication in December of 1910 and turned marches around for production very quickly, it is presumed that
The Viking March
was written during the two months that King was working with the Robinson Show.  The march was later included in the popular book collection, "The King March Book No. 1."  The march dedication reads "To my friends, Ervin and Floyd Leslie" and we presume they were friends of King from Canton or Columbus (OH).  There are no indications why the title was used for the march.
It is interesting to note that Russell P. Harker, director of the marching band at Indiana University, excerpted the trio of the march, composed lyrics, and introduced it as the official fight song of the school in the fall of 1912.  He used the title "Indiana, Our Indiana."  Since Indiana was one of the "Big Ten" college schools, Harker probably did more to promote the march than anyone else. (Andrew Glover)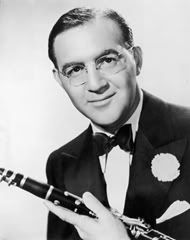 They called
Benjamin David Benny Goodman
(pictured at right) 'the King of Swing.'  Born in poverty in the Jewish ghetto in Chicago on May 30
th
, 1909, one of 12 children, the virtuoso clarinetist became one of the most famous American musicians of all time, and in 1938 took jazz into Carnegie Hall!  He formed his first band in 1934, just as coast-to-coast radio and the rise of a new broadcasting species – the DJ – was about to get going in America.
Network radio was a major factor in Goodman's overnight success. But, so was the immaculate elegance and fluency of his clarinet-playing and a brilliant group of partners including the thunderously theatrical drum star Gene Krupa, pianist Teddy Wilson, vibraphonist Lionel Hampton, and electric-guitar pioneer Charlie Christian.  Arrangements by Fletcher Henderson, the bandleader who had hired the young Louis Armstrong and Coleman Hawkins in the 1920s, also gave an edge to the early Goodman bands.
Richard Hayman's arrangement of the music of Benny Goodman – A Tribute to Benny Goodman - features Pushin Sand; Air Mail Special; A Smooth One; Flying Home; and, Slipped Disc.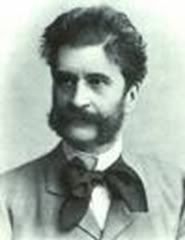 Johann Strauss, Jr.
(pictured at left)
Mein Herr Marquis (Laughing Song)
from
Die Fledermaus
).  Strauss was born in St. Ulrich near Vienna (now a part of Neubau), Austria, on October 25, 1825, to the famous composer Johann Strauss I. His father did not want him to become a musician but rather a banker.  Nevertheless, Strauss Junior studied the violin secretly as a child with the first violinist of his father's orchestra, Franz Amon.  When his father discovered his son secretly practicing on a violin one day, he gave him a severe whipping, saying that he was going to beat the music out of the boy.  It seems that rather than trying to avoid a Strauss rivalry, the elder Strauss only wanted his son to escape the rigors of a musician's life.  It was only when the father abandoned his family for a mistress, Emilie Trampusch, that the son was able to concentrate fully on a career as a composer with the support of his mother.
Laughing Song. Dr. Falke, a notary, had gone to a costume ball dressed as a bat. He drank too much and, when he passed out, his friends laid him out on the sidewalk so that he awoke in full costume to the derisive shouts of the school children. Ever since then, he was jeered at as "Doctor Bat" wherever he went. The plot of the operetta pivots on Dr. Falke's wish to get even with Eisenstein, chief perpetrator of the joke. The work is full of mistaken identities as all the participants show up at a ball in disguise, and each reveals what he or she shouldn't to the wrong person.
Eisenstein's maid, Adele, goes to the ball disguised as a real lady, and the Marquis mistakes her for his maid. Of course, she IS his maid, but she is dressed very elegantly, in Eisenstein's wife's gown. Everyone tells him he is very un-gallant to tell her that she looks like a maid. Adele then admonishes him for being so unobservant.
"My dear Marquis, a man like you ought to know better than that. Let me therefore advise you to look at people more closely. My hand is too tiny to behold, my foot too small and graceful! My speech, so refined, my dainty waist and elegant figure, you'll never find a lady's maid who has these things!"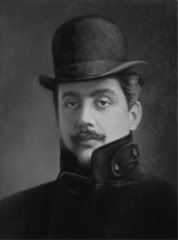 Giacomo Puccini's
(pictured at right)
O mio babbino caro
from the opera
Gianni Schicchi.
The opera, which is part three of
Il Trittico
(The Trilogy), takes place in Florence in 1299.  The relatives of Buoso Donati have been left out of the old man's will. Rinuccio, his nephew, has a girlfriend, Lauretta, whose father, Gianni Schicchi, is a very clever rogue. Rinuccio begs Schicchi to help the family, but he refuses because of their condescension toward him and his daughter.  Singing this aria, Lauretta pleads convincingly with her father on Rinuccio's behalf.  The literal translation is as follows:
Oh my dear daddy, he pleases me. He is handsome. I want to go to Porta Rossa to buy the ring. Yes, I want to go there, and if I should love him in vain, I would go to Ponte Vecchio in order to throw myself into the Arno.  I am feeling tortured and tormented.  Oh God, I should like to die.  Daddy, have pity.
Porta Rossa is the central marketplace in Florence.  The Arno is one of the largest rivers in Italy and it passes through the center of the city.  Il Ponte Vecchio was the only bridge over the Arno until 1218, and is the only one to survive destruction during World War II.  The bridge is very picturesque with shops build along each side of it over the river. (notes by the arrange, Percy Hall).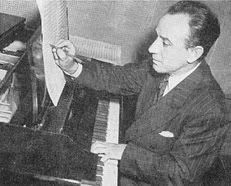 Terig Tucci
(pictured at left) was an Argentine composer, violinist, pianist, and mandolinist. He was born in Buenos Aires in 1897. His first composition,
Cariños de Madre
, was performed for a zarzuela at the Avenida Theatre in 1917. Following a career as a violinist in local cinema orchestras, he left in 1923 for New York, and from 1930 to 1941, performed for NBC Radio. Prominent recording label RCA Victor named Tucci executive producer of their lucrative Latin American music unit in 1932, and in 1934, he performed with fellow countryman Carlos Gardel during the renowned tango vocalist's Paramount Pictures contract.
Remaining at the helm of RCA Victor's Latin unit, Tucci served as lead music arranger for CBS' Pan-American Symphony Orchestra from 1940 to 1949 where he collaborated with the accordionist John Serry Sr. and the conductor Alfredo Antonini on the radio program Viva America. He also performed for General Electric from 1941 to 1947, and for the Voice of America, from 1951 to 1959. Tucci led his tango orchestra in numerous RCA recordings, notably My Buenos Aires, in 1958. He retired from RCA Victor in 1964, and in 1969, wrote a reflection on Gardel's last days, Gardel en Nueva York. Tucci lived out his final years in his Forest Hills, Queens, home. He died during a visit to Buenos Aires in 1973, and was buried in New York.
La Bamba De Vera Cruz.  La Bamba de Vera Cruz is Tucci's best-known pasodoble. La Bamba is a regional dance of the state of Veracruz, which is located near the Gulf of Mexico. A boy and girl in brightly colored dress, most likely reds and whites, perform the flirtatious dance.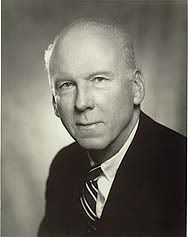 Clarinet Candy.  
Composed by
Leroy Anderson
(pictured at right). Written in 1962 as a showpiece for four solo clarinets in the style of
Bugler's Holiday,
we feature our entire clarinet section.
Born in Cambridge, Massachusetts to Swedish parents, Anderson was given his first piano lessons by his mother, who was a church organist. He continued studying piano at the New England Conservatory of Music. In 1925 Anderson entered Harvard University, where he studied theory with Walter Spalding, counterpoint with Edward Ballantine, and harmony with George Enescu, composition with Walter Piston and double bass with Gaston Dufresne. He also studied organ with Henry Gideon. He graduated with a Bachelor of Arts degree in 1929 and Master of Arts in 1930.
Anderson continued studying at Harvard, working towards a PhD in German and Scandinavian languages. (Anderson spoke English and Swedish during his youth but he eventually became fluent in Danish, Norwegian, Icelandic, German, French, Italian, and Portuguese.) During this time he was also working as organist and choir director at the East Milton Congregational Church, leading the Harvard University Band, and conducting and arranging for dance bands around Boston. His arranging work came to the attention of Arthur Fiedler in 1936 and Anderson was asked to show Fiedler any original compositions. Anderson's first work was Jazz Pizzicato in 1938. Fiedler suggested that a companion piece be written and thus Anderson wrote Jazz Legato in 1938.
In 1942 Leroy Anderson joined the U.S. Army, and was assigned to Iceland as a translator and interpreter. Later in 1945 he was assigned to The Pentagon as Chief of the Scandinavian Desk of Military Intelligence. But his duties did not prevent him from composing, and in 1945 he wrote "The Syncopated Clock" and "Promenade". Anderson was a reserve officer and was recalled to active duty for the Korean War. In 1951 Anderson wrote his first hit, "Blue Tango", earning a Golden Disc and the No. 1 spot on the Billboard charts.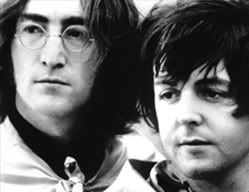 The Symphonic Beatles
(
Lennon and McCartney
, pictured at left,  and arranged by
John Cacavas
). The Beatles, probably more than any other rock and roll group, focused the attention of England, then the United States, and ultimately the world to a new sound!  With John Lennon, Paul McCartney, George Harrison, and Ringo Starr, the group helped evolve a generation of music.  They hit the American scene in February of 1964 with their appearance on The Ed Sullivan Show and pushed their music to the top of the charts with over 40 different single recordings that reached "number one" on the charts.
John Cacavas studied music and composition at Northwestern University in Evanston (Illinois).  Upon graduation, he entered the United States Army and arranged for the United States Army Band in Washington D.C. His compositions and arrangements have been performed on screen, by major orchestras, and professional and school bands and orchestras.
His Symphonic Beatles includes: A Hard Day's Night (1964), Yesterday (1966), I Want to Hold Your Hand (1963), Michelle (1965), and Hey Jude (1970). 
Sound Off!
(John Philip Sousa – pictured at left).Sousa was in his fifth year as director of the United States Marine Band when this march was composed in 1885. 
"Sound Off"
was apparently intended for ceremonial use by the Marine Band.  As he had done on previous occasions, Sousa used a marching command as the title of his composition.  It was dedicated to Major George Porter Houston, one of Sousa's superiors at Marine Barracks, Washington.  The Corps "Manual for Field Music," published in 1935, reports that the ceremonial "Sound Off" dates from the time of the Crusades.  The musicians would march and counter-march in front of the soldiers designated for the Crusades as a ceremony of dedication.  Part of the "Sound Off" tradition is the playing of three chords while standing fast, preceding the music actually performed on the march.  The three chords are thought to signify "three cheers" from the assembled crowds.  Today, the Marine Band has eliminated the three chords preceding the ceremonial "Sound Off" and uses only percussion to signal the march.
Stars and Stripes Forever. The march is considered the finest march ever written, and at the same time one of the most patriotic ever conceived.  As reported in the Philadelphia Public Ledger (May 15, 1897) " ... It is stirring enough to rouse the American eagle from his crag, and set him to shriek exultantly while he hurls his arrows at the aurora borealis."  (referring to the concert the Sousa Band gave the previous day at the Academy of Music).
The march was not quite so well received though and actually got an over average rating for a new Sousa march.  Yet, its popularity grew as Mr. Sousa used it during the Spanish-American War as a concert closer.  Coupled with his Trooping of the Colors , the march quickly gained a vigorous response from audiences and critics alike.  In fact, audiences rose from their chairs when the march was played.  Mr. Sousa added to the entertainment value of the march by having the piccolo(s) line up in front of the band for the final trio, and then added the trumpets and trombones join them on the final repeat of the strain.
The march was performed on almost all of Mr. Sousa's concerts and always drew tears to the eyes of the audience.  The author has noted the same emotional response of audiences to the march today.  The march has been named as the national march of The United States.
There are two commentaries of how the march was inspired.  The first came as the result of an interview on Mr. Sousa's patriotism.  According to Mr. Sousa, the march was written with the inspiration of God.
"I was in Europe and I got a cablegram that my manager was dead.  I was in Italy and I wished to get home as soon as possible, I rushed to Genoa, then to Paris and to England and sailed for America.  On board the steamer as I walked miles up and down the deck, back and forth, a mental band was playing 'Stars and Stripes Forever.'  Day after day as I walked it persisted in crashing into my very soul. I wrote it on Christmas Day, 1896."
The second, and more probable inspiration for the march, came from Mr. Sousa's own homesickness.  He had been away from his homeland for some time on tour, and told an interviewer:
"In a kind of dreamy way, I used to think over old days at Washington when I was leader of the Marine Band ... when we played at all public functions, and I could see the Stars and Stripes flying from the flagstaff in the grounds of the White House just as plainly as if I were back there again."
"Then I began to think of all the countries I had visited, of the foreign people I had met, of the vast differences between America and American people and other countries and other peoples, and that flag our ours became glorified ... and to my imagination it seemed to be the biggest, grandest, flag in the world, and I could not get back under it quick enough."
"It was in this impatient, fretful state of mind that the inspiration to compose 'The Stars and Stripes Forever' came to me." 
That America's entry into the First World War helped end it and most likely prevented a German victory is fact.  In popular music, 1917 and 1918 were almost exclusively patriotic with one of the most popular being Richard Whiting's Till We Meet Again.
With music written by
Richard A. Whiting
(at right) and lyrics by Raymond B. Egan, the song tells of the parting of a soldier and his sweetheart.  As Whiting's sister Margaret tells it, the song was intended for a 1918 contest at a Detroit Theater.  Dissatisfied with the results, Whiting threw the manuscript in the trash.  His secretary retrieved it and showed it to their boss, publisher Jerome Remick, who submitted it in the contest, where it won top honors.
The Medina Community Band 
Marcus Neiman, conductor
Friday Evening, July 20th, 2012
8:30 p.m.
Program
National Anthem, The Star Spangled Banner (1931)............. Francis Scott Key/John Philip Sousa 
Rhapsody, American Folk Rhapsody No. 4  (1977) ................ Clare Grundman 
March, The Victor (1910)............................................................. Karl L. King/Gene Milford 
Tribute, A Tribute to Benny Goodman (1941)........................ Benny Goodman/Richard Hayman 
March, The Viking (1911)............................................................ Karl L. King/Andrew Glover 
Vocal solos 
   O mio babbino caro (from Gianni Schicchi) (1917).............. Giacomo Puccini/Percy Hall 
   Laughing Song (from Die Fledermaus) (1874)................ Johann Strauss, Jr./Leonard B. Smith
Susan Fletcher, soprano soloist 
Pasodoble, La Bamba De Vera Cruz (1945) ..................................  Terig Tucci/Leonard B. Smith 
Clarinet Feature, Clarinet Candy (1962) .................................  Leroy Anderson 
Tribute, The Symphonic Beatles (1964) ...........  John Lennon & Paul McCartney/John Cacavas 
March, Sound Off!  (1885) ................................................  John Philip Sousa 
National March, The Stars and Stripes Forever (1896)......... John Philip Sousa 
Patriotic, Till We Meet Again (1918).................................. Richard A. Whiting/William Teague