Friday, July 23rd, 2010 - Medina Community Band will perform their eighth concert of the 151st season on Friday, July 23rd at 8:30 p.m., on Medina Courthouse Square Gazebo. 
Laura Bloss
is currently a graduate teaching assistant at the
University
of
Akron
, where she is completing master's degrees in both trumpet performance and music history and literature. She also holds a bachelor's degree in music education from
Baldwin-Wallace
College
. Laura is active as a free-lance musician in the
Akron
,
Canton
, and
Cleveland
areas, maintains her own studio of trumpet students, and recently returned from being on tour with the American Wind Symphony Orchestra. Laura is a member of the Freedom Brass Band of Northeast Ohio and has appeared as a soloist with the Medina Community Band and the Mercer (PA) Community Band. Her primary trumpet teachers have been Scott Johnston and Jack Brndiar.



Scott Curfman

began his duties as director of Athletic Bands in the Hugh A. Glauser School of Music at

Kent

State

University

during the summer of 2004. He became interim director of bands in the summer of 2010 following the retirement of Dr. Wayne Gorder. Curfman's responsibilities include direction of the Kent State Wind Ensemble. In addition, Curfman conducts the Marching Golden Flashes and the Flasher Brass Basketball Band. He also teaches conducting and marching band techniques classes.

Prior to his appointment at Kent State, Scott Curfman served for thirteen years as Director of Bands for the Cuyahoga Falls City Schools. A veteran teacher, Mr. Curfman also taught in Copley-Fairlawn, Rittman, Akron-Firestone and Nordonia schools. Scott holds degrees from the Ohio State University (BME) and from the VanderCook College of Music (MME). He was the High School Fine Arts Department Chair in the "Falls" and served area universities as a Cooperating Teacher with over 20 student teachers.

Under Mr. Curfman's direction, the Cuyahoga Falls Bands traveled extensively and successfully throughout the United States. The Symphonic Band earned numerous superior ratings, in class AA, in OMEA Adjudicated Events. In 2003, the Symphonic Band was invited as the only high school band to perform at the ASBDA National Convention. The Tiger Marching Band participated in the Peach Bowl Parade, Brach's Holiday Parade in Chicago, the 1999 Kickoff Classic in Giant's Stadium in East Rutherford, NJ, the 2001 Holiday Bowl Parade in San Diego, the 1999 and 2003 Fiesta Bowl Parades in Tempe, Arizona.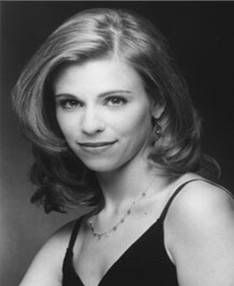 Denise Milner Howell
(mezzo-soprano) is equally at home on the opera, musical theatre or concert stage.  Her solo engagements include performances with Opera Cleveland, Chautauqua Opera, Akron Lyric Opera Theatre, Tanglewood Festival, Akron Symphony Orchestra, Carousel Dinner Theatre, Sounds of Sousa Band, and Buffalo Philharmonic. Recent roles include Mercedes (Carmen), Hansel (HANSEL AND GRETEL), and Celia (IOLANTHE
)
. She can be heard in a CD release on the North/South recording label singing "Sappho Songs", composed by Ira-Paul Schwarz. Ms. Howell lives in
Sharon
Township
, OH with her husband, Gregg, and their sons, Miles and Wesley.
Allie Kolberg
 is June 2010 graduate of
Highland
High School
. She has been a member of Medina Community Band since 2007. She started playing music at the age of seven when she learned how to play the piano. Shortly after, at the age of nine she began to play the saxophone. She has taken private lessons for eight years. In addition to playing the alto, she has played the tenor,
bari
and clarinet. 
Allie was first chair alto saxophone in the Highland High School Wind Ensemble, and was a member of the
Highland
High School
marching band. She was involved in other school activities such as the Highland Dance Team, Jazz Band, National Honors Society, VOFT, Robotics Team, Envirothon, Academic Challenge, Band Council, Student Council, Medina County Junior Leaders, 4-H, and is the president of her church youth group.


She plans to pursue a career in biomedical engineering, but will always continue to play music.
Star Spangled Banner (John Stafford Smith arranged by John Philip Sousa) uses lyrics from a poem written in 1914 by Francis Scott Key, a then 35-year-old amateur poet after seeing the bombardment of Fort McHenry at Baltimore, Maryland, by Royal Navy ships in Chesapeake Bay during the War of 1812.
The poem was set to the tune of a popular British drinking song, written by John Stafford Smith for the Anacreontic Society, a London social club.  Set to Key's poem and renamed "The Star-Spangled Banner," it would soon become a well-known American patriotic song.  It was recognized for official use by the United States Navy in 1889 and the President in 1916, and was made the national anthem by a congressional resolution on March 3, 1931 (46 Stat. 1508, codified at 36 U.S.C. § 301), which was signed by President Herbert Hoover.
Before 1931, other songs served as the hymns of American officialdom. Most prominent among them was "Hail, Columbia" which served as the de facto national anthem from Washington's time and through the 18th and 19th centuries.  Following the War of 1812 and subsequent American wars, other songs would emerge to complete for popularity at public events, among them "The Star Spangled Banner."
Wedding Day at Troldhaugen
(Edvard Grieg – pictured at right). This piece comes from Grieg's
Lyric Pieces
, a collection of 66 short pieces for solo piano. They were published in ten volumes, from 1867 to 1901. 
Wedding Day at Troldhaugen, Op. 65, No. 6
was part of the 1896 opus 65, which was published in 1897. Troldhaugen was the home of the composer, located in his hometown,
Bergen
. The house itself and its surroundings are now a Grieg museum. The names come from
trold
meaning "troll" and
haug
from the Old Norse word
haugr
meaning "knoll." Grieg is reputed to have said that children called the nearby small valley "The Valley of the Trolls" and thus gave the name for his building as well.
Regimental Pride (John Clifford Heed) was published by the Carl Fischer Music Publishing Company. Since Heed was the solo and first cornet player with the Voss' First Regiment Band, we might assume that the march was dedicated, or at least inspired by the band.  Heed was a gifted young cornetist and bandmaster from Hackettstown, New Jersey. He was known as the March Wizard for his more than 60 marches, had a brief but productive career as a composer, teacher, and performer. Heed joined the newly formed Hackettstown Cornet Band at the age of nine or ten and in a few years became the group's director.  During the 1890s, Heed's musical career flourished, but the following decade brought a change in his fortune.  He contracted tuberculosis, was forced to discontinue his career as a cornetist, and became weaker until his death in 1908 at the age of 45.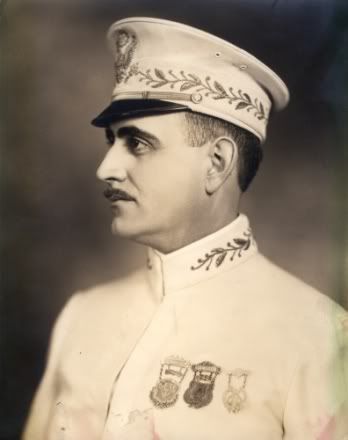 Bonds of Unity March
. 
Karl Lawrence King was born February 21, 1891 in
Paintersville
,
Ohio
. His family moved to
Xenia
a short time later, and around the turn of the century, the King family moved to
Canton
, where young Karl would begin to develop an interest in bands and music. After receiving some instruction on the cornet, King switched to baritone. His first band experience was with the Thayer Military Band of Canton, while in his teens. In 1909 King spent some time as a member of bands in
Columbus
and also
Danville
,
Illinois
. While a member of these bands, King began to compose marches and other works. Beginning in 1910, King began a decade-long career as a circus musician, spending one season each as a baritone player in the bands of Robinson's Famous Circus, Yankee Robinson Circus, Sells Floto Circus, and the Barnum and Bailey "Greatest Show On Earth." As a composer, King was one of the most prolific and popular in the history of band music. He composed at least 291 works, including 185 marches, 22 overtures, 12 galops, 29 waltzes, and works in many other styles. Not only did he compose some of the most brilliant and famous marches for experienced bands at the professional and university levels; he also displayed a remarkable ability to compose first-rate music for younger, less experienced musicians and bands. His music continues to be performed worldwide by bands of all experience levels.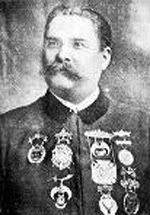 Napoli
. 
Herman Bellstedt came to the
United States
from
Germany
in 1867 when he was nine years old.  By 1872, the Bellstedt family had settled in
Cincinnati
, the city which the young musician would call home for much of his life. He received some of his musical instruction from his father, but his first formal training on the cornet was with Mylius Weigand of
Cincinnati
. From then on, he was usually employed as cornet soloist, although he did conduct at times.  In 1874, he began working his way through the fine bands of
Cincinnati
and by 1889 was employed by the Gillmore Band. From 1902 through 1904, he was solo cornetist with the Sousa Band.  In 1913, he returned to
Cincinnati
to become professor of wind instruments at the Cincinnati Conservatory of Music.  Bellstedt's "Variations on a Neapolitan Song" takes as its theme the swinging, ever-popular Funiculì Funiculà -- not a folk song, as is usually assumed, but an original composition by Luigi Denza. Bellstedt was a famous cornetist who played with many bands between 1873 and 1909, including Sousa's, and he tailored
Napoli
perfectly to his own strengths: expert tonguing and a wide range.
The Gillette Look Sharp March (Mahlon Merrick).  Mahlon Merrick was born in Farmington, Iowa. At the age of 5 his family moved to Centralia, Washington. He attended college at both the University of Washington and at Washington State University. He received a Bachelor of Arts degree in Education, as well as a Bachelor of Science degree in physics and mathematics, intending to make teaching his profession.
In 1927 he left Washington state and moved to California to advance his career. He first worked for Meredith Willson as arranger and later music director of "Blue Monday Jamboree" program on San Francisco radio station KFRC, for which Willson composed a THEME called "The Jamboree March". He stayed with that program when it moved to the fledgling Don Lee Network.
This jingle was expanded for its use on the "Gillette Cavalcade of Sports" which started on NBC radio and TV in 1944. It evolved from the original quartet vocal arrangement into a well-known instrumental march called "The Gillette Look Sharp March" [aka: "The Look Sharp - Be Sharp March".] Although its motif has some similarity with the NBC Chimes motif, the accent and placement of notes is different and of course the short 3-note NBC chimes signature is more of a point of departure. The development of the march was superb from its classy "chimes" introduction, to its "A", "B" and even "C" Themes. Quite complete and elaborate for a TV theme. It was as craftsmanlike as anything ever written by John Phillip Sousa. By 1948 - 1952 the Gillette TV show was one of the widely watched events on the NBC network nationwide. Soon school marching bands were clamoring for Merrick's catchy march, and a band arrangement was published.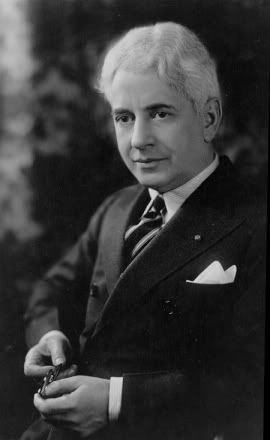 On the Mall
(Edwin Franko Goldman – pictured at right) This march, which encourages the audience to sing along and then whistle along at the trio, was written in 1923 for the dedication of the Elkan Naumburg Bandshell in Central Park (
New York City
).  The title derives from the park's spacious mall, where the bandstand is located, and where New Yorkers enjoy gathering to listen to music.
Edwin Franko Goldman, founder and conductor of the famed Goldman Band of New York City, was the last of the great triumvirate, which set the course of American band history.  The trio of bandsmen, which entertained and inspired the American public for over 80 years consisted of Patrick Sarsfield Gilmore, John Philip Sousa, and Goldman.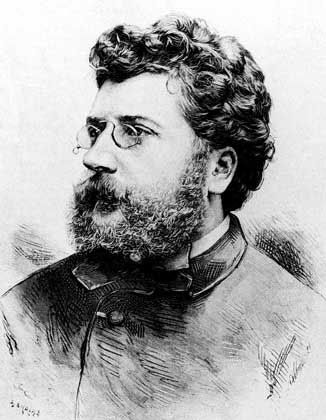 Habanera
from
Carmen
, by Georges Bizet. Bizet was in many respects a tragic figure: A true prodigy, studying at the Paris Conservatoire at age 9; a pianist whom Liszt declared his own equal; friend or acquaintance of Gounod, Fauré, Saint-Saëns, Dubois, Massenet, and Offenbach, among others; enormously productive-- at least eight operas or dramatic works, overtures, a symphony, some 50 songs, a score of piano works, and countless transcriptions of other composers' orchestral works for piano; and dead at age 36, exactly three months after the premiere of his greatest opera—probably the best-known opera in the world, Carmen, set in a city and country he never visited (Seville, Spain).
Carmen was based on an 1845 novelette by Prosper Mérimée, and the libretto was the work of Henri Meilhac and Ludovic Halévy, the latter a cousin of Bizet's wife. Bizet based his Habanera—the name identifies a dance supposed to originate in Havana, Cuba— on what he thought to be a folk song; it actually was written by Iradier, a Spanish composer. In the opening scene, Bizet has the gypsy Carmen, on break from her job at the cigarette factory, sing it to taunt the soldier Don Jose, just arrived for his guard duty. Her sultry song comparing love to a beautiful bird is punctuated by the chorus—almost as a Greek chorus-- with the refrain "Prends garde a toi!" ("Young man, take care!") While setting the stage for the story of the good soldier driven mad with desire, Carmen's torch song also sets an eternal standard for sexiness and abandon.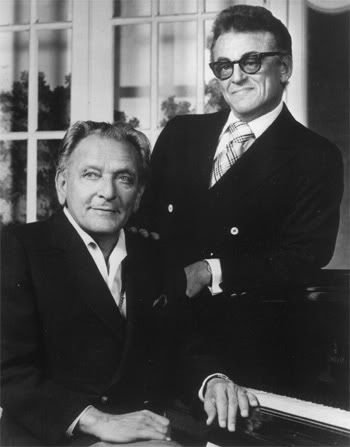 I Could Have Danced All Night – My Fair Lady.
In adapting
Bernard Shaw
's
Pygmalion
for the musical-comedy stage the highest standards were applied to every aspect of the musical theatre -- text, lyrics, music, choreography, direction, Cecil Beaton's costuming and Oliver Smith's sets -- to create as near perfect a production as human ingenuity and imagination could contrive. The result was, as the critic William Hawkins said, "a legendary evening", or, in the words of Brooks Atkinson, "one of the best musicals of the century ... close to the genius of creation." With these and similar critical accolades as a springboard, Lerner & Lowe's
My Fair Lady
went on to become the greatest commercial triumph the American theatre had known up until that time. On 13th June, 1961, it became the longest-running production in Broadway history, outdistancing the Rodgers and Hammerstein musical play,
Oklahoma
!
, which had held that record up to then. By that time it had been seen by over three million patrons, and had earned almost forty million dollars; the long-playing recording by the original cast sold over three million discs at a price of fifteen million dollars; the motion-picture rights were sold for over five million dollars. The national tour of a second company begun on 18th March, 1957, stayed on the road several years, breaking box-office precedents in city after city. Numerous companies were formed to present it throughout the civilized world, including the
Soviet Union
in 1960.
The night of the embassy Waltz has arrived. It is here that Liza is to meet her final test. Exquisitely attired, and in every sense the well-groomed lady, Liza carries herself with the utmost poise, as she dances a waltz with Higgins ("Embassy Waltz"). Her triumph is complete: She is taken for a Hungarian of royal blood. Later the same night, back at Higgins' place, Pickering is exuberant over Liza's triumph, while Liza herself nostalgically recalls the pleasures of that evening ("I Could Have Danced All Night"). 
Men of Valor.
John
Nicholas Klohr was born in
Cincinnati
,
Ohio
, on July 27, 1869.  He received his education in the
Cincinnati
public schools. During an extremely long and active career, he won considerable fame for his accomplishments.  He was a vaudeville trombonist by profession and also played in various other types of music organizations, including the Syrian Temple Shrine Band of Cincinnati, conducted by Henry Fillmore. However, it is as a composer of marches that he is best known. His Billboard March has been one of the most popular marches ever written.
Klohr was a member of the Syrian Temple Shrine Band for 50 years and also was a member of the Knights of Pythias, the Fraternal Order of Eagles, and the American Society of Composers, Authors, and Publishers.
His compositions were written mostly for less advanced players. Although he was a close friend of Henry Fillmore, whose publishing firm was located in Cincinnati, he worked for several years with the John Church Company, also of Cincinnati.
Klohr died of a heart attack at the age of 85 at his home in Cincinnati on February 17, 1956, and is buried in the St. Joseph Cemetery in Cincinnati. 
Men of Valor march was published in 1920 for the John Church Company.
Caprice.
Herbert Lincoln Clarke, regarded as the greatest cornetist of all time, was born in
Woburn
,
Massachusetts
, on September 12, 1867.  He was the youngest of four boys, only one of whom did not follow a career in music.  The Clarke family moved several times during Herbert's youth, and his father, an organist at various churches, encouraged Herbert and his brothers to study musical instruments.  Despite this urging, he did not.
Following the Sousa Band's engagement at the Chicago Exposition in 1893, Clarke played with various groups, including the reorganized but short-lived Gilmore Band when it was directed by Victor Herbert.  He returned to Sousa's Band in 1900 and remained with it until 1917.  He had often told Sousa that he would retire at age 50, since he believed that cornet soloists began to perform less effectively at that age.  Sousa contended that he was playing better than ever, to which Clarke replied, "Then I'll quit while I'm ahead."
After retiring from Sousa's Band, Clarke moved to Canada and served as conductor of the Anglo-Canadian Concert Band of Huntsville, Ontario, from 1918-1923.  He then directed the Long Beach (California) Municipal Band from 1923-1943.  He died in Long Beach on January 31, 1945, and his ashes were interred in Congressional Cemetery in Washington, D.C., just a few feet from the grave of John Philip Sousa. It is estimated that Clarke played over 15,000 solos during his long and active career.  He traveled over 90,000 miles with the bands of Gilmore, Sousa, Innes, Herbert, and others.  He made 34 tours of the United States and Canada, four European tours, and one tour around the world.
Little is known about his alto saxophone solo Caprice. There is no dedication on the manuscript.  Known-the-less, the piece is a delightful offering from the pen of one of the legendary composers of solo cornet music for band.
Guys and Dolls
by Frank Loesser.  Loesser has been called the most versatile of all Broadway composers. His five Broadway musicals, each a unique contribution to the art of the American musical theatre, was as different from each other as they were from the theatre of their day:
Where's Charley?, Guys and Dolls, The Most Happy Fella; Greenwillow;
and,
How To Succeed in Business Without Really Trying.
Guys and Dolls, which opened November 24th, 1950, and quickly became a theatrical landmark, winning the Tony Award for Best Musical.  His score was lush with hits including: A Bushel and a Peck, I've Never Been in Love Before, Luck Be a Lady, I'll Know, and Sit Down You're Rocking the Boat. 
Some Band Rag. 
Frederick Alton Jewell (pictured at right), born 1875 in
Worthington
,
Indiana
, was a prolific musical composer who wrote over 100 marches and screamers.
At the age of 16, Jewell ran away from home and joined the Gentry Bros. Dog & Pony Show as a euphonium player. After making excellent impressions with successful circus officials, Jewell rose through the ranks, and eventually landed himself as the leader of the Barnum & Bailey's Greatest Show on Earth band (coincidentally like Karl King, another successful American composer of his time).
Jewell's circus career ended in 1917. He travels to Iowa and takes leadership of the Iowa Brigade Band. From there he begins his own publishing company and moves back to his hometown Worthington, and serves as high school band director, as well as a steady composer of band music.
Frederick Jewell dies in 1936 at the age of 61 in Worthington.
Stars and Stripes Forever
(John Philip Sousa)
The march
is considered the finest march ever written, and at the same time one of the most patriotic ever conceived. As reported in the
Philadelphia Public Ledger
(May 15, 1897)
" ... It is stirring enough to rouse the American eagle from his crag, and set him to shriek exultantly while he hurls his arrows at the aurora borealis."
 (referring to the concert the Sousa Band gave the previous day at the
Academy
of
Music
).
The march was not quite so well received though and actually got an over average rating for a new Sousa march.  Yet, its popularity grew as Mr. Sousa used it during the Spanish-American War as a concert closer. Coupled with his Trooping of the Colors , the march quickly gained a vigorous response from audiences and critics alike. In fact, audiences rose from their chairs when the march was played. Mr. Sousa added to the entertainment value of the march by having the piccolo(s) line up in front of the band for the final trio, and then added the trumpets and trombones join them on the final repeat of the strain. 
God Bless
America
. 
In 1918,
Irving Berlin
(pictured at right) produced
Yip, Yip Yaphank
, an all-soldier show at
Camp
Yaphank
. God Bless America
was one of the songs in that show, but
Berlin
decided to delete it from the production. In 1938, Kate Smith asked
Berlin
to write a song for her to use in her Armistice Day radio show. Unable to write anything that satisfied him, he remembered the song from
Yip, Yip Yaphank
and gave her, free of charge, exclusive performing rights. She first performed it on her radio show on November 10, 1938, the last peacetime Armistice Day this country celebrated before World War II.
In 1939, both major political parties used God Bless America in their Presidential nominating conventions. Kate Smith recorded the song for Columbia and it became immensely popular. It was heard or sung at rallies, balls, and athletic events nationwide.
Berlin was a passionate patriot and did not want to profit from this patriotic song. In 1939 he copyrighted it in the names of Gene Tunney, Mrs. Theodore Roosevelt, Jr., and A. L. Berman and stipulated that all proceeds go to the Boy and Girl Scouts.
This stately and reverent song represents the thoughts of the multitudes of immigrants such as Berlin, himself, who were grateful to this country for giving them the opportunity to transcend the limitations of their old world origins.
Israel Baline, the son of a Jewish cantor, immigrated to the United States from Russia with his family in 1893. Here, he spent his early years in great poverty. In 1904, he worked as a singing waiter in Chinatown and Bowery cabarets of New York City. After a printer erroneously printed his name "Irving Berlin" on a piece of music, he chose that name for his own. In 1911, he achieved success pioneering ragtime with Alexander's Ragtime Band (originally titled Alexander and his Clarinet) and Everybody's Doin' It.
Program – Friday, July 23rd , 2010
Anthem, Star Spangled Banner.............................. Francis Scott Key/John Philip Sousa
Overture, Wedding Day at Troldhaugen (1897).................. Edvard Grieg/L.P. Laurendeau
March, Bonds of Unity (1955) ..................................................................... Karl L. King
Cornet Solo, Napoli (1934)................................................ Herman Bellstedt/Frank Simon
Laura Bloss, soloist
March, The Gillette Look Sharp (1963) ................................. Mahlon Merrick/Paul Yoder
H. Scott Curfman, guest conductor
Mezzo-Soprano Solos
     Habanera (from Carmen) (1845)................................... Georges Bizet/Leonard B. Smith
     I Could Have Danced All Night (from My Fair Lady).. Frederick Loewe & Alan Jay Lerner
Denise Milner Howell, soloist
March, Men of Valor (1920)........................................................................ John N. Klohr
Alto Saxophone Solo, Caprice................................................................ Herbert L. Clarke
Allie Kolberg, soloist
Selections, Guys and Dolls (1950).......................................... Frank Loesser/Calvin Custer
March, Some Band Rag (1915) ...................................................................... Fred Jewell
National March, The Stars and Stripes Forever (1897).............................John Philip Sousa
Final as of July 13, 2010