Medina Community Band – 1978 – 1994[1]
Concert 8 – Friday, July 24th, 2009
(as of July 15, 2009)
Friday, July 24th, 2009 - Medina Community Band will present the eighth concert in their Sesquicentennial season on Friday, July 24th at 8:30p, on Medina Courthouse Square Gazebo featuring music from 1978 through 1994.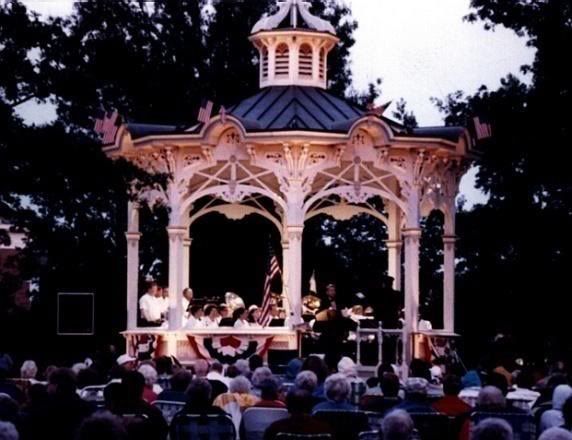 The lovely Victorian-style gazebo (pictured at left), patterned after the gazebo in the town park in Bellville, Ohio and financed by the Letha House Foundation, was built on the site of former park-center fountains. It was dedicated at a MCB concert in June, 1975, and the band has played its summer concerts there ever since. The only season during this era that MCB did not use the Gazebo was during that year, when the Gazebo was being repaired and repainted. The Band used the concrete pad formerly known as "the bandstand."
The MCB was still being sponsored by the two Kiwanis clubs in Medina at the beginning of this era. That changed in 1988, when the Medina Breakfast Kiwanis Club took over sole sponsorship of the MCB.  It was the belief of the Noon Kiwanis Club that the time and personnel drain of the sponsorship was weighing heavily on its membership.
The 1982 summer season was such a musical success that Marcus Neiman, conductor of the ensemble, gave all the Band members a 100% pay raise, and even put it in writing.  Since their previous pay was zero, that bit of tongue-in-cheek generosity was not an undue strain to the budget.
Repo Depot, a printer in the city of Medina, continued to provide "in-kind" support for the community band association (MCBA) by donating the cost of printing the concert programs at no cost to the association. This continued through the 1985 season.
The MCB of the 1980s and 1990s did not have the social cohesion of bands in the 19th century.  This is to be expected.  In the 'good old days,' most, if not all, Band members were from Medina Village and interacted at times other than Band rehearsal times or concerts. Since half the band lived outside of Medina City, few saw each other except for Band doings.  Band parties, picnics, and other get-togethers were tried with little success. 
That is not to say that Band members did not socialize together.  During this period, many of the Band members would frequent Bix's (short for Bixby) restaurant and bar on the south side of the Public Square in the Arcade.  Bix was a local 'personality' and a strong Band fan.  Members of the Band who desired to stay up late following rehearsals continued to meet at Bix's, until the restaurant closed following Bix's death, then moved to Applebee's Restaurant, where they still can be found after rehearsals and performances. 
The Band was growing more into an ensemble where people came to play their instruments, improve the quality of the performance, and go home, rather than a social group.  It should also be said that from time to time a small number of members of the Band found that taking the time to 'rehearse' selections was not to their liking.  The general feeling amongst the majority of the band was that this improvement was something that they desired and the Band did lose a small minority of its players.  Some new members found that their musical ability was simply not up to the level of expectation or general playing level of the ensemble. While this was often frustrating for Band members, new members, and Neiman, it was a sign that the level of playing and the demand for a more musical environment was taking the place over a social organization.  New players would 'try out' the band and see if they liked the atmosphere, direction, and music.  Many stayed, some left.  This was a new era.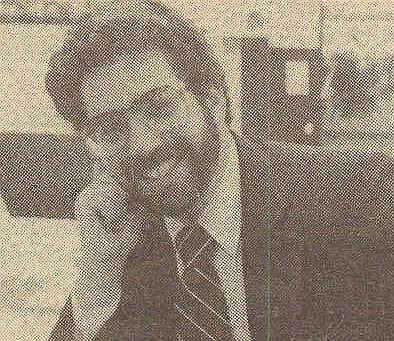 Marcus Neiman (pictured at right) made the decision to resign from his position as director of bands for the Medina High School to accept the position of fine arts consultant for the Medina County Schools Board of Education (now called the Medina County Schools Educational Service Center) in the Spring of 1980. His new position would permit him to supervise arts (visual arts and music) teachers and county fine arts programs in the four local school districts (Black River, Buckeye, Cloverleaf, and Highland) and serve as a consultant, when needed, to the three city school districts (Brunswick, Medina, and Wadsworth). Neiman made the decision to continue to conduct the community band, thus being the first conductor of the Band since the early 1940s who was not employed as a band director for the Medina City Schools.  MCB did continue to rehearse in the high school band room during this period.
Members of MCB also joined with Medina Show Biz Company (one of the county's community drama organizations) to participate in the pit orchestra for the musical Plain and Fancy, which was staged in the Medina County Administration Building auditorium in 1983.  Neiman conducted the pit orchestra. In 1984, MCB band members, under Neiman's baton, joined with The Brunswick Entertainment Company in the pit for the musical Anything Goes.  They were again in the pit for Brunswick Entertainment Company in 1985, with Neiman conducting, for the musical Pajama Game. In 1987, Neiman and members of MCB again served as the bit orchestra for another musical, this time Camelot, sponsored by the Medina County Arts Council.  Neiman served as co-producer as well as conductor of the pit orchestra.
Unfortunately, deaths have happened to MCB members before they retired from the Band's ranks.  Avery Clapp, bassoon player for seven years, died at age 77 during the 1990 season. Avery's son Alvin Clapp, played bass clarinet in the ensemble and continues to this day. Eugene "Gene" Wind, Sr., a trumpet player from Wadsworth played with the band for ten years, died in an industrial accident after the 1993 season.   
Neiman had met Wind at high school band activities at Highland High School, where Wind was a band booster and later band booster president.  Their friendship and mutual love for bands and band music encouraged Neiman to extend an invitation to Wind to join MCB, which he did. Following Wind's death, the decision was made to honor his memory with the commissioning of a composition for band.  A donation of funds from the family actually made possible two pieces to be composed.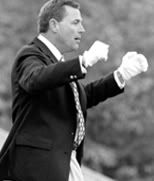 The decision was made to present the first commission to Cincinnati, Ohio, composer David Shaffer (pictured at left).  Shaffer accepted the commission and composed a piece that would feature trumpet (which Gene played) and had some sort of connection to boating (a pastime that the Wind family enjoyed).  The Band, Neiman, and Wind were practical jokers at heart.  Several of Wind's boating friends and Neiman made the suggestion that the title for the commissioned piece be "Passed Wind," a title that they knew would find favor in Wind's heart.  They were outvoted by more conservative members of the ensemble for a more "appropriate" title of Windward Passage.  The composition was first performed on a Friday evening in June 1995 on the Square with Medina Community Band playing.  Unfortunately, just prior to the premiere performance the skies opened with a summer storm.  The Band and Shaffer decided to "go forward" with the playing anyway.  Gene Wind would have been very pleased.  Windward Passage remains on the Barnhouse Publication list and is selling well.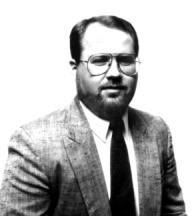 The second composition, one more contemporary in nature, was deemed to be a trumpet concerto in Gene's honor.  Douglas Court (pictured at right), from the James Curnow Publishing Company, composed Rhapsody for Trumpet and Band, which was premiered in 1997 with Marcia Nelson Kline as soloist. Douglas Court has written exclusively for Curnow Music since 1994. Doug is a native of Toronto, Canada and received his early musical training in The Salvation Army. His formal training was received at the University of Toronto where he studied trumpet and graduated with a Bachelor of Music Education degree. Doug has also studied composition at the University of South Florida. While living in Toronto, Doug worked as a freelance trumpet player performing with groups such as the Canadian Opera Company orchestra.
In 1980, MCB expanded its horizons to include another of the long-forgotten activities of Medina Bands of the early part of the last century (e.g., playing concerts outside the City of Medina). The first of these was at Ashland's Brookside Myers Band Shell in 1980 on a Thursday evening, at which the Band played essentially the same concert that would be played the following evening in Medina. The crowd was large, the sound system wonderful, and the on-site sponsorship warm and responsive to all the needs of the band.  The only uncooperative element was the weather.  A huge thunderstorm broke just about the time the band was to begin playing.  Neiman invited the dwindling audience to join the band under the overhang of the shell and the concert continued. The Bandstand promoters invited MCB back again for concerts the next two years.  The final concert of the series was again rained-out.  MCB returned for a series of yearly concerts from 1992-1994, at which time the City of Ashland organized their own community band under the leadership of Lenard Salvo, who played with Medina Community Band for several seasons.  Salvo was, at that time, and continues to be the director of bands at Ashland University.
The Band had not taken trips outside Medina to perform with other bands in many years. The first such was the Wayne County Schools' Honors High School Band at Triway High School in January of 1983. Neiman had been selected to serve as guest conductor for the Wayne County Schools High School Honors Band and the decision was made to have Medina Community Band share the program.
In March of 1985, MCB performed in a concert with the Lakeland Civic Band (Charles Frank, conductor), at which host band and the Madison Concert Band also played.  This was repeated the next year as well. After a few years off, the Lakeland Band and MCB played one more time, this in 1990.
One enterprise totally new to any Medina Band was started in 1984. On Wednesday evenings during the summer, instead of rehearsing at Medina High School for the program scheduled for the upcoming Friday evening concert, the Band played in Sharon Center (1984-86); Lodi (1986-90 – as part of their annual "Corn Festival"); Westfield Center (1984-91); Wadsworth (1986-89, and 91-92); Crestview Nursing Home (1986-88); Medina County Home (1988); and, at the home of Ruth Olenslager, a long-time benefactress of Medina County (1988-90).  These outings were very much like the serenades that the Medina Cornet Band played in the 19th century.  These concerts took place on Wednesday evening rehearsal nights. They were not surprisingly dubbed 'rehearsal concerts' by the Band.  Since it would seem unseemly to stop playing a piece to work out some kinks in front of the audiences ranging in size from 50 to 200 which had been promised a "real" concert by the sponsorship, they were not all that much help as rehearsals.
By 1993, the Band had decided to cease this activity, forgoing the income in order to improve their Friday evening performances in Medina. Aside from the small turn-out of audiences, there were other challenges.  At the 1991 Corn Festival appearance in Lodi, Neiman was confronted by an irate member of the "committee" who was extremely displeased that the Band would play "only an hour" concert.  When she was told that the Band performed only an hour in Medina's Square on Friday evenings, she was not impressed and indicated that they "expected more."  The reader will note that the 1991 concert was the last performed in Lodi.
Even after the 'rehearsal' concerts were abandoned, this incarnation of a Medina adult Band played more out-of-town concerts per year than in most of the history of the Band, with considerably more continuity than before.  For example, the Band played at Seville (1991) at its 175th anniversary celebration, at Hale Farm and Village (1991-92) during their "Old Time Music Festival" in July, and at the Remson Church (Hinckley) in 1992 for their 100th anniversary.
Neiman's rationale for these "run-out" concerts was to not only help grow the interest for MCB concerts in Medina, but also to attract more adult musicians to play with MCB.  Essentially, this worked and the ranks of the Band continue to grow as did the number of "out-of-town" concert attendees.
Winter concert scheduling continued in 1985 when the Band was invited to play at the Medina Achievement Center's mid-December Christmas program on a Sunday afternoon at their facility. That was a bit of a rush, after only a month of rehearsals; but, the Band did play for about 45-minutes. MCB repeated their visit with a performance in 1986, with a little more practice time. Between these two concerts was another non-summer concert, this one at Highland High School in February of 1986.  Annual Winter concerts were held in the Medina County Administration Building Auditorium from 1987-1996, with a pre-Christmas (Holiday) concert added annual beginning in 1993.
The county administration building, formerly one of the "old Medina High Schools," was in terrible disrepair for most of the MCB use.  While operated by the county commissioners, the hall was used primarily as a meeting room, site for election returns, and as a basketball court.  Lighting was not conducive to performances by any sort of large musical ensemble, the heating system was noisy (often banging out unrelated rhythms during concerts) and there was no air conditioning, which was a major factor for having no early Fall or Spring concerts in the hall. Yet, the Band considered it "their" hall and the county commissioners allowed the Band to use the hall without charge, since the Band was a community organization.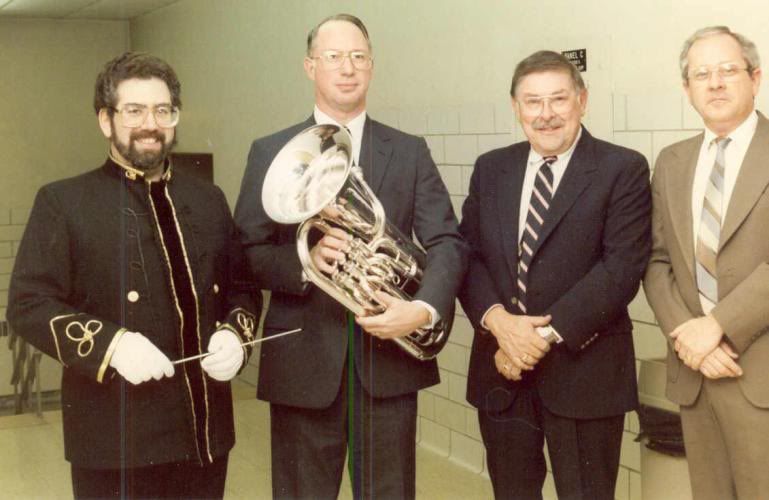 MCB inaugurated a unique tradition of "Tribute to Sousa" concerts in November 1986.  Neiman wore a full-Sousa style uniform for this and all subsequent 'Sousa' concerts.  "Ziggy" Coyle, owner of Coyle Music in Columbus (pictured in picture at left, third from left) who, with Paul Bierley (of Westerville), started a national petition drive to encourage the United States Congress to adopt the "Stars and Stripes Forever" as the national march of the United States.  Band directors across the nation were encouraged to have concerts in the style of Sousa and encourage people to sign petitions for the national march.  Neiman and MCB were joined by Dr. Paul Droste, (second from left) who had performed many times with MCB, and was then the director of the famed Ohio State University Marching Band, as guest euphonium soloist with the band.  Senior Vice-President of Old Phoenix National Bank Jeff Kehnle (fourth from left in picture) and husband of MCB saxophone player Jackie, narrated the concert.
Several new, out-of-town concert series were begun in the 1990s.  Among those were a January concert in Bay Village High School and Westlake High School (alternating between the two) from 1990-1996).  This series was finally terminated after a 1994 concert and two attempts to play the 1996 concert were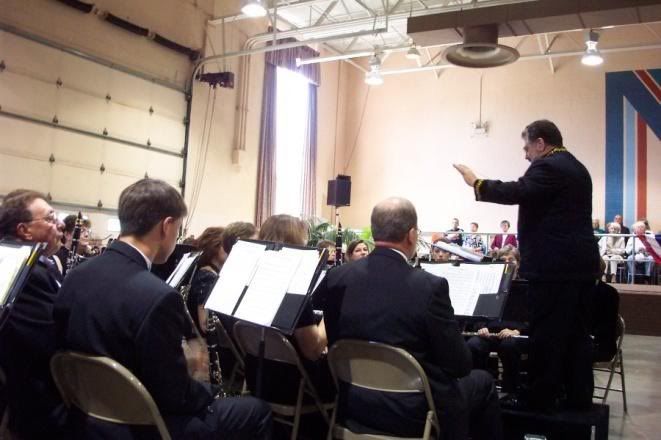 defeated by snow storms. 
The ensemble (Neiman conducts Band at left) has been traveling annually to the EHOVE (the acronym for Erie Huron Ottawa Vocational Education) Career Center in Milan (OH) since 1991 to present concerts in the style of John Philip Sousa. The yearly concert usually takes place in late April on Sunday at 2p and the Band is treated to a capacity crowd each year. The following week on Wednesday the ensemble gives the same concert in the style of Sousa in Medina.
In addition, Neiman believed that taking the Band on the road the week prior to the Medina tribute to Sousa concert seemed to have a positive impact not only on the Band's playing, but also personnel self-esteem.
Harkening back to the 'good old days," the MCB played a few times for community groups late in this era, as did their predecessor of 60-137 years ago.  The Band played an outside concert in August of 1993 as part of the Medina County Fair. Later in the year, a portion of the Band played there prior to the November election (inside the community center on the Fairgrounds) as a prelude to a public meeting dealing with school funding.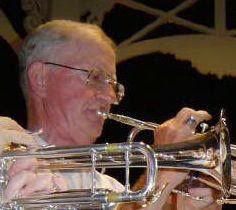 Marcus Collins (pictured at left), a cornet player in the MCB since 1976, is a throwback to the early days of Medina Bands. In those days, there were no school instrumental music programs to teach students how to play musical instruments. If a person wanted to play in the Medina Cornet Band, he had to learn on his own, or at best, with help from the band director. Collins, never involved in music while growing up in Detroit, but coming to Ohio and listening to the MCB play, decided to learn to play the cornet so he could be part of the band. Over the years, there have been others who have joined the band is adult beginners and others who played other instruments while in school learning new instruments to join MCB.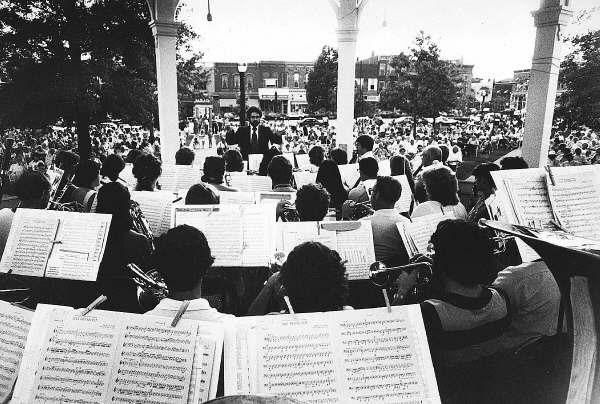 To counteract noise from the large trucks rumbling through the Square, the MCBA continually updated and expanded the capabilities of a public address system to insure that concert audiences could hear not only the soloists, but also the Band itself. Mainly due to these improvements, the MCB members can look out over a park more than half-filled (as in picture at right) with an audience comfortably seated in their own chairs or on blankets.  That's a far cry from the 'good old days' when the audience stood around the bandstand so as to get within hearing distance of the Band.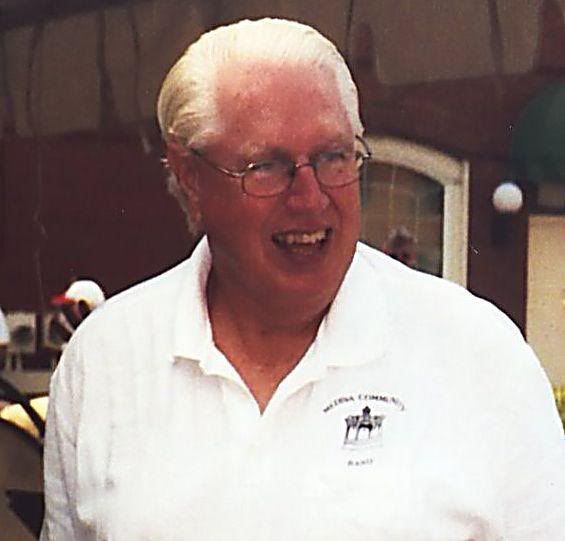 As in pre-1937 Medina Bands, some of the members of the group have written music dedicated to or at least played by the Band.  Trombonist Curt Leibert wrote the march El Marzo, which was first performed by MCB in July of 1978.  Rodney Hannah (pictured at left), MCB cornet-cum-trombone player, wrote a march, The Torch, which was given its premiere performance in July 1989 and has been performed several times since.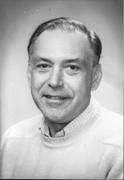 Another composer and member of the band (1986-88, 1996) was Robert Feldbush (pictured at right), director of the Cuyahoga Falls High School Marching Band and Goldtones Stage Band.  He wrote Man of Medina, commissioned by MCB and dedicated to Neiman. The piece had its 'World Premiere' performance at the Friday evening Band concert on June 4, 1983.  He arranged for concert band the Theme of the Old Phoenix National Bank March to be performed by the MCB July 30th that year as part of the Bank's 125th anniversary, complete with anniversary cake.  In addition, he wrote a piece, Children's Hour, commissioned by MCB and Neiman, with its world premiere on June 17, 1983 in the Uptown Park Gazebo.  He dedicated another march to the MCB and Neiman in 1986, The Gazebo march, premiered on the Gazebo in June of 1986.  In addition, he arranged numerous pieces for solo instrument or voice that have been performed by the Band.
The MCB has had a special relationship with nationally known composer Edmund J. Siennicki (pictured at left), of Sharon Center.  Not only has Siennicki played bassoon in the Band for the better part of the last 17 years, but over time the Band has played some of his music dedicated to the MCB, the Medina County Schools Fair Honors Bands, or to Medina County citizens. Specifically for MCB, Siennicki wrote or arranged the following: Patty-Cake for Band (1984) played in manuscript and later published with Shawnee Press, commissioned by Medina Community Band; Reflections (1994) in memory of Gene Wind Sr, and played first by MCB in February of 1994.  In addition, the band has done numerous arrangements by Siennicki including the Pavane for a Dead Princess  by Maurice Ravel, which Siennicki arranged for solo horn and band.  Siennicki has also used MCB to record numerous of his pieces for submission to his publishers and has been a long-time financial sponsor of MCB.
Corwin H. Taylor, originally from Germantown, Ohio, and finally of Annapolis, Maryland, and whom Neiman met while Neiman was the editor for the Ohio Music Education Association's (OMEA) professional journal TRIAD wrote articles for TRIAD and carried on a long-time correspondence with Neiman.  Taylor dedicated his march Medina to Neiman, which the Band gave its world premiere at Highland High School in March 1991.
Another long-time friend of both Neiman and MCB was, now deceased, Stuart J. Ling (pictured at right in his College of Wooster band director's tartan coat).  Ling and Neiman both served OMEA in a variety of capacities over the years, including both being state president of the association.  Ling provided MCB with a number of his pieces to perform over the year and appeared as a guest conductor many times. 
Many instrumental soloists have appeared with MCB over the years.  Unlike many community bands in the area (state or nation), MCB has depended primarily on members from its own ranks to appear as instrumental soloists.  Having been blessed with outstanding musicians, Neiman's belief was to afford them the opportunity to play in front of the band and before our audiences rather than bringing in someone who plays well, but is not known in the community.
An article in the Medina County Gazette on Thursday, December 11th, 1986, indicated that 770 tickets for the annual "Tribute to Sousa" concert disappeared in 48 hours. That same article indicated that of the 60 members of the band, many come from Stark, Summit, and Cuyahoga counties as well as Medina County. Old Phoenix National Bank was staunchly behind MCB and often provided a full-page advertisement for the Band in the Medina Gazette.  This was usually accomplished through the loan of a house advertisement (since the bank purchased a large block of space in the Gazette, it was willing to give one or more day's space to MCB as a donation).  And, they often served as an outlet for "complimentary" tickets to indoor concerts.
Likewise, the advertising section of the Medina County Gazette often gave freely of space on a weekly basis to the band.  Neiman wrote the articles and they were often run "as is" in the arts and entertainment section of the paper.  This was more or less the case during much of this era and extremely helped bring large audiences, often well over 2,000 per concert to the Square in Medina.
The quality of the band's playing also increased.  Of the 50 to 60 members playing on a regular basis, about 75 to 80 percent were adults.  Instrumentation was very good with no real challenges in any section, which is unusual for any community band.
Communication with the Band was always somewhat a concern.  Reminding members which music would be rehearsed or performed, schedule for upcoming events, and other various information was provided to members in the form of a "newsletter."  During the 1990 season, Neiman and euphonium player Jan Van Doren constructed and distributed the first newsletter for the band.  This newsletter come out on a monthly basis and was distributed in hard copy form.
In late 1993 and early 1994, Medina County Commissioners announced that they desired to transform the Medina County Administration Building Auditorium (144 North Broadway Street, Medina) into office space.  At this time, the hall represented the only community (or civic) hall in the Medina suitable for large groups to meet and for performing arts groups to perform. Following the November 1993 election returns, which were given in the auditorium at the County Administration Building, Neiman, Dr. DeLorre Haddad, a local developer (former dentist and former band parent of students who were in Neiman's band at Medina), Library director Bob Smith, and local developer Michael Rose, discussed the commissioners comments and decided to back a concentrated effort to not only save the space, but also seek funds to remodel and upgrade the space. 
To accomplish those ends, a performing arts foundation (Medina County Performing Arts Foundation) was incorporated and governmental support was secured from the state government budget with the help of legislative lobbyist William Blair III (from Canton) and Ohio Senator Grace Drake.  Letters of support were secured from numerous individuals in the community to convince the commissioners to allow the hall to be saved.  To those ends, new curtains, lighting, sound equipment, chair coverings, and off-stage dressing and restroom space were included in the successful restoration of the hall.  The hall still lacked adequate heating and air conditioning; however, it was a great improvement over the space that was basically a gym stage with basketball hoops on either side. 

The management of the hall during this era bounced back and forth between the Medina County Commissioners and Medina County Performing Arts Foundation.  This also made booking, cleaning, and responsibility for help with sound technicians a continuing challenge. 
During this era, the band was fortunate enough to have had Dr. Paul Droste (pictured at left), then director of the famed Ohio State University Marching Band appear as both a euphonium soloist and guest conductor. Droste is a native of Fairview Park, Ohio, a suburb of Cleveland, where he received his early musical training. He holds a bachelor of science degree in music education from The Ohio State University (OSU), a master of music degree from The Eastman School of Music and a doctor of musical arts degree (in euphonium performance) from The University of Arizona. Before joining the OSU School of Music faculty in 1966, he taught in the Pickerington and Lakewood Public Schools. He served as director of the OSU Marching Band from 1970 through 1983 and was the first former member of the band to be selected as its director. Dr. Droste retired from OSU in 1992 and worked as educational director of Colonial Music for the next ten years. Dr. Droste is the founder and director of the Brass Band of Columbus, a British-style brass band that has won nine international competitions. It should be noted that Dr. Droste, though not a regular member of any of the Medina Bands performed on a regular basis with them, not only while in high school, but a of number times thereafter.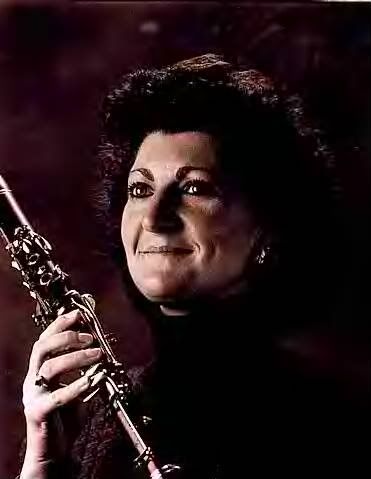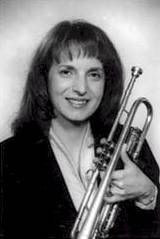 Mary Ann Grof-Neiman, (pictured at right) clarinet soloist, has been with MCB since 1988, is currently the program administrator at the Cleveland Institute of Music's Preparatory and Continuing Education Division. She received her bachelor of science in music education degree from the Bowling Green State University. Ms. Grof-Neiman has served as clarinetist for the Blossom Festival Band, Lakeland Civic Band, Lakeside Symphony Orchestra, Youngstown Symphony, Erie Philharmonic, and currently performs with the Cleveland Philharmonic Orchestra, Lakewood "Home Town" Band, Medina Community Band, and is solo clarinetist with the Sounds of Sousa Band.  She maintains private studios at Baldwin Wallace College through their Conservatory Outreach Program as well as her home in Medina.  She has served the Ohio Music Education Association as a Woodwind Adjudicator for the last 15 years and is a member of AFM Local 24. She is the wife of conductor Marcus Neiman and co-librarian for MCB.
Marcia Nelson-Kline, (pictured at left) cornet soloist, who has been a member of MCB since 1984, has appeared as featured guest cornet soloist on many concerts and on almost every July 4th concert since she joined the Band.  She began her trumpet studies with her parents, Milton and Sarah Nelson, and the late Lloyd Haines (all retired Akron Symphony Orchestra members). These teachers instilled an appreciation and love for traditional cornet solos in her. She is solo cornet with Medina Community Band and Sounds of Sousa Band and performs with the Brass Band of the Western Reserve.  Both Marcia's mother and father have played in the community band over the years, and her mother continues to join 
Marsha in MCB.  Milt Nelson passed away on Friday, October 11th, 2008.  The family asked that contributions in his name be given to Medina Community Band.
Kay S. Raplenovich (pictured at right), soprano vocalist, first soloed with MCB in 1992 and for over a decade was a main-stay of summer concerts, has soloed with The Cleveland Orchestra, Cleveland Opera on Tour, Opera Charleston (South Carolina), Whitewater Opera (Indiana), Lirico Sperimentale, (Spoleto, Italy) and other regional U.S. symphony orchestras and opera companies. She has performed solo recitals in the Midwest, the Eastern U.S., Russia and Slovenia. For Slovene audiences she has created classical sacred recitals with flutist Armando Mariutti as well as American Cabaret [a recital of American art songs, arias, Broadway tunes and spirituals] and A Slave's Voice [an introduction to the life and music of the American slave performed with the writings of slave Charles Ball, PowerPoint of slave photos and the music of spirituals]. Kay is a Touring Artist and an Artist in Education with the Ohio Arts Council and has been trained as an Ohio teaching artist by the John F. Kennedy Center for the Performing Arts in Washington, D.C. She has guided thousands of student in creating and producing their own operas, plays, and vignettes as well as teaching classroom teachers how to integrate the ARTS in their curriculum. Currently Kay is teaching private voice lessons, and directing choirs in Nova Gorica, Slovenia. She has been a teacher of classical singing at Ashland Theological Seminary, Ashland University and in the private studio at Thistlefink Gardens. Her students have progressed to major universities to study classical voice and many are currently having professional careers. 
---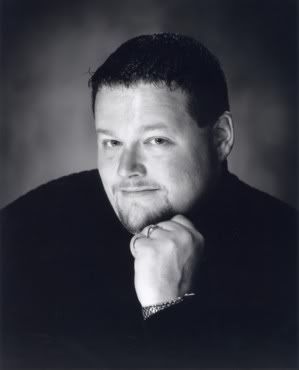 Tenor Daniel J. Doty (pictured at right) has appeared throughout the Midwest with orchestras and opera companies. A participant of the Opera and Music Theatre Festival of Lucca, Daniel spent six weeks in the Tuscan village of Lucca, Italy singing operatic arias at various venues associated with Lucca's most famous son Giacomo Puccini. Daniel is a frequent soloist with the Akron Symphony Orchestra and has also appeared with symphonies in Muncie, IN, Urbana, IL, Marion, OH and community bands in Medina and Wadsworth. Mr. Doty holds a Bachelor of Music Education Degree from Bowling Green State University. He has taught music in the public school systems of Ohio and Illinois. He also an ordained minister and holds a Master of Divinity degree from Garrett-Evangelical Theological Seminary, Evanston, IL. Currently Daniel serves as the Senior Minister of Trinity United Church of Christ in Wadsworth, Ohio.


Dr. William I. Bauer, guest conductor, (pictured at left) is the director of music education and associate professor at Case Western Reserve University where he teaches undergraduate and graduate level classes in music education research, music cognition and learning, instrumental music education, and the applications of technology to music teaching and learning. Previously he was on the faculties of Ball State University and Radford University.  Dr. Bauer taught for eight years in the Ohio public schools.  He has published articles in leading journals in music education, is in demand as an adjudicator and clinician throughout the U. S., and is currently the Editor of Contributions to Music Education.  A native of Wadsworth, Ohio and former member of the Medina Community Band, Dr. Bauer is the founder and conductor of the Wadsworth Community Band.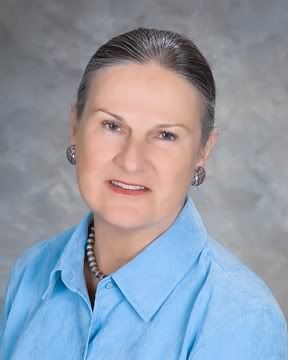 Corinne Hadley, "Hospital Foundation,"
guest conductor is a 21 year resident of Medina Township and presently serving on the board of directors of the Medina General Hospital Foundation.  She is a trustee of the Medina Toy & Train Museum, member of the PEO chapter EX Medina, member of Alpha Delta Phi sorority and Kappa Phi Methodist women's society.  She has a daughter, son-in-law, and three grandsons who live in Upper Arlington (Ohio) and enjoys gardening.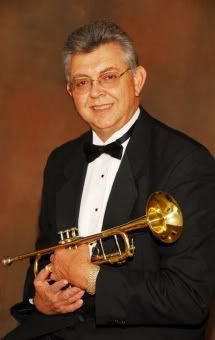 Paul V. Rocco
, originally from Brooklyn, New York, studied with Blair Moger and Joseph Andrucci in high school and the late Herbert W. Harp at SUNY at Fredonia. Rocco moved to Ohio to take the job of police officer with the City of Medina, where he is also the Police department's Forensic Artist. He became a member of the Medina Community Band in 1989. Since then he has completed his bachelor's degree in fine arts, music at The University of Akron, studying trumpet with Scott Johnston and Tucker Jolly. He is presently studying trumpet privately with Geoff Hardcastle. Besides playing with the MCB, he also performs with the Sounds of Sousa Band and the Brass Band of the Western Reserve. He is a member of the American Federation of Musicians (local 24-Akron, Ohio).

Cathi Carmany (guest narrator and pictured at right) Catherine Carmany is the executive director for the Medina General Hospital Foundation, a post she has held since 2007.  Prior to taking the post, she was a senior vice-president and manager of the trust division with FirstMerit Bank/Old Phoenix National Bank (1992-2006); vice president and administrator of qualified retirement plans (1987-1992); and trust operations officer (1980-1987).  Carmany is a graduate of The University of Akron (BSBA in finance) and Midwest Trust School.  An active volunteer in Medina County's life, Carmany is an alumni member of Leadership Medina County, volunteer for Medina City Schools/Friends of Medina City Schools; United Way of Medina; Medina Rangers Soccer Club and past team manager and Club "mom" for Internationals Soccer Club. Her awards include: FirstMerit Bank/Old Phoenix President's Award; FirstMerit Corporate Community Employee Recognition Award; and, Medina County TWCA Women of Distinction Award.
---
Star Spangled Banner (John Stafford Smith arranged by John Philip Sousa) uses lyrics from a poem written in 1814 by Francis Scott Key, a then 35-year-old amateur poet after seeing the bombardment of Fort McHenry at Baltimore, Maryland, by Royal Navy ships in Chesapeake Bay during the War of 1812.
The poem was set to the tune of a popular British drinking song, written by John Stafford Smith for the Anacreontic Society, a London social club.  Set to Key's poem and renamed "The Star-Spangled Banner," it would soon become a well-known American patriotic song.  It was recognized for official use by the United States Navy in 1889 and the President in 1916, and was made the national anthem by a congressional resolution on March 3, 1931 (46 Stat. 1508, codified at 36 U.S.C. § 301), which was signed by President Herbert Hoover.
Before 1931, other songs served as the hymns of American officialdom. Most prominent among them was "Hail, Columbia" which served as the de facto national anthem from Washington's time and through the 18th and 19th centuries.  Following the War of 1812 and subsequent American wars, other songs would emerge to complete for popularity at public events, among them "The Star Spangled Banner."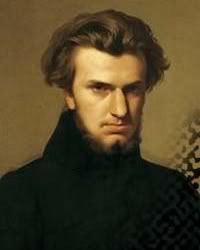 Raymond Overture.
Of the twenty operas by Ambroise Thomas, all that remains is an overture from one of them (Raymond), and assorted other fragments of two others.

 

Thomas' talent was a modest one.

 

He was more lyrical than dramatic, more charming and graceful than passionate or profound.

 

He was born in Metz, France, on August 5, 1811.

 
The opera Raymond is a rather silly operatic adaptation of the story of the Man with the Iron Mask.  Produced in Paris on June 5, 1851, it was a dismal failure, and was relegated to oblivion.  Its overture, however, has become one of the most popular in French opera.
Gold Bug March, written by Victor Herbert (pictured at right). Victor August Herbert was born in Ireland, received his education and early playing experience in Germany, and later earned his reputation as a cellist-composer-conductor in America.  Considered by many as one of the greatest American composer-arrangers of all time, his major operettas consist of Babes in Toyland, Mlle. Modiste, The Red Mill, and Naughty Marietta.
Concierto de Aranjuez: Adagio
by
Joaquín Rodrigo. Rodrigo was a rarity among contemporary composers—a composer who was not only respected, but beloved. His compositions, with their bright instrumentation and vivid evocations of Spain, won the affections of music lovers all over the world, and one of them, the "Concierto de Aranjuez," became the most popular guitar concerto ever written.
Rodrigo was born in 1901. At age 3, he contracted diphtheria, which left him almost completely blind. Nonetheless he received musical training, and by musical Braille and, later, close collaboration with his wife, herself a professional musician, embarked on a full and busy career as a composer. Until the very last years of his life, he continued to compose—concertos, songs, pieces for piano and chamber groups.
But it was the "Concierto de Aranjuez," from 1940, that made him famous. (The city of Aranjuez was a summer resort for Spanish nobility, and for a while, Rodrigo's home.) It is far and away the most popular item in the slender repertoire of concertos for guitar and orchestra. The composition was inspired by the gardens at Palacio Real de Aranjuez, the spring resort palace and gardens built by Philip II in the last half of the 16th century and rebuilt in the middle of the 18th century by Ferdinand VI.  The work attempts to transport the listener to another place and time through the evocation of the sounds of nature.

Broadway One-Step, written by Karl L. King. This lively one-step, or two-step (depending upon how quickly you wanted to dance), has an opening section reminiscent of the 1950 novelty hit "Hoop-Dee-Do" by Frank Loesser and Milton DeLugg. But Broadway One-Step, preceded "Hoop" by over a generation, having been created by the great circus band composer King in 1919. King wrote this brisk winner that carries us along so nicely, with or without a circus act, about the same time as he founded the Fort Dodge, Iowa publishing company, King Publishing House, which printed the song.  In 1919, King was also director of the Grand Army Band of Canton, Ohio.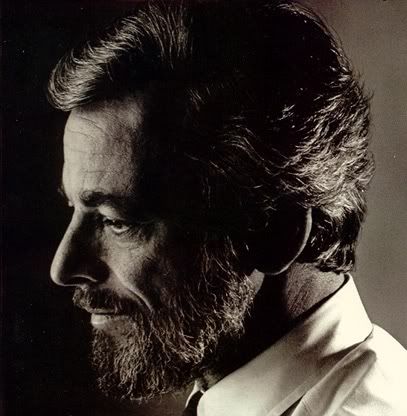 Sweeney Todd, the Demon Barber of Fleet Street
was a 1979 Tony-Award-winning musical thriller with music and lyrics by Stephen Sondheim (pictured at right) and a book by Hugh Wheeler. The musical is based on the 1973 play of the same name by Christopher Bond. The musical opened on Broadway at the Uris Theatre on March 1st, 1979 and ran for 557 performances.

 

The musical tells the story of Benjamin Barker, alias Sweeney Todd, who returns to London after 15 years transportation on false charges.

 

When he learns from his former landlady, Mrs. Lovett, that his

wife poisoned herself after being raped by the Judge who wrongly transported him (Judge Turpin, by name), Sweeney vows revenge.

 
Sweeney Todd is a character who first appeared as the main antagonist of a penny dreadful serial entitled The String of Pearls (1846-1847). Claims that Sweeney Todd was a real person are strongly disputed by scholars, although there are possible legendary prototypes, arguably making the story of Sweeney Todd an early example of an urban legend.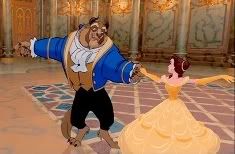 Beauty and the Beast as a 1991 American animated family film.  It was the 13th Walt Disney animated classic produced by Walt Disney Feature Animation.  The film, one of the best know of the Disney studio's films, is based on the well-known fairy tale Beauty and the Beast, about a beautiful woman kept in a castle by a horrific monster. 
Beauty and the Beast won two Academy Awards for Best Music, Original Score and Best Music, Song for Alan Menken and Howard Ashman's "Beauty and the Beast," sung in the film's most famous scene by Angela Lansbury, and at the end of the film by Celine Dion and Peabo Bryson.

The Screamer March, written by Fred Jewell (pictured on right). Jewell, the prominent circus bandmaster and composer, began his career as a baritone player. He was born in Worthington, Indiana, on May 28, 1875. He first began to play the baritone at age twelve in a family band led by his father. His first trooping was with the Gentry's Dog and Pony Show (Circus) in 1899, for which he wrote the march "Gentry's Triumphal". Remaining with this circus through the season of 1901, in 1902 he joined the Ringling Brothers Circus Band, staying through 1904. The circus musicians used to rave about this great team of euphoniumists being in the same band together. Quoting an old trouper: "Sanglaer and Fred Jewell took turns for the most part in playing the program and you couldn't tell where one left off and the other began.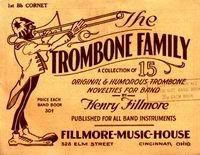 Miss Trombone
, written by Henry Fillmore. Henry Fillmore gained fame as the "Father of the Trombone Smear" and wrote a series of 15 novelty characteristic tunes featuring trombone smears called "The Trombone Family."

 

Written in strong ragtime or vaudeville style, the smear features the trombone section.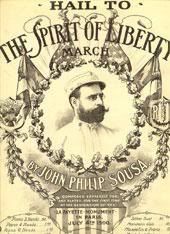 Hail to the Spirit of Liberty, written by John Philip Sousa. It was with great pride that Mr. Sousa and his band represented the United States at the Paris Exposition of 1900.  It was their first overseas tour.  A statue of George Washington was unveiled on July 2, but the highlight of the Paris engagement was the unveiling of the Lafayette Monument on July 4.  It was presented on behalf of the children of the United States by Ferdinand W. Peck, commissioner of the Paris Expo, as President Loubet of France looked on.  The monument portrayed Lafayette on horseback offering his sword to the American cause in the Revolutionary War and was draped with a huge American flag.  At the unveiling, the Sousa Band gave the first performance of the march composed specifically for that moment:  "Hail to the Spirit of Liberty."  Immediately after the ceremony, the band made one of its rare appearances in a parade as it marched through the main street of Paris.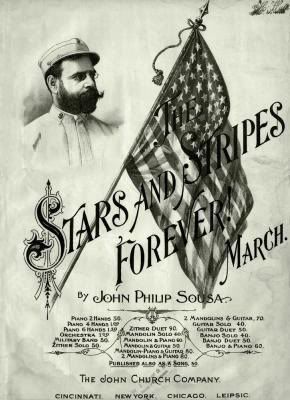 Stars and Stripes Forever by John Philip Sousa.  The march is considered the finest march ever written, and at the same time one of the most patriotic ever conceived.  As reported in the Philadelphia Public Ledger (May 15, 1897) " ... It is stirring enough to rouse the American eagle from his crag, and set him to shriek exultantly while he hurls his arrows at the aurora borealis."  (referring to the concert the Sousa Band gave the previous day at the Academy of Music).
The march was not quite so well received though and actually got an over average rating for a new Sousa march.  Yet, its popularity grew as Mr. Sousa used it during the Spanish-American War as a concert closer.  Coupled with his Trooping of the Colors , the march quickly gained a vigorous response from audiences and critics alike.  In fact, audiences rose from their chairs when the march was played.  Mr. Sousa added to the entertainment value of the march by having the piccolo(s) line up in front of the band for the final trio, and then added the trumpets and trombones join them on the final repeat of the strain.
The march was performed on almost all of Mr. Sousa's concerts and always drew tears to the eyes of the audience.  The author has noted the same emotional response of audiences to the march today.  The march has been named as the national march of The United States.
There are two commentaries of how the march was inspired.  The first came as the result of an interview on Mr. Sousa's patriotism.  According to Mr. Sousa, the march was written with the inspiration of God.
"I was in Europe and I got a cablegram that my manager was dead.  I was in Italy and I wished to get home as soon as possible, I rushed to Genoa, then to Paris and to England and sailed for America.  On board the steamer as I walked miles up and down the deck, back and forth, a mental band was playing 'Stars and Stripes Forever.'  Day after day as I walked it persisted in crashing into my very soul. I wrote it on Christmas Day, 1896."
The second, and more probable inspiration for the march, came from Mr. Sousa's own homesickness.  He had been away from his homeland for some time on tour, and told an interviewer:
"In a kind of dreamy way, I used to think over old days at Washington when I was leader of the Marine Band ... when we played at all public functions, and I could see the Stars and Stripes flying from the flagstaff in the grounds of the White House just as plainly as if I were back there again."
"Then I began to think of all the countries I had visited, of the foreign people I had met, of the vast differences between America and American people and other countries and other peoples, and that flag our ours became glorified ... and to my imagination it seemed to be the biggest, grandest, flag in the world, and I could not get back under it quick enough."
"It was in this impatient, fretful state of mind that the inspiration to compose 'The Stars and Stripes Forever' came to me."
The march evolved over its first few years of performance.  Mr. Sousa would premiere a new march and place it as an encore on the program.  It must be remembered that The Sousa Band was a concert band and performed in concert halls, opera houses, theaters, and other large rooms.  Mr. Sousa would verbally make changes on the march to his players during this time.  After the march was "broken in" the changes would become standard for future performances.  It would also seem logical that changes the musicians themselves did, either through intention or simply performance, would also be added to the march.
There are many reasons why the "authentic" Sousa style does not appear on most editions of the march today. Prime among them are the simple fact that most publishers will not go into that much detail for the interpretation of a "march."  Another probable cause is that Mr. Sousa was an entertainer and did not want the competition to "lift" his composition's unique performance quality.
God Bless America.  In 1918, Irving Berlin (pictured at right) produced Yip, Yip Yaphank, an all-soldier show at Camp Yaphank. God Bless America was one of the songs in that show, but Berlin decided to delete it from the production. In 1938, Kate Smith asked Berlin to write a song for her to use in her Armistice Day radio show. Unable to write anything that satisfied him, he remembered the song from Yip, Yip Yaphank and gave her, free of charge, exclusive performing rights. She first performed it on her radio show on November 10, 1938, the last peacetime Armistice Day this country celebrated before World War II.
In 1939, both major political parties used God Bless America in their Presidential nominating conventions. Kate Smith recorded the song for Columbia and it became immensely popular. It was heard or sung at rallies, balls, and athletic events nationwide.
Berlin was a passionate patriot and did not want to profit from this patriotic song. In 1939 he copyrighted it in the names of Gene Tunney, Mrs. Theodore Roosevelt, Jr., and A. L. Berman and stipulated that all proceeds go to the Boy and Girl Scouts.
This stately and reverent song represents the thoughts of the multitudes of immigrants such as Berlin, himself, who were grateful to this country for giving them the opportunity to transcend the limitations of their old world origins.
Israel Baline, the son of a Jewish cantor, immigrated to the United States from Russia with his family in 1893. Here, he spent his early years in great poverty. In 1904, he worked as a singing waiter in Chinatown and Bowery cabarets of New York City. After a printer erroneously printed his name "Irving Berlin" on a piece of music, he chose that name for his own. In 1911, he achieved success pioneering ragtime with Alexander's Ragtime Band (originally titled Alexander and his Clarinet) and Everybody's Doin' It.
In his incredibly successful career, he produced over 1500 songs including those from such memorable Broadway hits as The Cocoanuts, Ziegfield Follies, This is the Army,  Annie Get Your Gun, and Call Me Madame. His White Christmas has been the best-selling piece in all of music history except perhaps for John Philip Sousa's Stars and Stripes Forever. All this is particularly remarkable considering that he could not read music and could play the piano only in the key of F-sharp. That fact kept his fingers mostly on the black keys, but his special piano could automatically transpose, a feature he controlled with a lever under the keyboard.
Till We Meet Again, written by Richard A. Whiting (pictured at left) with lyrics by Raymond B. Egan.  Written during World War I, the song tells of the parting of a soldier and his sweetheart.  As Whiting's daughter Margaret tells it, the song was intended for a 1918 contest at a Detroit theatre. Dissatisfied with the results, Whiting threw the manuscript in the trash.  His secretary retrieved it and showed it to their boss, publisher Jerome Remick, who submitted it in the contest, where it won top honors.  In 1919, the song was the number one song of the year as recorded by Henry Burr and Albert Campbell.
Whiting was born in Peoria, Illinois on November 12, 1891 and died in California on February 10, 1938.  After graduating from Los Angeles' Harvard Military School, he began his career as a staff writing for various music publishers and in 1912 became a personal manager.  He moved to Hollywood in 1919 and wrote the film scores to Innocents of Paris, Dance of Life, Monte Carlo, Safety in Numbers, The Playboy of Paris, Transatlantic Merry-Go-Round, One Hour With You, Adorable, Big Broadcast of 1936, Varsity Show, Ready, Willing and Able, Hollywood Hotel and Cowboy from Brooklyn.
Medina Community Band – 1978 – 1994
Concert 8 – Friday, July 24th, 2009
(as of July 16, 2009)
 (Selections either published or performed by Medina Community Band
on the listed year)
Anthem, Star Spangled Banner (1831).............................. arr. John Philip Sousa
Overture, Raymond (performed in 1982).................... Ambrose Thomas/Safranek
March, Gold Bug (performed in 1978)............................................. Victor Herbert
Dr. William I. Bauer, guest conductor
Flugel Horn Solo, Concerto de Aranjuez: Adagio...... Joaquín Rodrigo/Arr. Bolton
Paul Rocco, soloist
March, Broadway One-Step (performed in 1980)............................. Karl L. King
Tenor Solos
     Sweeny Todd: Johanna........................................................................... Sondheim
     Beauty and the Beast: If I Can't Love Her............................................... Menken
Dan Doty, soloist
March, Screamer (performed 1981)................................................. Fred Jewell
Characteristic, Miss Trombone (perf. 1994)................................ Henry Fillmore
Pasodoble Flamenco, Gallito (performed in 1994) Santiago Lope/Harold Walters
March, Hail to the Spirit of Liberty (performed 1991)............................ Sousa
Corinne Hadley, "Hospital Foundation," guest conductor
Patriotic
     Stars and Stripes Forever (1896).............................................................. Sousa
Theme Song,
Till We Meet Again
.....................................................................
Whiting/Teague
---
[1] It should be noted that information provided by a published Medina Community Band history by band member (and band historian) David Van Doren was instrumental in descriptions of Band activities given in this and all concert publications in this sesquicentennial celebration series.