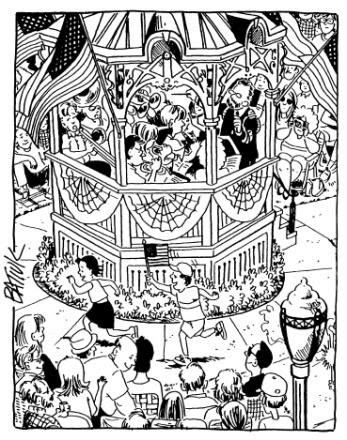 Medina Community Band


Medina Uptown Park Concert - the 8th concert – Friday, July 26th, 2013, 8:30p – 9:30p - Site: Medina's Uptown Park Square (intersections of Rtes. 18, 42, Broadway and Liberty Street) 
Cancellation of concerts due to the weather will be posted on the website! 
MEDINA:  Medina Community Band will conclude their 2013 summer season with their concert on the Square in Medina in the Uptown Park Gazebo, Friday, July 26th, beginning at 8:30p. Featured soprano soloist will be Maria Jacobs with the horn section as our featured instrumental section.
The 60 minute concert will feature works by Grundman, Coleman, Arlen, King, Bennett, Elliott, Newman, Fillmore, Ledsma & Oropesa, and Sousa.  Medina Community Band is sponsored by the Medina Community Band Association, a standing committee of the Medina Breakfast Kiwanis Club.
The Medina Community Band is under the baton of conductor Marcus Neiman, in his 40th summer concert series, with associate conductors Edward Lichtenberg and Tommy Walker. 
The ice cream social for the evening will be presented by Project Learn.  
Conductors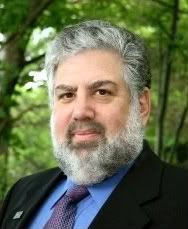 Marcus Neiman
 (pictured at right) celebrates his 41st season as conductor of the Medina Community Band and 40th summer season.  Neiman is a part-time assistant professor of music education at Kent State University where he teaches the course "Music Education as a Profession," supervises music education student teachers, and is responsible for outreach and recruitment for the Hugh A. Glauser School of Music.  He was interim director of the Kent State University Concert Band during the 2010-2011 academic year. In addition, he coordinates the "Let's Talk Tunes" and "Fab Friday," and was 2013 site chair for the Ohio Music Education Association (OMEA) District 6 junior high-middle school large group adjudicated event on Kent's campus.
He received his bachelor of science in music education degree from The University of Akron; master of music in music education degree from The University of Michigan; and, post-degree doctorial work at The Kent State University.
He is a member of the 1993-94 class of Leadership Medina County.  Neiman remains active with OMEA, having served as state president of that organization from 1998-2000, and currently serves as a woodwind adjudicator and state historian.  He is the recipient of OMEAs highest honor, the "Distinguished Service Award," presented to him on January 29th, 2010.  Neiman is the artistic director and founding conductor of the professional concert band – The Sounds of Sousa Band and appears throughout the nation as a guest clinician and conductor.
Marcus and his wife Mary Ann, who is a professional clarinetist and program administrator - preparatory and continuing education department for the Cleveland Institute of Music, reside in Medina with their two cats Sasha and Dmitri. Marcus has two daughters (Nancy and Jennifer) from a previous marriage, three granddaughters, one grandson, and a godson.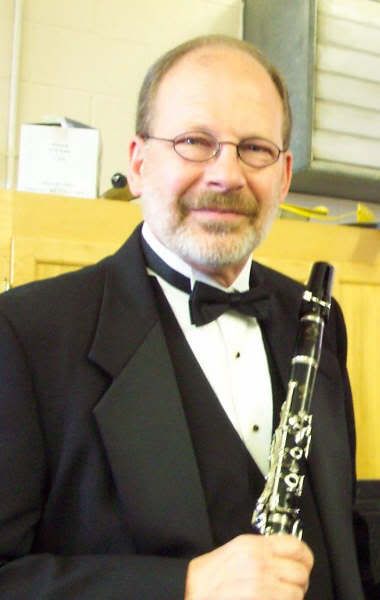 Edward Lichtenberg
 (associate conductor, pictured at left) .  Ed retired in 1998 as assistant superintendent for Midview Schools in Lorain County after 32 years in education.  Before becoming assistant superintendent, Ed was a middle school administrator and director of bands at Midview, where his concert bands consistently earned superior ratings in Ohio Music Education Association (OMEA) class "A."  Prior to working 30 years for Midview, Ed was director of instrumental music at Linden McKinley High School in Columbus. 
Ed has been a member of the Medina Community Band since 1993.  He was also active as an OMEAadjudicator and as a staff member for the Ashland University Adult Music Camp.   Ed has performed on clarinet or saxophone with Sounds of Sousa Band, the Lorain Pops Orchestra, the Doc McDonald Orchestra, the Tommy Dorsey Band, the Columbus Symphony Orchestra, and many small groups.  He has also conducted concert bands throughout Europe for American Music Abroad. 
Ed is a graduate of The Ohio State University and Kent State University, and has done post-graduate work at Ashland University, Bowling Green State University, Cleveland State University, and Kent State University.  He studied clarinet with Oliver Shubert, George Waln, Robert Marcellus, and Donald McGinnis. 
Ed has been married to his wife, Judy, for 45 years.  Judy was supervisor of gifted education for Medina City Schools and retired in 2000.  Their children, Rob and Beth (Burdick), are also active in music.  Rob, a systems engineer for Level-3, has performed on trombone with the Medina Community Band and the Sounds of Sousa Band.  Beth, a Teacher of gifted education for the Strongsville City Schools, performs on flute with the Medina Community Band.  Beth's husband, Christopher, is assistant director of bands for North Royalton schools and has performed on trumpet with the Medina Community Band, the Sounds of Sousa Band, and many small brass ensembles.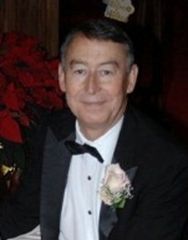 Thomas L. Walker
 (associate conductor, pictured at right) is currently retired from teaching instrumental music in Arkansas where he taught for 37 years.  He graduated from Marked Tree High School and later attended Arkansas State University in Jonesboro, AR where he received his bachelor of music education, master of music education, and specialist in community college teaching.  He is currently working on his doctorate at ASU. Thomas also was a member of the Arkansas Army National Guard for 37 years.  He spent his career in the Guard as a Field Wireman, Combat Engineer, Musician, First Sergeant, and Battalion Command Sergeant Major. Thomas is now living in Akron, OH with his new wife, Rhonda Gail Davis.
Featured vocal soloist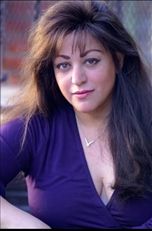 Maria Jacobs
 (soprano and pictured at right) was born in Cleveland (OH).  She began singing in the Melkite Catholic Church at a very early age, and soon began sharing the bandstand with her father Mike Jacobs, a drummer in the Cleveland area. Maria always wanted to sing and began with her own renditions of favorite standards.
Upon graduating from college, Maria started working with several radio stations as a disc jockey, but it was in Cleveland that she met up with friend and mentor Bobby Jackson, three-time Gavin radio "Person of the Year." The musical director of then 24-hour jazz station, WCPN, hired her as his research assistant.
She is a former traffic reporter and disc jockey, who lived in Los Angeles (CA) for 11 years and sang The Langham Huntington (formerly the Ritz Carlton), The Four Seasons (Westlake, OH), Chava (Beverly Hills), and The Torrance Civic Center.  Here in Cleveland she performs at the Hannah Theater, Nighttown and Cleveland's premier jazz club Take5. She has released four albums: No Frills, Free as a Dove, Chasing Dreams and most recently, Art of the Duo, and is currently working on her fifth with her band 4Get the Girl.
While back in the Midwest, Maria performed at the Elmhurst Jazz Festival with The Kent State Jazz Band, and won the attention of judges Mike Abene, Dennis Mackrel and Byron Stripling. She was then invited by Byron Stripling to perform with him and the Columbus Jazz Orchestra.  Maria opened for jazz trumpeter Chuck Mangione at The Coach House (Columbus, OH), was featured with the opening act for Bob Dorough. She is also a professional voice over artist and is represented by the Docherty Agency.  She currently has a national commercial airing on television for Hoover Vacuum Cleaners, and has just graduated with honors from Kent State University, and now holds bachelor of arts in music education.
Maria still performs in New York, Los Angeles, as well as Milwaukee, Cleveland and Columbus, Ohio. Free as a Dove is heard worldwide on Internet stations and traditional radio stations mostly in Los Angeles. Chasing Dreams can also be heard on these same stations including: WKHR, WCLV,KJAZ, KPFK, UNLV, WWOZ, WDNA, WUSF, WEMU, WTEB, WRTI, WAER to name a few. Also on Solar Radio with Bruce Nazarian at: www.thedigitalguy.net and with Bob Parlocha on www.jazzwithbobparlocha.com.
Medina Gazebo Concert – Friday, July 26th, 2013
Star Spangled Banner (John Stafford Smith arranged by John Philip Sousa) uses lyrics from a poem written in 1914 by Francis Scott Key, a then 35-year-old amateur poet, after seeing the bombardment of Fort McHenry at Baltimore, Maryland, by Royal Navy ships in Chesapeake Bay during the War of 1812.
The poem was set to the tune of a popular British drinking song, written by John Stafford Smith for the Anacreontic Society, a London social club.  Set to Key's poem and renamed "The Star-Spangled Banner," it would soon become a well-known American patriotic song.  It was recognized for official use by the United States Navy in 1889 and the President in 1916, and was made the national anthem by a congressional resolution on March 3, 1931 (46 Stat. 1508, codified at 36 U.S.C. § 301), which was signed by President Herbert Hoover.
Before 1931, other songs served as the hymns of American officialdom. Most prominent among them was "Hail, Columbia" which served as the de facto national anthem from Washington's time and through the 18th and 19th centuries.  Following the War of 1812 and subsequent American wars, other songs would emerge to complete for popularity at public events, among them "The Star Spangled Banner."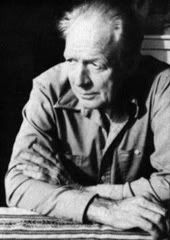 Clare Ewing Grundman
(born 11 May 1913 in Cleveland, Ohio; died 15 June 1996 in South Salem, New York)
is one of the most prolific and highly respected composers for band on the American scene today.  He is represented in one publisher's catalogue with nearly 50 works for band, in addition to other media.
Grundman grew up in Ohio earning both bachelor of science and master of arts degrees at The Ohio State University.  From 1937 to 1941, he taught arranging, woodwind, and band at OSU and during World War II, he was a member of the US Coast Guard.  He credits Manley R. Whitcomb with first encouraging him to write for band and Paul Hindemith with providing practical techniques for composition.
Grundman's activities also include scores and arrangements for radio, television, motion pictures, ballet, and Broadway musicals.  His arrangements have been used by many well-known entertainers including:  Carol Channing, Marge and Gower Champion, Sid Caesar, and Victor Borge.  He has taken a special interest in composition for school bands, and his works have been performed by school and college bands throughout the country. 
Second American Folk Rhapsody - Dedicated to Manley Whitcomb and the Florida State University Band, this rhapsody was composed in 1959.  American folk tunes are "Billy Boy," "Skip to My Lou," and "Shenandoah." The form generally followed is that of a short introduction, statement of the folk tunes with variations, and a short but stately coda.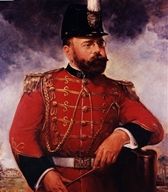 John Philip Sousa
(pictured at right).
Washington Post March (1889). During the 1880's, several Washington, DC, newspapers competed vigorously for public favor.  One of those, the Washington Post, organized what was known as the Washington Post Amateur Authors' Association and sponsored an essay contest for school children.  Frank Hatton and Beriah Wilkins, owners of the newspaper, asked Sousa, then leader of the Marine Band, to compose a march for the award ceremony.
The ceremony was held on the Smithsonian grounds on June 15, 1889.  President Harrison and other dignitaries were among the huge crowd.  When the new march was played by Sousa and the Marine Band, it was enthusiastically received, and within days it became exceptionally popular in Washington.
The march happened to be admirably suited to the two-step dance, which was just being introduced.  A dancemaster's organization adopted it at their yearly convention, and soon the march was vaulted into international fame.  The two-step gradually replaced the waltz as a popular dance, and variations of the basic two-step insured the march's popularity all through the 1890s, and into the 20th century.  Sousa's march became identified with the two-step, and it was as famous abroad as it was in The United States.  In some European countries, all two-steps were called "Washington posts." Pirated editions of the music appeared in many foreign countries.  In Britain, for example, it was known by such names as "No Surrender" and "Washington Grays."
Next to "The Stars and Stripes Forever,"  "The Washington Post" has been Sousa's most widely known march.  He delighted in telling how he had heard it in so many different countries, played in so many different ways -- and often accredited to native composers.  It was a standard at Sousa Band performances and was often openly demanded when not scheduled for a program.  It was painful for Sousa to relate that, like "Semper Fidelis" and other marches of that period, he received only $35 for it, while the publisher made a fortune. Of that sum, $25 was for a piano arrangement, $5 for a band arrangement, and $5 for an orchestra arrangement.
Today, at a community room in Washington, a spotlight illuminates a life-size color portrait of the black-bearded Sousa, resplendent in his scarlet Marine Band uniform.  This is the John Philip Sousa Community Room in the Washington Post Building.  It is the newspaper's tribute to the man who first gave it worldwide fame.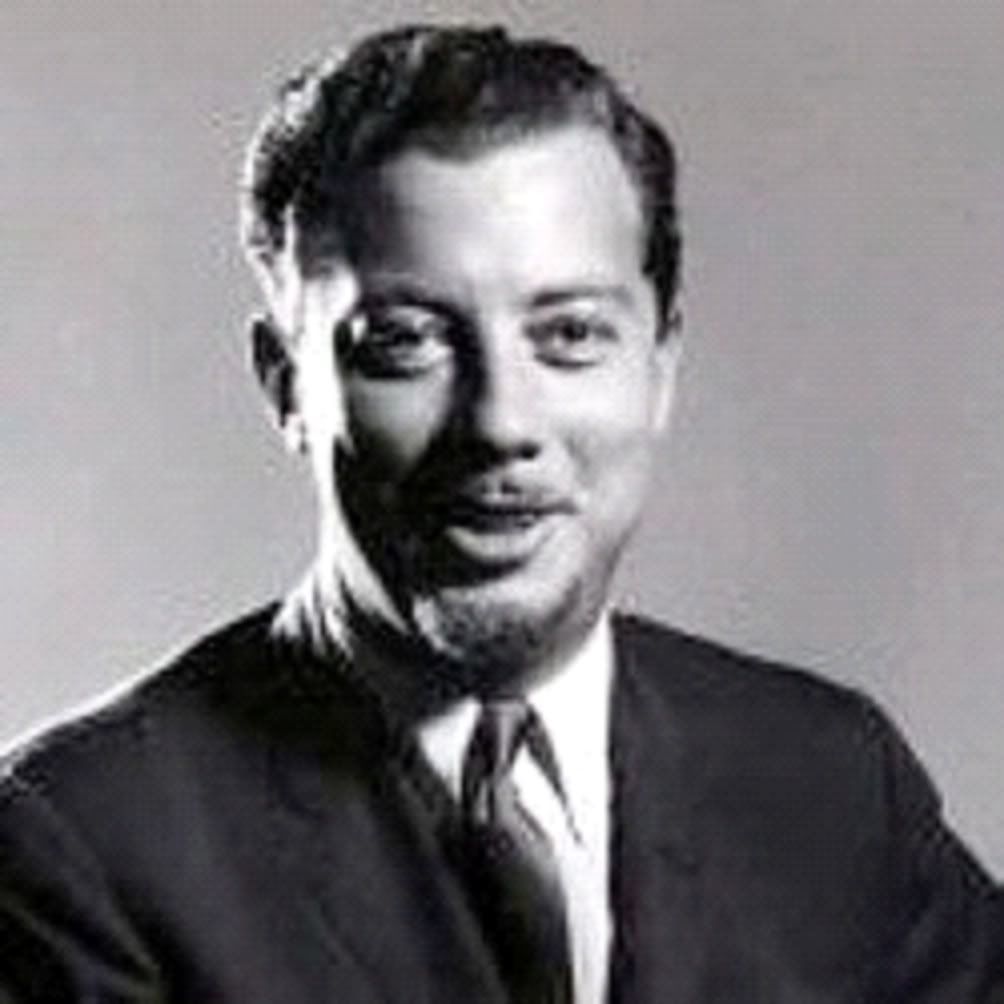 Cy Coleman
(at left) was born Seymour Kaufman on June 14th, 1929, in New York City to Eastern European Jewish parents, and was raised in the Bronx.  His mother, Ida was an apartment landlady and his father was a brickmason.  Coleman was a child prodigy who gave piano recitals at Steinway Hall, Town Hall, and Carnegie Hall between the ages of six and nine years of age.  Despite the early classical and jazz success, he decided to build a career in popular music.  Coleman's career as a Broadway composer began when he and Carolyn Leigh collaborated on Wildcat  (1960), which marked the Broadway debut of comedienne Lucille Ball.
If My Friends Could See Me Now, with music by Cy Coleman and lyrics by Dorothy Fields, was a number from the 1966 Broadway music Sweet Charity. In the musical, the character of Charity, played in the original New York cast by Gwen Verdon, reflects on her charmed life as she spends time with Vittorio.  The 1969 film adaption retains the song, where it was performed by Shirley MacLaine.
Harold Arlen
(pictured at right)
was an American composer of popular music, having written over 500 songs, a number of which have become known the world over. In addition to composing the songs for The Wizard of Oz, including the classic 1938 song, "Over the Rainbow," Arlen is a highly regarded contributor to the Great American Songbook. "Over the Rainbow," in fact, was voted the twentieth century's No. 1 song by the Recording Industry Association of America (RIAA) and the National Endowment for the Arts (NEA).
Over the Rainbow" (often referred to as "Somewhere Over the Rainbow") is a classic Academy Award-winning ballad song with music by Harold Arlen and lyrics by E.Y. Harburg and was sung by actress Judy Garland in her starring role as Dorothy Gale. Over time it would become Garland's signature song.
In the film, part of the song is played by the MGM orchestra over the opening credits. About five minutes into the movie, actress Judy Garland playing the lead character, Dorothy, sings "Over the Rainbow" after unsuccessfully trying to get her aunt and uncle to listen to her relate an unpleasant incident involving her dog, Toto, and the nasty spinster, Miss Gulch (Margaret Hamilton). Dorothy's Aunt Em tells her to "find yourself a place where you won't get into any trouble", prompting Dorothy to walk off by herself. She muses to Toto "Someplace where there isn't any trouble. Do you suppose there is such a place, Toto? There must be. It's not a place you can get to by a boat, or a train. It's far, far away. Behind the moon, beyond the rain.....", and begins singing the song. The famous sequence itself, as well as the entirety of the Kansas scenes, was directed (though unaccredited) by King Vidor.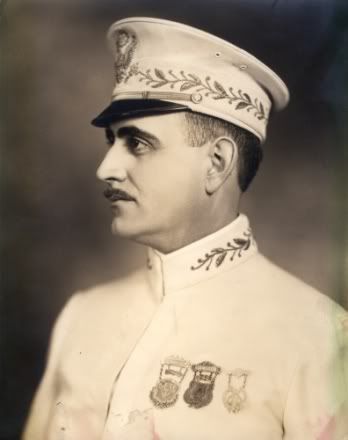 Karl L. King
(pictured at left) joined the circus when he was 19 years old at a time when the circus world was in great need for composers to write special music for the various acts. King's unique ability and uncanny knack allowed him to write and arrange just to the needs of the circus world.
King played an important role in the Iowa Band Law, state legislation giving municipalities the right to levy a small tax to support a municipal band.  He was also one of the first march composers to write special music for the growing school band programs in America. In addition to writing marches, he also wrote overtures, waltzes, and other selections that could be used for individual concerts or massed band performances.
Karl King's march Robinson's Grand Entry March was published in 1911 by the C.L. Barnhouse Company.  Karl had joined the Robinson's Famous Circus the year before, in 1910, as a baritone player.  Over the next several years, he played baritone with the Yankee-Robinson (1911), Sells-Floto (directed by W.P.  English, in 1912), and the Barnum and Bailey's Circuses (directed by Ned Brill, in 1913). 
Circus bands were the live music accompanying the acts presented by the circus. Composers like King, Fillmore, English, and others, composes new styles of music specifically for the genre.  Fanfares and grand entries (Like Robinson's Grand Entry) brought the acts the center ring to perform; fast paced screamers accelerated the action happening while two-steps and cakewalks slowed the pace.  Yet, marches were the stable form used by circus bands.
David Bennett's The Four Hornsmen was written in 1948.  The piece contains a mixture of styles and moods and features our horn section.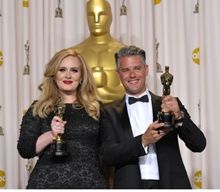 Adele Adkins and Paul Epworth. Skyfall: Original Motion Picture Soundtrack
is the soundtrack album to the 23rd
James Bond
film of the same name. Released by
Sony Classical
on October 29, 2012 in the United Kingdom and on 6 November 2012 in the United States, the music was composed by
Thomas Newman. This is Newman's first Bond
soundtrack, making him the ninth composer to score a Bond film. The score won the
BAFTA Award for Best Film Music. In 2013, it became one of two Bond scores to be nominated for the
Academy Award for Best Original Score. The other to be nominated was the
score
from
The Spy Who Loved Me
(1977).
Unlike most other Bond soundtracks, the soundtrack album to Skyfall does not contain the title song performed by Adele. This marks only the second time that this has happened, the first being the Casino Royale soundtrack album. Despite this, Track 23 contains an instrumental interpolation of "Skyfall", written by Adele and Paul Epworth (pictured above right), as well as Track 13 that starts with a violin rendition of "Skyfall".
The band arrangement was done by Jay Bocook.
Alonzo ("Zo") Elliott (pictured at right) was educated at St. Paul's School (Concord, New Hampshire), Phillips Academy (Andover, Massachusetts), Yale University, Cambridge University, and Columbia Law School. Elliott also studied voice with De Sadler of New York and Berlin, and piano with Harry Whittemore of Manchester, New Hampshire. His best known composition is "There's a Long, Long Trail," one of the most popular songs from the era of World War I. (Elliott wrote the music; the words are by Stoddard King.) That song was not the only example of Elliott's interest in military music; he composed an opera, Top Sergeant, and he wrote an article about the background of the Civil War song "John Brown" which showed that the John Brown of the song was a soldier in Boston, not the famous abolitionist of the same name.
British Eighth March. The march was written in tribute to General Bernard Montgomery and the Eighth Army and was copyrighted in 1943 for publication in 1944.  The march was written after Montgomery's triumphant sweep across Northern Africa in 1942 in the middle of World War II. Following the defeat of Rommel's forces at El Alamein, Montgomery was promoted to field marshal, and he soon became the idol of the British public. In 1944, he commanded all Allied ground forces during the invasion of France, and in 1951, he became deputy commander of the Atlantic Pact nations. 
British Eighth march is one of the most performed marches on both sides of the Atlantic.  But, the rest of the story lies in the fact that Elliot, despite the British-sounding name, was in fact an American!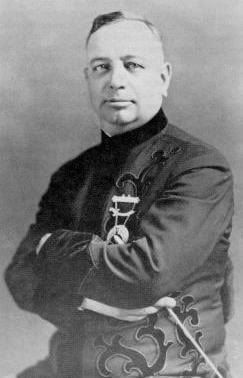 Henry Fillmore
(pictured at right) was one of our most prolific composers with 256 compositions to his record and almost 800 arrangements.  He published under various pseudonyms as well as his own name: Henry Fillmore -114; Gus Beans – 2; Harold Bennett – 65; Ray Hall – 3; Harry Hartley – 6; Al Hayes – 57; Will Huff – 8; and Henrietta Moore – 1. 
Fillmore was a true free spirit.  He was brought up by a conservative family in a conservative town.  When he couldn't do as he wished, he ran away with a circus and played trombone in the circus band.  To top it all off, he married an exotic dancer.
Lassus Trombone (Characteristic). The characteristic carried the subtitle "De Cullud Valet to Miss Trombone" and was Henry's favorite of his "trombone smears."  It was also recognized by John Philip Sousa, who included it on every concert of his last tour with his band.  The sheet music to "Lassus Trombone" sold over two million copies.
 "Lassus Trombone," composed in 1915, is a musical depiction of the happy, shiftless, Jim Crow. However, many have never assumed, or suspected, that the title had any racial or ethnic overtones.  Others have always assumed that the implication of the title was quite different.  In the southern United States, there is a food substance which may be largely unknown in other regions, called molasses.  This is a thick, pungent, sugary syrup, usually a by-product of the process of extracting sugar from sugar cane.  The syrup is thick under any circumstances, and much more so when it is cold.  A favorite saying in this part of the world is "slow as molasses in January."  In the southern dialects, the first syllable is sometimes elided, producing "'lasses." 
Thus, some speculate that might be the origin of the "Lassus" in "Lassus Trombone."  In this sense, it would refer to the slides and glissandos (smears) which are required of the trombonists who perform it.  Pure speculation on my part, I admit, but it seems as likely to me as to read racism into the composition.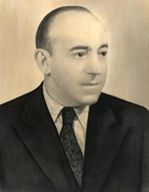 Florencio Rafael Ledesma
(pictured at left)
and Salvador Oropesa
. Matador Domingo González "Dominguín" asked Oropesa to compose a pasodoble for bullfighter Domingo Ortega that would match the figure of bullfighting.  With the collaboration of Florencio Ledesma, was concluded within days the order, whose premiere took place one night in 1931 at the Café de Atocha Band by the master himself Ortega ran daily in that establishment.
The night of the premiere, at the bullfight, both bullfighter Domingo Ortega and the new pasodoble were greeted with joy and excitement. 
Charles A. Wiley did the arrangement of this composition.
Stars and Stripes Forever 
(John Philip Sousa – pictured at right) The march is considered the finest march ever written, and at the same time one of the most patriotic ever conceived.  As reported in the 
Philadelphia Public Ledger
 (May 15, 1897) 
" ... It is stirring enough to rouse the American eagle from his crag, and set him to shriek exultantly while he hurls his arrows at the aurora borealis."
 (referring to the concert the Sousa Band gave the previous day at the Academy of Music).
The march was not quite so well received though and actually got an over average rating for a new Sousa march.  Yet, its popularity grew as Mr. Sousa used it during the Spanish-American War as a concert closer.  Coupled with his Trooping of the Colors , the march quickly gained a vigorous response from audiences and critics alike.  In fact, audiences rose from their chairs when the march was played.  Mr. Sousa added to the entertainment value of the march by having the piccolo(s) line up in front of the band for the final trio, and then added the trumpets and trombones join them on the final repeat of the strain.
The march was performed on almost all of Mr. Sousa's concerts and always drew tears to the eyes of the audience.  The author has noted the same emotional response of audiences to the march today.  The march has been named as the national march of The United States.
There are two commentaries of how the march was inspired.  The first came as the result of an interview on Mr. Sousa's patriotism.  According to Mr. Sousa, the march was written with the inspiration of God.
"I was in Europe and I got a cablegram that my manager was dead.  I was in Italy and I wished to get home as soon as possible, I rushed to Genoa, then to Paris and to England and sailed for America.  On board the steamer as I walked miles up and down the deck, back and forth, a mental band was playing 'Stars and Stripes Forever.'  Day after day as I walked it persisted in crashing into my very soul. I wrote it on Christmas Day, 1896."
The second, and more probable inspiration for the march, came from Mr. Sousa's own homesickness.  He had been away from his homeland for some time on tour, and told an interviewer:
"In a kind of dreamy way, I used to think over old days at Washington when I was leader of the Marine Band ... when we played at all public functions, and I could see the Stars and Stripes flying from the flagstaff in the grounds of the White House just as plainly as if I were back there again."
"Then I began to think of all the countries I had visited, of the foreign people I had met, of the vast differences between America and American people and other countries and other peoples, and that flag our ours became glorified ... and to my imagination it seemed to be the biggest, grandest, flag in the world, and I could not get back under it quick enough."
"It was in this impatient, fretful state of mind that the inspiration to compose 'The Stars and Stripes Forever' came to me."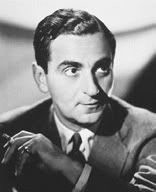 Irving Berlin (pictured at left). With a life that spanned more than 100 years and a catalogue that boasted over 1000 songs, Irving Berlin epitomised Jerome Kern's famous maxim, that "Irving Berlin has no place in American music - he is American music".
Irving Berlin was born Israel Berlin in May 1888. When his father died, Berlin, just turned 13, took to the streets in various jobs, working as a busker, singing for pennies, then as a singer / waiter in a Chinatown café. In 1907 he published his first song, Marie From Sunny Italy and by 1911 he had his first major international hit, Alexander's Ragtime Band. 
Over the next five decades, Irving Berlin produced an outpouring of ballads, dance numbers, novelty tunes and love songs that defined American popular song for much of the century. A sampling of just some of the Irving Berlin standards included: How Deep Is the Ocean?, Blue Skies, White Christmas, Always, Anything You Can Do, I Can Do Better, There's No Business Like Show Business, Cheek To Cheek, Puttin' On The Ritz, A Pretty Girl Is Like A Melody, Heatwave, Easter Parade, and Lets Face The Music and Dance. In a class by itself is his beloved paean to his beloved country, God Bless America. 
God Bless America. The time was 1940. America was still in a terrible economic depression. Hitler was taking over Europe and Americans were afraid we'd have to go to war. It was a time of hardship and worry for most Americans.
This was the era just before TV, when radio shows were huge, and American families sat around their radios in the evenings, listening to their favorite entertainers, and no entertainer of that era was bigger than Kate Smith. Kate was also large in size, and the popular phrase still used today is in deference to her, "Ain't over till the fat lady sings". Kate Smith might not have made it big in the age of TV, but with her voice coming over the radio, she was the biggest star of her time.
Kate was also very patriotic. It hurt her to see Americans so depressed and afraid of what the next day would bring. She had hope for America, and faith in her fellow Americans. She wanted to do something to cheer them up, so she went to the famous American song-writer, Irving Berlin and asked him to write a song that would make Americans feel good again about their country.
When she described what she was looking for, he said he had just the song for her. He went to his files and found a song that he had written, but never published, 22 years before - way back in 1917. He gave it to Kate Smith and she worked on it with her studio orchestra. She and Irving Berlin were not sure how the song would be received by the public, but both agreed they would not take any profits from God Bless America. Any profits would go to the Boy Scouts of America. Over the years, the Boy Scouts have received millions of dollars in royalties from this song.
The Medina Community Band 
Marcus Neiman, conductor 
Edward Lichtenberg & Thomas Walker
 associate conductors 
Maria Jacobs, soprano soloist 
Featuring our Horn Section
Friday Evening, July 26th, 2013
8:30 p.m.
Program
National Anthem, The Star Spangled Banner (1931) ............. Francis Scott Key/John Philip Sousa 
Rhapsody, American Folk Rhapsody No. 2 (1959) ...............  Clare Grundman 
March, Washington Post (1889).......................................... John Philip Sousa 
Soprano solos 
    If My Friends Could See Me Now from Sweet Charity (1966) .............  Cy Coleman/Warren Barker 
     Somewhere, Over the Rainbow from Wizard of Oz (1939) ............... Harold Arlen/Warren Barker
Maria Jacobs, soprano soloist
March, Robinson's Grand Entry (1911)........................................ Karl L. King 
Horn Quartet, Four Hornsmen (1948) ......................................  David Bennett 
Featuring our horn section
March, British Eighth (1943) ...........................................................  Zo Elliott 
Movie Theme, Skyfall (2011) ................................................ Thomas Newman/Jay Bocook 
Characteristic, Lassus Trombone (1915) ..........................  Henry Fillmore 
Pasodoble, Domingo Ortego (1931) .................................  Ledsma & Oropesa/Frederick Fennell 
National March, The Stars and Stripes Forever (1896) .......  John Philip Sousa 
Patriotic, God Bless America (1917) ............................................ Irving Berlin/Erik Leidzen