Medina Community Band – 1927 – 1943*
Concert 5 – Saturday, July 4th, 2009
(as of June 19, 2009) 
Saturday, July 4th, 2009 - Medina Community Band will present the fifth concert in their Sesquicentennial season on Saturday, July 4th at 8:30p, on Medina Courthouse Square Gazebo featuring music from 1927 through 1943.

Band directors during this era were Harry Lincoln and Fred W. Kelser (pictured at left).  Lincoln, director of the Band of Trade Band from 1918 to 1921, had a four year hitch from 1927 to 1930.  Fred Kelser did the honors from 1931 to 1937.  Fred's father, a minister, had moved his family to Medina County in 1905.  Fred graduated from Otterbein College (Westerville, OH) with a degree in music, and taught at Carroll College in Helena (Montana) before being drafted in WWI. He played French horn in a military band with overseas service.  Kelser sang many solos and duets, some with the Medina Band, and directed the Methodist Church choir for a few years.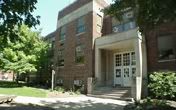 The Band no longer rehearsed or performed year round.  Rehearsal sessions began as late as April or May.  As late as 1929, the Band was still rehearsing in "their room" in the town hall.  From 1934 until 1936, they rehearsed at Medina High School, now the Garfield Elementary School building (pictured at right); during 1936 and 1937, they were in the basement of the Post Office (the building now numbered 207 South Court Street).
The Band did; however, continue its participation in the Memorial Day parade and activities in the park afterwards. By 1934, this was done without uniforms.  Weather could be a problem as well.  While attempts were made to move concerts to the high school auditorium, by the time decisions were made, the crowds were gone.  Concerts were still held on Saturday evenings during their summer season.
While a proposal by Albert Fretter, in 1928, was made for sound amplification for the Band, nothing happened.  While pleas from Band Director Kelser for a larger bandstand were unanswered, a separate podium was build for him to stand on and conduct the Band in 1933. 
We know that the Medina High School Band was playing concerts in the park on Wednesday evenings in August of 1928 on the bandstand in the center of the park.  The high school band also played in a parade and concert on South Court Street at the December 1929 opening of the Fisher Brothers grocery and meat store.  This was an inevitable change as the school band movement grew. 
The size of the Medina Band ranged from 25 to 30 players for the first few years of this era, capped by the drafting of a new constitution.  Membership was on the decline and by 1933 was down to 22 members, and by 1937 down to 20 members.
The National Reconstruction Administration (NRA) caused a bit of turmoil over the Band's concert hour in 1933.  According to NRA dictates, businesses were required to close no later than 9 p.m.  The Band concerts were running 8 to 9 p.m., and the merchants felt that "crowds of possible purchasers were being kept away from the stores." A compromise for the succeeding week had the concerts running from 8:30p until 10p.
From a financial point of view, the Band was now "on its own."  Members were usually paid a few dollars a season for their efforts of playing 10 to 12 concerts a year. For a few years prior to 1929, the business community had acted to solicit operating funds from within their ranks.  In 1929, Medina embraced The Community Chest concept for the first time, and exceeded its goal by about 50%.  Included in their benevolence was $750 for the Band. The Band played several times that fall for the cause.  The Band's share was cut to $550 in 1931 to allow the Community Chest to also support the King's Daughters.
In 1932, The Medina County School Band played three Saturday evenings concerts interspaced with the Medina Band's concerts to extend the concert season. Despite the help of the Community Chest and the County School Band, the Medina Band could no longer sustain a summer concert season beyond eight concerts, which was the total concerts held in 1934. There were no concerts in the summer of 1935.  The Band did perform at the Memorial Day of 1935.
Harold Zeigler, of the merchants, and Stowell White, of the Band, canvassed Medina merchants and raised sufficient money to enable the village to have ten concerts in 1936. Fred Kelser, who had spent the previous year teaching music in Montana, returned for the summer as part of the park concerts. He held audience sing-a-longs, perhaps for the first time as part of the park concerts.
In 1936 solicitation of the merchants did not generate enough funds to field the band.  There were no funds to field a band during the 1937 season, but the Band played for the last time in 1937 for the Memorial Day Parade. The high school band took the Medina Band's place in the 1938 Memorial Day parade, and the Medina Chamber of Commerce hired the 105-piece County School Band for three concerts in the park that year.  And, for the first time, a public address system was available for speeches in the 1939 Memorial Day exercises.
For the second year in a row, the Medina Chamber of Commerce was expected to hire the County School Band to a series of summer concerts in the park.
Unfortunately, there are no reports of any concerts having actually taken place in 1939 by any band.
---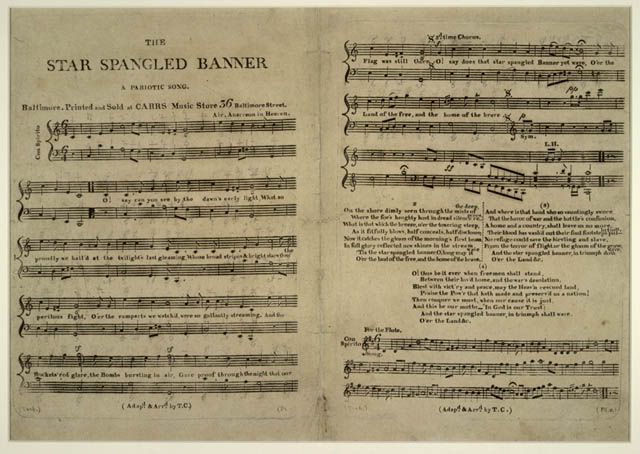 Star Spangled Banner (John Stafford Smith arranged by John Philip Sousa) uses lyrics from a poem written in 1914 by Francis Scott Key, a then 35-year-old amateur poet after seeing the bombardment of Fort McHenry at Baltimore, Maryland, by Royal Navy ships in Chesapeake Bay during the War of 1812.
The poem was set to the tune of a popular British drinking song, written by John Stafford Smith for the Anacreontic Society, a London social club.  Set to Key's poem and renamed "The Star-Spangled Banner," it would soon become a well-known American patriotic song.  It was recognized for official use by the United States Navy in 1889 and the President in 1916, and was made the national anthem by a congressional resolution on March 3, 1931 (46 Stat. 1508, codified at 36 U.S.C. § 301), which was signed by President Herbert Hoover.
Before 1931, other songs served as the hymns of American officialdom. Most prominent among them was "Hail, Columbia" which served as the de facto national anthem from Washington's time and through the 18th and 19th centuries.  Following the War of 1812 and subsequent American wars, other songs would emerge to complete for popularity at public events, among them "The Star Spangled Banner."
The Wizard of Oz is almost everybody's cherished favorite, perennial fantasy film musical from MGM during its golden years.  For many
seasons, it was featured regularly on network TV as a prime time event. All of its images: the Yellow Brick Road, the Kansas twister; characters: Auntie Em, Toto, Dorothy, and the Wicked Witch; dialogue: Lions and tigers and bears, oh my; We're not in Kansas anymore, and Follow the Yellow Brick Road, and the film's final line: There's no place like home; and music: Over the Rainbow; have become indelibly remembered.
The film's plot is easily condensed: lonely and sad Kansas farmgirl Dorothy dreams of a better place, without torment against her dog Toto from a hateful neighbor spinster, so she plans to run away. During a fierce tornado, she is struck on the head and transported to a land 'beyond the rainbow' where she meets magical characters from her Kansas life transformed within her unconscious dream state. After travels down a Yellow Brick Road to the Land of Oz, and the defeat of the Wicked Witch of the West, Dorothy and her friends are rewarded by the Wizard of Oz with their hearts' desires - and Dorothy is enabled to return home to Kansas.
Harold Arlen's (picture at right) music will also be long remembered.  Having written over 400 songs, several of which have become worldwide, Arlen is a well regarded contributor to the jazz-oriented "Great American Songbook" of the era 1920 through 1960.  His 1938 song "Over the Rainbow" was voted the 20th century number one song by the Recording Industry Association of America.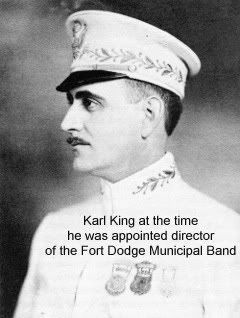 War March of the Tartars (Karl L. King at left).  The march was published in 1938.
Karl King's gift for composing was apparent at an early age, and he had several compositions published while still in his teens. In all, King published over 200 marches. In addition to this impressive feat, which earned him the title America's March King, he also composed waltzes, overtures, intermezzos, serenades, dirges, rags, and galops, totaling almost another 100 selections.
Karl King moved to Fort Dodge, Iowa, in 1920 as the result of a classified advertisement in a national musician's publication for the position of conductor of the Fort Dodge Municipal Band, a post which he accepted and held for over 50 years. There in Fort Dodge he raised his family (one son, Karl Jr.), established a successful music publishing business, composed music, and directed the municipal band. He and his band appeared at numerous state and regional fairs, rodeos and expositions, as well as local concerts. The official title of the band was the Fort Dodge Municipal Band, but within a short time after he assumed leadership of the group it became known simply as King's Band.  After his death, it was formally renamed the Karl L. King Municipal Band of Fort Dodge.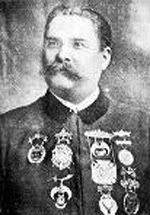 La Mandolinata (Herman Bellstedt at right) was published in 1927. Bellstedt came to America in 1867 at the age of nine. His family settled in Cincinnati in 1872 where he studied the cornet with his father and Mylius Weigand. Being billed as the "Boy Wonder" he gave his debut performance on 10 May 1873. He then performed second cornet in the orchestra at Arctic Gardens, soon being promoted to first cornet and soloist.
In 1874, he performed solo cornet with the Cincinnati Reed Band for five years under the direction of Michael Brand. In 1879, he became cornet soloist with the Red Hussar Band on Manhattan Beach, later returning to the Cincinnati Reed Band in 1883. He performed from 1889 to 1892 in Gilmore's Band sitting next to Benjamin Bent, from 1904 to 1906 in Sousa's Band (replacing Walter B. Rogers) performing next to Herbert L. Clarke, and from 1906 to 1909 in Frederick N. Innes' Band (replacing Bohumir Kryl).
He was billed by Innes as "Germany's Greatest Cornet Soloist" (Schwartz 1957, 235-6). Bellstedt's talents extended well beyond the cornet realm, as he conducted the Bellstedt & Ballenberg Band and performed first trumpet in orchestras conducted by Theodore Thomas, Van der Stucken, and Schradieck between the years of 1892 and 1904.

His Honor (Henry Fillmore at left) was published in 1934. The march is one of Fillmore's most famous marches.  In 1933, the Fillmore Band had few engagements apart from several appearances at the Cincinnati Zoo.  Curiously, Henry composed few works that year, but one he did compose was this march.  Some of Fillmore's marches, overtures, and novelty pieces were composed especially for his own band of professional musicians, organized in 1927 in Cincinnati.  His Honor was one such favorite of both is band members and audience alike.  The title refers to Mayor Russell Wilson, a man who impressed the composer with his sense of humor as well as his executive ability. Wilson held office from 1930-1937.  The march was premiered August 2, 1933 at a concert at the zoo and has become one of his most frequently performed works.  With its unexpected melodic and rhythmic changes and its various performance possibilities, His Honor is still one of Fillmore's most popular marches."
The Three Aces was published in 1936 and written for the "three aces" Walter Smith, Frank Simon, and Del Stegars (often called the three "S's" or the three wonders).  Herbert Lincoln Clarke (pictured at right), regarded as the greatest cornetist of all time, was born in Woburn, Massachusetts, on September 12, 1867.  He was the youngest of four boys, only one of whom did not follow a career in music.  
While living in Toronto, Canada, Herbert attended a concert of the American Band of Providence (Rhode Island), conducted by D.W. Reeves.  Clarke later wrote, "I was so moved by the cornet soloist that I knew in time that I too must play cornet."  His determination resulted in his being accepted, at the age of only 14, as a trumpet player in the Queen's Own Rifle Regiment Band - even though the minimum age was 18.
One of the greatest influences in Clarke's life was the famous cornet soloist Walter Rogers, who eventually became a close friend and side partner in Sousa's Band.  Clarke received tips from Rogers but never took formal lessons from him -- or anyone else.  At age 24, he became cornet soloist with Gilmore's Band.  After the death of Gilmore in 1892, Clarke was soloist for a short period with the band of Ellis Brooks and then became soloist with Sousa's Band in the spring of 1893.
It was another famous soloist, Arthur Pryor, who encouraged Clarke to compose his own cornet solos.  Following the Sousa Band's engagement at the Chicago Exposition in 1893, Clarke played with various groups, including the reorganized but short-lived Gilmore Band when it was directed by Victor Herbert.  He returned to Sousa's Band in 1900 and remained with it until 1917.  He had often told Sousa that he would retire at age 50, since he believed that cornet soloists began to perform less effectively at that age.  Sousa contended that he was playing better than ever, to which Clarke replied, "Then I'll quit while I'm ahead."  After retiring from Sousa's Band, Clarke moved to Canada and served as conductor of the Anglo-Canadian Concert Band of Huntsville, Ontario, from 1918-1923.  He then directed the Long Beach (California) Municipal Band from 1923-1943.  He died in Long Beach on January 31, 1945, and his ashes were interred in Congressional Cemetery in Washington, D.C., just a few feet from the grave of John Philip Sousa. It is estimated that Clarke played over 15,000 solos during his long and active career.  He traveled over 90,000 miles with the bands of Gilmore, Sousa, Innes, Herbert, and others.  He made 34 tours of the United States and Canada, four European tours, and one tour around the world.
Bugatti-Step was published in 1931. Jaroslav Ježek (at left) was one of the founders of Czech jazz and popular music.  The son of a tailor in Prague's working-class district of Zizkov suffered from impaired eyesight and hearing, as well as a kidney disease from childhood but worked very hard to eventually win a place at the Prague Conservatory where he then studied in the master class of Josef Suk.  He was chief conductor of the jazz orchestra of the avant-garde Osvobzene divadio (Free, or Liberated Theatre) and the theatre' resident composer writing all music for its productions.  Bugatti-Step was composed in 1931 as overture to "Don Juan & Comp." The jazz composition in lively rhythm was named after the automobile, the fastest at that time, Bugatti, in which the legendary female car racer Eliska Junkova triumphed over all her male colleagues, in the same way as the play (in which the notorious story is turned upside down) the poor seducer Don Juan is being chased by women.

Aviators march by John Philip Sousa (pictured at right) was published in 1931. Friends and associates of Sousa were constantly telling of his subtle wit.  The object of one of his rare pranks was Captain William A. Moffett, the man responsible for his enlistment and commission in the U.S. Navy during World War I. Moffett needed a musician with considerable administrative ability to organize navy band units at the Great Lakes Naval Training Center.  Sousa's brother-in-law happened to be on Moffett's staff.  He arranged a meeting between Moffett and Sousa to discuss the possibility of obtaining Sousa's services.
Sousa arrived at a decision quickly but decided to have fun at Moffett's expense.  He indicated that he would like to accept the position but raised the question as to whether or not the navy could meet his salary demand.  Moffett realized that Sousa was a wealthy man but had not expected such a blunt approach.  He apologized for the navy's relatively low pay scale and offered Sousa $2,500 per year.  Sousa replied:  "I refuse to take such a sum!  Tell Secretary Daniels that if he wishes for my help in this war, he will have to part with not less than one dollar a month for the duration of the conflict."
Moffett and Sousa became warm friends.  Moffett had a distinguished military career, rising to the rank of rear admiral as chief of the navy's Bureau of Aeronautics. He was later nicknamed "father of the flattop."  In one of his last musical efforts, Sousa dedicated "The Aviators" to him.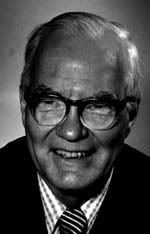 State Street Strut by Red McLeod. McLeod was born in Virginia, Minnesota, on January 12, 1912, and learned violin and clarinet as a child.  At age 12, he formed his own eight-piece orchestra to play for service clubs, church dinners, and high school functions.  Having difficulty finding arrangements, he began writing his own from the sheet music from a player piano.  Red also began supplying musical arrangements for the city band for 50 cents per arrangement.  His parents soon purchased him a piano so that he could continue his self-taught lesson in arranging music, and in June of 1928, he received a ten-dollar gold piece for his service to the community.
After two years at Virginia Junior College, Red transferred to the University of Minnesota as a junior in 1930, much to the delight of director Michael Jalma, who had heard one of Red's full band arrangements a year earlier.  Red's first arrangement for the University Band was the Boy Scout March, played by the band for a Boy Scout Jamboree in Minneapolis. Red continued to arrange music for small campus bands, tutored some of his classmates, and performed where needed, including with the University Symphony Orchestra.  He graduated with Cum Laude distinction from the University in the spring of 1932. Red stayed at the University, working on an advanced degree (despite an entire year of education courses of which he had little interest).  Red continued to play in the University Band under new director Gerald Prescott, and moved up to first chair clarinet.  He also continued to write for the band without payment.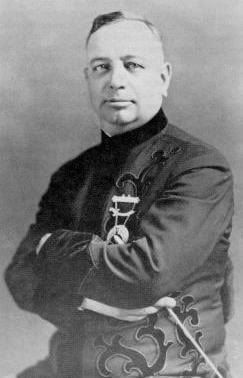 Red caught a big break in Winter Quarter 1933, when the Minnesota Symphony added the U. of M. Concert Band for a grand finale performance of the 1812 Overture.  Looking for an arranger, Symphony director Eugene Ormandy asked Prescott to recommend one, and Red was hired.  Delighted with the work, Ormandy paid Red $85 -- quite a sum in depression-era 1933.  Red quickly decided to leave the graduate school and become a full-time arranger, though he continued his on-campus work (including playing in the band) for quite some time. In addition to Red's 60-year span of arranging music for the University of Minnesota Marching Band, he also wrote for many other colleges including Iowa State, the University of Texas, Ohio University, and the University of Oklahoma.  Red also served as Entertainment Director for the Minnesota Vikings from 1962 to 1987.
Americans We march by Henry Fillmore. The march is dedicated To all of us and is considered on of his very finest marches.  After resigning as director of the Syrian Temple Band, Henry formed his own professional band and one of its first engagements was at the Cincinnati Zoo. The appearance coincided with the annual "Pure Food and Health Show" and Henry is reported to have included this march on every program, sometimes announcing it as the "Purse Food and Health" march and at other times as the "Cincinnati Zoo" march. After it was broadcast on the radio, it became so popular he dedicated to publish it and then changed the title to "Americas We"

Le Régiment de Sambre et Meuse, written by Robert Planquette and Paul Cezano, really needs no introduction to any Ohio resident.  If you have heard of Ohio State football and the Famed Ohio State Marching Band, you have heard of the march and the equally famed Script Ohio (pictured at left)!  The Script Ohio has been an Ohio State University tradition since 1936.  According to former OSU band director Eugene Weigel, the inspiration came from the 1932 University of Michigan Marching Band performance at Ohio Stadium where the University of Michigan actually formed the Script Ohio, complete with the dotted eye and all! And, by 1936, the Ohio State University Band was performing the Script Ohio, complete with dotting the "I" for every game. 
Choosing the music was a bit more complicated.

 

According to former director of the OSU marching band, Paul Droste, the OSU fight songs were not long enough and would require tens of playing to make the script work.

 

Yet in the folders was a rather long march, one that was exciting enough to draw attention to the music and the Script … it was Le Régiment.

 

The rest is history.
Stars and Stripes Forever by John Philip Sousa.  The march is considered the finest march ever written, and at the same time one of the most patriotic ever conceived.  As reported in the Philadelphia Public Ledger (May 15, 1897) " ... It is stirring enough to rouse the American eagle from his crag, and set him to shriek exultantly while he hurls his arrows at the aurora borealis."  (referring to the concert the Sousa Band gave the previous day at the Academy of Music).
The march was not quite so well received though and actually got an over average rating for a new Sousa march.  Yet, its popularity grew as Mr. Sousa used it during the Spanish-American War as a concert closer.  Coupled with his Trooping of the Colors , the march quickly gained a vigorous response from audiences and critics alike.  In fact, audiences rose from their chairs when the march was played.  Mr. Sousa added to the entertainment value of the march by having the piccolo(s) line up in front of the band for the final trio, and then added the trumpets and trombones to join them on the final repeat of the strain.
The march was performed on almost all of Mr. Sousa's concerts and always drew tears to the eyes of the audience.  The author has noted the same emotional response of audiences to the march today.  The march has been named as the national march of The United States.
There are two commentaries of how the march was inspired.  The first came as the result of an interview on Mr. Sousa's patriotism.  According to Mr. Sousa, the march was written with the inspiration of God.
"I was in Europe and I got a cablegram that my manager was dead.  I was in Italy and I wished to get home as soon as possible, I rushed to Genoa, then to Paris and to England and sailed for America.  On board the steamer as I walked miles up and down the deck, back and forth, a mental band was playing 'Stars and Stripes Forever.'  Day after day as I walked it persisted in crashing into my very soul. I wrote it on Christmas Day, 1896."
The second, and more probable inspiration for the march, came from Mr. Sousa's own homesickness.  He had been away from his homeland for some time on tour, and told an interviewer:
"In a kind of dreamy way, I used to think over old days at Washington when I was leader of the Marine Band ... when we played at all public functions, and I could see the Stars and Stripes flying from the flagstaff in the grounds of the White House just as plainly as if I were back there again."
"Then I began to think of all the countries I had visited, of the foreign people I had met, of the vast differences between America and American people and other countries and other peoples, and that flag of ours became glorified ... and to my imagination it seemed to be the biggest, grandest, flag in the world, and I could not get back under it quick enough."
"It was in this impatient, fretful state of mind that the inspiration to compose 'The Stars and Stripes Forever' came to me."
The march evolved over its first few years of performance.  Mr. Sousa would premiere a new march and place it as an encore on the program.  It must be remembered that The Sousa Band was a concert band and performed in concert halls, opera houses, theaters, and other large rooms.  Mr. Sousa would verbally make changes on the march to his players during this time.  After the march was "broken in" the changes would become standard for future performances.  It would also seem logical that changes the musicians themselves did, either through intention or simply performance, would also be added to the march.
There are many reasons why the "authentic" Sousa style does not appear on most editions of the march today. Prime among them are the simple fact that most publishers will not go into that much detail for the interpretation of a "march."  Another probable cause is that Mr. Sousa was an entertainer and did not want the competition to "lift" his composition's unique performance quality. 
God Bless America.  In 1918, Irving Berlin (pictured at left) produced Yip, Yip Yaphank, an all-soldier show at Camp Yaphank. God Bless America was one of the songs in that show, but Berlin decided to delete it from the production. In 1938, Kate Smith asked Berlin to write a song for her to use in her Armistice Day radio show. Unable to write anything that satisfied him, he remembered the song from Yip, Yip Yaphank and gave her, free of charge, exclusive performing rights. She first performed it on her radio show on November 10, 1938, the last peacetime Armistice Day this country celebrated before World War II.
In 1939, both major political parties used God Bless America in their Presidential nominating conventions. Kate Smith recorded the song for Columbia and it became immensely popular. It was heard or sung at rallies, balls, and athletic events nationwide.
Berlin was a passionate patriot and did not want to profit from this patriotic song. In 1939 he copyrighted it in the names of Gene Tunney, Mrs. Theodore Roosevelt, Jr., and A. L. Berman and stipulated that all proceeds go to the Boy and Girl Scouts.
This stately and reverent song represents the thoughts of the multitudes of immigrants such as Berlin, himself, who were grateful to this country for giving them the opportunity to transcend the limitations of their old world origins.
Israel Baline, the son of a Jewish cantor, immigrated to the United States from Russia with his family in 1893. Here, he spent his early years in great poverty. In 1904, he worked as a singing waiter in Chinatown and Bowery cabarets of New York City. After a printer erroneously printed his name "Irving Berlin" on a piece of music, he chose that name for his own. In 1911, he achieved success pioneering ragtime with Alexander's Ragtime Band (originally titled Alexander and his Clarinet) and Everybody's Doin' It.
In his incredibly successful career, he produced over 1500 songs including those from such memorable Broadway hits as 
The Cocoanuts
, 
Ziegfield Follies
, 
This is the Army
, 
Annie Get Your Gun
, and 
Call Me Madame
. His 
White Christmas
 has been the best-selling piece in all of music history except perhaps for John Philip Sousa's 
Stars and Stripes Forever
. All this is particularly remarkable considering that he could not read music and could play the piano only in the key of F-sharp. That fact kept his fingers mostly on the black keys, but his special piano could automatically transpose, a feature he controlled with a lever under the keyboard.

---

Paul Droste is a native of Fairview Park, Ohio, a suburb of Cleveland, where he received his early musical training. He holds a bachelor of science degree in music education from The Ohio State University (OSU), a master of music degree from The Eastman School of Music and a doctor of musical arts degree (in euphonium performance) from The University of Arizona. Before joining the OSU School of Music faculty in 1966, he taught in the Pickerington and Lakewood Public Schools. He served as director of the OSU Marching Band from 1970 through 1983 and was the first former member of the band to be selected as its director. Dr. Droste retired from OSU in 1992 and worked as educational director of Colonial Music for the next ten years. Dr. Droste is the founder and director of the Brass Band of Columbus, a British-style brass band that has won nine international competitions. It should be noted that Dr. Droste, though not a regular member of any of the Medina Bands performed on a regular basis with them, not only while in high school, but number times thereafter.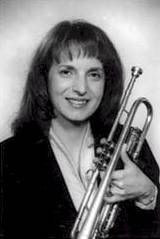 Marcia Nelson-Kline (cornet soloist) will appear as featured guest cornet soloist on the evening's concert.  She began her trumpet studies with her parents, Milton and Sarah Nelson, and the late Lloyd Haines (all retired Akron Symphony Orchestra members). These teachers instilled an appreciation and love for traditional cornet solos in her. She is solo cornet with Medina Community Band and Sounds of Sousa Band and performs with the Brass Band of the Western Reserve.  Both Marcia's mother and father have played in the community band over the years, and her mother continues to join Marsha in MCB.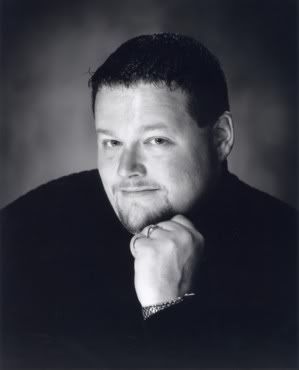 Tenor Daniel J. Doty has appeared throughout the Midwest with orchestras and opera companies. A participant of the Opera and Music Theatre Festival of Lucca, Daniel spent six weeks in the Tuscan village of Lucca, Italy singing operatic arias at various venues associated with Lucca's most famous son Giacomo Puccini. Daniel is a frequent soloist with the Akron Symphony Orchestra and has also appeared with symphonies in Muncie, IN, Urbana, IL, Marion, OH and community bands in Medina and Wadsworth. Mr. Doty holds a Bachelor of Music Education Degree from Bowling Green State University. He has taught music in the public school systems of Ohio and Illinois. He is also an ordained minister and holds a Master of Divinity degree from Garrett-Evangelical Theological Seminary, Evanston, IL. Currently Daniel serves as the Senior Minister of Trinity United Church of Christ in Wadsworth, Ohio.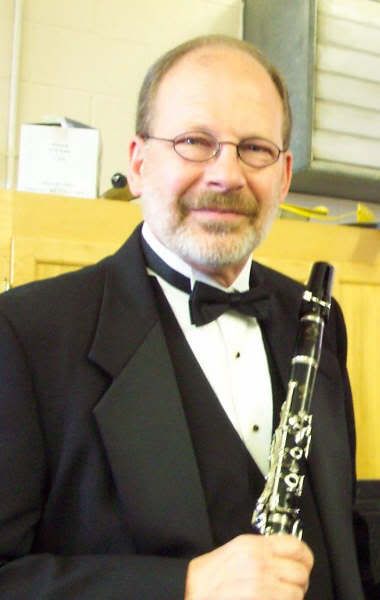 Clarinetist Edward Lichtenberg retired in 1998 as Assistant Superintendent for Midview Schools (Lorain County) after 32 years in education. Before becoming Assistant Superintendent, he was a middle school administrator and director of bands at Midview, where his concert bands consistently earned superior ratings in class A. Active as an Ohio Music Education Association adjudicator, Ed is a member of the Medina Community Band and the Sounds of Sousa Band and serves as a guest conductor and clinician. He is a staff member for the Ashland University Adult Music Camp. He and his wife Judy reside in Medina and are the parents of Medina Community Band members Rob and Beth (Burdick) and father-in-law to Christopher (Burdick). 

State Representative William Batchelder returned to the Ohio House of Representatives in January 2007, having previously served in the Ohio Legislature for 30 years. He represents the 69th House District, which includes portions of Medina County. Representative Batchelder graduated from Medina High School in 1960. He later received his bachelor's degree from Ohio Wesleyan University in 1964 and his law degree from The Ohio State University College of Law in 1967. Representative Batchelder has spent 31 years of his professional career at the Williams and Batchelder law firm in Medina, Ohio, while serving as an adjunct professor of law at the University of Akron Law School and as an adjunct professor at Cleveland State University Levin College of Urban Affairs. Additionally, Representative Batchelder has served as a judge for the Medina County Common Pleas Court, a judge on the Ninth District Court of Appeals from 1999-2005, and as a presiding judge on the same court of appeals from 2000-2001. Representative Batchelder currently resides in Medina with his wife. Together they have two adult children.

Medina Community Band – 1927 – 1943
Concert 5 – Saturday, July 4th, 2009
(as of June 19, 2009)
(Selections either published or performed by Medina Community Band on the listed year)
Anthem,
Star Spangled Banner (performed 1904) John Stafford Smith/John Philip Sousa
Overture, The Wizard of Oz (1939).............................. Harold Arlen/James Barnes
March, War March of the Tartars (1938)........................................... Karl L. King
Cornet Solo, La Mandolinata (1927)......................................... Herman Bellstedt
Marcia Nelson-Kline, soloist
March, His Honor (1934).................................................................. Henry Fillmore
Trumpet Trio, The Three Aces (1936)...................................... Herbert L. Clarke

Marcia Nelson-Kline, Paul Rocco, Christopher Burdick, soloists
Tenor Solo
          God Bless the U.S.A............................................................................... Lee Greenwood
Dan Doty, soloist
Clarinet Quartet, Bugatti-Step (1931).............. Jaroslav Ježek/Karel Bělohoubek
Amy Dragga, Mary Ann Grof-Neiman,
Catherine Palcza, and Vicki Smith, soloists
March, Aviators (1931)........................................................... John Philip Sousa
Edward Lichtenberg, guest conductor
Dixieland, State Street Strut......................................................... "Red" McLeod
The Lichtenberg Family Band
March, Americans We (Performed in 1933)............................. Henry Fillmore
March, Le Regiment de Sambre et Meuse ............ Joseph François Rauski
Arranged by J.S. Seredy and edited by Frederick Fennell

Dr. Paul Droste, guest conductor
Patriotic
     Stars and Stripes Forever (Performed in 1901)................... John Philip Sousa
     God Bless America (1918)................................................ Irving Berlin/Erik Leidzen
* It should be noted that information provided by a published Medina Community Band history by band member (and band historian) David Van Doren was instrumental in descriptions of Band activities given in this and all concert publications in this sesquicentennial celebration series.