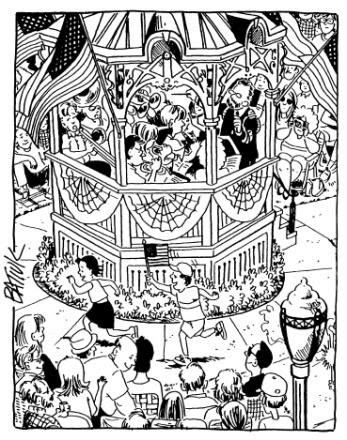 This material covers the 7th concert –
Friday, July 6th, 2012, 7p – 9:30p
Site: Medina's Uptown Park Square (intersections of Rtes. 18, 42, Broadway and Liberty Street)
Cancellation of concerts due to the weather will be posted on the website!
MEDINA:  Medina Community Band will continue the 2012 summer season, a celebration of 153 years of presenting community concerts in Medina, on Friday, July 6th, beginning at 7p, in Medina's Uptown Park Square Gazebo. 
Featured soloists and conductor on this hour-long concert will be: Marcia Nelson Kline, Mason Rorapaugh, and Paul Rocco, trumpet trio; Amy Dragga, Mary Ann Grof-Neiman, Ed Lichtenberg, and Vicki Smith, clarinet quartet;  and, Vicki Smith, clarinet; Marcia Nelson-Kline, trumpet; Lee Harper, trombone; and, Kyle Snyder, Dixieland ensemble. 
The Medina Community Band is under the baton of conductor Marcus Neiman, starting his 39th summer concert series.  The 60 minute concert will feature works by Ponchielli, Teike, Lauridsen, Dinicu, Grainger, Tucci, and Sousa.  Medina Community Band is sponsored by the Medina Community Band Association, a standing committee of the Medina Breakfast Kiwanis Club.
Featured Ensemble

The 122nd Army Band is a unit in the Ohio Army National Guard. Each year, the band travels 
throughout the state, performing traditional military band concerts, rock concerts, ceremonies,
parades, and other public functions.

As the only Army National Guard Band in the state, the 122nd represents a rich tradition of musical history that dates back to before World War II. The unit has over 40 members and multiple performing groups, including a concert band, parade band, brass quintet, tuba ensemble, and a rock band. Each of these groups performs various missions inside and outside the gates of its home station at Rickenbacker Air National Guard Base in Columbus. 

The band is known throughout the nation for its high quality of musicianship and professionalism. Members of the 122nd come from all corners of Ohio and neighboring states. Soldiers work in a wide array of careers, including band directors, teachers, engineers, students,
and professional musicians.

Their concert will begin at 7p.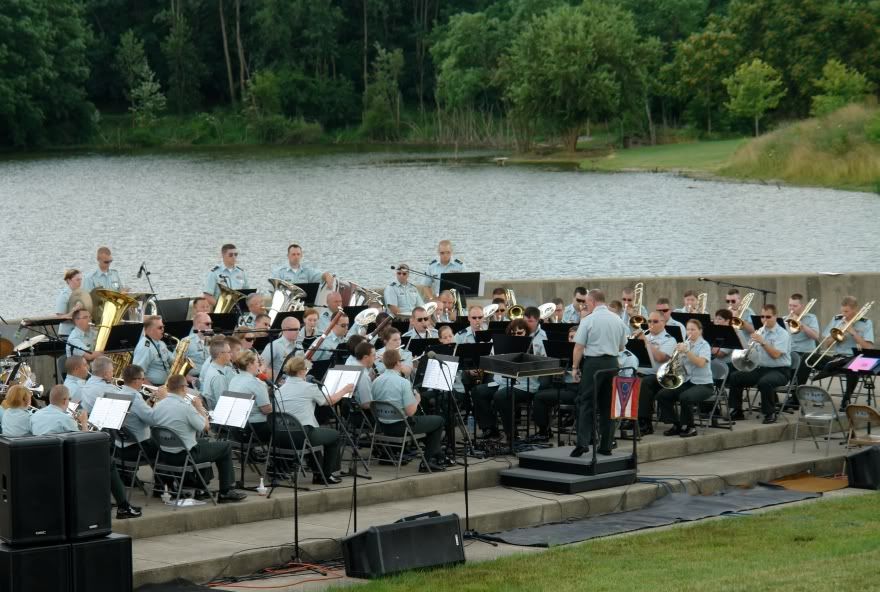 CW4 Robin D. Kessler - Commander
Chief Warrant Officer Three Robin D. Kessler is a native of Gahanna, Ohio. He began his military career in 1974 at Fort Leonard Wood, Missouri. Upon completion of Basic Combat Training he was assigned to the United States Army Element of the Navy School of Music in Little Creek, Virginia. Upon graduation of the Basic Course CW4 Kessler was assigned to the 74th US Army Band at Fort Benjamin Harrison, Indiana as a bandsman saxophone player and Drum Major until his discharge from active duty in June 1980. His next assignment was with the 122nd Ohio Army National Guard Band as a saxophone player. In October of 1981 he assumed command of the 122nd Army Band. He held this position until June 1986 when he transferred to t
he Army Reserve. CW4 Kessler returned to the 122nd OHARNG Band in May 1996 as Commanding Officer. CW4 Kessler is a graduate of the Basic Music Course of the USAESOM, Honor Graduate NBC School Camp Perry, Ohio, Warrant Officer Advanced Course US Army School of Music and the Warrant Officer Staff Course Fort Rucker, Alabama. CW4 Kessler is a graduate of The Ohio State University with a degree in Music Education. He spent 10 years as a music educator in Ohio and 12 years as an educational representative for music retailer in Ohio. Currently the "Chief" is a member of the Military Funeral Honors team for the Ohio Army National Guard. CW4 Kessler currently resides in Mount Vernon, Ohio with his wife. They have a son and daughter who attend college and are also members of the Ohio Army National Guard.
1SG John M. Huffman Jr. - First Sergeant
First Sergeant John M. Huffman, Jr. enlisted in the Ohio Army National Guard in July 1978. Since his enlistment, he has been a tuba player in the 122nd Ohio Army National Guard Band. His military education includes Primary Leadership Development Course, Basic Non- Commissioned Officer Course, Army Band Reserve Component Non-Commissioned Officer Basic Course at the Naval School of Music, Advanced Non-Commissioned Officer Course, and Army Band Reserve Component Non-Commissioned Officer Advanced Course at the Naval School of Music. 


First Sergeant Huffman is a 1978 graduate of Sylvania Northview High School in Sylvania, Ohio. In 1982, he graduated from The Ohio State University with a Bachelors Degree in Music Education. He was a tuba player in The Ohio State University Marching Band and had the honor of "Dotting the I" in Script Ohio. He started his teaching career as Instrumental Music Director at Trimble High School in 1982. In 1984, he accepted his present position as Director of Bands at Waverly City Schools. Bands under his direction have received Superior ratings in the large group Adjudicated Events of the Ohio Music Education Association (OMEA). His bands have also performed at Disney World, Cedar Point, the Ohio State Fair, the Columbus Veteran's Day Parade, and at numerous local events.
First Sergeant Huffman is a member of OMEA, Phi Beta Mu Honorary Band Masters Fraternity, Life Member of Kappa Kappa Psi Honorary Bandsmen Fraternity, American School Band Directors Association, and National Band Association. He has performed on E flat tuba with the Brass Band of Columbus and the Great Seal of Ohio Community Band. He continues to play the sousaphone as a member of The Ohio State University TBDBITL Alumni Band.
First Sergeant Huffman's personal decorations include the Army Commendation Medal with 2 Oak Leaf Clusters, the Army Achievement Medal with Oak Leaf Cluster, the Army Reserve Component Achievement Medal with Silver Oak Leaf, the National Defense Medal with Star, the Armed Forces Reserve Medal, the Ohio Faithful Service Ribbon, and the Ohio Award of Merit.
First Sergeant Huffman resides in Waverly, Ohio with his wife. He has two adult children, one of which served in the Guard.
For more information on this ensemble, please visit their website - http://www.122ndarmyband.com/.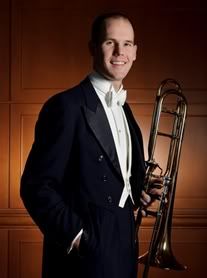 John Connors
, trombone soloist, is marking his tenth year of summer concerts with the Community Band. This is also the third time he has soloed at the Gazebo.
John, who attended Highland High School and graduated in 2007, is a recent graduate of Ohio University, where he received a BM in trombone performance and a minor in jazz studies. His principal teachers have been Ray Harcar, Chris Hayes, and Andy Millat, and while in Athens he performed with the Symphonic Band, Wind Symphony, Orchestra, two big bands, and the Ohio University Marching 110, as well as numerous chamber ensembles.
In May of 2009, he performed on the stage of Carnegie Hall with the National Collegiate Wind Ensemble, under the direction of famed conductor H. Robert Reynolds, former director of bands at the University of Michigan and current conductor of the wind ensemble at the University of Southern California. May of 2011 saw John inducted into the Beta Phi chapter of Pi Kappa Lambda, the national music honor society, and most recently, in February 2012, he was a finalist in the Student Soloists' Competition at Ohio University, playing the trombone concerto by Launy Grøndahl.
Outside of school, John is a Specialist in the U.S. Army, playing with the Ohio Army National Guard's 122nd Army Band in Columbus. He has been with that ensemble for four-and-a-half years, and currently performs in the brass quintet and the concert band. Since returning home in March, John has also been playing with the Brass Band of the Western Reserve.
In the fall, John plans to pursue additional studies on trombone at the graduate level and currently resides with his family in Granger Township.
An avid portrayer of trombonist Arthur Pryor, John will be performing his little-known solo The Supervisor in period uniform, with an instrument of the same model as Mr. Pryor's, built in 1922.
Conductors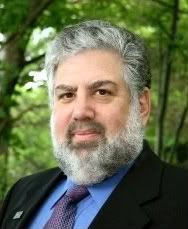 Marcus Neiman
 (left) celebrates his 40th season as conductor of the Medina Community Band and 39thsummer season.  Neiman is a part-time assistant professor of music education at Kent State University where he teaches the "Music Education as a Profession" course and supervises music education student teachers.  He was interim director of the Kent Concert Band during the 2010-2011 academic year, and also taught the "Instrumental Methods for
He received his bachelor of science in music education degree from The University of Akron; master of music in music education degree from The University of Michigan; and, post-degree doctorial work at The Kent State University.
He is a member of the 1993-94 class of Leadership Medina County.  Neiman remains active with Ohio Music Education Association (OMEA), having served as state president of that organization from 1998-2000, and currently serves as a woodwind adjudicator and state historian.  He is the recipient OMEAs highest honor, the "Distinguished Service Award," presented to him on January 29th, 2010.  Neiman is the artistic director and founding conductor of the professional concert band – The Sounds of Sousa Band and appears throughout the nation as a guest clinician and conductor.
Marcus and his wife Mary Ann, who is a professional clarinetist and program administrator - preparatory and continuing education department for the Cleveland Institute of Music, reside in Medina with their two cats Sasha and Dmitri. Marcus has two daughters (Nancy and Jennifer) from a previous marriage, three granddaughters, one grandson, and a godson. 
Program Notes 
Star Spangled Banner (John Stafford Smith arranged by John Philip Sousa) uses lyrics from a poem written in 1914 by Francis Scott Key, a then 35-year-old amateur poet after seeing the bombardment of Fort McHenry at Baltimore, Maryland, by Royal Navy ships in Chesapeake Bay during the War of 1812.
The poem was set to the tune of a popular British drinking song, written by John Stafford Smith for the Anacreontic Society, a London social club.  Set to Key's poem and renamed "The Star-Spangled Banner," it would soon become a well-known American patriotic song.  It was recognized for official use by the United States Navy in 1889 and the President in 1916, and was made the national anthem by a congressional resolution on March 3, 1931 (46 Stat. 1508, codified at 36 U.S.C. § 301), which was signed by President Herbert Hoover.
Before 1931, other songs served as the hymns of American officialdom. Most prominent among them was "Hail, Columbia" which served as the de facto national anthem from Washington's time and through the 18th and 19th centuries.  Following the War of 1812 and subsequent American wars, other songs would emerge to complete for popularity at public events, among them "The Star Spangled Banner."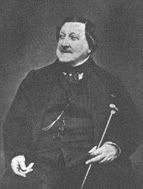 Gioacchino Antonio Rossini 
(1792-1868) (pictured at left) was the son of a trumpet player.  He studied in Bologna (Italy) and spent most of this creative life in Vienna and Milan.  Among his most popular opera offers were: 
The Italian in Algiers, The Barber of Seville, 
and of course, 
William Tell. 
What would Saturday morning cartoon music be with his opera offerings?
 Rossini composed at a terrific speed, completing 38 operas in 23 years.  He suddenly and mysteriously quit writing operas at the age of 37 and spent ten years competing his Stabat Mater. He ultimately settled in Paris and was the witty leader of the artistic world until his death.  He was highly regarded as a cook and his dinner parties were renowned.  He invented a number of recipes, including Tournedos Rossini, which has become a perennial favorite.
La Gazza Ladra Overture (The Thieving Magpie) is an opera in two acts with libretto by Giovanni Gherardini.  The first performance was on May 31st, 1817 at La Scala. The story is that of a maid servant who is sentenced to death for the theft of a silver spoon that, just in the nick of time, is found to be the work of a thievish magpie.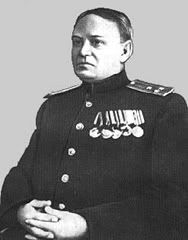 Vasilij Ivanovitz Agapkin
 (pictured at right) was born in Sjaterovo on February 3
rd
, 1884 and died in Moscow on October 29
th
, 1964.  In addition to serving in the army, he worked as a cinema pianist, playing accompaniments for silent films. 
Orphaned at an early age, Agapkin was unofficially adopted by a military band leader who placed the 10-year old in his ensemble, beginning his love affair with music. He later studied at the Tambov School, after which he joined the army. The loss of his parents obviously still lingered, as in 1928 Agapkin organized a brass band consisting of homeless children, many of whom later became professional musicians. Arguably, his greatest call to fame is the march Abschied der Slawin ("The Farewell of a Slavyanka"), a march dedicated to Slav women in the Balkan countries who saw their men go off to war against Turkish enslavers.
"A Slavic Farewell" was originally called "Farewell to a Slavonic Woman", and since its premier in 1912 during World War I, it has become the best-known, best-loved march in Russia and in the surrounding independent states of the former Soviet Union.  According to legend, the inspiration for this march came from Agapkin having seen newsreels of the Balkan War.  During this conflict, Russian and Slavic forces fought together, and reportedly the newsreels contained poignant footage of Slavic soldiers parting with their wives and families. The march became popular in World War I, during which time Agapkin served as the music director of the Tjekan 7, a forerunner of the KGB. 
The word "Slavic" in the title of the march, which otherwise invokes only Russia, is a tribute as much to the pan-Slavist ideology of the preceding century as to its transformation into Russian nationalism on the eve of WWI.
Like other iconic artifacts of the pre-1917 era, the march underwent a revival after the collapse of communism. It gave its name even to a new brand of vodka. Most notably, though, during the debates surrounding Russia's new national anthem in the 1990s, Joseph Brodsky, along with many others, including General Lebed, petitioned Boris Yeltsin to adopt "The Slavic Woman's Farewell" as the national anthem of the new Russia. Later, in 2000, during the heated controversy on the same subject under Vladimir Putin, the Yabloko Party proposed it as an alternative to both Glinka's (de fact anthem under Yeltsin) and the old Soviet workhorse.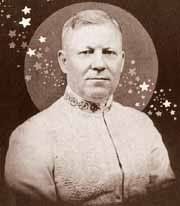 Arthur Pryor
 (pictured at left) was born in Saint Joseph (Missouri) in 1870, of a musical family. At six, he began to study several instruments, but his astonishing skill on the trombone to be billed "The Boy Wonder" when he performed with a Chicago band at age 11.  His innovative expressiveness and phenomenally fast slide technique caused Czar Nicholas II of Russia to dub him the "Paganini of the trombone." In 1889, he joined the Alessandro Liberati Band and toured the West.  In 1892, he joined the band of John Philip Sousa performing an estimated 10,000 solos over his ten years with the ensemble.  In 1903, he formed his own band in New York and would go on to make six coast-to-coast tours. 
The Supervisor .  Very little is known about the trombone solo other than it was probably written either during Pryor's time with the Sousa Band or shortly thereafter.  The bandstration has been realized by North Carolina band director David Seiberling.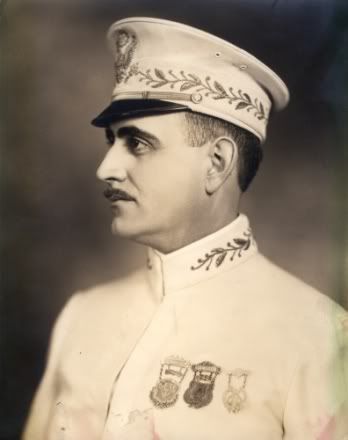 Karl L. King
 (pictured at right) joined the circus when he was 19 years old at a time when the circus world was in great need for composers to write special music for the various acts. King's unique ability and uncanny knack allowed him to write and arrange just to the needs of the circus world.
King played an important role in the Iowa Band Law, state legislation giving municipalities the right to levy a small tax to support a municipal band.  He was also one of the first march composers to write special music for the growing school band programs in America. In addition to writing marches, he also wrote overtures, waltzes, and other selections that could be used for individual concerts or massed band performances.
Emblem of Freedom was one of the earliest marches of Karl King, who was probably 17 years of age at the time of the composition.  The youthful King had been playing in bands in the native Ohio, first with the Thayer Military Band in Canton, and later Fred Neddermeyer's Band.  This march was written shortly before King joins the band of Robinson's Famous Circus in 1910 as a baritone player. The first published music of Karl King appeared in 1909 in the catalogues of three different publishers: R.F. Seitz of Glen Rock, Pennsylvania; William Strassner of Canton; and, C.L. Barnhouse in Iowa. Composer/publisher Roland Seitz lucked upon this magnificent march.  Correspondence of Mr. King's indicates that he sold the march to Seitz in 1909, who printed the first edition in 1910.  Shortly thereafter, King began a long and warm relationship with Barnhouse, who would publish the bulk of King's 185 marches.  Precisely why this march would up in the Seitz catalogue as opposed to that of Barnhouse is a matter of conjecture.
The march enjoyed a modest commercial success.  According to a letter dated January 16, 1953 to Barnhouse, Mr. King wrote, "Seitz never sold many of it, one reason being that it was too difficult for most bands to play and after he advertised it a couple of times he never published it again.  A few years ago, just before Seitz died I bought the plates from him." Mr. King was operating his own publishing company by then, and after adding some modern parts and a two-line conductor score, the K.L. King Music House released the "new" march on January 15, 1943, its popularity surged in the early 1950s when it became a favorite of Paul LaValle, who conduct the "Band of America" on nationwide radio broadcasts.  Sales increased rapidly, and Mr. King reprinted the march several times. It was also a great favorite of Leonard B. Smith, who performed it many times live and on radio with his Belle Isle Concert Band, later known as the Detroit Concert Band.
Mr. King played the march frequently with his own band in Fort Dodge, Iowa, when asked what he felt his finest march was, he usually replied Emblem of Freedom. While the original edition was dedicated "To my friend Robert D. Hamilton," discussions with several of Mr. King's acquaintances and former bandsmen have not yielded the identity of this gentleman. Mr. King liked to mention that the first strain contained some of his finest contrapuntal writing. Having been a self-taught composer, Mr. King would explain his method of counterpoint simply as "starting a second line when the first lines stops."  Five years after Mr. King passed away in 1971, the Barnhouse Company acquired the catalogue of the K.L. King Music House, including this splendid march. (Andrew Glover)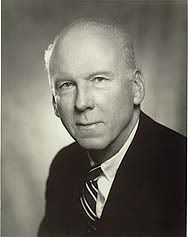 Leroy Anderson 
(pictured at left). Born in Cambridge, Massachusetts to Swedish parents, Anderson was given his first piano lessons by his mother, who was a church organist. He continued studying piano at the New England Conservatory of Music. In 1925 Anderson entered Harvard University, where he studied theory with Walter Spalding, counterpoint with Edward Ballantine, and harmony with George Enescu, composition with Walter Piston and double bass with Gaston Dufresne. He also studied organ with Henry Gideon. He graduated with a Bachelor of Arts degree in 1929 and Master of Arts in 1930.
Anderson continued studying at Harvard, working towards a PhD in German and Scandinavian languages. (Anderson spoke English and Swedish during his youth but he eventually became fluent in Danish, Norwegian, Icelandic, German, French, Italian, and Portuguese.) During this time he was also working as organist and choir director at the East Milton Congregational Church, leading the Harvard University Band, and conducting and arranging for dance bands around Boston. His arranging work came to the attention of Arthur Fiedler in 1936 and Anderson was asked to show Fiedler any original compositions. Anderson's first work was Jazz Pizzicato in 1938. Fiedler suggested that a companion piece be written and thus Anderson wrote Jazz Legato in 1938.
In 1942 Leroy Anderson joined the U.S. Army, and was assigned to Iceland as a translator and interpreter. Later in 1945 he was assigned to The Pentagon as Chief of the Scandinavian Desk of Military Intelligence. But his duties did not prevent him from composing, and in 1945 he wrote "The Syncopated Clock" and "Promenade". Anderson was a reserve officer and was recalled to active duty for the Korean War. In 1951 Anderson wrote his first hit, "Blue Tango", earning a Golden Disc and the No. 1 spot on the Billboard charts.
Bugler's Holiday has probably motivated more trumpet players to learn (or improve) the art of double-tonguing in the last two decades than any other piece of music.  Although the "Holiday" is relatively uncomplicated harmonically, the performers are given the opportunity to show what they can do with the articulations, the bell tones, and the proper balance of each part.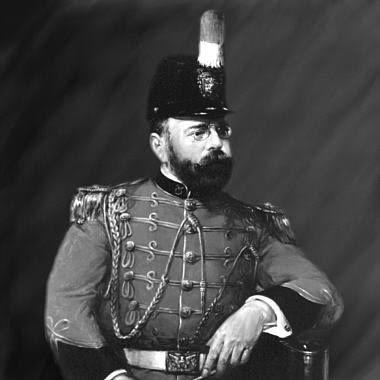 John Philip Sousa
(pictured at right) loved baseball!  His son played in a semi-professional ball team for a time and Sousa's own band formed a ball team and played the home teams of many of the communities the band visited on their tours.  Sousa also shared a love of good cigars and often visited Cuba to satisfy his need for the very best.  It was on one of those visits that Sousa met with Judge Kennesaw Mountain Landis, baseball's high commissioner from 1920 until his death in 1944.
Landis asked Sousa to compose this march on the occasion of the National League's 50th anniversary in 1925.   The march National Game was the result.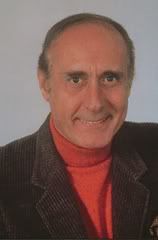 The Great Race
 is a 1965 slapstick comedy film starring Jack Lemmon, Tony Curtis, and Natalie Wood, directed by Blake Edwards, written by Blake Edwards
 and Arthur A. Ross, and with music by Henry Mancini and cinematography by Russell Harlan. The supporting cast includes Peter Falk, Keenan Wynn, Dorothy Provine, Arthur O'Connell and Vivian Vance. The movie cost $12 million, making it the most expensive comedy film at the time.
The Great Race March was heard throughout the movie and functioned as a quasi-theme song.  It is a straight-ahead march typical of the period the movie hoped to show.
Pie in the Face Polka. However, the movie is noted is noted for one scene that was promoted as "the greatest pie fight ever." The Technicolor pie fight scene in the royal bakery was filmed over five days. The first pastry thrown was part of a large cake decorated for the king's coronation. Following this was the throwing of 4,000 pies, the most pies ever filmed in a pie fight. The scene lasts four minutes and twenty seconds and cost $200,000 to shoot; $18,000 just for the pastry.
The pie fight scene paid homage to the early Mack Sennett practice of using a single thrown pie as comedic punctuation, but to a greater degree it was a celebration of classic movie pie fights such as Charlie Chaplin's Behind the Screen (1916), The Battle of the Century (1927) starring Stan Laurel and Oliver Hardy, and The Three Stooges' In the Sweet Pie and Pie from 1941. In his script for The Great Race Edwards called for a "Battle of the Century-style pie fight". Though Edwards used 4,000 pies over five days, many of these were used as set dressing for continuity. Laurel and Hardy used 3,000 pies in only one day of shooting, so more are seen flying through the air. Leonard Maltin compared The Great Race pie fight to The Battle of the Century and determined that Laurel and Hardy's pacing was far superior; that the more modern film suffered from an "incomplete understanding of slapstick" while the 1927 pie fight remains "one of the great scenes in all of screen comedy."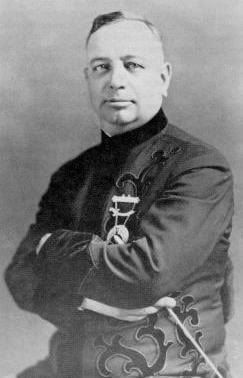 Henry Fillmore
(pictured at right) was one of our most prolific composers with 256 compositions to his record and almost 800 arrangements. He published under various pseudonyms as well as his own name: Henry Fillmore -114; Gus Beans – 2; Harold Bennett – 65; Ray Hall – 3; Harry Hartley – 6; Al Hayes – 57; Will Huff – 8; and Henrietta Moore – 1.
According to Herb Block, Henry got into a conflict with his father (who composed and published liturgical music in Cincinnati) over the kind of music that Henry was composing.  Henry liked march music and said, "I will huff and puff and I will write my own music." Hence, the name Will Huff.  
Fillmore was a true free spirit.  He was brought up by a conservative family in a conservative town.  When he couldn't do as he wished, he ran away with a circus and played trombone in the circus band.  To top it all off, he married an exotic dancer.
Raggy Trombone  was published in 1918, one of a series of 15 trombone characteristics (smears) that Fillmore wrote.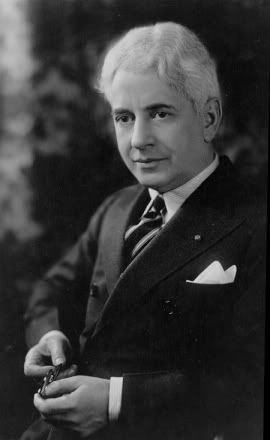 In speaking of his father, Richard Franko Goldman related in a broadcast interview that "the new image of the modern concert band is largely the work of one man
Edwin Frank Goldman
" (pictured at left). He went on to say "early in 1909 my father began to recognize that the musicians in New York who performed in the summer bands, most of whom were from the symphonies and the Metropolitan Opera, did not take the summer performances very seriously. The bands seldom rehearsed and considered the work only as a source of extra income. My father realized the enormous potential for a good wind ensemble. Subsequently in 1911 he founded a group which was initially called the New York Military Band. Later in 1920 when he was firmly established the ensemble became known as the Goldman Band".
The Goldman Band became one of the greatest in history and Goldman's name became synonymous with musical excellence throughout the United States. He was the dean of bandmasters and certainly one of the most celebrated that ever lived. His famous series of live free concerts in New York's Central Park and Prospect Park in Brooklyn were heard by more people than any other series of concerts in the world. He projected the spirit of old bandstands, the feature of every old-fashioned park and village square. He helped foster through his concerts a wholesome and happy nostalgia to the people of a great metropolis.
This march,
On the
Mall
, which encourages the audience to sing along and then whistle along at the trio, was written in 1923 for the dedication of the Elkan Naumburg Bandshell in Central Park (New York City).  The title dervies from the park's spacious mall, where the bandstand is located, and where New Yorkers enjoy gathering to listen to music.
Joseph John Richards was born August 27, 1878 in Cwmavon, Wales. His family immigrated to the United States four years later, settling in Peterson, Kansas. He began learning various brass instruments at the age of ten, progressing rapidly, playing in various amateur bands. At the age of nineteen he was appointed leader of the Norton-Jones Circus Band, beginning a long career as bandmaster with numerous ensembles.
Richards' first composition appeared in print in 1899; during this period he began writing marches and other works, and certainly many of his early works were first performed by the bands that he led. His career as a circus bandleader culminated with his directorship of the Ringling Bros. Circus Band from 1911 through 1918.
During the circus off-seasons, Richards attended Kansas State Teachers College and the American Conservatory of Music. Beginning in the early 1920's, he taught school music and directed bands in various Illinois towns through 1944. In 1945, upon the death of Herbert L. Clarke, he was appointed director of the famed Long Beach, California Municipal Band, a post he held until 1950. Subsequently, Richards returned to Illinois in the spring and summer to lead the Mt. Morris Band while wintering in Long Beach. He died on March 16, 1956 in Long Beach.
Richards was highly regarded by his peers. He was elected to the American Bandmasters Association in 1939 and served as its president in 1948. He composed well over one hundred works that were published. Undoubtedly his most famous composition - one which enjoys great popularity today - is the marvelous "Emblem of Unity" march.
Joseph John Richards wrote
Emblem of Unity
in 1941, while he was living in Sterling, Illinois, conducting both the high school and community bands.
Stars and Stripes Forever 
(John Philip Sousa – pictured at right) The march is considered the finest march ever written, and at the same time one of the most patriotic ever conceived.  As reported in the 
Philadelphia Public Ledger
 (May 15, 1897) 
" ... It is stirring enough to rouse the American eagle from his crag, and set him to shriek exultantly while he hurls his arrows at the aurora borealis." 
 (referring to the concert the Sousa Band gave the previous day at the Academy of Music).
The march was not quite so well received though and actually got only an over-average rating for a new Sousa march.  Yet, its popularity grew as Mr. Sousa used it during the Spanish-American War as a concert closer.  Coupled with his Trooping of the Colors , the march quickly gained a vigorous response from audiences and critics alike.  In fact, audiences rose from their chairs when the march was played.  Mr. Sousa added to the entertainment value of the march by having the piccolo(s) line up in front of the band for the final trio, and then added the trumpets and trombones join them on the final repeat of the strain.
The march was performed on almost all of Mr. Sousa's concerts and always drew tears to the eyes of the audience.  The author has noted the same emotional response of audiences to the march today.  The march has been named as the national march of The United States.
There are two commentaries of how the march was inspired.  The first came as the result of an interview on Mr. Sousa's patriotism.  According to Mr. Sousa, the march was written with the inspiration of God.
"I was in Europe and I got a cablegram that my manager was dead.  I was in Italy and I wished to get home as soon as possible, I rushed to Genoa, then to Paris and to England and sailed for America.  On board the steamer as I walked miles up and down the deck, back and forth, a mental band was playing 'Stars and Stripes Forever.'  Day after day as I walked it persisted in crashing into my very soul. I wrote it on Christmas Day, 1896."
The second, and more probable inspiration for the march, came from Mr. Sousa's own homesickness.  He had been away from his homeland for some time on tour, and told an interviewer:
"In a kind of dreamy way, I used to think over old days at Washington when I was leader of the Marine Band ... when we played at all public functions, and I could see the Stars and Stripes flying from the flagstaff in the grounds of the White House just as plainly as if I were back there again."
"Then I began to think of all the countries I had visited, of the foreign people I had met, of the vast differences between America and American people and other countries and other peoples, and that flag our ours became glorified ... and to my imagination it seemed to be the biggest, grandest, flag in the world, and I could not get back under it quick enough."
"It was in this impatient, fretful state of mind that the inspiration to compose 'The Stars and Stripes Forever' came to me."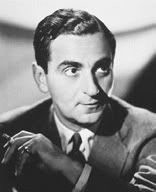 Irving Berlin 
(pictured at left). With a life that spanned more than 100 years and a catalogue that boasted over 1000 songs, Irving Berlin epitomized Jerome Kern's famous maxim, that "Irving Berlin has no place in American music - he is American music".
Irving Berlin was born Israel Berlin in May 1888. When his father died, Berlin, just turned 13, took to the streets in various jobs, working as a busker, singing for pennies, then as a singer/waiter in a Chinatown café. In 1907 he published his first song, Marie From Sunny Italy and by 1911 he had his first major international hit, Alexander's Ragtime Band. 
Over the next five decades, Irving Berlin produced an outpouring of ballads, dance numbers, novelty tunes and love songs that defined American popular song for much of the century. In a class by itself is his beloved paean to his beloved country, God Bless America.  On Armistice Day, 1939, Kate Smith sang for the first time one of the beloved songs of our people – God Bless America by Irving Berlin.
The Medina Community Band 
Marcus Neiman, conductor
Friday Evening, July 6th, 2012
8:30 p.m.
Program
National Anthem, The Star Spangled Banner (1931) ............. Francis Scott Key/John Philip Sousa 
Overture, La Gazza Ladra (1817) ....................................... Gioacchino Rossini/Lucien Cailliet 
March, Slavic Farewell (1912)................................................. Vasilij Agapkin/John R. Bourgeois 
Trombone Solo, Supervisor (1902)............................................... Arthur Pryor/David Seiberling
John Connors, soloist 
March, Emblem of Freedom (1943) .............................................. Karl L. King 
Trumpet Trio, Bugler's Holiday (1954) ..................................  Leroy Anderson 
Marcia Nelson-Kline, Mason Rorapaugh and Paul Rocco, soloist
At the movies, The Great Race (1965) 
   The Great Race March ........................................................ Henry Mancini/John Moss 
   Pie in the Face Polka  ......................................................... Henry Mancini/Johnny Vinson 
Amy Dragga, Mary Ann Grof-Neiman, Ed Lichtenberg, and Vicki Smith, soloists 
Characteristic, Raggy Trombone (1918) ................................... Henry Fillmore 
Whistle & Sing-a-Long, On the Mall (1923) ................... Edwin Franko Goldman 
March, Emblem of Unity (1941) ................................................. J.J. Richards 
National March, The Stars and Stripes Forever (1896).......... John Philip Sousa 
Patriotic, God Bless America (1918)............................................. Irving Berlin/Erik Leidzen