Friday, June 11th, 2010 - Medina Community Band will perform their second concert of the 151st season on Friday, June 11th at 8:30 p.m., on Medina Courthouse Square Gazebo.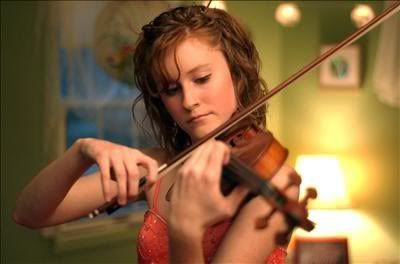 Sarah Arnold
, violin, began playing the violin at the age of four.  Discovering her passion for the violin and performance through the influence of a very musical family, Sarah's career took a leap when at the age of eight she performed the first of four debut performances with the Akron Symphony, followed by soloing with various symphonies, including the Toledo Symphony and Southeastern Ohio Symphony. In April 2009, Sarah performed as soloist with the Cleveland Pops Orchestra at Severance Hall in Cleveland, Ohio as the grand prize winner of their solo competition. Sarah has been awarded scholarships to many music festivals and camps including Interlochen, Tanglewood BUTI, Credo, and Meadowmount Summer Music Festivals. 
In 2000, Sarah co-founded, with her sisters, MaeLynn, violin, and Danae Arnold, cello, The Strings of Gold ; a string trio that has performed concerts throughout the state of Ohio for many festivals , recital series, radio and television stations, libraries and schools. The Strings of Gold has produced three cds: Soundshades (produced in Medina), Echo Dreams, and Injoy.
In the summers of 2008 and 2009, Sarah played in the orchestra for Opera de Bauge, an opera festival in Bauge, France. Sarah has studied under Marilyn McDonald, professor of violin at the Oberlin Conservatory, Charles Avsharian, Walter Scwhede, and currently studies with Paul Kantor, professor of violin at the Cleveland Institute of Music.
Program Notes
Star Spangled Banner (John Stafford Smith arranged by John Philip Sousa) uses lyrics from a poem written in 1914 by Francis Scott Key, a then 35-year-old amateur poet after seeing the bombardment of Fort McHenry at Baltimore, Maryland, by Royal Navy ships in Chesapeake Bay during the War of 1812.
The poem was set to the tune of a popular British drinking song, written by John Stafford Smith for the Anacreontic Society, a London social club.  Set to Key's poem and renamed "The Star-Spangled Banner," it would soon become a well-known American patriotic song.  It was recognized for official use by the United States Navy in 1889 and the President in 1916, and was made the national anthem by a congressional resolution on March 3, 1931 (46 Stat. 1508, codified at 36 U.S.C. § 301), which was signed by President Herbert Hoover.
Before 1931, other songs served as the hymns of American officialdom. Most prominent among them was "Hail, Columbia" which served as the de facto national anthem from Washington's time and through the 18th and 19th centuries.  Following the War of 1812 and subsequent American wars, other songs would emerge to complete for popularity at public events, among them "The Star Spangled Banner."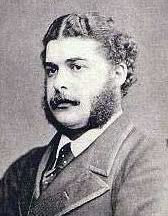 Pineapple Poll
(Arthur Sullivan – pictured at left).  The ballet
Pineapple Poll
is a spoof of the Gilbert and Sullivan operettas.  The plot is based upon "The Bumboat Woman's Story" of Gilbert's
Bab Ballads
, which was later developed by Gilbert into
H.M.S. Pinafore.
The story revolves around Pineapple Poll and her colleagues who are all madly in love with the captain of the good ship H.M.S. Hot Cross Bun.  In order to gain admittance to the ship they disguise themselves in sailor's clothes, a fact which is kept secret from the audience until near the end of the ballet.
According to Charles MacKerras, the British composer who composed this ballet, "The score is a patchwork quilt of tunes from most of the Gilbert and Sullivan operas.  Every bar of Pineapple Poll, even the short bridge passages, is taken from some opera or other.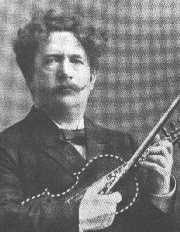 Entry March of the Boyares
(Johan Halvorsen, right). The composer was born in Drammen, Norway, March 15, 1864.  His compositions are strongly influenced by Grieg, whose niece he married.  They reveal the particular charm of the Northern tunes and the lyrical romanticism that is so delightful in the works of Grieg.
"Entry March of the Boyares" is one of the finest festival marches which is to be found in the repertoire of many symphony orchestras and bands.  The Boyares were Russian aristocrats, also of a privileged class in Romania.  The march has a somewhat oriental flavor.  The arrangement performed was done by Clifford P. Barnes. 
Theme from Dragnet (Walter Schumann). American composer Walter Schumann wrote for film, television, and the theater.  His notable works included the score for The Night of the Hunter and the Dragnet Theme.  The Dragnet  theme was lifted, inadvertently according to Schumann, from Miklos Rozsa's score from the 1946 film The Killers.
In the fall of 1967,Jack Webb introduced audiences to a new format of the show called,"Dragnet:1967"(which was basically the precessdor to the Dragnet show of the 1950's, but this time around was in color) which originally ran on NBC-TV from 1967 to the final episode of the series in the spring of 1970. Here is something audiences never suspected which was totally new at the time...a vision of Los Angeles that has never been seen before and gives an exquisite detail of some of cities most famous places as well as its gorgeous scenery shots photographed in brilliant Technicolor!
Here, Jack Webb is still Officer Joe Friday always going by the facts and always preaches what he goes by and also on this new venture is his new partner Bill Gannon(played by Harry Morgan, who also was Colonel Potter on M*A*S*H)who was his backup on police patrol when they were in some sticky situations, but always come out of them in some of the episodes.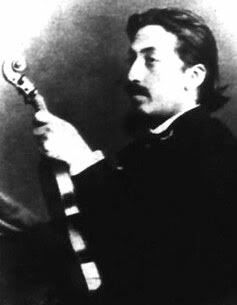 Polonaise Brilliante, Op. 4
(Henri Wieniawski, left).  He was born in Lublin, Congress Poland, Russian Empire, into a family of Jewish heritage.  At the invitation of Anton Rubinstein, Wieniawski moved to St. Petersburg, where he lived from 1860 to 1872, taught many violin students, and lead the Russian Musical Society's orchestra and string quartet. From 1872 to 1874, Wieniawski toured the United States with Rubinstein. Wieniawski replaced Henri Vieuxtemps as violin professor at the Conservatoire Royal de Bruxelles in 1875.
During his residence in Brussels, Wieniawski's health declined, and he often had to stop in the middle of concerts. He started a tour of Russia in 1879 but was unable to complete it. He was taken to hospital in Odessa after a concert. On 14 February 1880, Tchaikovsky's patroness Nadezhda von Meck took him into her home and provided him with medical attention. His friends also arranged a benefit concert to help provide for his family. He died in Moscow a few weeks later from a heart attack and was interred in the Powązki Cemetery in Warsaw.
The Gillette Look Sharp March (Mahlon Merrick).  Mahlon Merrick was born in Farmington, Iowa. At the age of 5 his family moved to Centralia, Washington. He attended college at both the University of Washington and at Washington State University. He received a Bachelor of Arts degree in Education, as well as a Bachelor of Science degree in physics and mathematics, intending to make teaching his profession.
In 1927 he left Washington state and moved to California to advance his career. He first worked for Meredith Willson as arranger and later music director of "Blue Monday Jamboree" program on San Francisco radio station KFRC, for which Willson composed a THEME called "The Jamboree March". He stayed with that program when it moved to the fledgling Don Lee Network.
This jingle was expanded for its use on the "Gillette Cavalcade of Sports" which started on NBC radio and TV in 1944. It evolved from the original quartet vocal arrangement into a well-known instrumental march called "The Gillette Look Sharp March" [aka: "The Look Sharp - Be Sharp March".] Although its motif has some similarity with the NBC Chimes motif, the accent and placement of notes is different and of course the short 3-note NBC chimes signature is more of a point of departure. The development of the march was superb from its classy "chimes" introduction, to its "A", "B" and even "C" Themes. Quite complete and elaborate for a TV theme. It was as craftsmanlike as anything ever written by John Phillip Sousa. By 1948 - 1952 the Gillette TV show was one of the widely watched events on the NBC network nationwide. Soon school marching bands were clamoring for Merrick's catchy march, and a band arrangement was published.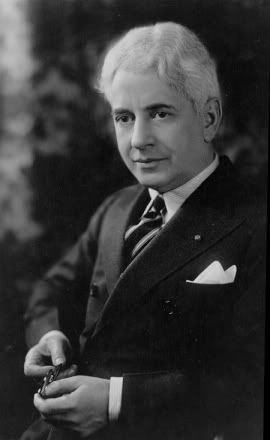 On the Mall
(Edwin Franko Goldman – pictured at right) This march, which encourages the audience to sing along and then whistle along at the trio, was written in 1923 for the dedication of the Elkan Naumburg Bandshell in Central Park (New York City).  The title derives from the park's spacious mall, where the bandstand is located, and where New Yorkers enjoy gathering to listen to music. 
Edwin Franko Goldman, founder and conductor of the famed Goldman Band of New York City, was the last of the great triumvirate, which set the course of American band history.  The trio of bandsmen, which entertained and inspired the American public for over 80 years consisted of Patrick Sarsfield Gilmore, John Philip Sousa, and Goldman. 
Tipperary
(James Fulton, left).
James M. Fulton is best remembered for his march
Garry Owen
, a march which he did not compose, but did arrange for band in 1903.  His major instrument was violin and cornet and by the time he was 12 he was appearing as a soloist on both instruments.  In 1899, he became the band director of the American Band of Waterbury, Connecticut.  The group became known as Fulton's American Band. 
He began his composing career by transcribing orchestral works for Band. This brought him to become good friends with the composer Victor Herbert. Over the course of his life. James wrote at least 233 known published works. 142+ Marches, 8 Overtures, 5 Polkas, 5 Schottisches, 4 Cakewalks, 4 Gallops, 22 Waltzes, and 43 other miscellaneous works. For a complete list of works, please visit our complete works page. 
French Horn Frappe – Horn Quartet with band accompaniment (David Bennett).  This horn solo has the sweetness and sparkle that its title suggests.  The number affords excellent changes to bring the horn section into the limelight.  David Bennett is one of the better-known composers-arrangers of band music in America.  A long and varied experience as performer, conductor, and arranger has made David Bennett thoroughly familiar with problems of players and directors alike.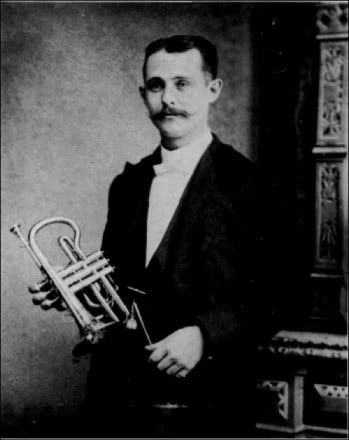 Hamiltonian March
(R.B. Hall, right). The origin of this title is unknown, however, Gordon Bowie puts forth two plausible explanations. It was likely written for either the Hamilton Lodge, American Order of Workmen, in Oakland, Maine or for E.C. Hamilton of Waterville, who owned the Elm City Hotel, and who was, on at least one occasion, a concert sponsor of RB. Hall's Waterville Military Band.
R.B. Hall's first cornet lessons were from his father, then Melville H. Andrews, the owner of a music store in Bangor (Maine).  Hall's first march, MHA, was dedicated to Andrews.  He was a cornet virtuoso and it was said that while marching in parades, he would play certain strains an octave higher than written.  At the age of 19, Hall was director of the Richmond Cornet Band. 
Hall was associated with several other bands including the Bangor Band, Waterville Military Band (later known as R.B. Hall's Military Band), Chandler's Band, Cherryfield Band, Olympia Band of Augusta, and the Colby College Band. During this period he took time to rebuild the "musically bankrupt" Tenth Regiment Band of Albany, New York. Hall left the Albany assignment to return to his former position in Waterville as director of Waterville Military Band. While in Waterville several of his finest marches were written. He also enjoyed great popularity throughout New England as a cornet soloist. 
Army Goes Marching Along
(Edmund L. Gruber, left).  The song is based on the "Caisson Song" written by field artillery First Lieutenant (later Brigadier General) Edmund L. Gruber, Lieutenant William Bryden, and Lieutenant (later Major General) Robert Danford while stationed at Fort Stotsenburg in the Philippines in March 1908. The tune quickly became popular in field artillery units. In 1917 the Secretary of the Navy and Army Lieutenant George Friedlander of the 306th Field Artillery asked John Philip Sousa to create a march using the "Caisson Song." Sousa changed the key, harmony, and rhythm and renamed it "U.S. Field Artillery."  The recording sold 750,000 copies.  Sousa didn't know who had written the song and had been told that it dated back to the Civil War. Although an Army magazine claims that Sousa passed on his royalties to Gruber, other sources state that Gruber became involved in a prolonged legal battle to recover the rights to music he had written and that had been lifted (unknowingly or not) by Sousa and widely sold by sheet music publishers who reaped profits while Gruber received nothing. The music became so popular that it was also used in radio ads by firms such as the Hoover Vacuum Company. Gruber lost his battle in the courts. They ruled that he had waited too long to complain and that his music was by that time in the public domain.
"The Caisson Song" was never designated as the official U.S. Army song likely because the lyrics were too closely identified with the field artillery and not the entire army. The official song retains Gruber's music, but with re-written lyrics.
Stars and Stripes Forever (John Philip Sousa) The march is considered the finest march ever written, and at the same time one of the most patriotic ever conceived.  As reported in the Philadelphia Public Ledger (May 15, 1897) " ... It is stirring enough to rouse the American eagle from his crag, and set him to shriek exultantly while he hurls his arrows at the aurora borealis."  (referring to the concert the Sousa Band gave the previous day at the Academy of Music).
The march was not quite so well received though and actually got an over average rating for a new Sousa march.  Yet, its popularity grew as Mr. Sousa used it during the Spanish-American War as a concert closer.  Coupled with his Trooping of the Colors , the march quickly gained a vigorous response from audiences and critics alike.  In fact, audiences rose from their chairs when the march was played.  Mr. Sousa added to the entertainment value of the march by having the piccolo(s) line up in front of the band for the final trio, and then added the trumpets and trombones join them on the final repeat of the strain.
The march was performed on almost all of Mr. Sousa's concerts and always drew tears to the eyes of the audience.  The author has noted the same emotional response of audiences to the march today.  The march has been named as the national march of The United States.
There are two commentaries of how the march was inspired.  The first came as the result of an interview on Mr. Sousa's patriotism.  According to Mr. Sousa, the march was written with the inspiration of God.
"I was in Europe and I got a cablegram that my manager was dead.  I was in Italy and I wished to get home as soon as possible, I rushed to Genoa, then to Paris and to England and sailed for America.  On board the steamer as I walked miles up and down the deck, back and forth, a mental band was playing 'Stars and Stripes Forever.'  Day after day as I walked it persisted in crashing into my very soul. I wrote it on Christmas Day, 1896."
The second, and more probable inspiration for the march, came from Mr. Sousa's own homesickness.  He had been away from his homeland for some time on tour, and told an interviewer:
"In a kind of dreamy way, I used to think over old days at Washington when I was leader of the Marine Band ... when we played at all public functions, and I could see the Stars and Stripes flying from the flagstaff in the grounds of the White House just as plainly as if I were back there again."
"Then I began to think of all the countries I had visited, of the foreign people I had met, of the vast differences between America and American people and other countries and other peoples, and that flag our ours became glorified ... and to my imagination it seemed to be the biggest, grandest, flag in the world, and I could not get back under it quick enough."
"It was in this impatient, fretful state of mind that the inspiration to compose 'The Stars and Stripes Forever' came to me." 
God Bless America. 
In 1918,
Irving Berlin
(pictured at left) produced
Yip, Yip Yaphank
, an all-soldier show at Camp Yaphank
. God Bless America
was one of the songs in that show, but Berlin decided to delete it from the production. In 1938, Kate Smith asked Berlin to write a song for her to use in her Armistice Day radio show. Unable to write anything that satisfied him, he remembered the song from
Yip, Yip Yaphank
and gave her, free of charge, exclusive performing rights. She first performed it on her radio show on November 10, 1938, the last peacetime Armistice Day this country celebrated before World War II.
In 1939, both major political parties used God Bless America in their Presidential nominating conventions. Kate Smith recorded the song for Columbia and it became immensely popular. It was heard or sung at rallies, balls, and athletic events nationwide.
Berlin was a passionate patriot and did not want to profit from this patriotic song. In 1939 he copyrighted it in the names of Gene Tunney, Mrs. Theodore Roosevelt, Jr., and A. L. Berman and stipulated that all proceeds go to the Boy and Girl Scouts.
This stately and reverent song represents the thoughts of the multitudes of immigrants such as Berlin, himself, who were grateful to this country for giving them the opportunity to transcend the limitations of their old world origins.
Israel Baline, the son of a Jewish cantor, immigrated to the United States from Russia with his family in 1893. Here, he spent his early years in great poverty. In 1904, he worked as a singing waiter in Chinatown and Bowery cabarets of New York City. After a printer erroneously printed his name "Irving Berlin" on a piece of music, he chose that name for his own. In 1911, he achieved success pioneering ragtime with Alexander's Ragtime Band (originally titled Alexander and his Clarinet) and Everybody's Doin' It.
Program – Friday, June 11th, 2010
Anthem, Star Spangled Banner.............................. Francis Scott Key/John Philip Sousa
Suite, Pineapple Poll – Opening Number (1870).......... Arthur Sullivan/Charles Mackerras
March, Entry March of the Boyars (1885).................... Johan Halvorsen/Clifford P. Barnes
TV Theme, Theme from Dragnet (1953)............................ Walter Schuman/Walter Beeler
Violin Solo, Polonaise Brilliante, Op. 4 (1874)....................... Henri Wieniawski/Percy Hall
Sarah Arnold, soloist
TV Theme, The Gillette Look Sharp March (1953)...................Mahlon Merrick/Paul Yoder
Sing-a-Long, On the Mall.............................................................. Edwin Franko Goldman
March, Tipperary (1906) ............................................................................. James Fulton
Horn Feature, French Horn Frappe (1957).................................................... David Bennett
March, Hamiltonian March (1897)...................................................................... R.B. Hall
Patriotic, Army Goes Marching Along (1908)........................................ Edmund L. Gruber
National March, The Stars and Stripes Forever (1897)............................. John Philip Sousa
Dedicated to the memory of Madeline C. Pond
Final as of May 15, 2010