Medina Community Band – 1876 – 1892[1]
Concert 2 – Friday, June 12th, 2009
(as of May 10, 2009)
Independence Day was infrequently celebrated in Medina Village prior to the centennial in 1876. The Band's part in the celebration began at 6a after the 100 cannon salute had been fired at 4a and understandably, "all Medina was awake."  They had "a parade excursion through town, discoursing national and patriotic strains.  The bandwagon was gaily decorated with flags and steamers." 
The Medina Silver Cornet Band played for political rallies or "Mass Meetings," as they were called, mostly Republican ones, and for victory celebrations following an election, complete with an occasional bonfire somewhere on the square. The Gazette editor, a staunch Republican, once wrote, "The Medina Band plays just as well for a Democratic as a Republican meeting, like the gentle rain from heaven that falls upon the unjust as well as the just."
The picture at the left is of the color guard of the 23rd Ohio Volunteer Infantry with the colors of their regiment (ca. 1863-1865). This unit was probably very similar to those listed below serving Medina County.
The Band also played at reunions of various regiments of Ohio Volunteer Infantry from the Civil War. Included were the 42nd, 103rd, 124th, and 166th regiments, both in Medina Village and elsewhere. The Band was also expected to play at the Medina County Fair when not engaged elsewhere, which they did in 1871, 1874, and 1877.
The repertoire of the Medina Band concerts in those days comes to us in only two newspaper items.  They played six numbers for a concert in the park in 1877 and a different six for a concert in 1880. By today's standards, that does not seem like much, but we must remember that the musicians did not have the extensive music education training in the schools as is available today.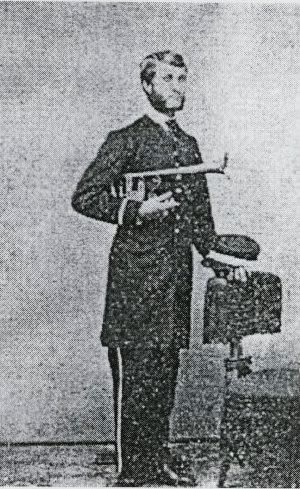 One Medina Village resident commanded enough respect for some aspects of his musical abilities to actually get paid for directing bands.  Worden Babcock (pictured at right), a member of the first Medina Band, moved to Akron 1867 where three years later he developed an excellent 16-member Cornet Band that performed in Akron, Medina, and elsewhere.  By June of 1877, Babcock was leading the Medina Cornet Band.
The band reorganized in 1878, probably as a result of the exhausting 1877 season in which the band was "out on the streets 72 times from April through December."  All but four or five of the 1877 band quietly retired.  The new band only contained two of the 1870 band as well.
Dedication of the nearly finished new town hall and fire engine house came at Thanksgiving that year.  The procession, lead by the Medina Cornet Band, was to have marched from the old engine house to the new one; however, it was so muddy that the equipment could not be brought out, and the procession marched on the sidewalks.
One of the few Fourth of July celebrations in the village from 1876 to the turn of the century was held in 1879, the MCB led a procession of the Medina Light Guards, city officials in carriages, and fire engine equipment around the square and neighboring streets.
A new enterprise by the Band, not new to the Village, was to give "ice cream festivals" in the park on some Saturday evenings. This implies that the MCB played in the square on a more or less regular basis, though this supposition was not verified by newspaper accounts. A difference between then and now is that it appears the Band was the recipient of any net profit, whereas today, the group doing the work at the social gets the profits. 
The year 1879 was the busiest, followed by a general decline in activity until the prolonged disorganization in the 1890s. The problem was probably a combination of changing leadership and disinterest among the players.  Lansing B. Smith was designated leader at the 1878 reorganization, but Worden Babcock returned to Medina and the Band in May of 1879, and started a marble and granite works to earn a living.  The Band was again reorganized in 1880 with Babcock, Lansing B. Smith and Alexander Gaberdiel designed as the leaders.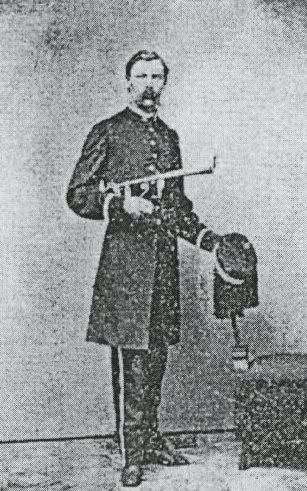 After the reorganization in 1882, Edward Welling (pictured at left) was designated the new leader.  He moved to Medina Village from Brunswick Township in or after 1880 and played a leading part in Medina Village music for over ten years thereafter. The holdover of players was not great, with six of ten of the 1880 Band from the 1878 Band, and only four of ten of the 1882 Band from the 1880 Band.  Members were almost entirely the "hard-working mechanics."
As happens now and again, a fad takes a community by storm, and then peters out with hardly a whimper. Such was the Village's exposure to the roller-skating craze of 1882-86. A rink was set up in Phoenix Hall, and the MCB took advantage of the situation to play there about once a week for the entire season (October 21, 1882 to April 28, 1883), including twice on Thanksgiving Day. 
The Band resumed its accustomed place at the head of the Village's Memorial Day parade in 1883, which it did annually through 1889 under their new name of the "Grand Army of the Republic Band of Medina." Several years previously, a Grand Army of the Republic organization of veterans of the Union Army in the Civil War had been established, with one of the duties of each local post to see that Memorial Day was properly observed in their community.  Medina Village had such a post, but no connection was found between it and the Band.  There were many other G.A.R. bands in Medina and surrounding counties, so perhaps this renaming of bands was just another fad.
As the pendulum swings, so went the fortunes of the band movement. No less than 13 different cornet bands plus the Medina G.A.R. Band played in the Village in 1883-84, a substantial improvement over 1881.  These included bands from Berea, Canton, Chatham, Elyria, Hinckley, Liverpool, Lodi, Remson Corners, Seville, Sharon, Spencer, and Wadsworth. An impetus of some of this activity in the Village was a "Grand Bicycle and Band Tournament" held at the Medina County Fairgrounds in August 1883.
The greatest change in the membership of the Band took place in August of 1886 under the direction of Edward Welling.  The change was the addition of woodwinds, well, at least one piccolo and one clarinet.  Membership in the Band was increased to 22.  Technically the Band was no longer a brass band, but the old name (e.g., Medina Cornet Band and Medina G.A.R. Band) were still used. 
In 1887, the Band undertook a new way for it to earn money.  They made arrangements for a minstrel company to perform in Phoenix Hall whereby the Band was to receive a certain share of the proceeds.  The Band was so popular during that time that the operator of Chippewa Lake Park would advertise that the Medina Band would play there on such and such a date, but would not engage the Band.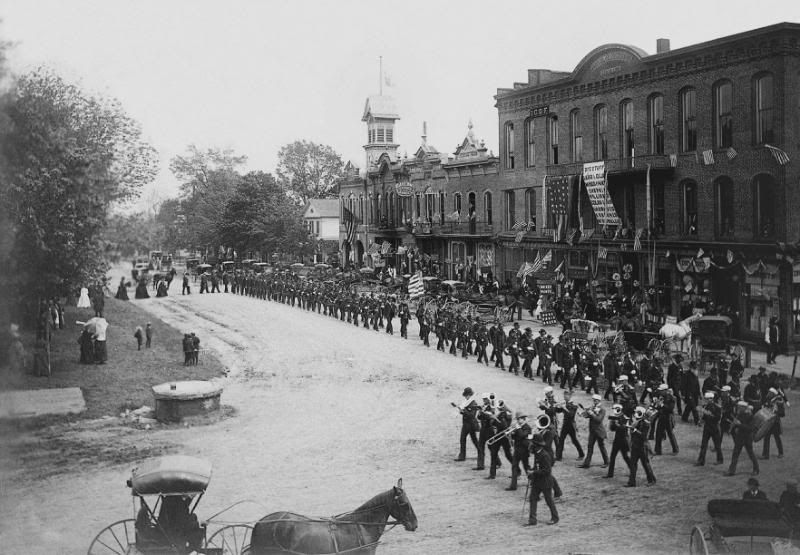 Those who had gone to the park expecting to hear the Band were of course disappointed.  Edward Welling, director of the Band, in 1888 wrote a letter to the editor of the Medina Gazette, demanding that the practice be stopped. The picture above is the Medina G.A.R. Band marching in the May 30th, 1889 Memorial Day parade. 
The Band has just turned the corner from Washington Street north onto Court Street.  The man marching beside the band is probably Director Edward Welling.  Following the Band are H.G. Blake G.A.R. Post and veterans, dignitaries and the Ladies' Committee.  Courtesy of the Medina County, Ohio District Library.
The Band, under the name "The Citizens Band of Medina," started a regular series of open air concerts during the summer months on the square in 1890.  Unfortunately, the series was not repeated, or at least not reported, in subsequent years.  However, there are hints that summer evening concerts were held on a more or less regular basis both before and after 1890.
In 1891, if not before, the Band was practicing in the town hall. They marched and played as usual in Medina's Memorial Day observance, including the expected dirge and also a "sacred overture." By the time the Medina County Fair was held in September 1891, for which the Band played, it was again being called the MSCB or MCB and only once more was called the Citizen's Band in the Gazette.  By whatever name, it was still in essence a community band.
In order to stir up interest in maintaining the Band, the Gazette editor seemed to become more and more desperate in his appeals.  In March 1892 he wrote, "It has become one of the recognized and necessary institutions of the town.  It is reported to us that its treasury is in depleted condition at present, and that if no aid is extended the disorganization will take place before the summer months." A suggestion a week later was that "about six or eight lady musicians added to the Band and boys would all be on hand."  Problems seemed to include both money and musicians interest.
Welling advertised in April 1892: "Wanted – at once, a Tuba Player for amateur Band, to locate here for the coming season." This action was really not that uncommon.  Employers of the day or a little later sometimes advertised for workers who could play a musical instrument or 'double in brass.'  Welling's action was unusual in that it called for someone who would perhaps move to Medina only for a half year or so.
The Band, with or without a bass player, did make it through the Medina Memorial Day observation, but just barely.  By July the Band was reorganizing.  The effort was not fast enough, and the Wadsworth Band was called upon to play for the 1892 Medina County Fair.  The Medina Band did play again on the square on Saturday evening in late September of 1892.
 Medina Community Band
Celebrating its' 150th Summer Season - Summer 2009
Friday, June 12
th
, 2009 -
Medina Community Band will continue their Sesquicentennial celebration on Friday, June 12
th
at 8:30 p.m., on Medina Courthouse Square Gazebo featuring probable music from their beginning seasons (1859 through 1875).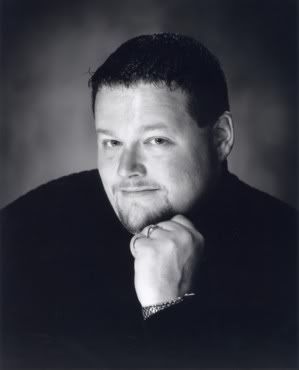 Daniel Doty
(tenor soloist and pictured at right) has appeared throughout the
Midwest
with orchestras and opera companies. A participant of the Opera and Music Theatre Festival of Lucca, Daniel spent six weeks in the Tuscan
village
of
Lucca
,
Italy
singing operatic arias at various venues associated with
Lucca
's most famous son Giacomo Puccini. Daniel is a frequent soloist with the Akron Symphony Orchestra and has also appeared with symphonies in
Muncie
,
IN
,
Urbana
,
IL
,
Marion
,
OH
and community bands in
Medina
and
Wadsworth
.  Doty holds a bachelor of music education degree from
Bowling Green
State
University
. He has taught music in the public school systems of
Ohio
and
Illinois
. He also an ordained minister and holds a master of divinity degree from Garrett-Evangelical Theological Seminary,
Evanston
,
IL
. Currently Daniel serves as the Senior Minister of Trinity United Church of Christ in
Wadsworth
,
Ohio
.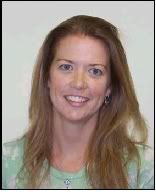 Amy Thach-McArtor (flute soloist) originally from Lyme, Connecticut, moved to Ohio to study music education at Oberlin Conservatory in 1991.  She graduated in 1995 and taught strings for two years at Willard City Schools.  In 1997, Amy was given a full scholarship to Kent State University to work on her Master's Degree in Music Education which she completed in 1998.  She then taught instrumental music at Buckeye High School, in Medina OH, and in the fall of 1999, became the elementary band teacher for Buckeye Local Schools.  In 2001, Amy accepted the position of Middle School Band Director in Wadsworth City Schools, and in the fall of 2003, she began teaching elementary instrumental music at Central Intermediate School in Wadsworth.  Amy has served as the Director of Bands for the Medina County Honors Fair Bands from 1998-2008.  Amy also plays flute/piccolo and piano and teaches private lessons, in addition to being a member of Medina Community Band and Sounds of Sousa Band.

Laura Bloss (cornet soloist ) is currently a Graduate Teaching Assistant at the University of Akron, where she is completing a Master's Degree in Trumpet Performance.  She holds a Bachelor's Degree in Music Education from Baldwin-Wallace College, and has been active in the Ohio Music Education Association in positions such as Collegiate State President and President of the Baldwin-Wallace Chapter.  Laura has played with the Medina Community Band and the Freedom Brass Band of Northeast Ohio.  Her trumpet teachers have been Scott Johnston, Larry Herman, Jack Brndiar, and Doug Huey.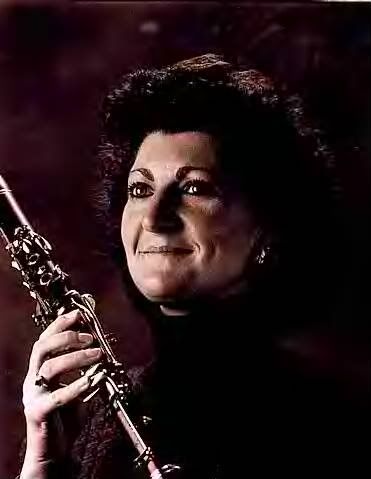 Mary Ann Grof-Neiman, (clarinetist) is currently program administrator for the Preparatory and Continuing Studies division of the Cleveland Institute of Music.   She received her bachelor of science in music education degree from The Bowling Green State University.
Ms. Grof-Neiman has served as clarinetist for a number of ensembles throughout the Northeastern Ohio area including: The Blossom Festival Band, The Cleveland Women's Orchestra, Lakeland Civic Band, Lakeside Symphony Orchestra, Lakewood "Home Town" Band, Medina Community Band, Youngstown Symphony, Erie Philharmonic, and is solo clarinetist with The Sounds of Sousa Band.  She also serves as the personnel manager for the Sounds of Sousa Band, woodwind adjudicator for the Ohio Musicians Education Association and is band librarian for the Medina Community Band.
Her teachers include the late Dr. Alan Squire, Edward Marks and former Cleveland Orchestra clarinetist, Theodore Johnson.  Ms. Grof-Neiman appears frequently as a soloist and chamber musician in recitals and with professional and community groups.
Hendley Hoge, (guest conductor) principal of Mercer (PA) High School and the founding conductor of the 90 piece Mercer Community Band was born and raised in Lodi (OH) where he attended the Cloverleaf Local Schools.  While in high school over 40 years ago, Dr. Hoge performed with the Medina Community Band.  He attended The University of Akron, The Pennsylvania State University and Westminster College where he received his bachelor of arts, masters of music education and doctorate in educational administration.  The Mercer Community Band was founded in 1977 and performs weekly Friday night concerts in June, July and early August on the beautiful Mercer County Courthouse Square where the average weekly attendance is over 1000 people.  
Debra Lynn-Schmitz
(guest narrator) is president of the Greater Medina Chamber of Commerce.
Debra grew up in Bexley, Ohio and spent several years in Toledo before moving to Medina in 1981 with her husband, Tim Schmitz. She resides in the heart of Medina in a 90 year-old home just west of the Square. She is a University of Akron graduate with a bachelor of arts in business and organization communication and holds a master's degree from the University of Phoenix in organization management. She has been with the Greater Medina Chamber of Commerce since 1987, serving as President/CEO since 1994.
---
 Selections for the second concert dedicated to the band's history from 1876 to 1892 have been entirely taken from music published and/or performed during this era.  While some records of what was played prior to 1900 are available, none of those selections (or arrangements of those selections) have been found to date.
Hail, Columbia was the unofficial national anthem of the United States until its replacement in 1931 by the officially mandated "Star-Spangled Banner". It was originally composed by Philip Phile in 1789 for the inauguration of George Washington, titled "The President's March", arranged with lyrics by Joseph Hopkinson in 1798. It was used by the USA as a national anthem for most of the 19th Century, but lost popularity after World War I. It is now the entrance march, or the official song, for the Vice President in a similar fashion as "Hail to the Chief" is for the President.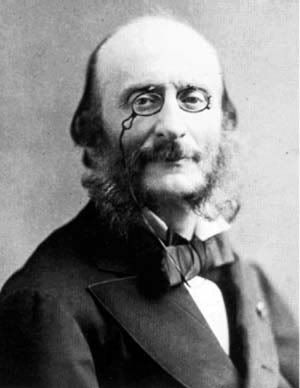 Overture to The Drum Major's Daughter, Jacques Offenbach's (pictured at left) opéra comique in three acts premiered at the Folies-Dramatiques, Paris, on December 13th, 1879.  The libretto was by Alfred Duru and Henri Charles Chivot. The opera, like Donizetti's La fille du régiment (The Daughter of the Regiment), tells of the love of Stella, who turns out to be the daughter of the drum-major and the woman now Duchess Della Volta, and the young Lieutenant Robert. To be with her lover, Stella joins the regiment as a vivandiére, and all ends happily with the couple united.
Vivandières played an interesting, and often obscure role in the American Civil War. These brave women traveled with soldiers for little or no pay as sutlers, mascots or nurses, while others fought alongside their male counterparts. Vivandières provided creature comforts to the men and were often the only females seen for weeks on end.
Globe and Eagle march, published in 1879, takes its title from the emblem of the U.S. Marine Corps (reproduced at right).  It was one of several military titles curiously chosen by Sousa while he was an orchestra conductor in Philadelphia.  He might possibly have been bidding for the position of leader of the Marine Band, knowing that the leader at the time was about to be replaced. 

Léo Delibes (pictured at left) was born in Saint-Germain-du-Val, now part of La Fléche (Sarthe), France, in 1836.  His father was a mailman, but his mother was a talented amateur musician and his grandfather was an opera singer.  He was raised mainly by his mother and uncle following his father's early death.
Lakm
é
is an opera in three acts by Delibes to a French libretto by Edmond Gondinet and PHilipee Gille, based on the 1880 novel
Rarahu ou Le Mariage de Loti
by Pierre Loti. The subject of the opera was suggested by Gondinet as a vehicle for the American soprano Marie van Zandt.
Delibes wrote the score during 1881-82.
Like many other French operas of the late 19
th
century,
Lakm
é
captures the ambience of the Orient that was in vogue during the latter part of the 19
th
century.
The story is set in the late 19
th
century British Raj in
India
.
The famed "Flower Song" appears in the first act.

Pyramids Polka
by Alessandro Liberati (pictured at right) was published in 1902. In addition to being an outstanding cornetist (even into his 70s with wooden false teeth), he organized the Detroit National Guard Band and the Detroit Police Bugle Band in 1875, then in 1889, organized his own concert band, Liberati's Grand Military Band, which toured throughout the United States and Canada.
H.M.S. Pinafore (1878) The fourth collaboration between Gilbert & Sullivan was their first blockbuster hit: "HMS Pinafore", or "The Lass That Loved a Sailor." This opera opened May 28, 1878 at the Opera Comique. It ran for 571 performances and became a huge fad in England, as well as in America, being copied illegally by dozens of performing companies in the US, as well as being presented there by Gilbert, Sullivan and Carte themselves. Pinafore is among the most popular Gilbert and Sullivan operas, perhaps because of its infectious tunes and generally well-constructed libretto. Drawing on several of his earlier "bab ballad" poems, Gilbert imbued HMS Pinafore with mirth and silliness to spare. The opera's gentle satire reprises and builds upon one of The Sorcerer's themes: Love between members of different social classes. Arthur Sullivan, pictured at left.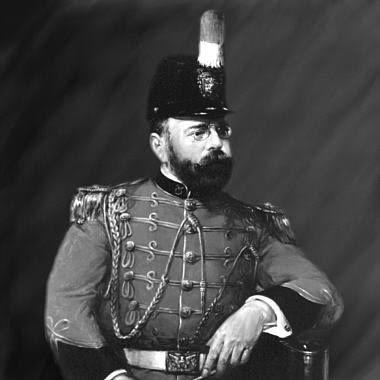 The Gladiator march (1886) was the first Sousa composition to reach over 1,000,000 copies in sales.  Sousa (pictured at left) was unaware of its popularity until its strains startled him one day while in Philadelphia on business.  Many years later he gave this dramatic account:
"I was taking a stroll along
Broad Street
.
At a corner a hand-organ man was grinding out a melody which, somehow, seemed strangely familiar.
As I listened more intently, I was surprised to recognize it as my own 'Gladiator' march.
I believe that was one of the proudest moments of my life, as I stood there on the corner listening to the strains of that street organ!"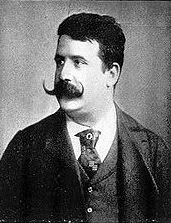 Pagliacci: Vesti La Giubba (1892).  Ruggero Leoncavallo (pictured at left) was an Italian opera composer.  His opera Pagliacci remains one of the most popular works in the operatic repertory, appearing as number 14 on Opera America's 2007 list of the 20 most-performed operas in North America.
The son of a police magistrate, Leoncavallo was born in Naples (Italy) on April 23rd, 1857 and educated at the city's Conservatorio San Pietro a Majella. After some years spent teaching and in ineffective attempts to obtain the production of more than one opera, he saw the enormous success of Mascagni's Cavalleria rusticana in 1890, and wasted no time in producing his own hit, Pagliacci.  According to Leoncavallo, the plot of this work had a real-life origin: he claimed it derived from a murder trial over which his father had presided.
Pagliacci
was performed in
Milan
in 1892 with immediate success; today it is the only work by Leoncavallo in the standard operatic repertory.
It's most famous aria is
Vesti la Giubba
("Put on the trappings" or, in the better-known older translation, "On with the motley")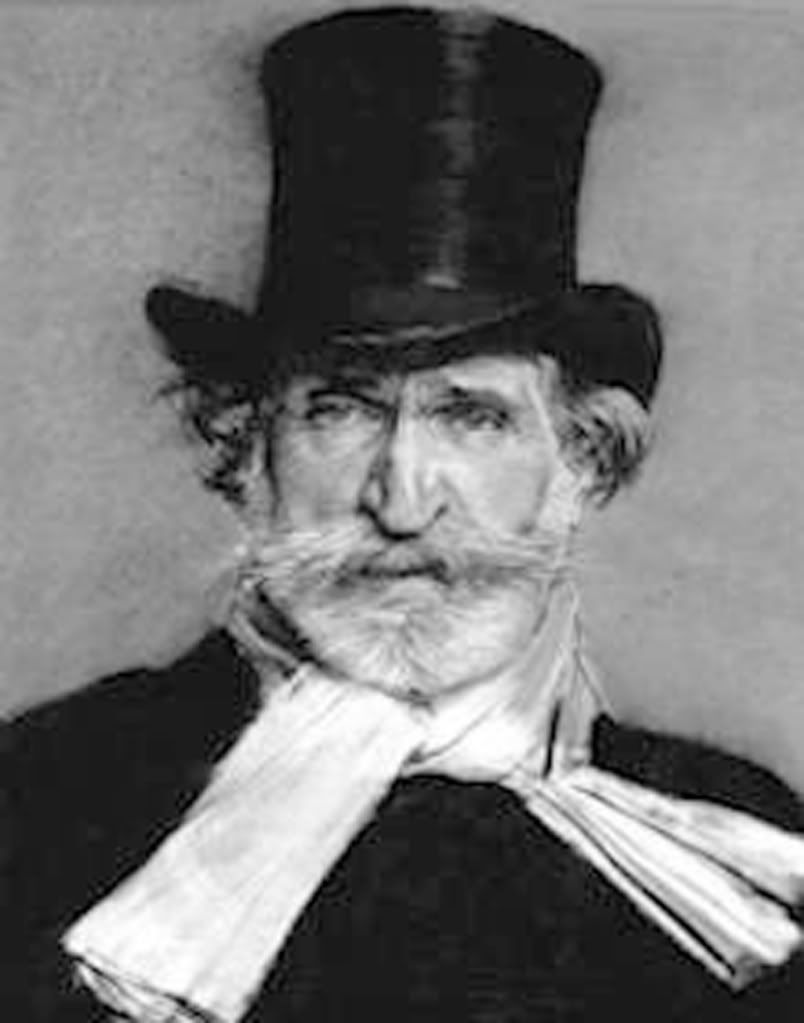 Giuseppe Verdi's (pictured at right) parents were of peasant stock.  While Verdi showed prodigious talent at an early age, his greatest works were produced late in his life.  Though he wrote operas in his early years, operas which gained him wide recognition, they are rarely performed today.  Rigoletto (1851) marked the beginning of his march to greatness which he achieved with such masterpieces as Aida, La Traviata, Otello, and Falstaff.  The latter two works were created after the age of seventy. 
Rigoletto
is an opera in three acts (often given in four) based on Victor Hugo's play
Le roi s'amuse
.
Francesco Maria Piave wrote the libretto.
Rigoletto
was first performed on March 11, 1851 and was initially found to be so shocking and dangerous that censors required significant changes be made to it.
La Donna è mobile
(translation: woman is fickle) is one of the most celebrated of arias for tenor.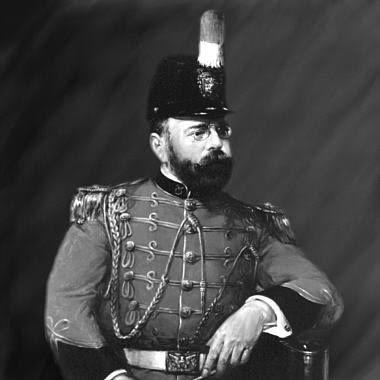 Semper Fidelis (1888) by John Philip Sousa, takes its title from the motto of the United States Marine Corps - "Semper Fidelis" - Always Faithful. The trio is an extension of an earlier Sousa composition, "With Steady Step," one of eight brief trumpet and drum pieces he wrote for The Trumpet and Drum (1886).  It was dedicated to those who inspired it -- the officers and men of the United States Marine Corps.
Comrades (1891) was composed by George Daniel Barnard who taught himself to play most of the instruments and secured a position as a road salesman for the Lyon & Healy Company. He made Cincinnati (OH) is home for much of his life, met and married Hortense Wiesmann.  For a time, they led the lives of troopers.  The Barnard's returned to Cincinnati in 1914 due to the ill health of Hortense. In 1920, they moved to Maysville (Kentucky) where George conducted the Kentucky Cardinals Boys Band.  Under his direction, it become one of the finest of its type in that part of the nation. Barnard composed over 400 published works, using not only his own name, but also five pseudonyms.  Comrades (patrol quickstep) was copyrighted in 1891 by J.G. Richards and Company (Cleveland, Ohio).
My Country Tis of Thee 
Samuel Francis Smith wrote the lyrics to "My Country, 'Tis of Thee" in 1831, while a student at the Andover Theological Seminary in Andover, Massachusetts. His friend, Lowell Mason had asked him to translate the lyrics in some German school songbooks or to write new lyrics. A melody in Muzio Clementi's Symphony No. 3 caught his attention. Rather than translating the lyrics from German, Smith wrote his own American patriotic hymn to the melody completing the lyrics in thirty minutes. He had never heard Clementi's symphony before and had no idea of its derivation or associations with the British national anthem, "God Save the King." Smith gave Mason the lyrics he had written and the song was first performed in public on July 4, 1831, at a children's Independence Day celebration at Park Street Church in Boston. First publication of 'America" was in 1832.
---
 Program – Friday, June 12th, 2009
1876-1892
(Selections either published or performed by
Medina Community Band
on the listed year)
Anthem, Hail Columbia (1789).................................................................... arr. Friederich/Neiman
Overture The Drum Major's Daughter (1879).......................... Jacques Offenbach/Lawrence Odom
March, Globe and Eagle (1879)....................................................................... John Philip Sousa
Duet, Lakmé: Flower Song - Sous le dôme épais ......................................... Léo Delibes/James Curnow
Amy Thach-McArtor flute & Mary Ann Grof-Neiman, clarinet - soloists
March, Semper Fidelis (1888).................................................................... John Philip Sousa
Dr. Hendley Hoge, guest conductor
Trumpet solo, Pyramids (1902) .................................................................................. Liberati
Laura Bloss, soloist
Operetta, H.M.S. Pinafore (1878)........................................ Arthur Sullivan/Robert Russell Bennett
Tenor Solo, Pagliacci: Vesti La Giubba (1892) ........................Ruggero Leoncavallo/D. W. Stauffer
ENCORE: Rigoletto: La Donna E Mobile (1850) ......................Giuseppe Verdi/ D. W. Stauffer
Dan Doty, soloist
March, Gladiator (1886)................................................................................... John Philip Sousa
March, Comrades (1891).................................................................................. G.D. Barnard
Patriotic, My Country Tis of Thee (1831)................................................................ Lowell Mason
---
[1] It should be noted that information provided by a published Medina Community Band history by band member (and band historian) David Van Doren was instrumental in descriptions of Band activities given in this and all concert publications in this sesquicentennial celebration series.