Friday, June 18th, 2010 - Medina Community Band will perform their third concert of the 151st season on Friday, June 18th at 8:30 p.m., on Medina Courthouse Square Gazebo. 
John Blasko
is a resident of
Lakewood
,
OH
and earned his bachelor's degree in Music Education from
Case
Western Reserve
University
.  At the university, he performed with many ensembles such as the Case Symphonic Winds, University Circle Wind Ensemble, Jazz Ensemble I, Case/University Circle Orchestra, and various chamber groups.  He has also appeared with professional ensembles such as The Cleveland Jazz Orchestra, Mansfield Symphony Orchestra, and Master Singers, Inc.  John was the featured soloist with the Case Symphonic Winds in December 2006 and with the Wadsworth Community Band in the summer of 2005.  He is still active in community ensembles around the area and performs with the Medina Community Band and Sounds of Sousa Band.

Currently, John is a band director in the
Wadsworth
City
School District
..
Program Notes
Star Spangled Banner (John Stafford Smith arranged by John Philip Sousa) uses lyrics from a poem written in 1914 by Francis Scott Key, a then 35-year-old amateur poet after seeing the bombardment of Fort McHenry at Baltimore, Maryland, by Royal Navy ships in Chesapeake Bay during the War of 1812.
The poem was set to the tune of a popular British drinking song, written by John Stafford Smith for the Anacreontic Society, a London social club.  Set to Key's poem and renamed "The Star-Spangled Banner," it would soon become a well-known American patriotic song.  It was recognized for official use by the United States Navy in 1889 and the President in 1916, and was made the national anthem by a congressional resolution on March 3, 1931 (46 Stat. 1508, codified at 36 U.S.C. § 301), which was signed by President Herbert Hoover.
Before 1931, other songs served as the hymns of American officialdom. Most prominent among them was "Hail, Columbia" which served as the de facto national anthem from Washington's time and through the 18th and 19th centuries.  Following the War of 1812 and subsequent American wars, other songs would emerge to complete for popularity at public events, among them "The Star Spangled Banner."
Overture to 'Il Re Pastore' (The Shepherd King) (Wolfgang Amadeus Mozart) was one of the most probably the most prolific composers who ever lived.  The overture to the festival opera Il Re Pastore is Mozart's first real one movement overture.  It was first performed on April 23rd, 1775 in Salzburg, Austria. 

Lord Baltimore. 
Henry Fillmore (pictured at left) was one of our most prolific composers with 256 compositions to his record and almost 800 arrangements.  He published under various pseudonyms as well as his own name: Henry Fillmore -114; Gus Beans – 2; Harold Bennett – 65; Ray Hall – 3; Harry Hartley – 6; Al Hayes – 57; Will Huff – 8; and Henrietta Moore – 1.
According to Herb Block, Henry got into a conflict with his father (who composed and published liturgical music in Cincinnati) over the kind of music that Henry was composing.  Henry liked march music and said, "I will huff and puff and I will write my own music." Hence, the name Will Huff.
Fillmore was a true free spirit.  He was brought up by a conservative family in a conservative town.  When he couldn't do as he wished, he ran away with a circus and played trombone in the circus band.  To top it all off, he married an exotic dancer.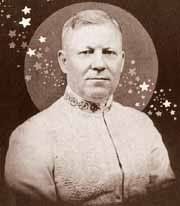 Annie Laurie.
Arthur Pryor (pictured at right) was born on the second floor of the Lyceum Theatre in Saint Joseph, Missouri. He first took up music at a very young age and was playing the value trombone by age 11. By age 15, he had mastered the slide trombone and was awarded a spot in his father's band.  He was hailed as a prodigy after that time.  Pryor went on the direct the Stanley Opera Company in Denver, Colorado until joining the John Philip Sousa Band the year it was formed (1892).  He played solo trombone with the Sousa Band for 12 years and it was estimated that he played 10,000 solos.
From 1895 until 1903, Pryor was assistant conductor of the Sousa Band.  After leaving the Sousa Band, he formed his own band, which made its debut at the Majestic Theatre in New York City on November 15, 1903.  The Pryor Band toured until 1909, when he decided to settle down and make Asbury Park (New Jersey) the home of the band.  It was at this time that he became the staff conductor and arranger for the Victor Talking Machine Company in Camden, New Jersey.  He retired from full-time conducting in 1933.
Symphonic Marches.  

John Towner Williams (born February 8, 1932 and pictured at left) is an American composer, conductor, and pianist. In a career that spans six decades, Williams has composed many of the most famous film scores in Hollywood history, including

Star Wars

,

Superman, Home Alone

, the first three

Harry Potter

movies and all but two of Steven Spielberg's feature films including the

Indiana Jones

series, Schindler's List,

E.T. the Extra-Terrestrial, Jurassic Park

and

Jaws

. He also composed the soundtrack for the hit 1960s television series

Lost in Space

as well as the fanfare of the DreamWorks Pictures' logo. Williams has composed theme music for four Olympic Games, the NBC Nightly News, the rededication of the Statue of Liberty, and numerous television series and concert pieces. He served as the principal conductor of the Boston Pops Orchestra from 1980 to 1993, and is now the orchestra's laureate conductor.

Williams has been nominated for 45 Academy Awards and won five. He has also won four Golden Globe Awards, seven BAFTA Awards and 21 Grammy Awards. With 45 Academy Award nominations, Williams is, together with composer Alfred Newman, the second most nominated person after Walt Disney. He was inducted into the Hollywood Bowl Hall of Fame in 2000, and was a recipient of the Kennedy Center Honors in 2004.
His Symphonic Marches, arranged by John Higgins and orchestrated by Paul Lavender, contains The Raiders March, The Imperial March  (from Star Wars), and Olympic Fanfare and Theme (from the 1984 Los Angeles Olympic games).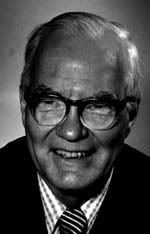 State Street Strut
(Dixieland) by Rod "Red" McLeod (pictured at right).
Minnesota born and educated, his career included a rich diversity of activities. Red's 19-year tenure as musical director and arranger for The Golden Strings serves as an invaluable reference in his preparation of editions for student performers. In addition, he has written hundreds of arrangements for radio programs, touring acts, ice shows and more, and was entertainment director for the Minnesota Vikings football team for 25 years.
Featured in this Dixieland selection will be Vicki Smith, clarinet; Marcia Nelson-Kline, trumpet; Rod Hannah, trombone; and, Kyle Snyder, tuba. 
Slick Slide by Fred K. Huffer.  Huffer was born in Stewartstown, Illinois, on January 1, 1879. His father was a musician and gave him early lessons in music. In 1889, the family moved to Helena, Montana, where the father was a violinist and an orchestra conductor. At age 16, Fred joined the local band, playing E-flat alto horn. He later moved to Chicago and from 1899-1901 played in various bands there. In 1901, the Ringling Brothers Circus came to Chicago short one baritone player, and Huffer got the job. After the Chicago engagement, he went on the road with the show and caught "circus fever." As a result, he was continually on the road with one show or another for the next eight years. Along the way, he married Kate Jeronimus. They had no children.
In 1909, he accepted an offer to lead the band of the Crane Company, a large plumbing equipment manufacturer. Concurrently, he advised and worked with a number of bands in Chicago suburbs. He left Crane in 1911 to organize his own band, which was called Huffer and His Band. This was quite successful for several years, but then he devoted his time to composing, meanwhile conducting several bands in the Chicago area. For a short period, he was a staff arranger at Harry L. Alford's custom arranging establishment in Chicago. Huffer entered the Masonic order in 1937. He led the band of the St. Bernard's Commandery and also was assistant director of the Medinah Shrine Band. He died on August 28, 1943, after a long illness, and was buried in Kenosha, Wisconsin."
Slick Slide (characteristic) subtitled "A Trombone Tone Poem," was composed by Fred K. Huffer and published in 1917 by Dixie Music Co. The piece is a trombone smear, in the tradition established by Henry Fillmore.
Midnight Fire Alarm
by Harry J. Lincoln (pictured at left).  In all of band music history, there is no more confusing situation than that surrounding the life and works of the American composer, Harry J. Lincoln, and the relationships he had with other musicians from the Williamsport, Pennsylvania, area: Charles C. Sweeley and the Vandersloots. Many composers have used pseudonyms, but the pseudonyms were usually fictitious.
Lincoln published music under his own name, as well as such pseudonyms as Abe Losch.  He also used the real names of several members of the Vandersloot family on music he composed.  Not all of the compositions for which he used pseudonyms were published for band.  The confusion is compounded because he also sold some of his original compositions to others who put their own names on the printed music.
Harry J. Lincoln was born in Shamokin, Pennsylvania, in 1878.  In addition to being a composer and arranger, he was organist and choirmaster of the First Church of Christ and pianist and manager of the Williamsport Symphony Orchestra.  His early works were published by Vandersloot, a company which was owned and operated by Frederick William Vandersloot. Lincoln formed his own publishing company, the Harry J. Lincoln Music Company, ca. 1900.  He sold the catalog ca. 1903 but reinstated the company ca. 1918.  In 1917, he purchased another company, the United States Music Company (of Williamsport), and moved it to Philadelphia.  He also acquired the Vandersloot Music Publishing Company in 1929 and moved it to Philadelphia, retaining the same company name.  He died in Philadelphia on April 9, 1937.
Lincoln composed most of his band music under his own name.  Judging by the titles, he could have been a fire buff, because he used titles such as False Alarm, Fire Worshiper, Blaze of Honor, Midnight Fire Alarm, and Still Alarm.
Several sources state incorrectly that Charles C. Sweeley was a pseudonym of Harry J. Lincoln.  Sweeley was a real person to whom Lincoln apparently sold one or more pieces of music so that Sweeley could affix his name as composer.  (This is in contrast to the situation where Henry Fillmore made use of the name Will Huff, not realizing there really was a composer by that name.  Fillmore never sold any music to Huff.).
Midnight Fire Alarm (descriptive march galop) was published in1900 by the E.T. Paull Music Company (New York City, NY). One of the most celebrated descriptive marches ever written is the Midnight Fire Alarm.  Early band editions of this march, published by E.T. Paull in 1900, do not show the actual composer; only that E.T. Paull was the arranger.  On a later edition, Lincoln's name was added as composer with Paull noted as the arranger.  However, the original copyright entry card for this march states that it was registered on April 5, 1900, by the E.T. Paull Music Company of New York City, with Lincoln as composer and Paull the arranger.
Black Horse Troop by John Philip Sousa. Mr. Sousa's love for horses is reflected in this march dedicated to the mounted troops of a Cleveland National Guard unit.  Their exclusive use of black horses was the inspiration for the title.  Troop A, once known as the First City Troop of Cleveland, was originally an independent militia group and has had a long, distinguished history since its formation in 1877.  Mr. Sousa's most noteworthy association with the troop came in 1898.  The Sousa Band, having arrived in Cleveland just as the troop was preparing to leave for the Spanish-American War, marched in a parade escorting them from the Armory to the train depot.  His first association was much earlier, however.  As leader of the U.S. Marine Band in 1881, he marched with the organization in the funeral cortege of President James A. Garfield.
At a dinner, held in Mr. Sousa's honor in November, 1924, the march was requested by Captain Walker Nye of Troop A.  The request was fulfilled promptly, and the march was presented in Cleveland on October 17, 1925, at a Sousa Band concert which also marked the 48th anniversary of Troop A.  For the occasion, the mounted troopers were dressed in the blue uniforms of 1877, complete with black fur busbies.  They rode right up onto the stage with the band.  Mr. Sousa presented a manuscript of the march to Captain Nye.  After the concert, a reception was held at the Armory, and Mr. Sousa was presented with a bronze plaque.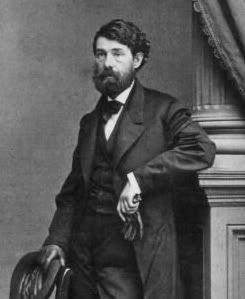 Little Trifler.
George Daniel Barnard taught himself to play most of the instruments and secured a position as a road salesman for the Lyon & Healy Company.
He made Cincinnati (OH) is home for much of his life, met and married Hortense Wiesmann.  For a time, they led the lives of troopers.  They Barnard's returned to Cincinnati in 1914 due to the ill health of Hortense. In 1920, they moved to Maysville (Kentucky) where George conducted the Kentucky Cardinals Boys Band.  Under his direction, it became one of the finest of its type in that part of the nation.
Barnard composed over 400 published works, using not only his own name, but also five pseudonyms. 
Americans We by Henry Fillmore.  The march is dedicated To all of us and is considered one of his very finest marches.  After resigning as director of the Syrian Temple Band, Henry formed his own professional band and one of its first engagements was at the Cincinnati Zoo. The appearance coincided with the annual "Pure Food and Health Show" and Henry is reported to have included this march on every program, sometimes announcing it as the "Purse Food and Health" march and at other times as the "Cincinnati Zoo" march. After it was broadcast on the radio, it became so popular he dedicated to publish it and then changed the title to "Americas We."
Semper Paratus.
Semper Paratus--translation
Always Ready
--is the Coast Guard's motto and the title of its service song.  No one seems to know exactly how it was chosen as the Coast Guard's motto. But there is no doubt as to who put the famous motto to words and music.
Captain Francis Saltus Van Boskerck (pictured at right) wrote the words in the cabin of the cutter Yamacraw in Savannah, Ga., in 1922. He wrote the music five years later on a beat-up old piano in Unalaska, Alaska. For probably as long as Captain Van Boskerck could remember, Semper Paratus had been a Revenue Cutter and Coast Guard watchword. The words themselves, always ready or ever ready, date back to ancient times.
No official recognition was given to the Coast Guard motto until it appeared in 1910 on the ensign. Captain Van Boskerck hoped to give it as much recognition as "Semper Fideles" of the Marines and "Anchors Away" of the Navy.
Stars and Stripes Forever (John Philip Sousa) The march is considered the finest march ever written, and at the same time one of the most patriotic ever conceived.  As reported in the Philadelphia Public Ledger (May 15, 1897) " ... It is stirring enough to rouse the American eagle from his crag, and set him to shriek exultantly while he hurls his arrows at the aurora borealis."  (referring to the concert the Sousa Band gave the previous day at the Academy of Music).
The march was not quite so well received though and actually got an over average rating for a new Sousa march.  Yet, its popularity grew as Mr. Sousa used it during the Spanish-American War as a concert closer.  Coupled with his Trooping of the Colors , the march quickly gained a vigorous response from audiences and critics alike.  In fact, audiences rose from their chairs when the march was played.  Mr. Sousa added to the entertainment value of the march by having the piccolo(s) line up in front of the band for the final trio, and then added the trumpets and trombones join them on the final repeat of the strain.
The march was performed on almost all of Mr. Sousa's concerts and always drew tears to the eyes of the audience.  The author has noted the same emotional response of audiences to the march today.  The march has been named as the national march of The United States.
There are two commentaries of how the march was inspired.  The first came as the result of an interview on Mr. Sousa's patriotism.  According to Mr. Sousa, the march was written with the inspiration of God.
"I was in Europe and I got a cablegram that my manager was dead.  I was in Italy and I wished to get home as soon as possible, I rushed to Genoa, then to Paris and to England and sailed for America.  On board the steamer as I walked miles up and down the deck, back and forth, a mental band was playing 'Stars and Stripes Forever.'  Day after day as I walked it persisted in crashing into my very soul. I wrote it on Christmas Day, 1896."
The second, and more probable inspiration for the march, came from Mr. Sousa's own homesickness.  He had been away from his homeland for some time on tour, and told an interviewer:
"In a kind of dreamy way, I used to think over old days at Washington when I was leader of the Marine Band ... when we played at all public functions, and I could see the Stars and Stripes flying from the flagstaff in the grounds of the White House just as plainly as if I were back there again."
"Then I began to think of all the countries I had visited, of the foreign people I had met, of the vast differences between America and American people and other countries and other peoples, and that flag our ours became glorified ... and to my imagination it seemed to be the biggest, grandest, flag in the world, and I could not get back under it quick enough."
"It was in this impatient, fretful state of mind that the inspiration to compose 'The Stars and Stripes Forever' came to me."
God Bless America. 
In 1918,
Irving Berlin
(pictured at left) produced
Yip, Yip Yaphank
, an all-soldier show at Camp Yaphank
. God Bless America
was one of the songs in that show, but Berlin decided to delete it from the production. In 1938, Kate Smith asked Berlin to write a song for her to use in her Armistice Day radio show. Unable to write anything that satisfied him, he remembered the song from
Yip, Yip Yaphank
and gave her, free of charge, exclusive performing rights. She first performed it on her radio show on November 10, 1938, the last peacetime Armistice Day this country celebrated before World War II.
In 1939, both major political parties used God Bless America in their Presidential nominating conventions. Kate Smith recorded the song for Columbia and it became immensely popular. It was heard or sung at rallies, balls, and athletic events nationwide.
Berlin was a passionate patriot and did not want to profit from this patriotic song. In 1939 he copyrighted it in the names of Gene Tunney, Mrs. Theodore Roosevelt, Jr., and A. L. Berman and stipulated that all proceeds go to the Boy and Girl Scouts.
This stately and reverent song represents the thoughts of the multitudes of immigrants such as Berlin, himself, who were grateful to this country for giving them the opportunity to transcend the limitations of their old world origins.
Israel Baline, the son of a Jewish cantor, immigrated to the United States from Russia with his family in 1893. Here, he spent his early years in great poverty. In 1904, he worked as a singing waiter in Chinatown and Bowery cabarets of New York City. After a printer erroneously printed his name "Irving Berlin" on a piece of music, he chose that name for his own. In 1911, he achieved success pioneering ragtime with Alexander's Ragtime Band (originally titled Alexander and his Clarinet) and Everybody's Doin' It. 
Program – Friday, June 18th, 2010
Anthem, Star Spangled Banner............................................ Francis Scott Key/John Philip Sousa
Overture, Il Re Pastore (1986)......................................................... W. A Mozart/Clifford P. Barnes
March, Lord Baltimore (1904)................................................................................ Henry Fillmore
Instrumental Solo, Annie Laurie ..................................................... Arthur Pryor/Albert Oliver Davis
John Blasko, soloist
Movie Themes, Symphonic Marches (1981) ................. John Williams/Paul Lavender & John Higgins
Dixieland, State Street Strut (1973).................................................................... Rod "Red" McLeod
Vicki Smith, clarinet; Marcia Nelson-Kline, trumpet;
Rod Hannah, trombone; and, Kyle Snyder, tuba
Characteristic, Slick Slide (1917)............................................................................. Fred W. Huffer
Galop, Midnight Fire Alarm (1900)........................................................ Harry. J. Lincoln/E.T. Paull
March, Black Horse Troop (1925)....................................................................... John Philip Sousa
Intermezzo, Little Trifler (1902) ............................................................................. George Barnard
March, Americans We (1929)................................................................................... Henry Fillmore
Patriotic, Semper Paratus (1928)............................................ F.V. Boskerck/William C. Schoenfield
National March, The Stars and Stripes Forever (1897).......................................... John Philip Sousa
 Final as of May 17, 2010