Medina Community Band – 1893 – 1909[1]
Concert 3 – Friday, June 19th, 2009
(as of May 18, 2009)
The editor of the Medina Gazette called for help from his readers to get the Band started again in April of 1893: Help the band. Boom the band. No town is complete without a brass band. Help the boys! One of the pleasant features during the summer season has been the evening concerts by the Band. Let it be resurrected. The Band had already been resurrected more times than the legendary Phoenix, yet it did it again for the Memorial Day observance.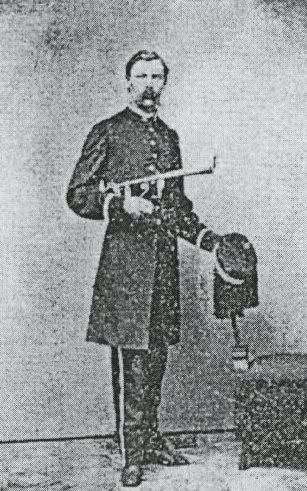 The Citizens Band had been under the direction of Edward Welling (pictured at left). The Band had about one season of business as the Gazette had hoped, including a full summer season of the pleasant Tuesday evening concerts on the park, and music for the Republican campaign in October.  Then the Band made a tactical error. They decided that the only way to keep up a band was to get new instruments, which they hadn't had in 20 years.  The citizenry did not see fit to come up with the $300 and the Band was not heard from again for five years.
The Gazette editorialized in 1899: What might be done to meet one of the town's blushing needs? That Medina needs a band and needs it very much is certain! We are way behind the lighthouse when it comes to talking of band music. Seville, Wadsworth, and Chatham can all laugh at us here in the county seat. By June of 1899, Medina's Comet Lodge No. 60 of the Knights of Pythias were talking of "organizing a band and insuring its support." And so it came to pass that new band instruments were ordered and had arrived in early August.  The new Band was out on a Saturday evening in mid-September to play "several pieces at the south-west corner of the Square."  Medina's K of P Band, as it was now called, marched, played, and ate at one of the sponsor's shindigs a month later.
The Band played off and on at Fourth of July festivities, at the Medina County Fair, several times a year for their sponsor, and occasionally at a political rally.  Perhaps the activities most enjoyed by the citizenry were the regular, hour-long Saturday evening concerts from 7:30p (sun time – 27 minutes slower than Eastern Time) on the square from May or June into September or October. Typical descriptions of the open-air concerts were: a large crowd was in Medina Saturday evening to hear the band concert and trade. The evening was pleasant and profitable, both to those who came out to hear the band and to the merchants. It was quite logical for people, especially those from the countryside surrounding Medina, to combine business with pleasure as long as they were in town for one or the other.
The Gazette waxed eloquent in June of 1902: A number of years ago, a brass band was one of the luxuries of the city of 10,000 inhabitants. Now, the brass band has become an educator of musical taste, a purveyor to the pleasure of the community, a business venture which is more or less remunerative, and oftentimes a feature of public business by means of advertising and its relation to business enterprise.  This advancement of a new feature in our own local progress is due to the recognition of the value of music, to the improved personal character of the band membership, to the laudable ambition of men who enter the organization to improve themselves in the art, and to the tendency of modern days to secure all the enjoyment and pleasure that can be purchased.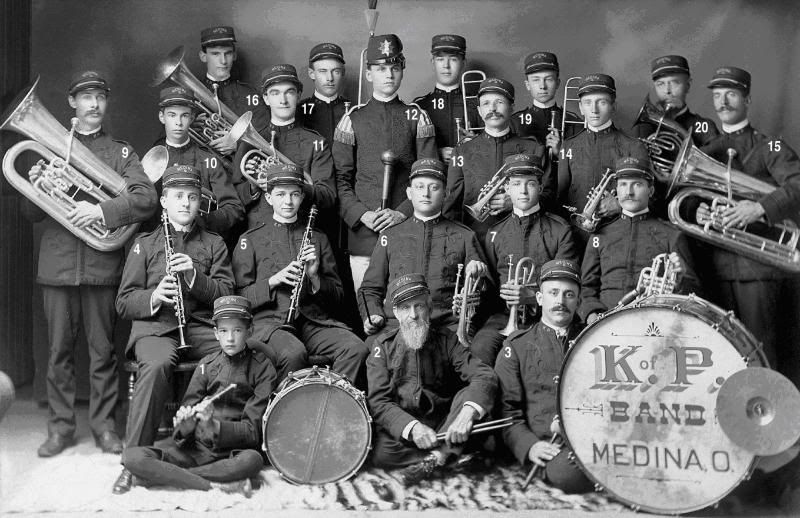 Medina's new Knights of Pythias Band in 1901.  Members were: (1) Roy E. Kimmel; (2) Charles H. Manville; (3) Desemus M. Sanford; (4) Walter Thorndike; (5) Ernest Edwards; (6) William J. Wall; (7) Bion Hawkins; (8) unnamed cornet player; (9) John F. Iper; (10) Charles H. Iper; (11) George A. West; (12) Albert H. Fretter; (13) Nelson R. Waltz; (14) Paul Dillman; (15) Charles E. Sacket; (16) Sherwood A. Bean; (17) Owen E. Crofoot; (18) Ned Hawkins; (19) Claude A. Kindig; (20) Edward Welling. Courtesy of the Medina County Historical Society.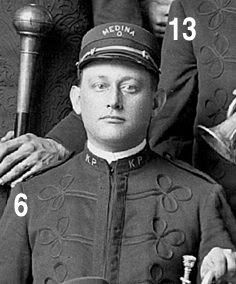 The first K. of P. band director was William J. Wall (1899-1902 and 1904-March 1907 and pictured at right).  He was a cornet player in the Band and worked as a druggist in the W.K. Albro store (corner of Washington and Court Streets) during his time with the band. He probably gave up leadership of the Band to study for the State of Ohio pharmacy examination, which he passed in 1908.
The age range of the 1899, 1901, and 1905 Bandsman was much greater than in any previous Medina Band. Several were over 60 and a few others were into their 40s. New occupations were evident as a result of technological advances. There was a telephone lineman, which sounds prosaic today, but which dealt with an industry less than 15 years old then. The drum major was an electrician. Medina's electrical plant was no more than three to five years old at the time.  In 1908, former Band Director William J. Wall was complimented on putting up a handsome new globe electric sign in from of his drugstore and the Gazette pledging to also erect electric illumination on the street.  Albert Fretter opened an automobile garage in 1909.
In late July of 1900, Medina hosted Seville (pictured below), Wadsworth, and Spencer Bands. The Medina K. of P. Band mercifully played only two marches before turning the evening over to the Seville and Spencer bands (an hour each) and the Wadsworth Band (25 members). The business men of Medina did themselves proud in decorating for the occasion. The public square, bright with electric lights, Chinese lanterns and everywhere draped with flags, bunting and bright color, presented a sense of gayety never before witnessed in Medina. Two hundred cakes and 108 gallons of ice cream were consumed, to give an idea of the size of the crowd conservatively estimated at 4,000 and teams hitched to almost every street hitching-place within a half mile of the park.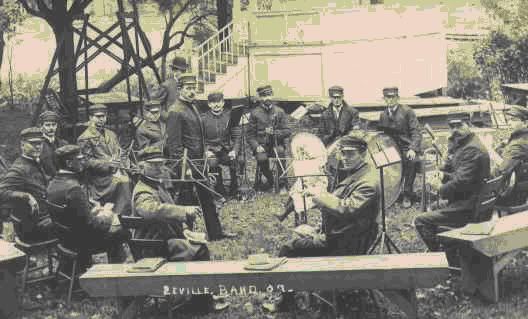 Another innovation by the Band was a winter band-choral concert series designed to be a financial benefit to the Band. The first of these was held in February 1902 in Phoenix Hall, which by this time was a respectable theater with 500 seats, a stage, scenery and all. A full house heard a vastly improved Band, a choir of 40 members, plus Miss Floy Ager of Sharon who plied the audience with whistling solos. The next winter the Band presented a series of six concerts more or less in the 'in the style of John Philip Sousa.' The concerts had the normal band music of the era, plus vocal solos by persons outside the Band organization and instrumental solos by Band members for two performances. In subsequent years many of the soloists tended to be professionals from outside the village. Whether this was to add variety or improve the quality was never stated. Certainly, villager Edna Rickard was no slouch as a reader (a recite of selections; an elocutionist), as she later signed a contract with a Boston firm to tour the country in that capacity. One out-of-town soprano pleased those who could appreciate her high-toned musical efforts, but she was singing over the ears of most of her audience.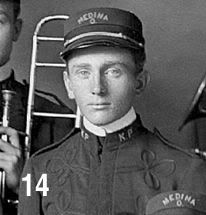 Jacob H. White led the Band from January to November 1903, when Wall took the reins again. Paul H. Dillman (pictured at left), cornet player in the Band and an insurance agent in the village, directed the Band from March to October 1907.  He resigned after this short stint to move to Allegheny County, Pennsylvania.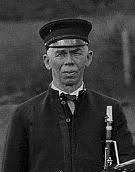 Stowell White (October 1907 to probably 1909 and 1913 to probably 1914 and pictured at right) played clarinet in the Band, was a machinist in 1910, a taxi driver, and a Village Marshall and night watchman in 1920.
Facilities for the Band concerts "on the square" had improved with time.  The square had been raked and mowed in May 1899, with some flower beds constructed. There was a new bandstand erected at the southwest corner of the square in 1900, facing Washington Street, but closer to Court Street, and fitted out with electric lights which are to aid the Band boys, and make the whole scene a livelier one.
The Band's one and only winter concert of 1908 was scrubbed when Phoenix Hall was shut down, and the Band could not find another hall on a week or so notice. From there onward this Band activity began to peter out.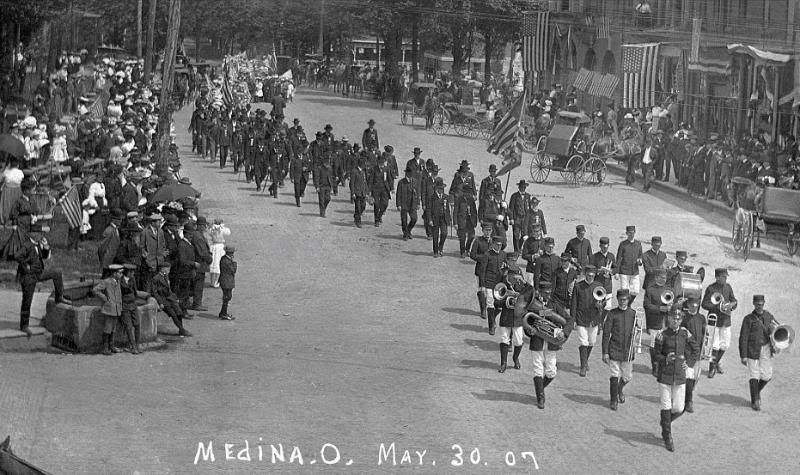 Memorial Day parade in Medina, Ohio, May 30th, 1907, marching west on Washington Street, ready to turn north onto Court Street.  Order of the procession was the Medina Cadets (already turned the corner), the K. of P. Band in the foreground led by Drm Major Albert Fretter, about 50 old soldiers, and schoolchildren carrying flowers and wreaths, followed in the distance by civilians afoot and in carriages. Courtesy of Alice Hartman Chester, whose father, Roland Hartman, played trumpet in the Band and is probably in the picture. 
Selections for the third concert, dedicated to the band's history from 1893 to 1908, have been entirely taken from music published and/or performed during this era. 
Hail, Columbia was the unofficial national anthem of the United States until its replacement in 1931 by the officially mandated Star-Spangled Banner. It was originally composed by Philip Phile in 1789 for the inauguration of George Washington, titled The President's March, arranged with lyrics by Joseph Hopkinson in 1798. It was used by the United State of America as a national anthem for most of the 19th Century, but lost popularity after World War I. It is now the entrance march, or the official song, for the Vice President in a similar fashion as Hail to the Chief is for the president.
La Giaconda: Dance of the Hours comes from Act 3:Scene 2 – the Masked Ball by Amilclare Ponchielli's (pictured at left) 1898 opera. The lyric melodramatic drama remains popular to this day.  So much so that Walt Disney popularized the scene in his 1940 animated production Fantasia; Spike Jones and His City Slickers popularized the scene in his Murdering the Classics in the mid-1940s; and was followed in August of 1963 with Allan Sherman's Hello Muddah, Hello Fadduh (a letter from Camp).  The Sherman opus was a Grammy-winning novelty song based on Kvetch letters Allan Sherman received from his son attending Camp Champlain, New York.  The song is a parody that complains about Camp Granada and set to Ponchielli's Dance of the Hours.
Gloria by Frank H. Losey, was performed by the band in 1900.  It is actually a regimental march and was dedicated to the memory of Gloria Losey, daughter of the regimental bandmaster, Leopold Yost. She was also the wife of Losey.  She died of leukemia in the late 1890s. The 38th Infantry Band was considered to be one of the best in the service. Their Sunday concerts were attended by hundreds of townspeople in addition to the military personnel.  Shortly after Gloria Losey's death, Frank wrote the march for the band in her memory.  The march was an instant hit, and was performed by bands worldwide.
Baby Boo
 march was published by Fred Jewell (pictured at right) in 1902. 
He left high school during his junior year, running away to nearby Bloomington and joining the Gentry Brothers Dog and Pony Show.  He played baritone and trombone with that show and then with the Wallace Circus (beginning in 1891).  From 1899-1901, he was band director with Gentry.  From 1902-1904, he played baritone with the Ringling Brothers Circus, and from 1905-1906 he played baritone and calliope with the Great Floto Circus [renamed Sells-Floto in 1906].  He joined the Barnum and Bailey Circus in 1907 as baritone player and assistant director and was director from 1908-1910.
The piccolo solo 
The Comet 
was published in 1908 and written by W.A. Brewer.
John Philip Sousa's (pictured at left) March Sound Off!  Was published in 1885 and reissued in 1894. Sound Off was apparently intended for ceremonial use by the Marine Band.  As he had done on previous occasions, Sousa used a marching command as the title of his composition.  It was dedicated to Major George Porter Houston, one of Sousa's superiors at Marine Barracks, Washington.  The Corps "Manual for Field Music," published in 1935, reports that the ceremonial Sound Off dates from the time of the Crusades.  The musicians would march and counter-march in front of the soldiers designated for the Crusades as a ceremony of dedication.  Part of the "Sound Off" tradition is the playing of three chords while standing fast, preceding the music actually performed on the march.  The three chords are thought to signify "three cheers" from the assembled crowds.  Today, the Marine Band has eliminated the three chords preceding the ceremonial "Sound Off" and uses only percussion to signal the march.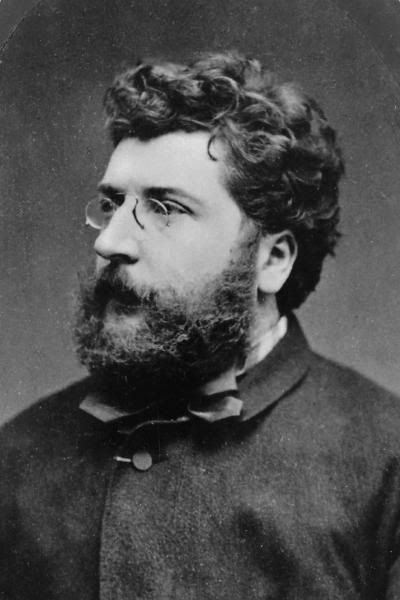 Carmen: Seguilla – Pres de Ramparts from Georges Bizet's (pictured at right) 1875 opera Carmen. The selection takes place in the first act of the opera. The scene during the first act: Outside a cigarette factory a company of dragoons idly watches people passing by. Mercédès approaches and inquires after Corporal Don José. She is told by Moralès to return later. After the changing of the guards Lieutenant Zuniga asks Don José about his background. A bell signals the factory girls' break and that attracts the men nearby. The gypsy Carmen is the centre of attention. The only one who does not seem to notice her is Don José which provokes Carmen. Me
rcédès returns and meets Don José. She hands him a letter from his mother begging him to return home and marry Mercédès. Suddenly there is a disturbance in the factory and Don José is ordered to find out what has happened. Carmen has wounded one of the other girls with a knife. She is apprehended and questioned by Zuniga, whom she taunts and mocks before he sends her to prison. She persuades Don José to let her escape. As a punishment Don José is demoted and arrested.
Buzzard's Bay march was written by James M. Fulton (pictured at left) and published in 1898 by the John Church Publishing Company. Fulton is best remembered for his march Garry Owen, a march which he did not compose, but did arrange for band in 1903.  His major instrument was violin and cornet and by the time he was 12 he was appearing as a soloist on both instruments.  In 1899, he became the band director of the American Band of Waterbury, Connecticut.  The group became known as Fulton's American Band. While there is no specific reference to the title, there is a Buzzard's Bay on the coast of Massachusetts.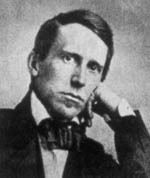 Gems of Stephen Foster was published in 1895 arranged by Moses Tobani and Laurendeau is more an American fantasy.  Stephen Foster (born on July 4th, 1826, and pictured at right) is often referred to as the "father of American music," was the pre-eminent songwriter in the United States of the 19th century.  His songs, such as Oh, Susanna, Camptown Races, My Old Kentucky Home, Old Black Joe, Beautiful Dreamer, and Old Folks at Home remain popular over 150 years after their composition. In 1846, Foster moved to Cincinnati, Ohio, and became a bookkeeper with his brother's steamship company. While in Cincinnati, Foster penned his first hit songs, among them, Oh! Susanna. It would prove to be the anthem of the California Gold Rush in 1848-1849.
Boston Commandery by Thomas Carter lived most of his life in Boston, Mass, and was a Mason for 58 years.  His march, Boston Commandery was published in 1892.  On March 12, 1802, Sir Henry Fowle, Sir Elisha Sigourney, Sir James Harrison, and others established Boston Encampment of Knights of the Red Cross. On December 21, 1805 these same Masons formed an Encampment of Knights Templar in Boston, and on March 15, the Encampment of Knights of the Red Cross was dissolved. Later the name was changed to Boston Commandery No. 2, Knights Templar.

Creole Bells, (cake-walk) was written by Jens Bodewalt Lampe (pictured at left) in 1900. In addition to a number of military style marches, Lampe composed many ragtime and two-step marches.  In 1900, when Creole Belles was composed, ragtime was beginning to be the big "noise" in American popular music.  Scott Joplin's Maple Leaf Rag became the first ragtime sheet music best-seller in 1899.  In 1900, the Sousa Band helped to popularize ragtime in Europe during its prolonged tour there.  The Sousa Band, with either Arthur Pryor or Herbert L. Clarke conducting, recorded the tune five times between 1902 and 1905. 
Under Fire was written by Walter J. Hearn and performed by the band in 1908.
Stars and Stripes Forever was published in 1896 by Sousa. The march was not quite so well received though it actually got an over average rating for a new Sousa march.  Yet, its popularity grew as Mr. Sousa used it during the Spanish-American War as a concert closer.  Coupled with his Trooping of the Colors, the march quickly gained a vigorous response from audiences and critics alike.  In fact, audiences rose from their chairs when the march was played.  Mr. Sousa added to the entertainment value of the march by having the piccolo(s) line up in front of the band for the final trio, and then added the trumpets and trombones join them on the final repeat of the strain.
Star Spangled Banner had lyrics from a poem written in 1814 by 35-year-old amateur poet Francis Scott Key who wrote "Defense of Fort McHenry after seeing the bombardment of Fort McHenry during the Battle of Baltimore at Baltimore, Maryland, by Royal Navy ships in Chesapeake Bay during the War of 1812.
The poem was set to the tune of a popular British drinking song, written by John Stafford Smith for the Anacreontic Society, a men's social club in London.  Set to Key's poem and renamed "The Star-Spangled Banner," it would soon become a well-known American patriotic song. With a range of one and a half octaves, it is known for being difficult to sing.  The "Star-Spangled Banner" was recognized for official use by the United States Navy in 1889 and normally performed at the end of concerts.
---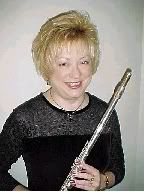 Sue McLaughlin (piccolo soloist) has been a member of the Medina Community Band since 1994 and is a former student of Deidre McGuire.  While in school, she was a member of the band, orchestra and jazz band, playing clarinet and saxophone.  In addition to playing flute and piccolo in the Medina Community Band, Sue has also performed with Marcus Neiman & The Sounds of Sousa Band, Symphony West Orchestra, and several area churches.  She is a systems analyst at Southwest General Health Center in Middleburg Heights.  Sue lives in Medina with her two cats, Truffles and Kokopelli.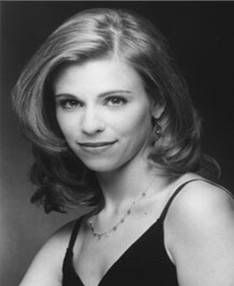 Denise Milner Howell (mezzo-soprano) is equally at home on the opera, musical theatre or concert stage.  Her solo engagements include performances with Opera Cleveland, Chautauqua Opera, Akron Lyric Opera Theatre, Tanglewood Festival, Akron Symphony Orchestra, Carousel Dinner Theatre, Sounds of Sousa Band, and Buffalo Philharmonic.  Recent roles include Mercedes (Carmen), Hansel (HANSEL AND GRETEL), and Celia (IOLANTHE).  She can be heard in a CD release on the North/South recording label singing "Sappho Songs", composed by Ira-Paul Schwarz.   Ms. Howell lives in Sharon Township, OH with her husband, Gregg, and their sons, Miles and Wesley.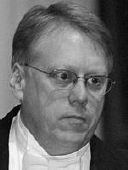 Howard Meeker, (guest conductor) director of instrumental music, joined the Cleveland State University music faculty in 1984. He conducts the CSU Wind Ensemble and coordinates the activities of the applied music area. Prior to his appointment at CSU, Professor Meeker was associate director of bands at Washington State University. He has B.Mus. and M.F.A. degrees in percussion performance from the University of Iowa, and has done additional graduate study in wind band conducting at the Ohio State University. Professor Meeker is an active guest conductor/clinician throughout the United States and Canada. 

Cindy Fuller (guest narrator) is president of Medina City Council.  She has served the Medina area as trustee for Medina General Hospital Foundation, president of the Medina Area Chamber of Commerce, and a board member for United Way and Medina County Performing Arts Foundation.  She is a first vice president with Merrill Lynch and manages the Medina location.  Cindy lives in Medina with her husband Don.

Program – Friday, June 19th, 2009
1893-1909
(Selections either published or performed by Medina Community Band
on the listed year)
Anthem, Hail Columbia (1789)................................................................ arr. Friederich/Neiman
Dance, La Gioconda: Dance of the Hours (1898).................... Amilcare Ponchielli/David Bennett
March, Gloria (performed 1900).............................................................................. Frank Losey
March, Baby Boo (1904)..........................................................................................Fred Jewell

Piccolo Solo, The Comet.............................................................................................. Brewer
Sue McLaughlin, soloist
March, Sound Off!  (1894)............................................................................ John Philip Sousa
Mezzo-Soprano Solos
     Carmen: Seguilla - Pres de Ramparts (1875)................................... Georges Bizet/Leonard Smith
Denise Milner Howell, soloist
March, Buzzard's Bay (1898)........................................................................ James M. Fulton
Popular, Gems of Stephen Foster (performed 1901)............ Stephen Foster/Theo. M. Tobani & L.P.Laurendeau


March, Boston Commandery (performed 1900)............................................... Thomas Carter
Cake-walk, Creole Bells (performed 1901)................................ J. Bodewalt Lampe/Keith Brion
March, Under Fire (performed 1908).......................................... Walter J. Hearn/R.E. Hildreth
. 
Patriotic, Stars and Stripes Forever (performed 1901)................................ John Philip Sousa
Patriotic, Star Spangled Banner (performed 1904)........................................................ Key 
---
[1] It should be noted that information provided by a published Medina Community Band history by band member (and band historian) David Van Doren was instrumental in descriptions of Band activities given in this and all concert publications in this sesquicentennial celebration series.