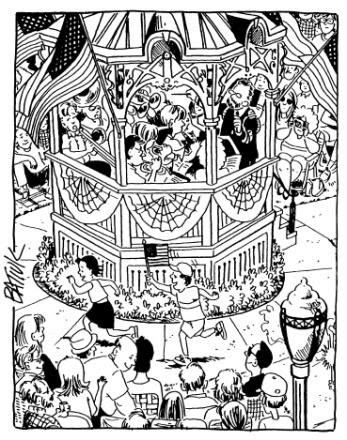 This material covers the 4th concert – Friday, June 22nd, 2012, 8:30p – 9:30p

Site: Medina's Uptown Park Square (intersections of Rtes. 18, 42, Broadway and Liberty Street) 

Cancellation of concerts due to the weather will be posted on the website!  
MEDINA:  Medina Community Band will continue the 2012 summer season, a celebration of 153 years of presenting community concerts in Medina, on Friday, June 22nd, 2012, at 8:30p, in Medina's Uptown Park Square Gazebo. 
Featured soloists and conductor on this hour-long concert will be: Lara Troyer (soprano), Mason Rorapaugh (trumpet), Kyle Snyder (tuba); as well as associate conductor Curtis Amrein. 
The Medina Community Band is under the baton of conductor Marcus Neiman, starting his 39th summer concert series, and associate conductor Curtis Amrein beginning his second summer season.  The 60 minute concert will feature works by Grundman, King, Hummel, Blackenberg, Yarrow & Lipman, Grieg, Herbert, Strauss, Fillmore, and Sousa.  Medina Community Band is sponsored by the Medina Community Band Association, a standing committee of the Medina Breakfast Kiwanis Club.
Featured Soloists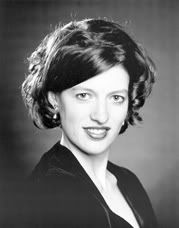 Lara Troyer
(at left) is a versatile soprano, at home on the opera stage as well as concert and recital stage. She recently debuted with the New Sigmund Romberg Orchestra as their soprano soloist, touring throughout the Midwest and Southeastern United States. She also spent four years as an Associate Artist with Cleveland Opera. Recent performances include the Messiah soprano soloist with the Akron Symphony, Faure Requiem soprano soloist with PAND (Cleveland), Susanna in The Marriage of Figaro with Lorain Community College and Akron Opera Theatre (Guest Artist), and the role of the Soprano in Kapilow's Green Eggs and Ham with the Southeast Iowa Symphony Orchestra. Ms. Troyer recently performed a Midwest recital tour sponsored by Allied Concert Services. She has sung lead roles with Lansing Lyric Opera, Opera in the Ozarks, Bay View Music Festival, and has made solo appearances with the Canton Symphony Orchestra, Lansing Symphony Orchestra, Rochester Symphony Orchestra, and Kent/Blossom Chamber Music Summer Series. She won the Alpha Corinne Mayfield Award in Opera Performance under the National Federation of Music Clubs and the Sing Lansing! Competition; was a finalist in the Opera Columbus Competition and the National Opera Association Vocal Competition; and a regional winner in the National Association of Teachers of Singing Artist Award (NATSAA) competition. Ms. Troyer regularly performs under the auspices of Young Audiences of Northeast Ohio and The Children's Concert Society of Akron. She has served on the voice faculty at the University of Akron, The College of Wooster, and currently teaches at Kent State University.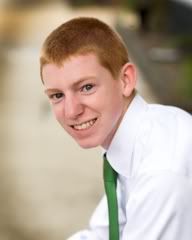 Mason Rorapaugh 
(trumpet, pictured at right) will be entering his senior year at Highland High School in the fall. Mason is first and foremost a scholar, but in addition to his studies he is a very active member of the student body, participating in activities such as National Honor Society, Peer Leading, Principal's Advisory Committee, the Speech and Debate Team, and Track. He has been playing the trumpet for seven years (studying privately with Nathan Heath and currently with Josh Rzepka), and has flourished as a member of the Highland Band program. He is first chair in the highest band (Wind Ensemble), as well as the lead player in the jazz band, and many other smaller ensembles.
He is a member of the Akron Youth Symphony Orchestra. Because of his involvement in the band, Mason received the Louis Armstrong Jazz Award, his Outstanding Band Member trophy, and he was named as the Highland Band Council President for the 2012-2013 school year. Mason hopes to major in music education and music performance upon graduation from Highland High School.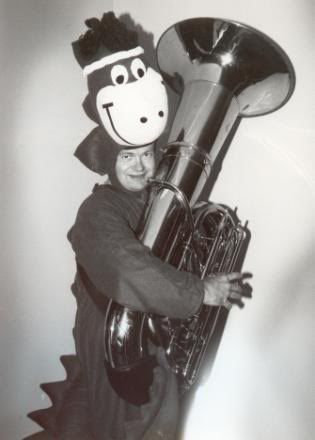 Kyle Snyder
(tuba – at left). Kyle is a claims adjuster with Liberty Mutual Insurance Co.  He enjoys playing "Dixieland" music and plays with the River City Jazz band and The Minstrels of Earlville. He has been a member of the Medina Community band for 27 years and the Sounds of Sousa band since 1992. When not playing "heavy metal" he enjoys riding his motorcycle.  Kyle will play "Puff the Magic Dragon."
Kyle's costume was made by wife Jan who felt that it would add to the overall presence of his performance.  Interestingly enough, the costume – which was made for Kyle over 15 (perhaps even 20) years ago, still fits and chances are good that he will wear it for this performance. 
Conductors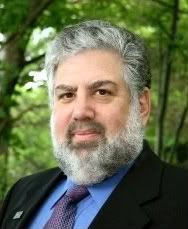 Marcus Neiman
(left) celebrates his 40th season as conductor of the Medina Community Band and 39th summer season.  Neiman is a part-time assistant professor of music education at Kent State University where he teaches the "Music Education as a Profession" course and supervises music education student teachers.  He was interim director of the Kent Concert Band during the 2010-2011 academic year, and also taught the "Instrumental Methods for Choral and General Music Majors."
He received his bachelor of science in music education degree from The University of Akron; master of music in music education degree from The University of Michigan; and, post-degree doctorial work at The Kent State University.
He is a member of the 1993-94 class of Leadership Medina County.  Neiman remains active with Ohio Music Education Association (OMEA), having served as state president of that organization from 1998-2000, and currently serves as a woodwind adjudicator and state historian.  He is the recipient OMEAs highest honor, the "Distinguished Service Award," presented to him on January 29th, 2010.  Neiman is the artistic director and founding conductor of the professional concert band – The Sounds of Sousa Band and appears throughout the nation as a guest clinician and conductor.
Marcus and his wife Mary Ann, who is a professional clarinetist and program administrator - preparatory and continuing education department for the Cleveland Institute of Music, reside in Medina with their two cats Sasha and Dmitri. Marcus has two daughters (Nancy and Jennifer) from a previous marriage, three granddaughters, one grandson, and a godson.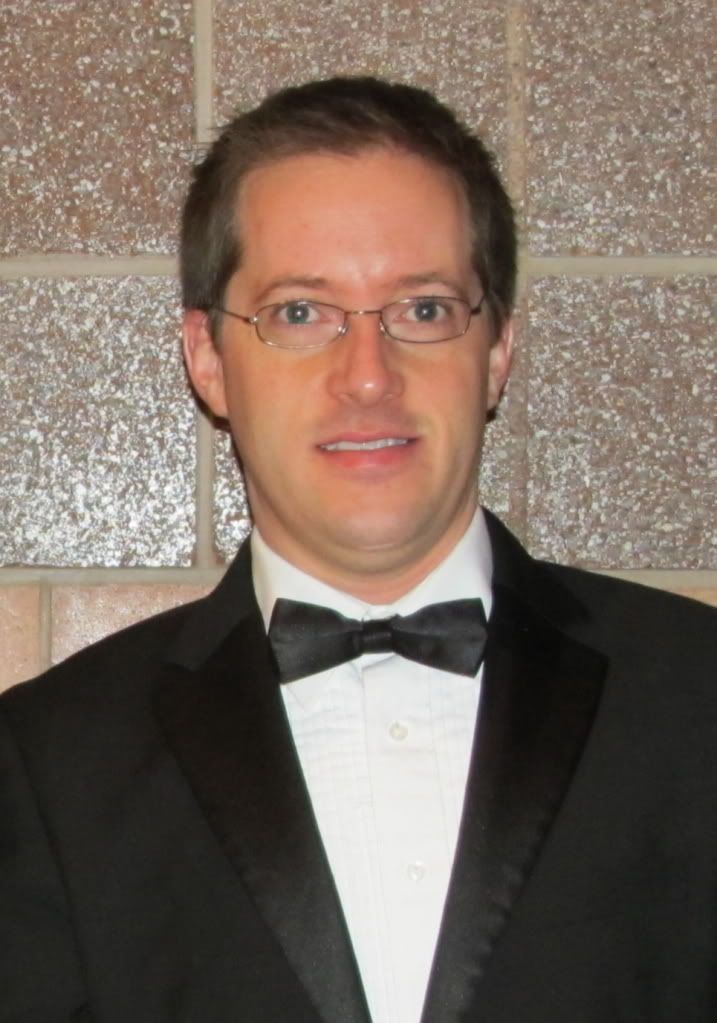 Curtis Amrein
 (associate conductor, at right) is a band director at Barberton Middle School in Barberton (Ohio). His responsibilities include teaching sixth-ninth grade bands in addition to fifth and eighth grade general music. Under his direction, students in Barberton have received superior ratings at Ohio Music Education Association large group and solo and ensemble adjudicated events.
 
Curtis received his bachelor's degree in music education from The Ohio State University in 2004, where he graduated Magna Cum Laude. While there, Mr. Amrein performed with the Symphonic Band, Wind Symphony, and Symphony Orchestra. He is a trumpet student of Timothy Leasure and was the 2004 recipient of the Richard Burkart Trumpet Award. Curtis' conducting teachers include Dr. Richard Blatti and Marcus Neiman.
Mr. Amrein serves as both an associate conductor and trumpet player with the Medina Community Band. He also performs with the Sounds of Sousa Band, under the direction of Marcus Neiman. Curtis is an active member of the Ohio Music Educators Association, National Association for Music Education (MENC), and Ohio Education Association. The 2012 season is Curtis' second as associate conductor of Medina Community Band. 
Program Notes 
Star Spangled Banner (John Stafford Smith arranged by John Philip Sousa) uses lyrics from a poem written in 1914 by Francis Scott Key, a then 35-year-old amateur poet after seeing the bombardment of Fort McHenry at Baltimore, Maryland, by Royal Navy ships in Chesapeake Bay during the War of 1812.
The poem was set to the tune of a popular British drinking song, written by John Stafford Smith for the Anacreontic Society, a London social club.  Set to Key's poem and renamed "The Star-Spangled Banner," it would soon become a well-known American patriotic song.  It was recognized for official use by the United States Navy in 1889 and the President in 1916, and was made the national anthem by a congressional resolution on March 3, 1931 (46 Stat. 1508, codified at 36 U.S.C. § 301), which was signed by President Herbert Hoover.
Before 1931, other songs served as the hymns of American officialdom. Most prominent among them was "Hail, Columbia" which served as the de facto national anthem from Washington's time and through the 18th and 19th centuries.  Following the War of 1812 and subsequent American wars, other songs would emerge to complete for popularity at public events, among them "The Star Spangled Banner."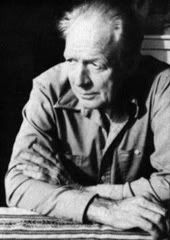 Clare Ewing Grundman
(pictured at left) (born 11 May 1913 in Cleveland, Ohio; died 15 June 1996 in South Salem, New York)
is one of the most prolific and highly respected composers for band on the American scene today.  He is represented in one publisher's catalogue with nearly 50 works for band, in addition to other media.
Grundman grew up in Ohio earning both bachelor of science and master of arts degrees at The Ohio State University.  From 1937 to 1941, he taught arranging, woodwind, and band at OSU and during World War II, he was a member of the US Coast Guard.  He credits Manley R. Whitcomb with first encouraging him to write for band and Paul Hindemith with providing practical techniques for composition.
Grundman's activities also include scores and arrangements for radio, television, motion pictures, ballet, and Broadway musicals.  His arrangements have been used by many well-known entertainers including:  Carol Channing, Marge and Gower Champion, Sid Caesar, and Victor Borge.  He has taken a special interest in composition for school bands, and his works have been performed by school and college bands throughout the country. 
Third American Folk Rhapsody - Dedicated to Tri-State Music Festival (Enid, Oklahoma), this rhapsody was composed in 1970.  American folk tunes are "Colorado Trail," "Get Along Little Doggies," "Careless Love," and, "Turkey in the Straw." The form generally followed is that of a short introduction, statement of the folk tunes with variations, and a short but stately coda.
Karl Lawrence King
(at right) was born February 21, 1891 in Paintersville, Ohio. His family moved to Xenia a short time later, and around the turn of the century, the King family moved to Canton, where young Karl would begin to develop an interest in bands and music. After receiving some instruction on the cornet, King switched to baritone. His first band experience was with the Thayer Military Band of Canton, while in his teens. In 1909 King spent some time as a member of bands in Columbus and also Danville, Illinois. While a member of these bands, King began to compose marches and other works. Beginning in 1910, King began a decade-long career as a circus musician, spending one season each as a baritone player in the bands of Robinson's Famous Circus, Yankee Robinson Circus, Sells Floto Circus, and the Barnum and Bailey "Greatest Show On Earth." He continued to write music while a member of these bands, and in 1913 wrote what would become his masterpiece, "Barnum and Bailey's Favorite."
In 1914 King accepted the position as bandleader on the Sells Floto/Buffalo Bill Combined Shows, a position he would hold for three seasons. In 1917 and 1918 he returned to the Barnum and Bailey Circus band, this time as its leader and conductor. Recently married and intent upon settling down, King ended his circus "trouping days" and returned to Canton in 1919, where he led the Grand Army Band. In 1920 King relocated to Fort Dodge, Iowa, where he assumed leadership of the municipal band and operated his own publishing company, the K. L. King Music House. During his tenure, the Fort Dodge band gained national recognition, and King became a beloved member of the community as well as a band musician of national and international repute. Among many honors bestowed upon King was membership in the prestigious American Bandmasters Association. He served as ABA President in 1938 and was later named an Honorary Life President. He lived in Fort Dodge for the remainder of his life, passing away on March 31, 1971. His Fort Dodge band was subsequently renamed the "Karl L. King Municipal Band" in his honor. On October 22, 2006, a life-sized bronze statue of Mr. King was unveiled on the city square in Fort Dodge, as a testament and monument to the city's most famous musician and citizen.
As a composer, King was one of the most prolific and popular in the history of band music. He composed at least 291 works, including 185 marches, 22 overtures, 12 galops, 29 waltzes, and works in many other styles. Not only did he compose some of the most brilliant and famous marches for experienced bands at the professional and university levels; he also displayed a remarkable ability to compose first-rate music for younger, less experienced musicians and bands. His music continues to be performed worldwide by bands of all experience levels.
Of the many serenades King wrote, A Night In June (1915) seemed to be one of the most popular.  The piece has been transcribed for solo flute, clarinet, alto saxophone, trumpet, trombone, baritone, as well as various duets.  It was also considered to be one of Mrs. Karl King's favorite serenades.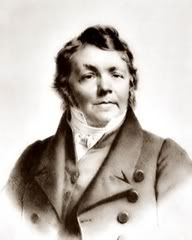 Johann Nepomuk Hummel (pictured at left) was born in Pressburg, Hungary (now Bratislava, Slovakia) on November 14, 1778 and died in Weimar, Germany on October 17, 1837. A Mozart-caliber child prodigy, he became one of Europe's most admired composers, pianists, conductors, and teachers. The Trumpet Concerto in E Major, S. 49 was completed in December 1803 and premiered three weeks later in Vienna, during New Year's celebrations.
Hummel wrote several works for the keyed trumpet, an instrument that, as the name implies, employs keys (typically five) rather than valves. The first keyed trumpet appears to been made in Dresden around 1770, but it took the championship of Viennese court trumpeter Anton Weidinger (1766–1852) to bring the instrument into the mainstream, until it was superseded by the modern valve trumpet in the 1840s. Keyed trumpets being in exceedingly short supply, the reborn Hummel concerto is usually played on modern instruments, and transposed down a semitone to E-flat major to accommodate the standard B-flat trumpet.
Hummel put the finishing touches on the manuscript on December 8, 1803; it was premiered three weeks later by Weidinger for a New Year's Tafelmusik (dinner music) at the Imperial court in Vienna.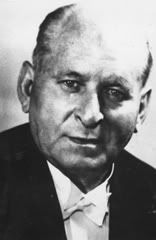 Hermann Ludwig Blankenburg
(pictured at right) (born 14 November 1876 in Thamsbrück and died 15 May 1956 in Wesel) was a German composer of military marches.
Blankenburg was the only son of three children of Johann Heinrich and Ernestine Friederike Koch Blankenburg. He was born with the middle name Louis but changed it to Ludwig later in life perhaps as a connection to Beethoven. Raised on a sheep farm in Thamsbrücke, he was expected to someday manage the farm. However, he showed a propensity for music starting with performing on the piccolo - a favorite instrument his entire life. His family agreed on his studying music as long as he promised to serve in the army for twelve years.
Blankenburg taught himself to play various instruments including bassoon, tuba, and violin and he conducted his school orchestra at the age of ten. He served actively in the military for two years 1896-1898, performing tuba in the band of the 6th Field Artillery Regiment in Breslau. After that his only service was prior to and during the early years of World War I in reserve bands. In 1913 he performed tuba in Field Artillery Regiment No. 43 in Wesel until 1915 when he got a medical discharge. He remained in Wesel for the rest of his life.
Blankenburg played in and conducted community bands as well as performing in the orchestras in Dortmund, Wuppertal and Duisburg. He also worked as a bricklayer and a policeman for a short time. His personal life was full of turmoil. In 1917 he was arrested by the military police from his former regiment for "deserting his family". He had married Magdalena Weidmann in Germersheim in 1898. In 1920 he married Käthe Trauthoff and was then arrested for bigamy
Blankenburg is likely the most prolific march composer in history. For twenty years he composed at least one march a week. His one thousandth march was composed in 1928: "Der Tausendkünstler" (Jack of All Trades), dedicated to fellow composer Paul Lincke. He continued to compose marches for another 20 years after this. Blankenburg numbered his march compositions at 1,328, but he was careless in assigning opus numbers or in completing compositions. He also renamed some older marches with new titles. The highest opus number discovered is 1,072 (for the march "Die Treue Siege" published in 1936) and the lowest is 9 (for "Fliegerhelden Marsch"). There are long gaps in the sequence of opus numbers and many marches have no opus number assigned. At least 300 of his marches were published by thirty different publishers, but many more are lost or destroyed.
His marches are all in the characteristic German style and he was fond of writing soaring euphonium countermelodies which required a highly competent euphonium section prepared to perform in the upper register of the instrument. His marches also stressed the piccolo, clarinet, and cornet sections.
Gladiators' Farewell (Abschied der Gladiatoren originally titled Deuteschlands Fürsten) may have been the first march Blankenburg wrote.
Puff, the Magic Dragon" is a song written by Leonard Lipton and Peter Yarrow, and made popular by Yarrow's group Peter, Paul and Mary in a 1963 recording. The song achieved great popularity. The lyrics for "Puff, the Magic Dragon" were based on a 1959 poem by Leonard Lipton, a 19-year-old Cornell University student. Lipton was inspired by an Ogden Nash poem titled "Custard the Dragon," about a "realio, trulio little pet dragon."
The lyrics tell a story of the ageless dragon Puff and his playmate Jackie Paper, a little boy who grows up and loses interest in the imaginary adventures of childhood and leaves Puff alone and depressed. The story of the song takes place "by the sea" in the fictional land of Honalee (the spelling used by author Lenny Lipton, though nonauthoritative variations abound).
Lipton was friends with Peter Yarrow's housemate when they were all students at Cornell. He used Yarrow's typewriter to get the poem out of his head. He then forgot about it until years later, when a friend called and told him Yarrow was looking for him, to give him credit for the lyrics. On making contact Yarrow gave Lipton half the songwriting credit, and he still gets royalties from the song.
In an effort to be gender-neutral, Yarrow now sings the line "A dragon lives forever, but not so little boys" as "A dragon lives forever, but not so girls and boys." The original poem also had a verse that did not make it into the song. In it, Puff found another child and played with him after returning. Neither Yarrow nor Lipton remember the verse in any detail, and the paper that was left in Yarrow's typewriter in 1958 has since been lost.
In 1961, Yarrow joined Paul Stookey and Mary Travers to form Peter, Paul and Mary. The group incorporated the song into their live performances before recording it in 1962; their 1962 recording of "Puff" reached number two on the Billboard Hot 100 chart and spent two weeks atop the Billboard easy listening chart in early 1963.  It also reached number ten on Billboard's R&B chart.
John Philip Sousa – One of Sousa's last marches, A Century of Progress (1931) was written in anticipation of the Sousa Band's engagement in the summer of 1933 for Chicago's Century of Progress World's Fair. Sadly Sousa, who died on 6th March, 1932, did not live to fulfill the engagement and to give the first performance of the march. 
Franz Lehár
(pictured at left) was born in the northern part of Komárom, Kingdom of Hungary, Austria-Hungary (now Komárno, Slovakia), the eldest son of an Austrian
bandmaster
in the Infantry Regiment No. 50 of the Austro-Hungarian Army and a Hungarian woman from a family of German descent. He grew up speaking only Hungarian until the age of 12. Later he put a diacritic above the "a" of his father's name "Lehar" to indicate the long vowel in Hungarian phonology.
While his younger brother Anton entered cadet school in Vienna to become a professional officer, Franz studied violin and composition at the Prague Conservatory, where his violin teacher was Antonín Bennewitz, but was advised by Antonín Dvořák to focus on composing music. After graduation in 1899 he joined his father's band in Vienna, as assistant bandmaster. In 1902 he became conductor at the historic Vienna Theater an der Wien, where his first opera Wiener Frauen was performed in November of that year.
He is most famous for his operettas – the most successful of which is The Merry Widow (Die lustige Witwe) – but he also wrote sonatas, symphonic poems, marches, and a number of waltzes (the most popular being Gold und Silber, composed for Princess Pauline von Metternich's "Gold and Silver" Ball, January 1902), some of which were drawn from his famous operettas. Individual songs from some of the operettas have become standards, notably "Vilja" from The Merry Widow and "You Are My Heart's Delight" ("Dein ist mein ganzes Herz") from The Land of Smiles (Das Land des Lächelns).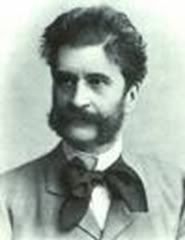 Johann Strauss, Jr. Mein Herr Marquis (Laughing Song)  (pictured at right) from Die Fledermaus).  Strauss was born in St. Ulrich near Vienna (now a part of Neubau), Austria, on October 25, 1825, to the famous composer Johann Strauss I. His father did not want him to become a musician but rather a banker.  Nevertheless, Strauss Junior studied the violin secretly as a child with the first violinist of his father's orchestra, Franz Amon.  When his father discovered his son secretly practicing on a violin one day, he gave him a severe whipping, saying that he was going to beat the music out of the boy.  It seems that rather than trying to avoid a Strauss rivalry, the elder Strauss only wanted his son to escape the rigors of a musician's life.  It was only when the father abandoned his family for a mistress, Emilie Trampusch that the son was able to concentrate fully on a career as a composer with the support of his mother
Laughing Song. Dr. Falke, a notary, had gone to a costume ball dressed as a bat. He drank too much and, when he passed out, his friends laid him out on the sidewalk so that he awoke in full costume to the derisive shouts of the school children. Ever since then, he was jeered at as "Doctor Bat" wherever he went. The plot of the operetta pivots on Dr. Falke's wish to get even with Eisenstein, chief perpetrator of the joke. The work is full of mistaken identities as all the participants show up at a ball in disguise, and each reveals what he or she shouldn't to the wrong person.
Eisenstein's maid, Adele, goes to the ball disguised as a real lady, and the Marquis mistakes her for his maid. Of course, she IS his maid, but she is dressed very elegantly, in Eisenstein's wife's gown. Everyone tells him he is very un-gallant to tell her that she looks like a maid. Adele then admonishes him for being so unobservant.
"My dear Marquis, a man like you ought to know better than that. Let me therefore advise you to look at people more closely. My hand is too tiny to behold, my foot too small and graceful! My speech, so refined, my dainty waist and elegant figure, you'll never find a lady's maid who has these things!"
Henry Fillmore – Miss Trombone
(characteristic).  Fillmore was one of our most prolific composers with 256 compositions to his record and almost 800 arrangements.  He published under various pseudonyms as well as his own name: Henry Fillmore -114; Gus Beans – 2; Harold Bennett – 65; Ray Hall – 3; Harry Hartley – 6; Al Hayes – 57; Will Huff – 8; and Henrietta Moore – 1. 
According to Herb Block, Henry got into a conflict with his father (who composed and published liturgical music in Cincinnati) over the kind of music that Henry was composing.  Henry liked march music and said, "I will huff and puff and I will write my own music." Hence, the name Will Huff.
Fillmore was a true free spirit.  He was brought up by a conservative family in a conservative town.  When he couldn't do as he wished, he ran away with a circus and played trombone in the circus band.  To top it all off, he married an exotic dancer.
The characteristic (or trombone smear) was published in 1908 by The Fillmore Brothers Company (Cincinnati, Ohio).  Fillmore, who was considered the "father of trombone smears," wrote 15 characteristics, over a period of 21 years.  All were ragtime pieces reflecting the minstrel show idiom of vaudeville and all were deeply in the ragtime style. 
The series was advertised with a drawing of a minstrel figure playing the trombone followed by this testimonial: "an attroupement uv unprecedented dithyramb premonstrating dejocosenses uv de perambulatin' trombone."   
Stars and Stripes Forever
(John Philip Sousa – pictured at right) The march is considered the finest march ever written, and at the same time one of the most patriotic ever conceived.  As reported in the
Philadelphia Public Ledger
(May 15, 1897)
" ... It is stirring enough to rouse the American eagle from his crag, and set him to shriek exultantly while he hurls his arrows at the aurora borealis."
 (referring to the concert the Sousa Band gave the previous day at the Academy of Music).
The march was not quite so well received though and actually got only an over-average for a new Sousa march.  Yet, its popularity grew as Mr. Sousa used it during the Spanish-American War as a concert closer.  Coupled with his Trooping of the Colors , the march quickly gained a vigorous response from audiences and critics alike.  In fact, audiences rose from their chairs when the march was played.  Mr. Sousa added to the entertainment value of the march by having the piccolo(s) line up in front of the band for the final trio, and then added the trumpets and trombones join them on the final repeat of the strain.
The march was performed on almost all of Mr. Sousa's concerts and always drew tears to the eyes of the audience.  The author has noted the same emotional response of audiences to the march today.  The march has been named as the national march of The United States.
There are two commentaries of how the march was inspired.  The first came as the result of an interview on Mr. Sousa's patriotism.  According to Mr. Sousa, the march was written with the inspiration of God.
"I was in Europe and I got a cablegram that my manager was dead.  I was in Italy and I wished to get home as soon as possible, I rushed to Genoa, then to Paris and to England and sailed for America.  On board the steamer as I walked miles up and down the deck, back and forth, a mental band was playing 'Stars and Stripes Forever.'  Day after day as I walked it persisted in crashing into my very soul. I wrote it on Christmas Day, 1896."
The second, and more probable inspiration for the march, came from Mr. Sousa's own homesickness.  He had been away from his homeland for some time on tour, and told an interviewer:
"In a kind of dreamy way, I used to think over old days at Washington when I was leader of the Marine Band ... when we played at all public functions, and I could see the Stars and Stripes flying from the flagstaff in the grounds of the White House just as plainly as if I were back there again."
"Then I began to think of all the countries I had visited, of the foreign people I had met, of the vast differences between America and American people and other countries and other peoples, and that flag our ours became glorified ... and to my imagination it seemed to be the biggest, grandest, flag in the world, and I could not get back under it quick enough."
"It was in this impatient, fretful state of mind that the inspiration to compose 'The Stars and Stripes Forever' came to me."
I 
The Medina Community Band 
Marcus Neiman, conductor
Curtis Amrein, associate conductor
Friday Evening, June 22nd, 2012
8:30 p.m. 
Program
National Anthem, The Star Spangled Banner (1931) ............. Francis Scott Key/John Philip Sousa 
Rhapsody, American Folk Rhapsody No. 3 (1970) ................. Clare Grundman 
Serenade, A Night in June (1915) ............................................... Karl L. King 
Trumpet Solo, Concerto for Trumpet in E-flat Major, S 49 (1803) Johann Hummel 
Mason Rorapaugh, soloist 
March, Gladiator's Farewell (1907) ................... Hermann Ludwig Blankenburg 
Tuba Solo, Puff the Magic Dragon (1962) ........  Leonard Lipton & Peter Yarrow/Richard Maltby
Kyle Snyder, soloist 
March, A Century of Progress (1931) .................................  John Philip Sousa 
Vocal solos 
   Vilya (from Merry Widow) (1941)............................................ Victor Herbert/Leonard B. Smith
   Laughing Song (from Die Fledermaus) (1874)................. Johann Strauss, Jr./Leonard B. Smith
Lara Troyer, soprano soloist 
Trombone Characteristic, Miss Trombone (1909) ....................... Henry Fillmore 
National March, The Stars and Stripes Forever (1896).......... John Philip Sousa 
Patriotic, Till We Meet Again (1918)................................... Richard A. Whiting/William Teague
Medina Community Band Personnel




Flute/Piccolo
  Anna Ayoub, physician (Akron)
  Elizabeth Burdick, teacher (N Royalton)
  Sue McLaughlin, systems analyst (Medina)
 
Oboe
  Erin Boedicker, high school student (Wads)
 
Bassoon
  Monica Lenox, artist (Wadsworth)
 
E-flat Clarinet
  Mary Ann Grof-Neiman, music admin (Med)
 
B-flat Clarinet
  Ben DiFranco. retired (Strongsville)
  Amy Dragga, grant writer (Bedford)
  Abbey Dragich, MS student (Medina)
  Mary Ann Grof-Neiman, music admin (Med)
  Laura Nary, vocal music teacher (N Roy)
  Vicki Smith, band director (Wadsworth)
  Carl Stefaniak, dentist (Hinckley)
 
B-flat Bass Clarinet
  Andy Urban, MS student (Hinckley)
 
E-flat Alto Saxophone


  

Carly Schafer, trans biller (Cleveland)
  Tommy Walker, retired band director (Medina)


 


Horn


  

Melinda Kellerstrass, music teacher (N Royalton)


  

Michael Robinson, music teacher (Brunswick)


  

Chelsea Smith, college student (Seville)


  

Alexis Trout, HS student (Medina)
 
Cornet


 

 

Glenn Baughman, retired – chemist (Wads)


  

Christopher Burdick, band director (N Royalton)


  

Michelle Clayo, medical assistant (Medina)


  

Marcia Nelson-Kline,

Ophthalmic tech (Copley)


  

Mary Phillips, retired media specialist (N Roy)


  

Paul Rocco, retired police officer (Medina)


  

Jeremy Ulm, HS student (Medina)
 
Trumpet


  

LuAnn Gresh, music teacher (Wadsworth)
 
Trombone


  

John Connors, college student (Medina)


  

John Fenzel, retired – telecommunications (Hinckley)


  

Kenneth Kriebel, retired (Wadsworth)


  

Rob Schroeder, HS student (Medina)
 
Euphonium


  

Kevin Gamin, IT specialist (Medina)


  

Pat McDermott, band director (Medina)
 
Tuba


  

Robert Jones, retired (Berea)


  

Allan Kelley, retired database adm (Cleveland)
 
Percussion
 Bill Becker
 Gerald Carasea, retired band director (Clinton)


 

Lila Robinson, CWRU Admin (Brunswick)
 
Conductors
  Curtis Amrein, band director (Akron)
  Marcus Neiman, college professor (Medina)