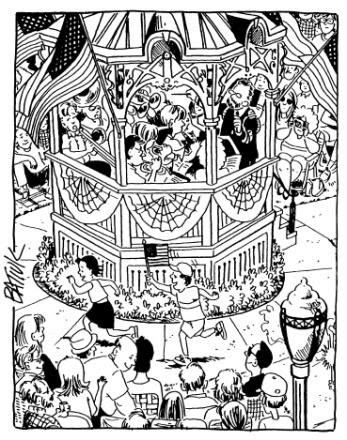 This concert was cancelled due to bad weather, music selections may appear in future concerts. 

All music program listings are subject to change.




Medina Community Band

Complete information on the each concert, literature performed, soloists, and guest conductors, as well as personnel.

This material covers the 4th concert – Friday, June 24th, 2011, 8:30p – 9:30p

Site: Medina's Uptown Park Square (intersections of Rts 18, 42, Broadway and Liberty Street)

Cancellation of concerts due to the weather will be posted on the website!



MEDINA:  

Medina Community Band will continue the 2011 summer season, a celebration of 152 years of presenting community concerts in Medina, on

Friday, June 24

th

, 2011

, at

8:30p

, in

Medina's Uptown Park Square Gazebo

.  

Featured soloists on this hour-long concert will be:

Marcia Nelson-Kline

, cornet, and

Debra Bordo

, vocal soloist.  The Medina Community Band is under the baton of conductor

Marcus Neiman

and associate conductor

Curtis Amrein.  

The 60 minute concert will feature works by Mendelssohn, Berlioz, Simon, King, Anderson, Gershwin, Molloy, Goldman, Fillmore, and Sousa.  Ron Foster, recipient of the 2011 Medina Hospital Foundation "Maestro for a Night," will be featured guest conductor in the march

The

 

Washington Post by J.P. Sousa.  Medina Community Band is sponsored by the Medina Community Band Association, a standing committee of the Medina Breakfast Kiwanis Club.



Featured Soloists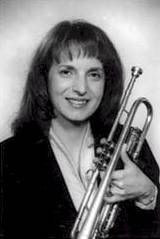 Marcia Nelson Kline
(cornet, at left) began her trumpet studies with parents, Milton and Sarah Nelson and Lloyd Haines. She continues her studies with Harry Herforth while earning an associate degree in medical assisting at The University of Akron.  Marcia has performed with Cleveland Women's Orchestra, Goodyear Band, and Mill Street Brass Quintet.  She currently performs with The Brass Band of the Western Reserve, Sounds of Sousa Band, and is in her 25
th
year as a member of Medina Community Band.  Marcia is an ophthalmic technician and resides in Copley with husband, John.  She will perform Frank Simon's
Willow Echoes
.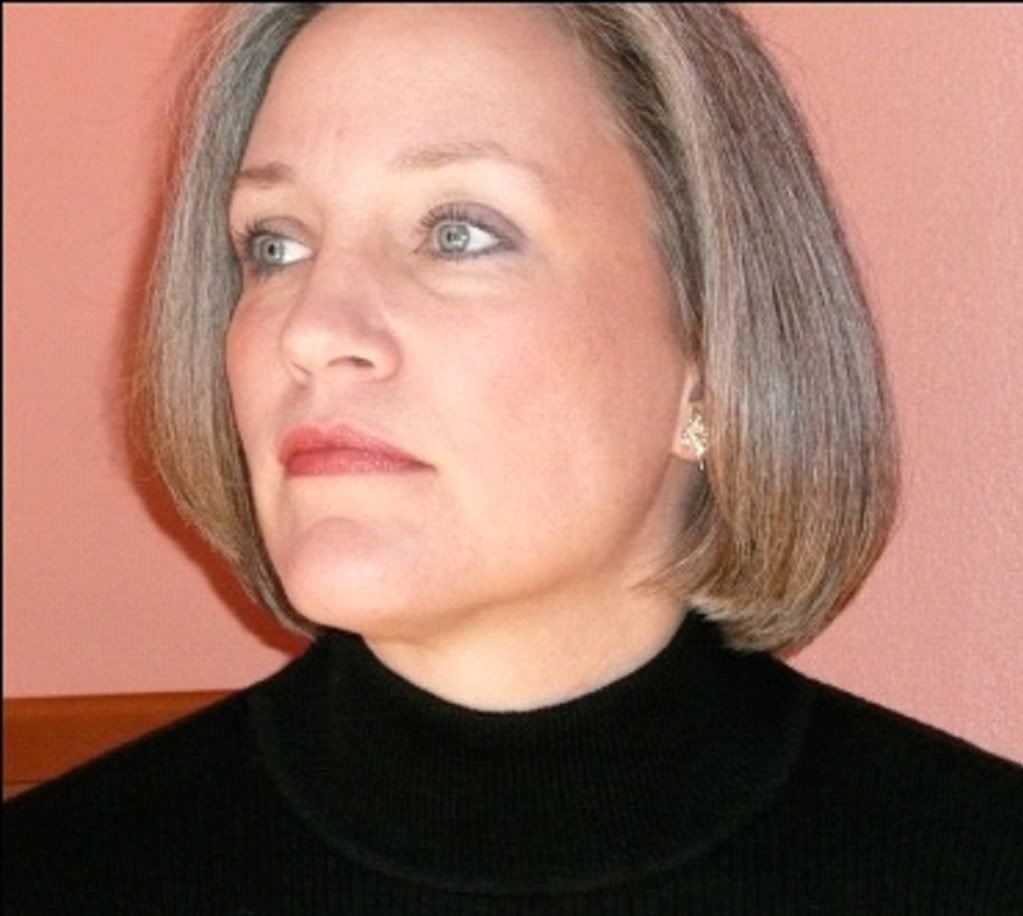 Deb Bordo
(soprano, at right), mezzo-soprano, has wide ranging experience in vocal music in both classical and pops settings.  Trained at the University of Wisconsin-Platteville, she has taught vocal music at all public-school levels while enjoying a full performing life.  Ms. Bordo's musical theater roles include Nellie in
South Pacific
, the Mother in
Amahl and the Night Visitors
, Sister Mary Amnesia in
Nunsense
, Zita in
Gianni Schicchi,
and Eva Peron in
Evita
, as well as a number of Gilbert and Sullivan operettas.  
In 2008, with the chamber orchestra Akron Baroque, she premiered
Requiem for Soprano and Orchestra
by Amy Barlowe. Most recently, she debuted
Love, As Time Goes By,
a medley of love songs through the years with the Richmond Symphony Orchestra in Richmond, IN.  Her ensemble repertoire has included works by Mozart, Bernstein, Brahms, Beethoven, and Orff.  
Now in her 24
th
year of teaching, Ms. Bordo is the director of high school choral music with Lake Local Schools in Uniontown, Ohio.  She directs the Advanced Choir, Concert Choir, Sixth-grade Choir, and Reflections show choir as well as a Broadway musical each year.  She is a graduate student in vocal performance at The University of Akron studying with James Mismas. She will perform George and Ira Gershwin's
Embraceable You
from
Girl Crazy
and J.L. Molloy's
Love's Old Song.
Conductors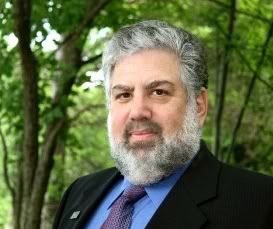 Marcus Neiman
(left) celebrates his 39
th
season as conductor of the Medina Community Band.  Neiman continues in the position of interim director of concert band at Kent State University where he teaches their on-campus "Music Teaching as a Profession" course and supervises music education student teachers, serving as a part-time assistant professor.  
He received his bachelor of science in music education degree from The University of Akron; master of music in music education degree from The University of Michigan; and, post-degree doctorial work at The Kent State University.
He is a member of the 1993-94 class of
Leadership Medina County
.  Neiman remains active with Ohio Music Education Association (OMEA), having served as state president of that organization from 1998-2000, and currently serves as a woodwind adjudicator and state historian.  He is the recipient OMEAs highest honor, the "Distinguished Service Award," presented to him on January 29
th
, 2010.  Neiman is the artistic director and founding conductor of the professional concert band – The Sounds of Sousa Band and appears throughout the nation as a guest clinician and conductor.
Marcus and his wife Mary Ann, who is a professional clarinetist and program administrator - preparatory and continuing education department for the Cleveland Institute of Music, reside in Medina with their two cats Sasha and Dmitri. Marcus has two daughters (Nancy and Jennifer) from a previous marriage, three granddaughters, one grandson, and a godson.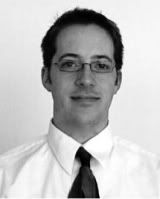 Curtis Amrein
(associate conductor, at right) is the director of bands at U.L. Light Middle School in Barberton, Ohio. His responsibilities include teaching sixth, seventh, and eighth grade bands in addition to jazz and percussion ensembles. Under his direction, students at U.L. Light have received superior ratings at Ohio Music Education Association large group and solo and ensemble adjudicated events. 
Curtis received his bachelor's degree in music education from The Ohio State University in 2004, where he graduated Magna Cum Laude. While there, Mr. Amrein performed with the Symphonic Band, Wind Symphony, and Symphony Orchestra. He is a trumpet student of Timothy Leasure and was the 2004 recipient of the Richard Burkart Trumpet Award. Curtis' conducting teachers include Dr. Richard Blatti and Marcus Neiman.
 
Mr. Amrein serves as both an associate conductor and trumpet player with the Medina Community Band. He also performs with the Sounds of Sousa Band, also under the direction of Marcus Neiman. Curtis is an active member of the Ohio Music Educators Association, National Association for Music Education (MENC), and Ohio Education Association. The 2011 season is Curtis' first as associate conductor of Medina Community Band.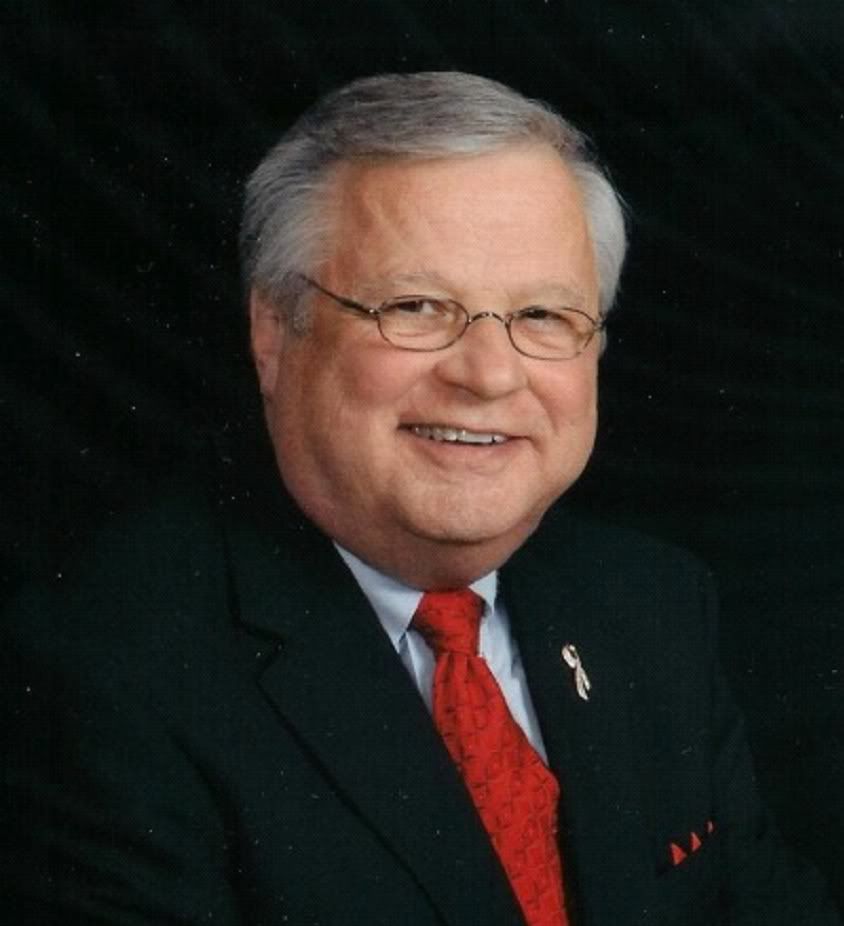 Ron Foster

(at left) is the 2011 Medina Hospital Foundation recipient of the "Maestro for a Night."  Born in Ironton (OH), he was a tuba player in high school and member of the Ironton High School Tigers Marching Band, Concert Band, and Dance Band.  He was a business major at The Ohio State University, attended Baldwin Wallace College, and has been a resident of Medina County for 30 years.
Ron is a retired regional sales manager for Gems Sensors Division of Danaher Corporation and currently an accounts manager for Ohio Brake & Clutch Corporation, an industrial distributor of Motion Control Products.  He is an active member of First Christian Church and a long-time supporter of Medina Community Band.  Ron is a widower and currently resides in Medina with Casper, his cat.
He will conduct John Philip Sousa's march The Washington Post.
Program Notes
Star Spangled Banner
(John Stafford Smith arranged by John Philip Sousa) uses lyrics from a poem written in 1914 by Francis Scott Key, a then 35-year-old amateur poet after seeing the bombardment of Fort McHenry at Baltimore, Maryland, by Royal Navy ships in Chesapeake Bay during the War of 1812.


The poem was set to the tune of a popular British drinking song, written by John Stafford Smith for the Anacreontic Society, a London social club.  Set to Key's poem and renamed "The Star-Spangled Banner," it would soon become a well-known American patriotic song.  It was recognized for official use by the United States Navy in 1889 and the President in 1916, and was made the national anthem by a congressional resolution on March 3, 1931 (46 Stat. 1508, codified at 36 U.S.C. § 301), which was signed by President Herbert Hoover.
Before 1931, other songs served as the hymns of American officialdom. Most prominent among them was "Hail, Columbia" which served as the de facto national anthem from Washington's time and through the 18
th
and 19
th
centuries.  Following the War of 1812 and subsequent American wars, other songs would emerge to complete for popularity at public events, among them "The Star Spangled Banner."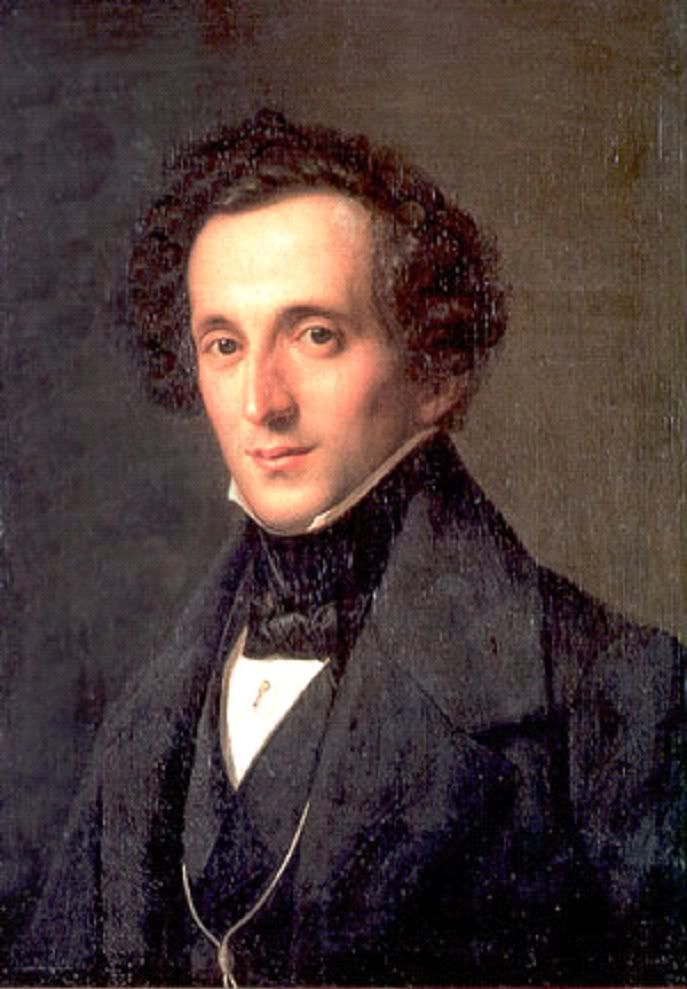 Ludwig Felix Mendelssohn Bartholdy
, (at left) was a German composer, pianist, and organist conductor of the early Romantic period.  The grandson of the philosopher Moses Mendelssohn, he was born to a notable Jewish family which later converted to Christianity.  He was recognized as a prodigy, but his parents were cautious and did not seek to capitalize on his abilities.  Indeed, his father was disinclined to allow Felix to follow a musical career until it became clear that he intended to seriously dedicate his life to music.  Early success in Germany was followed by travel throughout Europe; Mendelssohn was particularly well received in England as a composer, conductor, and soloist, and his ten visits there, during which many of this major works were premiered, form an important part of his adult career. His essentially conservative musical tastes however set him apart from many of this more adventurous musical contemporaries such as Liszt, Wagner, and Berlioz. The Conservatoire he founded at Leipzig became a bastion of this anti-radical outlook.
Mendelssohn was invited by the Theatrical Pension Fund in Leipzig to write an overture and romance for Victor Hugo's
Ruy Blas
, to be performed for charity.  Though Mendelssohn regarded Hugo's play as "detestable and beneath contempt," he complied.  The overture was played for the first time (on March 11, 1839) as the musical introduction to the play.  It begins with four bars of stately music in brass and woodwinds.  After the principal theme has been foreshadowed in the strings, it is given by the first violins and flutes.  The introductory slow measures are then repeated, followed by a suggestion of the second theme, staccato in clarinet, bassoon, and cellos.  All themes are then developed.  The overture ends with an energetic coda.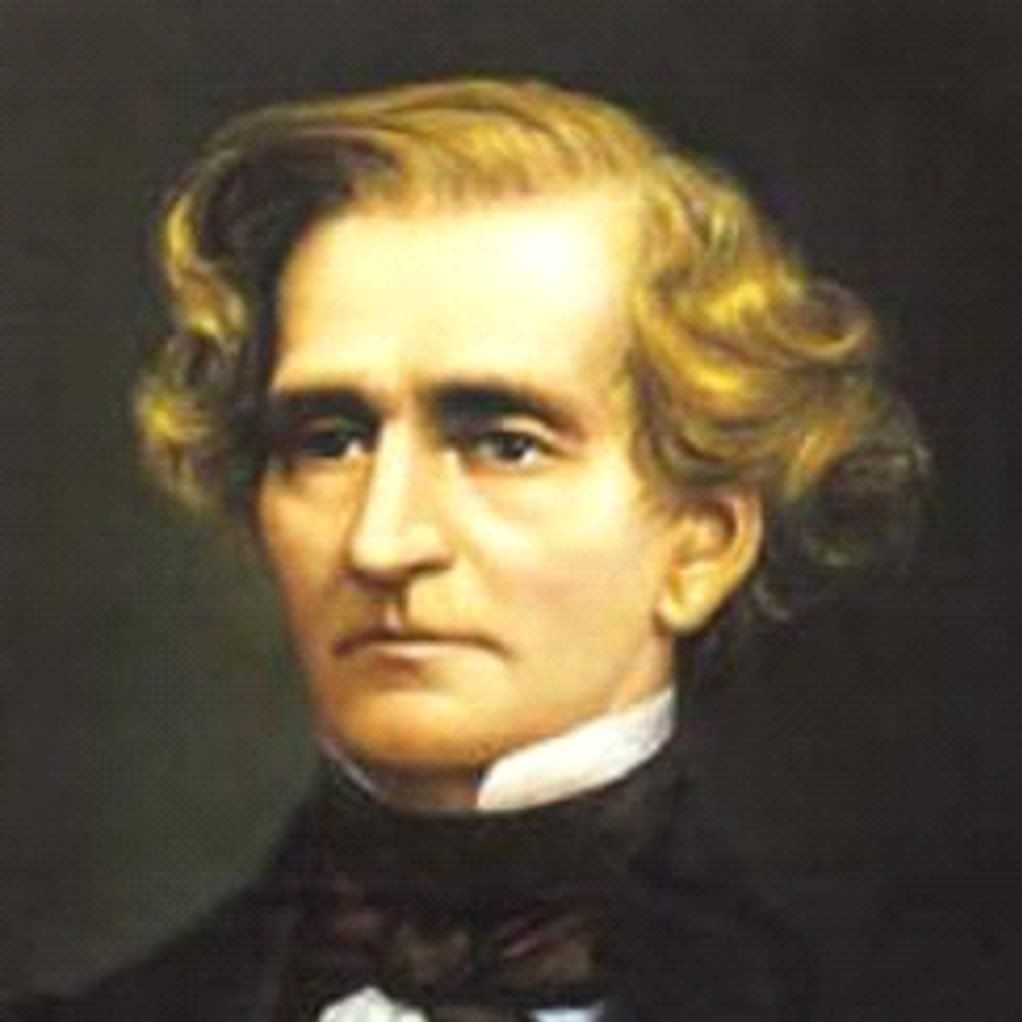 Hector Berlioz
(at right) was a French composer who lived from 1803 to 1869.  His father, a prosperous physician, wanted him to follow in his footsteps and become a doctor, but he preferred music rather than medicine.  Berlioz did attend medical school for a while, but eventually was able to convince his father that this was the wrong career for him. In 1826, he entered the Paris Conservatory where, four years later, he won the Prix de Rome, an important award which included a fellowship for further work and studies in Rome.
Berlioz achieved his first major success in 1830 with his
Symphonie fantastique
, a programmatic symphony that brought the orchestra to new heights by employing the standard instruments in new ways and unusual combinations.
Berlioz soon became well known for his flamboyant style and brilliant orchestration.  For him, bigger was better, and he loved to write for large instrumental forces. In his music, it was not unusual to find gentle, lyrical episodes standing side-by-side with powerful, bombastic ones.  In addition to being a composer, Berlioz was well known as a perceptive music critic and a gifted writer on musical subjects.  The textbooks, which he wrote on orchestration, are still used in music schools today.
Berlioz composed his
Hungarian March
in 1846 for a concert in Budapest.  The march used a favorite Hungarian national tune called the Rakoczy theme, which was named for the famous Hungarian patriot Ferenc Rakoczy.  That same year, Berlioz incorporated this march into
The Damnation of Faust
, his large-scale setting for vocal soloists, chorus, and orchestra of the great German dramatist Goethe's story about a man who sells his soul to the devil in exchange for knowledge.  The Hungarian Mach begins with a trumpet fanfare, after which the flutes and clarinets softly introduce the Rakoczy theme.  Through a long
crescendo
, this theme grows steadily in power and sonority until it blazes forth in its full glory, majestically proclaimed by the brasses and carried by them to a rousing conclusion.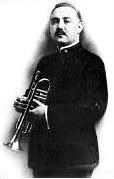 Simon, Frank
(at right), one of the most beloved of all American bandmasters and music educators, was born in Cincinnati, Ohio, on November 26, 1889. His parents were Solomon Simon and Bertha Felsenthal Simon, proprietors of a dry goods and notions store. Recognizing Frank's exceptional music talent, his parents made many sacrifices to provide him with the best possible music education, working with the best teachers in the area.
Simon held positions with the Cincinnati Symphony Orchestra, under Leopold Stokowski; the Sousa Band (as solo cornetist and assistant conductor); Cincinnati Conservatory of Music, founding the band and instrumental music program; ARMCO Band, founding director.  Simon presented weekly broadcasts on WLW for several seasons and received many awards during his lifetime, including honorary Doctor of Music degrees from the Capital College of Oratory and Music (Columbus, Ohio) [not to be confused with Capital University, also in Columbus] in 1930 and the University of Cincinnati in 1966. Among his other awards were the Medallion of Merit from the University of Arizona (1960) and the Edwin Franko Goldman Award from the American School Band Directors Association in 1965. On his 75th birthday in 1964, his sons presented him with a bound volume of 500 testimonial letters from associates and former students. Simon's influence on bands was also felt through his dedicated service to the American Bandmasters Association.


Willow Echoes
(Cornet Solo) was published in 1920 by Fillmore Bros. Co. Willow Echoes was Frank Simon's tour-de-force, a solo he performed many times with the Sousa Band. It is speculated that the title reflects fond memories of many rehearsals and concerts at Willow Grove Park, home of the Sousa Band. It is one of the most elegant works in the cornet solo repertory. Simon went to his death saying that the inspiration for
Willow Echoes
was Herbert L. Clarke, famed solo cornetist with The Sousa Band.  Clarke had told him that the best soloists were those who played their own music. Simon was inspired by Willow Grove, that pantheon of good band music.  The new piece was a hit with Mr. Sousa, Mr. Clarke, and the public.  Mr. Sousa commented on hearing the piece for the first time,
"This is it, this is exactly what I've been looking for, this is what I want.  You play it at the night shows."  
What more could one ask?


Karl Lawrence King
(at right) was born February 21, 1891 in Paintersville, Ohio. His family moved to Xenia a short time later, and around the turn of the century, the King family moved to Canton, where young Karl would begin to develop an interest in bands and music. After receiving some instruction on the cornet, King switched to baritone. His first band experience was with the Thayer Military Band of Canton, while in his teens. In 1909 King spent some time as a member of bands in Columbus and also Danville, Illinois. While a member of these bands, King began to compose marches and other works. Beginning in 1910, King began a decade-long career as a circus musician, spending one season each as a baritone player in the bands of Robinson's Famous Circus, Yankee Robinson Circus, Sells Floto Circus, and the Barnum and Bailey "Greatest Show On Earth." He continued to write music while a member of these bands, and in 1913 wrote what would become his masterpiece, "Barnum and Bailey's Favorite."
In 1914 King accepted the position as bandleader on the Sells Floto/Buffalo Bill Combined Shows, a position he would hold for three seasons. In 1917 and 1918 he returned to the Barnum and Bailey Circus band, this time as its leader and conductor. Recently married and intent upon settling down, King ended his circus "trouping days" and returned to Canton in 1919, where he led the Grand Army Band. In 1920 King relocated to Fort Dodge, Iowa, where he assumed leadership of the municipal band and operated his own publishing company, the K. L. King Music House. During his tenure, the Fort Dodge band gained national recognition, and King became a beloved member of the community as well as a band musician of national and international repute. Among many honors bestowed upon King was membership in the prestigious American Bandmasters Association. He served as ABA President in 1938 and was later named an Honorary Life President. He lived in Fort Dodge for the remainder of his life, passing away on March 31, 1971. His Fort Dodge band was subsequently renamed the "Karl L. King Municipal Band" in his honor. On October 22, 2006, a life-sized bronze statue of Mr. King was unveiled on the city square in Fort Dodge, as a testament and monument to the city's most famous musician and citizen.
As a composer, King was one of the most prolific and popular in the history of band music. He composed at least 291 works, including 185 marches, 22 overtures, 12 galops, 29 waltzes, and works in many other styles. Not only did he compose some of the most brilliant and famous marches for experienced bands at the professional and university levels; he also displayed a remarkable ability to compose first-rate music for younger, less experienced musicians and bands. His music continues to be performed worldwide by bands of all experience levels.
Of the many serenades King wrote,
A Night In June
(1915) seemed to be one of the most popular.  The piece has been transcribed for solo flute, clarinet, alto saxophone, trumpet, trombone, baritone, as well as various duets.  It was also considered to be one of Mrs. Karl King's favorite serenades.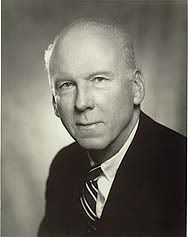 Clarinet Candy.  
Composed by
Leroy Anderson
(pictured at right). Written in 1962 as a showpiece for four solo clarinets in the style of
Bugler's Holiday,
we feature our entire clarinet section.
Born in Cambridge, Massachusetts to Swedish parents, Anderson was given his first piano lessons by his mother, who was a church organist. He continued studying piano at the New England Conservatory of Music. In 1925 Anderson entered Harvard University, where he studied theory with Walter Spalding, counterpoint with Edward Ballantine, and harmony with George Enescu, composition with Walter Piston and double bass with Gaston Dufresne. He also studied organ with Henry Gideon. He graduated with a Bachelor of Arts degree in 1929 and Master of Arts in 1930.
Anderson continued studying at Harvard, working towards a PhD in German and Scandinavian languages. (Anderson spoke English and Swedish during his youth but he eventually became fluent in Danish, Norwegian, Icelandic, German, French, Italian, and Portuguese.) During this time he was also working as organist and choir director at the East Milton Congregational Church, leading the Harvard University Band, and conducting and arranging for dance bands around Boston. His arranging work came to the attention of Arthur Fiedler in 1936 and Anderson was asked to show Fiedler any original compositions. Anderson's first work was
Jazz Pizzicato
in 1938. Fiedler suggested that a companion piece be written and thus Anderson wrote
Jazz Legato
in 1938.


In 1942 Leroy Anderson joined the U.S. Army, and was assigned to Iceland as a translator and interpreter. Later in 1945 he was assigned to The Pentagon as Chief of the Scandinavian Desk of Military Intelligence. But his duties did not prevent him from composing, and in 1945 he wrote "The Syncopated Clock" and "Promenade". Anderson was a reserve officer and was recalled to active duty for the Korean War. In 1951 Anderson wrote his first hit, "Blue Tango", earning a Golden Disc and the No. 1 spot on the Billboard charts.
George Gershwin
(at left) was essentially self-taught; he was first a song plugger in Tin Pan Alley and an accompanist. In his teens he began to compose popular songs and produced a succession of musicals from 1919 to 1933 (
Lady, be Good!
, 1924;
Oh, Kay!
, 1926;
Strike up the Band
, 1927;
Funny Face
, 1927;
Girl Crazy
, 1930); the lyrics were generally by his brother Ira (1896 1983).
Embraceable You is a popular song, with music by George Gershwin and lyrics by Ira Gershwin. The song was originally written in 1928 for an unpublished operetta named East is West. It was eventually published in 1930 and included in the Broadway musical Girl Crazy  where it was performed by Ginger Rogers in a song and dance routine choreographed by Fred Astaire. Billie Holiday's 1944 recording was inducted into the Grammy Hall of Fame.
John Philip Sousa's Washington Post March. During the 1880's, several Washington, DC, newspapers competed vigorously for public favor.  One of those, the Washington Post, organized what was known as the Washington Post Amateur Authors' Association and sponsored an essay contest for school children.  Frank Hatton and Beriah Wilkins, owners of the newspaper, asked Sousa, then leader of the Marine Band, to compose a march for the award ceremony.
The ceremony was held on the Smithsonian grounds on June 15, 1889.  President Harrison and other dignitaries were among the huge crowd.  When the new march was played by Sousa and the Marine Band, it was enthusiastically received, and within days it became exceptionally popular in Washington.
The march happened to be admirably suited to the two-step dance, which was just being introduced.  A dancemaster's organization adopted it at their yearly convention, and soon the march was vaulted into international fame.  The two-step gradually replaced the waltz as a popular dance, and variations of the basic two-step insured the march's popularity all through the 1890s, and into the 20th century.  Sousa's march became identified with the two-step, and it was as famous abroad as it was in The United States.  In some European countries, all two-steps were called "Washington posts." Pirated editions of the music appeared in many foreign countries.  In Britain, for example, it was known by such names as "No Surrender" and "Washington Grays."
Next to "The Stars and Stripes Forever,"  "The Washington Post" has been Sousa's most widely known march.  He delighted in telling how he had heard it in so many different countries, played in so many different ways -- and often accredited to native composers.  It was a standard at Sousa Band performances and was often openly demanded when not scheduled for a program.  It was painful for Sousa to relate that, like "Semper Fidelis" and other marches of that period, he received only $35 for it, while the publisher made a fortune. Of that sum, $25 was for a piano arrangement, $5 for a band arrangement, and $5 for an orchestra arrangement.
Today, at a community room in Washington, a spotlight illuminates a life-size color portrait of the black-bearded Sousa, resplendent in his scarlet Marine Band uniform.  This is the John Philip Sousa Community Room in the Washington Post Building.  It is the newspaper's tribute to the man who first gave it worldwide fame.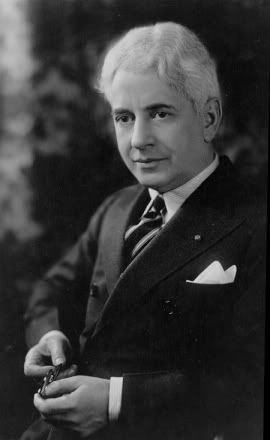 Edwin Franko Goldman
(pictured at right) was born January 1, 1878, in Louisville, Kentucky, the son of David Henry and Selma Franko Goldman. The family moved to Evansville, Indiana in 1879 and, finally, to Terre Haute, Indiana. His father died in Terre Haute on December 18, 1886, when Goldman was only eight years old, and the following year, Selma and her four children, Edwin, Mayer, Irma and Alfred, moved to New York City. Before her marriage, Goldman's mother was a professional pianist and part of the famous Franko Family, which made its debut at Steinway Hall in New York on September 17, 1869. Goldman founded the New York Military Band in 1911, later known as the famous Goldman Band. The band played in many summer band concerts throughout New York, especially The Green at Columbia University and then The Mall in Central Park. In the 1930s the band performed three nights a week at the bandstand in Brooklyn's Prospect Park. They were also heard on many radio broadcasts. A feature every concert was the encore, almost always Ravel's "Boléro" or Goldman's own composition "On the Mall," accompanied by the audience singing the theme.


Like his sing-a-long
On the Mall
, a companion composition –
Cherrio
carried on the tradition of a delightful sing-whistle march.



Henry Fillmore
(at left) was one of our most prolific composers with 256 compositions to his record and almost 800 arrangements.  He published under various pseudonyms as well as his own name: Henry Fillmore -114; Gus Beans – 2; Harold Bennett – 65; Ray Hall – 3; Harry Hartley – 6; Al Hayes – 57; Will Huff – 8; and Henrietta Moore – 1.  
According to Herb Block, Henry got into a conflict with his father (who composed and published liturgical music in Cincinnati) over the kind of music that Henry was composing.  Henry liked march music and said, "I will huff and puff and I will write my own music." Hence, the name Will Huff.
Fillmore was a true free spirit.  He was brought up by a conservative family in a conservative town.  When he couldn't do as he wished, he ran away with a circus and played trombone in the circus band.  To top it all off, he married an exotic dancer.
Stories of a connection between a car horn and the
Klaxon March
are factual.  Composed in 1929 and published the next year, the march (subtitled
March of the Automobiles
) was written for the Cincinnati Automobile Show which began at the Music Hall in January, 1930.  Fillmore also invented a new instrument for the occasion called klaxophone.  It consisted of 12 automobile horns, mounted on a table and powered by an automobile battery.  The idea caught on and car dealers across the country eagerly purchased copies of the march to promote lagging sales.  The printed dedication reads "to the producers of the klaxon automobile horn."  Of his many compositions, Henry considered this his best march.


Valdres March
is a charming and inspiring masterpiece in miniature. In 1904, Hanssen completed the march, which he began in 1901. He played in the band that premiered the work in an Oslo outdoor concert. Only two people applauded, and they were his best friends. Subsequently he sold the work to a publisher for the equivalent of about five dollars. Today the march is internationally popular.
The title was taken from the Valdres region- about half-way between Oslo and Bergen and one of the most beautiful places on earth. The first three measures of the march contain the Valdres Battalion's signature fanfare, which is based on an ancient melody for the lur (a straight wooden trumpet). The second theme is an old tune for Hardanger-fiddle. In the Trio Hanssen uses a drone bass- a characteristic trait of Norwegian music- beneath a simple tune based on the pentatonic scale.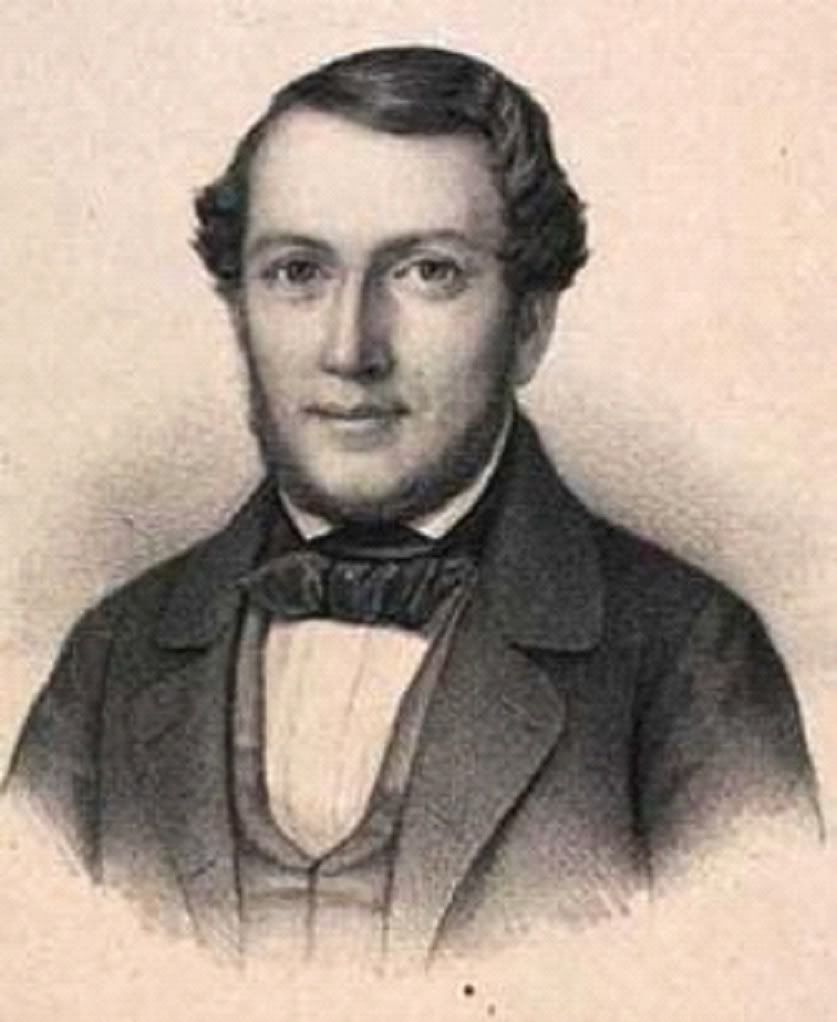 Johannes Hanssen
(at right) was one of Norway's most active and influential bandmasters, composers, and teachers during the first half of the twentieth century. As a young boy, he played in a military band in Oslo. He was bandmaster of the Oslo Military Band from 1926 to 1934 and from 1945 to 1946, his career there having been interrupted by the Second World War. He played double bass with the National Theatre, the Norwegian Radio Orchestra, and other orchestras. He taught conducting and music theory for several years and wrote music texts for a correspondence school.
During his long career, he composed many works and received many honors. His most famous works for band include
Valdres March
,
The Olympic Fanfare
(1952), and
Humoreske
. Incredibly, the majority of his band compositions remain in manuscript with the Oslo Military Staff Band.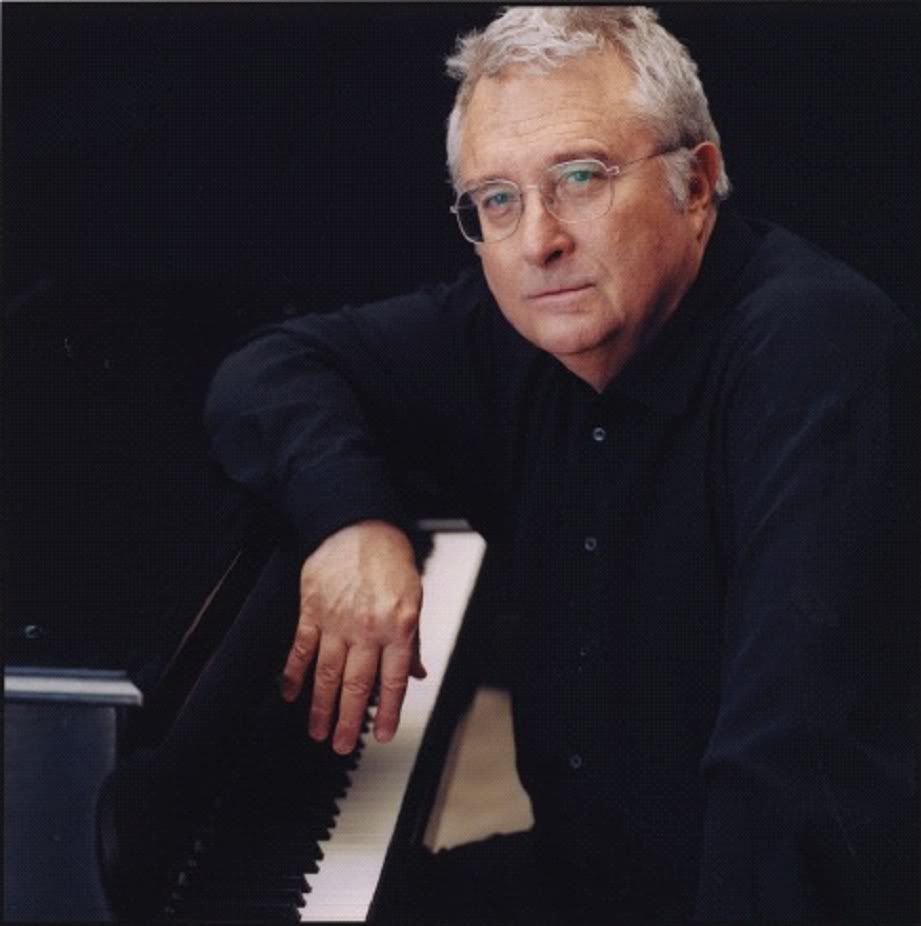 Randall Stuart
"
Randy
"
Newman
(born November 28, 1943 and pictured at left) is an American singer-songwriter, arranger, composer, and pianist who is known for his mordant (and often satirical) pop songs and for film scores.
Newman (at left) often writes lyrics from the perspective of a character far removed from Newman's own experiences, sometimes using the point of view of an unreliable narrator. For example, the 1972 song "Sail Away" is written as a slave trader's sales pitch to attract slaves, while the narrator of "Political Science" is a U.S. nationalist who complains of worldwide ingratitude toward America and proposes a brutally ironic final solution. One of his biggest hits, "Short People" was written from the perspective of "a lunatic" who hates short people. Since the 1980s, Newman has worked mostly as a film composer. His film scores include
Ragtime
,
Awakenings
,
The Natural
,
Leatherheads
,
James and the Giant Peach
,
Meet the Parents
,
Seabiscuit
 and
The Princess and the Frog
. He has scored six Disney-Pixar films:
Toy Story
,
A Bug's Life
,
Toy Story 2
,
Monsters, Inc.
,
Cars
and most recently
Toy Story 3
.
He has been awarded two Academy Awards, three Emmys, five Grammy Awards, and the Governor's Award from the Recording Academy.  Newman was inducted into the Songwriters Hall of Fame in 2002. In 2007, Newman was inducted as a Disney Legend.  In 2011, Newman won his second Oscar, for the song "We Belong Together" from
Toy Story 3
at the 83rd Academy Awards.
Cars
is a 2006 American animated family film produced by Pixar and directed by both John Lasseter and Joe Ranft. It is the seventh Disney·Pixar feature film, and Pixar's final, independently-produced motion picture before its purchase by Disney. Set in a world populated entirely by anthropomorphic cars and other vehicles, it features voices by Owen Wilson, Paul Newman (in his final non-documentary feature), Bonnie Hunt, Cheech Marin, Jenifer Lewis, Tony Shalhoub, John Ratzenberger, George Carlin, Larry the Cable Guy and Michael Keaton as well as voice cameos by several celebrities including Jeremy Piven, Jeremy Clarkson of
Top Gear
, Richard Petty, Dale Earnhardt Jr., Bob Costas, Darrell Waltrip, Jay Leno, Michael Schumacher, Tom and Ray Magliozzi from NPR's
Car Talk
, and Mario Andretti. The film is also the second Pixar—after
A Bug's Life
—to have an entirely non-human cast.
Cars
premiered on May 26, 2006 at Lowe's Motor Speedway in Concord, North Carolina, and was released on June 9, 2006, to generally favorable reviews. It was nominated for two Academy Awards, including Best Animated Feature, and won the Golden Globe Award for Best Animated Feature Film.
Stars and Stripes Forever
(John Philip Sousa – pictured at right) The march is considered the finest march ever written, and at the same time one of the most patriotic ever conceived.  As reported in the
Philadelphia Public Ledger
(May 15, 1897)
" ... It is stirring enough to rouse the American eagle from his crag, and set him to shriek exultantly while he hurls his arrows at the aurora borealis."
 (referring to the concert the Sousa Band gave the previous day at the Academy of Music).
The march was not quite so well received though and actually got an over average rating for a new Sousa march.  Yet, its popularity grew as Mr. Sousa used it during the Spanish-American War as a concert closer.  Coupled with his
Trooping of the Colors
, the march quickly gained a vigorous response from audiences and critics alike.  In fact, audiences rose from their chairs when the march was played.  Mr. Sousa added to the entertainment value of the march by having the piccolo(s) line up in front of the band for the final trio, and then added the trumpets and trombones join them on the final repeat of the strain.
The march was performed on almost all of Mr. Sousa's concerts and always drew tears to the eyes of the audience.  The author has noted the same emotional response of audiences to the march today.  The march has been named as the national march of The United States.
There are two commentaries of how the march was inspired.  The first came as the result of an interview on Mr. Sousa's patriotism.  According to Mr. Sousa, the march was written with the inspiration of God.
"I was in Europe and I got a cablegram that my manager was dead.  I was in Italy and I wished to get home as soon as possible, I rushed to Genoa, then to Paris and to England and sailed for America.  On board the steamer as I walked miles up and down the deck, back and forth, a mental band was playing 'Stars and Stripes Forever.'  Day after day as I walked it persisted in crashing into my very soul. I wrote it on Christmas Day, 1896."
The second, and more probable inspiration for the march, came from Mr. Sousa's own homesickness.  He had been away from his homeland for some time on tour, and told an interviewer:
"In a kind of dreamy way, I used to think over old days at Washington when I was leader of the Marine Band ... when we played at all public functions, and I could see the Stars and Stripes flying from the flagstaff in the grounds of the White House just as plainly as if I were back there again."
"Then I began to think of all the countries I had visited, of the foreign people I had met, of the vast differences between America and American people and other countries and other peoples, and that flag our ours became glorified ... and to my imagination it seemed to be the biggest, grandest, flag in the world, and I could not get back under it quick enough."
"It was in this impatient, fretful state of mind that the inspiration to compose 'The Stars and Stripes Forever' came to me."

That America's entry into the First World War helped end it and most likely prevented a German victory is fact.  In popular music, 1917 and 1918 were almost exclusively patriotic with one of the most popular being Richard Whiting's
Till We Meet Again.


With music written by
Richard A. Whiting
(at left) and lyrics by Raymond B. Egan, the song tells of the parting of a soldier and his sweetheart.  As Whiting's sister Margaret tells it, the song was intended for a 1918 contest at a Detroit Theater.  Dissatisfied with the results, Whiting threw the manuscript in the trash.  His secretary retrieved it and showed it to their boss, publisher Jerome Remick, who submitted it in the contest, where it won top honors.
The Medina Community Band
Marcus Neiman, conductor
Curtis Amrein, associate conductor
Friday Evening, June 24, 2011
8:30 p.m.
Program
National Anthem, The Star Spangled Banner (1931)    Francis Scott Key/John Philip Sousa
Overture, Ruy Blas (1839)................................................    Felix Mendelssohn/T.M. Tobani
March, March Hongroise - Rakoczy (1846)...................    Hector Berlioz/Leonard B. Smith
Cornet Solo, Willow Echoes (1920).............................................................. Frank Simon
Marcia Nelson-Kline, soloist
Serenade, A Night In June (1915)..............................................................    Karl L. King
Clarinet Feature, Clarinet Candy (1962)...............................................     Leroy Anderson
Vocal solos


  Girl Crazy – Embraceable You (1928).................    George & Ira Gershwin/Warren Barker
  Love's Old Song (1994).........................................................................    J.L. Molloy/x

Debra Bordo, soprano soloist
March, The Washington Post (1889) ................................................. John Philip Sousa
Sing-a-Long, Cherrio (1933)....................................................    Edwin Franko Goldman
March, The Klaxon (1929)...................................................................   Henry Fillmore
Marching Song, Valdres (1904)........................     Johannes Hansson/Glenn Cliff Bainum
Highlights, CARS (2006)....................................................  Randy Newman/John Moss
National March, The Stars and Stripes Forever (1896)...................    John Philip Sousa
Theme Song, Till We Meet Again (1918)...................    Richard Whiting/William Teague
Medina Community Band Personnel for this concert
 Flute
  Elizabeth Burdick, teacher (Brunswick)
  Sue McLaughlin, sys analyst (Medina)
  Amy Thach-McArtor, band director (Wads)

Oboe
  Cindy Ruhrkraut, retired (Medina)

Bassoon
  Monica Lenox, artist (Wadsworth)

E-flat Clarinet
  Grof-Neiman, Mary Ann, prog adm (Medina)

B-flat Clarinet
  Amy Dragga, grant writer (Bedford)
  Mary Ann Grof-Neiman, prog adm (Medina)
  Harold Kasten-Krause, elect eng (Medina)
  Brenda Marshall, home care (Seville)
  Catherine Palcza, private music teacher (Stow)
  Ashley Rilling (North Royalton)
  Carl Stefaniak, dentist (Hinckley)

B-flat Bass Clarinet
      Holly Troche, veterinarian, (Westfield Cnt)

E-flat Alto Saxophone
  Carly Schafer, transportation biller (Cleveland)

B-flat Tenor Saxophone
  Brie Evans, health services (Medina)

E-flat Baritone Saxophone
  David Igoe perfusionist (Akron)
 Horn
  Melinda Kellerstrass, music teacher (N Roy)
  Michelle Kupiec, college student (Middleburg Hts)
  Gail Sigmund, retired – math teacher (Medina)
  Alexis Trout, HS student (Medina)

Cornet
  Marcia Nelson-Kline, ophthalmic tech
  Mary Phillips, retired - media specialist (N Roy)
  Paul Rocco, retired - police officer (Medina)

Trumpet
  Curtis Amrein, band director (Akron)
  LuAnn Gresh, music teacher (Wadsworth)

Trombone
  John Blasko, band director (Lakewood)
  Rod Hannah, retired – math teacher (Wads)
  Lee Harper, retired U. S. Postal Service (Medina)
  Robert Kason, retired elec eng (Brunswick)
 
Euphonium BC
  Kevin Gamin, IT specialist (Medina)
  Clayton Van Doren, HS science teacher (Lodi)

Tuba
  Allan Kelley, retired – databs adm (Cleveland)
  Ken Pond, truck driver (Doylestown)

Percussion
  Doug Dzurilla, college student (Medina)
  Chuck Stiver, watercraft officer (Homerville)
 

Conductor
Marcus Neiman, college band director (Medina)

Associate Conductor
  Curtis Amrein, band director (Akron)