Medina Community Band – 1910 – 1926[1]
Concert 4 – Friday, June 26th, 2009
(as of June 19, 2009)
Only one of the five band directors during the K. of P. era was a professional musician.  Maynard England (1910-1912). He had spent five months in Paris studying music in 1908, accompanied by his Cleveland-based instructor. He became the second composer associated with the Band of whom we are aware.  In 1911, he wrote a march (not named in the newspaper) dedicated to the Band.  He presided as director until the end of the summer season of 1912, when he was booked for 12 Christmas engagements in New York state.
In December of 1910, Director England wrote a letter in the Medina Sentinel wondering if during the coming winter are we (the Band) to be dead to all this community? Are we to merely exist in the summer and in the winter to crawl into our hold like a bear, there to await the coming season?  He answered his own question with three concerts early in 1911 held in the Baptist Church, but the only one scheduled for winter of 1912 was lost to a blizzard. One more was played in 1913, and that was it for winter concerts during the K. of P. era.
While the Band did some traveling outside of Medina prior to 1910, the farthest they traveled, under the auspices of the K. of P. was Dayton (OH) in 1911, Cleveland (OH) in 1912, and Erie, Pennsylvania, in 1913. Aside from the growing steam and electric railroads being constructed in the county, there was another technological advance in transportation peripherally involving the K. of P. Band.  The "first aeroplane flight in Medina County" came as the featured attraction at the 1912 Medina Village Fourth of July celebration at the Medina County Fairgrounds, for which the Band played.  One of the Wright brothers' staff of flyers "handled the levers of the big Wright biplane," performing "all the tricks known to birdmen" before a crowd of 10,000 people, which was not bad for a village of under 3000 population. The whole affair was repeated in 1913, but ended in disaster.  Not that the plane crashed; rather, it never took off.  A huge thunderstorm wrecked the plane on the ground.  The disaster was the death of three men on the Fairgrounds standing near a tree hit by lightning.
Reasons for the divorce of Band and the Knights of Pythias have not been found. In January, 1915, "at a meeting of the Medina Board of Trade … the report of the committee recommended that the Board become responsible for the local Band, formerly known as the K.P. Band, was accepted." By April, all was settled.  The Board had gotten by subscription from the villagers most of the necessary $550 for annual maintenance of the Band, and George M. Denton had been secured as Director for the "Medina Board of Trade Band."
The annual activities of the Band continued to include the Memorial Day observance in the village and the summer concerts in the park.  The former followed the same format used for many years, with the added attraction of flowers dropped from an airplane onto Spring Grove Cemetery in 1922. The concerts were as well received as always by the villages.  For example, by actual count there were at one time during the Band concert last Saturday night 423 automobiles on Medina's public square round the park at a late June concert in 1915.  In June of 1923, an actual count showed more than 400 automobiles parked in and around the square at 8:30. It wasn't until 1926 that parking was banned in the middle of the streets around the square.
Weekly rehearsals were held in the town hall on Monday evenings nearly year round. The range of other activities remained undiminished in scope, though perhaps somewhat reduced in numbers. Conspicuously absent from what the K. of P. Band had done were excursions to Cedar Point, Silver Lake, and so forth. Participation by the villagers had fallen off to the point that there was little or no money to be made any more in such enterprises.
Local orchestras were being formed which played some of the winter concerts that the Band used to perform. George A. Offineer had recently reorganized an earlier orchestra of his and his 16 member Medina Concert Orchestra played in mid-December 1914 at the Princess Theater (north side of the square).  Seven of those orchestra members were or had been members of the Medina K. of P. Band.
In addition to community or church orchestras, music departments in various public schools in the county were turning out students with instrumental music training. Here was a potential feeder for providing new Band members, which was not fully exploited.  These same schools also started orchestras as part of their music education curriculum. School bands came along a bit later than the orchestras, with Medina High School's Band starting in 1922. A Boy's Band was started in Medina in 1917, and probably become Medina's Y.M.C.A. Boys Band by 1921, which included several members of the Board of Trade Band.
All was not always peaceful and serene in the good old days.  As today's Band must deal with trucks, traffic, and bikers, the Bands of past days had their problems as well. After George M. Denton, editor of the Sentinel, directed his first Medina Band concert in the park in 1915, the paper suggested that hereafter the 'Ring around the posy' boys and girls, who were having the time of their lives, not only hopping about, but yelling and making a great disturbance directly under the bandstand, could just as well be carried to another part of the park, thereby enabling the band to do better work and the listeners to more fully enjoy and appreciate the music.  An extra large crowd turned out for a 1924 concert and the Band gave an entertainment that pleased all fortunate enough to get close enough to hear it.
The audience and the Band also had to contend with some suggestions about how playing and listening to The Star Spangled Banner were to be handled.  It was urged that everybody standing, uncover, and those seated in the park or in autos arise. A further suggestion is that the Band also play the piece standing which the Band did do afterwards.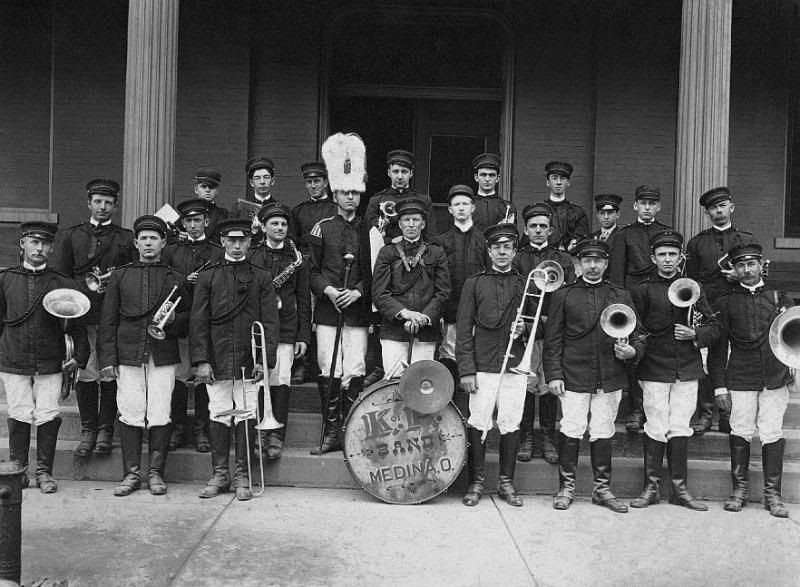 Extraneous activity during a Saturday evening concert occurred in early August 1917.  The Band concert was interrupted … after two numbers had been played to allow Hon. O.W. Stewart of Chicago an opportunity to make the first 'dry' speech of the campaign in Medina. The temperance fight had a long history in the village, and the 1917 campaign was another phase of the battle against the spirits. Not so blatant a use of the Band occurred three years later when the Pastor of the Baptist Church conducted a religious service in the park after the concert was over.
Membership in the Band had been hovering around 25 for a number of years. The "coming home of many boys" from World War I brought musicians with in-school high school instrumental music training as well as experience in service bands.  Instrumentation early in 1922 was seven clarinets, five saxophones, four alto horns, ten cornets, five trombones, one baritone, three tubas, one bass drum, and two snare drums for a total of 38. Unlike bands from previous eras, nearly half of those playing were from outside Medina Village. The 1923 Band in particular reflected an influx of high school students. By 1925, the instrumentation was two piccolos, one oboe, ten clarinets, six saxophones, four alto horns, eight cornets, three trombones, two baritones, two tubas, and three drums.
The next year, a new constitution was adopted that reduced the size of the Band to a maximum of 30 by eliminating those deemed "too young." It was proposed that a junior band, which would act as a feeder for the older organization would be adopted. The junior band was not seen in print again.  Perhaps of interest to modern Band members is the policy of the 1922 Band which was precisely the same then as now.  With historically high membership something needed to be done to ration the limited space on the bandstand and to maintain competence with the music to be played there and elsewhere. Part of the solution was that "attendance at rehearsals must be kept up or the tardy members will be prohibited from playing at engagements."

Photo 1 of 3 – Medina Board of Trade Band taken at a picnic at Chippewa Lake Park in 1923 – from left to right: Roland Hoff, Stowell White, Fred W. Kelser, Roland S. Hartman, Alfred Dannely, Alvin Morelock, Myron Piece, Abner P. Nichols, Richard Venner, and Charles H. Iper.

Photo 2 of 3 – Medina Board of Trade Band taken at a picnic at Chippewa Lake Park in 1923 – from left to right: Roy Hinman, Robert W. Gable, George Coleman, Wayne Cadnum, John F. Iper, Fred Bohley, Ernest Barry, Silas Ashdown, Millard L. Warren, and, Vernon E. Blanchard. 

 Photo 3 of 3 – Medina Board of Trade Band taken at a picnic at Chippewa Lake Park in 1923 – from left to right: David J. Hurlebus, Charles F. Dannley, Joseph A. Seymour, Maynard N. Flickinger, Ethir Wyman, Clifford Bailey, Lauren F. Wainwright, and, Albert H. Fretter.  (Courtesy of Alice Hartman Chester). 
Selection of music for the Band to play was not a totally random action on the part of the director. Director George M. Denton write in 1915 that the attempt was made to present to the public each week a varied program of light and heavy numbers with a slight preponderance of the latter. This was attempted because … there seems to be a cultivated taste in Medina for good music, and because the director believes his musicians are capable of playing a heavier grade of music than they had been accustomed to playing.  The message translates into the modern phrase 'pushing the envelope,' which Community Band Conductor Marcus Neiman uses occasionally as the Band struggles through a particularly difficult piece of new music.

The Board of Trade Band had six directors abetted by substitutes Fred Kelser (pictured at left) and Stowell White (pictured at right). First was George M. Denton (1915 – July 1916), editor of the Medina Sentinel from at least 1914 to 1932. In the 1920s, he played flute in and arranged some music for the Medina Community Orchestra. Ten years after his stint as band director, he was elected Mayor of Medina (1925-1929), under spending his opponent $7.40 to $10.50 or so, and in 1933 became a Medina County probate judge.
George A. Offineer (July 1916-August 1917) of Jeromesville (Ohio) had come to Medina from Lodi about 1907 as a "well-known" barber and five years later was hired by A.I. Root Company as a traveling salesman. He taught himself how to play cornet, which he did for a few years with the Band, plus piano and violin.  An industrious fellow, he organized and led the two orchestras previously mentioned. As band director, he had done some arranging of music for them. He died at the age of 38, of a heart attack, four hours after directing a Saturday evening concert.  The shortest tenure of this group of directors belongs to C.P. Draeger (August 1917-November 1917).  He was assistant director at the time of Offineer's death, and he temporarily led the Band until a new director was elected at the Band's annual meeting.
The person so elected was
Harry W. Lincoln
(1917-1920), a garage foreman of Brunswick in 1920, who moved to Medina Village in 1922. He must have been a fine musician, as at one time he played clarinet in the pit orchestra at the Hippodrome Theatre in Cleveland, and played clarinet and cello solos at various functions during the 1920s and 1930s in and around Medina Village.
He had another four-year hitch as Medina Band Director (1927-1930), played in various orchestras in the village, and took over the leadership of the Medina Symphony Orchestra in 1929 when founding director John Beck left Medina. Lincoln also manufactured cellos from a shop in his basement, and in 1917 started the Medina School of Music in the Bradway block wherein he, John Beck, and George M. Denton were three of the five instructors.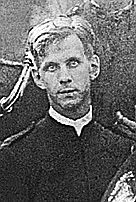 As active as Lincoln was, the next director, John F. Beck (1921-1925) (pictured at left) was even more so.  A native of York Township in Medina County, Beck was pianist for the Princess Theatre in 1913, studied piano and organ at Baldwin-Wallace College in Berea, taught piano in Medina from 1915 to 1929, was organist and choir director for different churches in Medina, and played innumerable organ recitals all over the area. When he was selected to be director of the Medina Band, he was also director of two church choirs and the Medina Community Orchestra. The latter group became the Medina Symphony Orchestra and played in the village park on Sunday afternoons in the summer before crowds of up to 1,000 people, had many a winter concert series, and was one of the first Medina musical groups to be heard over Cleveland radio. In 1921, he also reintroduced one of the annual complimentary Band concerts in the summer to be played on other than a Saturday evening. All this occurred while he was director of music at Medina Senior High School. He resigned from Band leadership after the 1925 season. After rejecting several job offers, Beck finally left Medina for Euclid, Ohio, in 1929.
Stowell White substituted for John Beck for a week in 1921, and for a month or so during each of the next two summers. The latter were times when Beck was attending music summer school in Cincinnati. White was a jack-of-all-trades in his earning a living and his music.  It was said that "he could fill in and be at home anywhere from director to playing most any instrument down to the bass drum.  Fred Kelser, helped White out in 1923.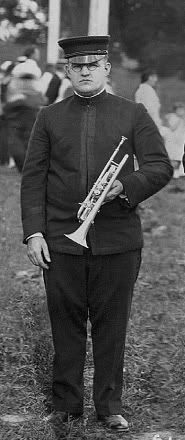 Lauren F. Wainwright (pictured at left), a U.S. Navy veteran of WWI and foreman of the Gazette mechanical department, rounded out the Board of Trade Band directors by assuming the task for 1926. He did a considerable amount of vocal solo work in and around the Village for the Medina Band and various churches, as well as directing church choirs. His experience with bands including having had distinct success with boys' bands in four other localities, plus directing the Medina County Y.M.C.A. Boys' Band from 1922 until it no longer appeared in the newspaper. For a time in the mid-1930s, he had an 11-piece German band for hire. Wainwright was elected to one term as Medina's mayor in 1947.
Harry S.G. Stoudt (trombone) wrote Okisko Rag in 1915 while he was the lead trombonist in the Baldwin-Wallace Symphony. Fred Kelser wrote Lakeside is the Place for Me, strangely enough, while at Lakeside, Ohio, in the summer of 1916. Richard Warner, a high school age percussionist, produced the march, Medinian, which he dedicated to the Band in 1925. He also composed a saxophone trio and arranged Medina High School's "Victory Song" for the Band. Warner later became a college music professor.
The end of WWI was celebrated twice in Medina, as it undoubtedly was all over the country. A premature report of an armistice on November 7, 1918 resulted "in a monster crowd … and there was a big parade around the square and the Medina band gave a patriotic concert." When the real thing came along four days later, the celebration was even bigger, noiser, and longer-lasting than before. The parade on November 11 "consisted of several bands of more or less merit."  Hopefully, the Medina Band, if there, was one of those bands with "more merit."
The Band was part of a July fiasco in 1924 (July 1).  A much-heralded "Ford day parade," postponed from a month earlier, was to take place around the square. The Band fulfilled its obligation.  It marched over to the corner of North Broadway and Liberty streets, but there was no parade there. It marched around the other half of the square and did its part by going up onto the platform (bandstand) and playing a few pieces. After a while a half dozen Fords gathered together and 'paraded' around the square. All this prompted the Gazette to write: The King of France had 40,000 men, marched up the hill, and then marched down again. The Medina Band, with no Fords behind, marched around the square, but could not the parade find. The merchants did; however, report it to have been a good trading day.
Work toward a new bandstand began in 1925.  A standing committee, The Medina Community Organization, obtained drawings of bandstands from several concerns, with or without a roof, with or without a comfort station, and all designed to be built over the existing fountain and surrounding basins in the center of the square. The roof caused some anxiety. The location caused a great deal of anxiety. After two years of committee meetings and other expenditures of hot air, the Gazette held a straw vote among Medina Village citizens of all ages between leaving the fountain in the Park center or replacing it with a bandstand. The fountain won 1,447 to 49. The County Commissioners, whose responsibility the park was, replaced the fallen-down fence around the basin, the Gazette paid for flowers and ferns around the basin, the water was turned on, goldfish were put back in the basin, gravel was added to cover the soil in the basins to clear the water so the fish could be seen again, and the Band went back to the old bandstand for the rest of the summer.
Before Memorial Day of the next year the old bandstand was moved from the southwest corner of the park to a station just east of and as close to the fountain as possible – the removal being accomplished without any blast of trumpets. It was given new flooring and new steps, dressed in green paint, and the wooden seats for spectators were repaired.
The Medina Board of Trade was not the most active of sponsors, perhaps because it was in general decline. The Board was essentially dead by the early 1920s, but waited until 1926 to officially fold its tent. By that time its functions had been taken over by the Kiwanis and other groups, through no formal compact between any of these and the band had been found. 
---
Selections for the fourth concert, dedicated to the band's history from 1910 to 1926, have been entirely taken from music published and/or performed during this era. 
Hail, Columbia was the unofficial national anthem of the United States until its replacement in 1931 by the officially mandated Star-Spangled Banner. It was originally composed by Philip Phile in 1789 for the inauguration of George Washington, titled The President's March, arranged with lyrics by Joseph Hopkinson in 1798. It was used by the United State of America as a national anthem for most of the 19th Century, but lost popularity after World War I. It is now the entrance march, or the official song, for the Vice President in a similar fashion as Hail to the Chief is for the president.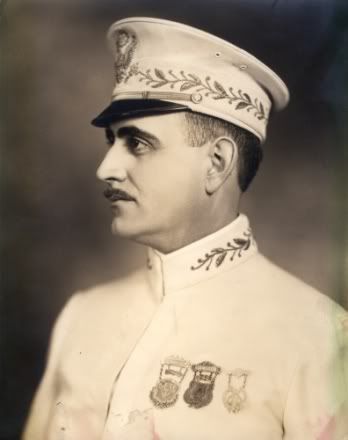 Princess of India Overture was written in 1912, by Karl L. King (pictured at right) and performed by the Band in 1921.  There was no opera or operetta to the overture.  King moved to Fort Dodge, Iowa, in 1920 as the result of a classified advertisement in a national musician's publication for the position of conductor of the Fort Dodge Municipal Band, a post which he accepted and held for over 50 years. There in Fort Dodge he raised his family (one son, Karl Jr.), established a successful music publishing business, composed music, and directed the municipal band. He and his band appeared at numerous state and regional fairs, rodeos and expositions, as well as local concerts. The official title of the band was the Fort Dodge Municipal Band, but within a short time after he assumed leadership of the group it became known simply as King's Band.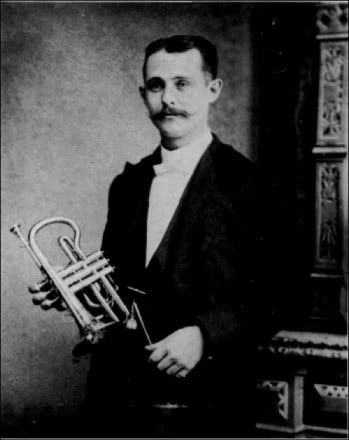 Dunlap Commandery march by Robert Browne Hall (pictured at left), who inherited his love of music from his parents, both of whom were trained and academic musicians.  His mother, Virginia, was an accomplished pianist as well as a proficient performer of the violin, lute, harp, and classical guitar.  His father, Nathaniel W. Hall, was a virtuoso performer on both the keyed bugle and E-flat cornet – for a time he was soloist and conductor of the Nobleboro (Maine) Silver Cornet Band, but was also a blacksmith. When his father died in 1874, Hall was forced to work in the local shoe factory to help support his mother and two sisters.  Dunlap Commandery was copyrighted in 1894 and performed by the Band in 1910.  The march was respectfully dedicated to Dunlap Commandery, Knights Templar of Bath, Maine. Hall often travelled to Bath to play for this organization. "According to news accounts, he composed this march especially for an excursion to accompany the Dunlap Commandery from Bath to Portsmouth, New Hampshire on June 24, 1893 for an annual pilgrimage."
Impromptu
, clarinet solo by
Julianus Marie
August de Boeck (pictured at right).
(b. Merchtem, Belgium, May 9, 1865 – d. Merchtem, Belgium, October 9, 1937, was a Flemish composer, organist and music pedagogue.
From 1880, he studied at the Royal Conservatory in Brussels under Alphonse Mailly from whom he became an assistant until 1902.
In 1889, he met the young Paul Gilson, who became his close friend, and, despite their same age, his teacher for orchestration and his motivator for composition. He became an organist at various churches in Belgian villages (1892-1894 in Merchtem, 1894-1920 in Elsene).
His academic career continued in 1907 as harmony professor at the conservatory of Antwerp (1909-1020) and the conservatory of Brussels, and as director of the conservatory of Mechelen (1921-1930).
In 1930, August de Boeck retired to his birthplace.
His style was, together with that of Paul Gilson, influenced by the Russian Five (especially Rimsky-Korsakov), and they introduced musical Impressionism into Belgium.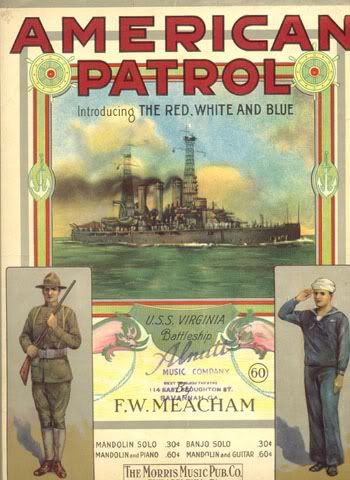 American Patrol was composed by Frank W. Meacham, copyrighted on March 30th, 1885 for piano and was then arranged for band and published by Carl Fischer in November, 1891. The march was first performed by the Band in 1915. The march opens with a simple drum cadence as if a band were approaching from a distance. Then the first melody, the composer's own, quietly begins and increases in volume as though the band were approaching. Then follows a medley of famous patriotic tunes including Columbia, Gem of the Ocean, Dixie, and Yankee Doodle. The pretend band marches past the parade-watching crowd with exciting strains and passes on with the music fading away. The piece concludes with a final burst of martial music. This tune was very popular before World War I - the first recording was a 2-minute Edison cylinder in 1903 - but retained popularity during both World Wars, the version by Glenn Miller and his orchestra being especially significant.  F. W. Meacham usually worked as arranger rather than composer, for Victor Herbert musicals and Stephen Foster songs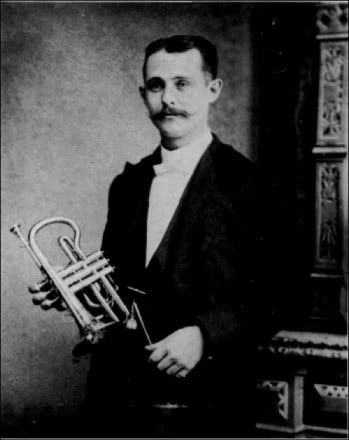 Independentia march was published by Robert Browne Hall (pictured at left) in 1895 and first performed by the Band in 1924. The march was dedicated to the Order of Odd Fellows. In 1876, he played as first cornet and soloist in the summer with a band at Old Orchard Beach, Maine. He directed the Richmond Cornet Band at age nineteen, and at twenty, he was invited to play co-principal cornet with Thomas Baldwin's Cadet Band of Boston sitting next to Liberati. When Liberati left for Duss' Band, Hall stayed on for three more years with Baldwin's Band, leaving the group in April, 1878 to return home where he and other colleagues formed Hall's Richmond Cornet Band. In 1882, he was asked to conduct and reorganize the Bangor Municipal Band. In 1891, he was asked to conduct the Waterville Military Band, which later became known as R. B. Hall's Military Band. Hall taught music at Colby College and played in the local orchestra. His Military Band played the march The Tenth Regiment from manuscript in a parade at the Odd Fellows Convention held in Boston in 1894. The march was published one year later. The performance was such a hit that the band was asked to play a command performance with Hall as soloist.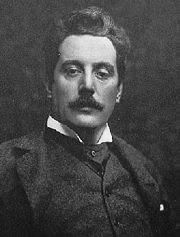 O mio Babbino caro from the 1918 opera Gianni Schicchi by Giacomo Puccini (pictured at right). In this aria, Lauretta begs her 'Babbo' (her Daddy) to please let her marry her boyfriend. If not, she says, 'I'll go to the Ponte Vecchio and throw myself in the river.' What's a father to do? In 1918, Puccini had just premiered Il Trittico in New York.  A habitual Toscano cigar chain smoker, Puccini began to complain of chronic sore throats toward the end of 1923. A diagnosis of throat cancer led his doctors to recommend a new and experimental radiation therapy treatment, which was being offered in Brussels.  Puccini and his wife never knew how serious the cancer was, as the news was only revealed to his son. Puccini died in Brussels on November 29, 1924, from complications from the treatment; uncontrolled bleeding led to a heart attack the day after surgery.  News of this death reached Rome during a performance of La Bohème. The opera was immediately stopped, and the orchestra played Chopin's Funeral March for the stunned audience.
Vienna, City of My Dreams by Rudolf Sieczynski and published in 1914, was an Austrian composer of Polish ancestry.  His fame today rests almost exclusively on this nostalgic song.
Mr. Buzz Saw, rag novelty, by Jean Kastowsky was published in 1916. With a fantastic name like Mr. Buzz Saw, one would think that there would be lots of information about this novelty rag.  Nothing, no information, no pictures, nothing.  Aside from the fact that it is published by the C.L. Barnhouse Publishing Company, nothing has been found (as of yet) about this delightful piece.
Gliding Girl published in 1912 by John Philip Sousa.  According to a story circulated among former Sousa Band members, Sousa's daughter Priscilla gave him the idea of this tango. She had just returned from Europe, reporting that the tango was the rage there. She gave him a demonstration by gliding around the room, and he captured her graceful motions in music.
Under the Double Eagle march, was published in 1888 and performed by the Band in 1917.  Josef Franz Wagner (pictured at left) took the title for this march (opus 159) from the state emblem of the Austro-Hungarian Empire. The eagle had been a symbol of strength and courage since ancient times. The march itself has been extremely popular for nearly a century. Wagner was a military bandmaster and composer who was known as the "Austrian March King." "Under the Double Eagle" was recorded three times by John Philip Sousa. As for its place in folk music, it is now a popular instrumental for guitar and banjo players. The march is now the official regimental march of the 1st Austrian Artillery Regiment Number 2.
Men of Valor march was published by Cincinnati composer John Nicholas Klohr (pictured at right) in 1920 and performed by the Band in 1921. A graduate of the Cincinnati public schools, Klohr set upon a career in music, especially vaudeville. He considered himself a vaudeville trombonist by trade, but also performed as a member of Cincinnati's music life. He played in the Syrian Temple Shrine Band, led by fellow composer Henry Fillmore. From 1921 to 1926, he was a trombonist in Fillmore's Concert Band.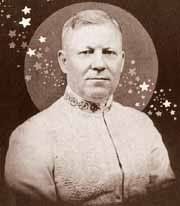 That Flying Rag by Arthur Pryor (pictured at left) and arranged by L.P. Laurendeau and Gail Sigmund. Although his name is no longer well known, Arthur Pryor (1870-1942) was once one of America's most important musical figures. He was the world's greatest trombonist, a celebrated conductor, and the composer of some of the most popular tunes of the early 1900s. Additionally, Pryor was a pioneering phonograph recording artist, an educator, and a founding father of several major musical organizations. Indeed, during the height of his career (and many years thereafter), Arthur Pryor's reputation and influence in the music business rivaled that of even John Philip Sousa's. But perhaps Arthur Pryor's greatest contribution to American music was his work as a composer and unabashed promoter of the emerging ragtime style. Pryor wrote several early syncopated "hits," arranged or adapted many works of others for band and orchestra performance, and used his prominent position with the Sousa Band and later his own band and orchestras a "bully pulpit" for the dissemination of this exciting new style. We know that That Flying Rag was recorded by Arthur Pryor's Band in November of 1911, but no actual publication date is available and we assume that the piece was written about that time.
Bravura was published in 1918 by Charles Edward Duble and first performed by the Band in 1925. The term "bravura" is considered to be a virtuosic passage intended to show off the skill of a perform.  Used as an adjective, ("a bravura passage"), refers to a performance of extraordinary virtuosity.  The term comes from the Italian for "good."  Duble's march certainly is a virtuosic and brilliant march. Merle Evans, the veteran circus band director, remembers Charles Edward Duble as a tall, lanky trombone player whose socks looked like spats, and who was always seeking an opportunity to play a practical joke on someone.  Duble's more serious side emerged when he composed for the many circus bands of his time. He wrote more than 45 marches.  His most famous march was probably Bravura.  Written for circus use, the rodeo bands, the parade bands, and the football bands, the march is what we call a "standard."

Lassus Trombone, probably the most famous trombone smear or characteristic ever written, was composed by Ohio composer Henry Fillmore (pictured at left) and published in 1915 and performed by the band first in 1921. The characteristic carried the subtitle De Cullud Valet to Miss Trombone and was Henry's favorite of his "trombone smears."  It was also recognized by John Philip Sousa, who included it on every concert of his last tour with his band.  The sheet music to Lassus Trombone sold over two million copies.
There is another assumption about the title. In the southern United States, there is a food substance which may be largely unknown in other regions, called molasses.  This is thick, pungent, sugary syrup, usually a by-product of the process of extracting sugar from sugar cane.  The syrup is thick under any circumstances, and much more so when it is cold.  A favorite saying in this part of the world is "slow as molasses in January."  In the southern dialects, the first syllable is sometimes elided, producing "'lasses."  The origin of the "Lassus" in Lassus Trombone might really be from molasses!  In this sense, it would refer to the slides and glissandos (smears) which are required of the trombonists who perform it.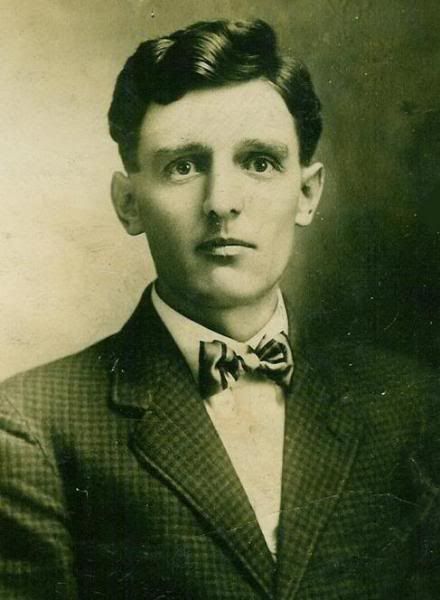 March "Lackawanna Band" was published in 1921 by George Rosenkrans (pictured at right) with the dedication to the Delaware, Lackawanna and Western Rail Road Shops Band, Scranton, Pennsylvania and performed that same year by the Band. Born in Penfield, PA, Rosenkrans remained close to his hometown all his life. Although he taught private lesson and composed a considerable amount of music, Rosenkrans was unable to save enough money to provide for his future. In addition, the demand for band music decreased as the public turned to other forms of entertainment and the threatened financial depression became a reality. By the time he was 55, he was considered a local eccentric.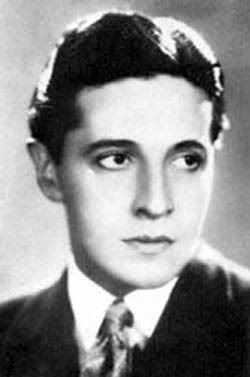 Keep the Home-Fires Burning (Till The Boys Come Home) was written by Ivor Novello (pictured at left) and arranged by S. Deshon and published in 1915. The words were by Lena Ford. The obvious sentimentality of the song lent it increased popularity for families at home than to soldiers serving on the various wartime fronts. The song's tremendous success brought Ivor Novello overnight fame, launching a hugely successful post-war career; although he also served with the Royal Naval Air Service (RNAS) as a pilot from 1916.
Ivor Novello (1893-1951) was born David Ivor Davies on 15 January 1893 in Cardiff.  Novello was educated at Magdalen College School in Oxford which he attended having won a soprano scholarship; his mother was similarly a singer. He began writing songs while still at school under the name Ivor Novello of which a number were published and received a degree of popular acclaim. 
Stars and Stripes Forever was published in 1896 by John Philip Sousa. The march was not quite so well received though it actually got an over average rating for a new Sousa march.  Yet, its popularity grew as Mr. Sousa used it during the Spanish-American War as a concert closer.  Coupled with his Trooping of the Colors, the march quickly gained a vigorous response from audiences and critics alike.  In fact, audiences rose from their chairs when the march was played.  Mr. Sousa added to the entertainment value of the march by having the piccolo(s) line up in front of the band for the final trio, and then added the trumpets and trombones join them on the final repeat of the strain.
---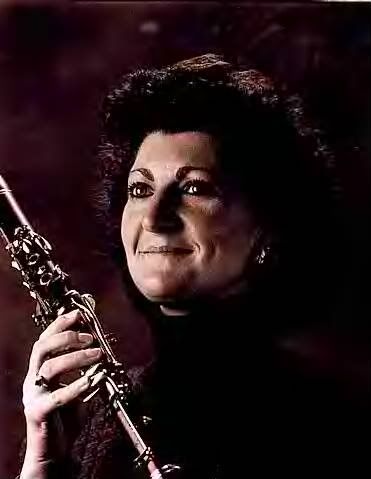 Mary Ann Grof-Neiman, (clarinet soloist) is currently the Program Administrator at the Cleveland Institute of Music's Preparatory and Continuing Education Division. She received her bachelor of science in music education degree from the Bowling Green State University. Ms. Grof-Neiman has served as clarinetist for the Blossom Festival Band, Lakeland Civic Band, Lakeside Symphony Orchestra, Youngstown Symphony, Erie Philharmonic, and currently performs with the Cleveland Philharmonic Orchestra, Lakewood "Home Town" Band, Medina Community Band, and is solo clarinetist with the Sounds of Sousa Band.  She maintains private studios at Baldwin Wallace College through their Conservatory Outreach Program as well as her home in Medina.  She has served the Ohio Music Education Association as a Woodwind Adjudicator for the last 15 years and is a member of AFM Local 24.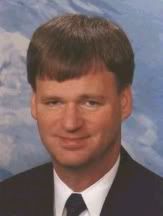 David N. Adamson,  guest conductor, received his B.M.E. degree from the Baldwin-Wallace Conservatory of Music.  His M.M. degree in Woodwind Performance was earned from the University of Michigan.   A public school instrumental music teacher for 16 years, his bands consistently earned the highest ratings.  He adjudicates students throughout the state for the Ohio Music Education Association and Ohio Foundation for Music Education, organizations he currently serves in the capacity of Business Manager and Development Coordinator. Mr. Adamson regularly performs in the northeast Ohio area on clarinet and saxophone and is a member of the Sounds of Sousa Band, the Cleveland Orchestra's Blossom Festival Band, the Pepper Pike Community Band and the Lakewood Hometown Band.guest conductor, received his B.M.E. degree from the Baldwin-Wallace Conservatory of Music.  His M.M. degree in Woodwind Performance was earned from the University of Michigan.   A public school instrumental music teacher for 16 years, his bands consistently earned the highest ratings.  He adjudicates students throughout the state for the Ohio Music Education Association and Ohio Foundation for Music Education, organizations he currently serves in the capacity of Business Manager and Development Coordinator. Mr. Adamson regularly performs in the northeast Ohio area on clarinet and saxophone and is a member of the Sounds of Sousa Band, the Cleveland Orchestra's Blossom Festival Band, the Pepper Pike Community Band and the Lakewood Hometown Band.
Miki Saito, a coloratura soprano, has enjoyed living in Medina (Ohio) since the spring of 2002.  Born and raised in Yokohama (Japan) she moved to the United States to study music and became an American citizen in 1997.  She has lived in Pensacola and Jacksonville, Florida, Boston, Massachusetts and Biloxi, Mississippi, performing with many musical organizations along the way.  Since her move to Ohio, she has appeared in eight productions with the Cleveland Opera Chorus, has toured the North East Ohio area with the Sounds of Sousa Band and has been a regular guest soloist of the Medina Community Band.
Joann King, guest narrator, received her bachelar of arts degree from Denison University and master of arts degree from The University of Akron. She was curator of the Medina County Historial Society from 1976-1994.  She is the author of Building a Firm Foundation: Medina County Architecture 1811-1900 and Letha E. House from Foundling to Philanthropist. She is a member of the Community Design Committee, Medina County Historical Society, and Medina City Historical Preserrvation Board.  She is married to Peter King and has been a Medina resident since 1973. 
Program – Friday, June 26th, 2009
1910 – 1926
(Selections either published or performed by Medina Community Band
on the listed year)
Anthem, Hail Columbia (1789)....................................................... arr. Friederich/Neiman
Overture, Princess of India (performed in 1921)............................................ Henry Fillmore
March, Dunlap Commandery (performed in 1910)................................ Robert Browne Hall
Clarinet Solo, Impromptu....................... Julianus Marie August de Boeck/Michael Golemo
Mary Ann Grof-Neiman, soloist
Patrol, American Patrol (performed in 1915)...................................... Frank W. Meacham
David Adamson, guest conductor
March, Independentia (performed in 1924).......................................... Robert Browne Hall
Soprano Solos
     Gianni Schicchi: O mio babbino caro (1918)............................Giacomo Puccini/Percy Hall
     Vienna City of My Dreams (1914)............................. Rudolph Sieczynski/Leonard B. Smith
Miki Saito, soloist
Rag-Novelty, Mr. Buzz Saw (1916)........................................................ Jean Kastowsky
Foxtrot, Gliding Girl (1912)............................................................... John Philip Sousa
March, Under the Double Eagle (performed 1917)......... Josef Franz Wagner/Laurendeau
March, Men of Valor (performed in 1921)......................................... John Nicholas Klohr
Rag, That Flying Rag (1911)..................................................................... Arthur Pryor
March, Bravura (performed in 1925)............................................. Charles Edward Duble
Characteristic, Lassus Trombone (performed 1921)................................. Henry Fillmore
March, Lackawanna Band (performed in 1921)............................... George Rosenkrans


 Patriotic, Keep the Home Fires Burning (1915)........................... Ivor Novello/S. Deshon

March, Stars and Stripes Forever (1896).......................................... John Philip Sousa
Anthem, The Star Spangled Banner.....................Frances Scott Key/John Philip Sousa
---
[1] It should be noted that information provided by a published Medina Community Band history by band member (and band historian) David Van Doren was instrumental in descriptions of Band activities given in this and all concert publications in this sesquicentennial celebration series.