Medina Community Band* 
Celebrating its' 150th Summer Season
Summer 2009 
Friday, June 5th, 2009
Why a town band? What possessed people of the late 19th and early 20th centuries to pay for support of and to hear a group or relatively untutored amateur fellow townsmen tootling away on a bunch of shiny horns?  What possessed those fellow townsmen to try to learn, generally with little or no expert help, to play this array of shiny horns, and then to put up with weekly rehearsals and come out to play at a wide variety of town functions?  The answers in a few words are - pride, sociability, hunger for entertainment, and later, habit.
Whether marching in parades on the Fourth of July, welcoming visiting dignitaries and officials to town, or "discoursing sweet music," bands - either primarily or exclusively brass in instrumentation - were unquestionably the most visible and audible musical organizations of the day.  The Village of Medina, sometime in 1859 prior to a "serenade" by the Seville and Medina bands on 15 September, joined the growing number of communities in America that supported a town band.

The first mention of the community band in the Medina County Gazette (then the Leader Post) was in 1859, in a small notice on September 15, which stated that the band made an appearance along with the Seville Band in performing before several prominent citizens in Medina.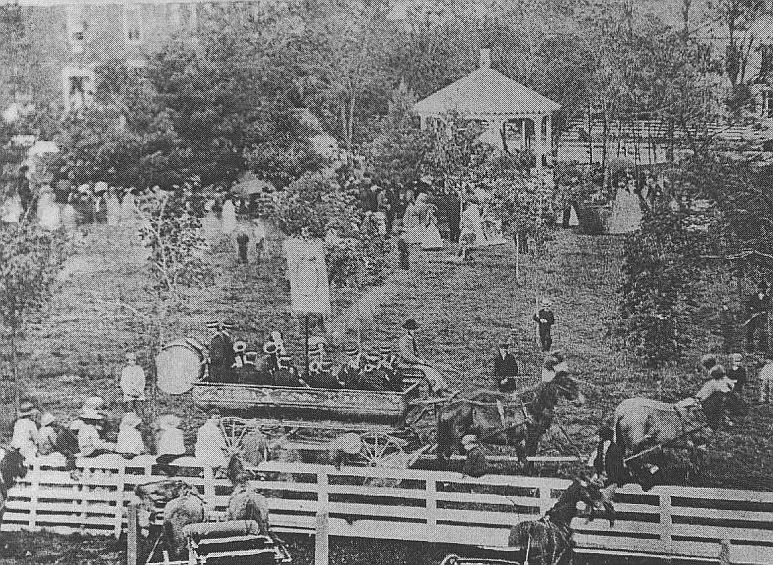 The photo above is of the Medina Cornet Band on the Square in Medina in their bandwagon, depicting a scene from the 1860s. Joe Yeager, a Medina artist, painted this picture of a temperance rally from an old photograph. The Medina County Courthouse as it appeared in this era is at the upper left. Courtesy of the Medina Community Design Committee.

All Band members were male, with most of them in their early 20s, and early on all were from the Village of Medina. Commensurate with their young age, most of the members were workmen, clerks, or students. All were volunteers.

No record has been found listing the musical selections the band played.  They performed three evening serenades outside the homes of prominent local men, including H.G. Blake, a member of Congress who lived in the Village, six concerts or practices open free or otherwise to the public, and marched in the 1860 Fourth of July parade.  Other performances were held in such places as Phoenix Hall - third floor of the building that is the site of the present FirstMerit Bank building, the public park square, the Medina County Fairgrounds, and the "Brick Church" - an 1833 Congregational church building, rebuilt in 1881 as a new Congregational church, which is now the United Church of Christ Congregational on the northeast corner of the Medina Town Square.

The first director was a professional musician from Akron, a Professor Dustin Marble, hired to organize the band and teach the members. The band members purchased their own instruments and hired the Professor as an instructor and part-time director.

Music for the early Medina Cornet band probably came from such publications as the Brass Band Journal. In 1853 Firth, Pond and Company of New York began the publication of its Brass Band Journal, probably the first American publication of saxhorn pieces. A similar publication appeared in Cincinnati in 1859. It consisted, for the most part, of popular dances and quicksteps arranged from piano pieces for a band of from six to twelve players and was published by W. C. Peters & Sons as Peters' Sax-Horn Journal.

The Civil War probably contributed to the apparent decline in band activities after that great start.  Very little was reported for the next 27 months of the band's history. We have not been able to find any information regarding the band from March 1863 through July of 1865.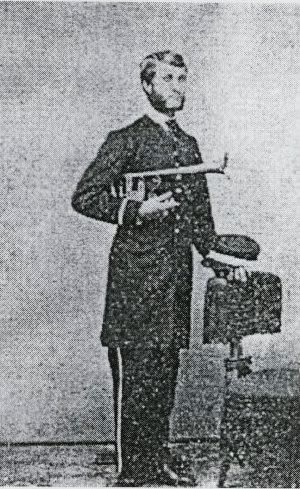 In July 1865, a number of energetic citizens united and organized a Cornet Band.  The band was furnished with a full set of new instruments at the cost to the organization of $725. The cornets, at least, were silver coated, which lead to the name "Medina Silver Cornet Band."  The band was under the joint direction of Worden Babcock (pictured at left) of Medina and Professor Marble.  Financial support came not only from admission to indoor concerts, but also from donations by individuals.  For some reason, the band was not mentioned in 1868 or 1869 and the Lodi Cornet Band led Medina's 1869 Decoration Day parade.  There was no organized Independence Day celebration of any kind reported in 1869.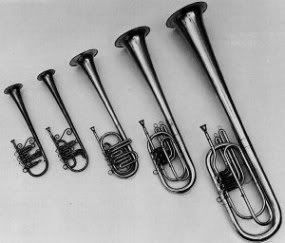 The first portion of this concert will be performed by brass instruments (horns, cornets, trumpets, euphoniums, tubas) and percussion as what might have been heard when the Medina Silver Cornet Band first serenaded Medina residents. The music you will hear in this portion comes from The Brass Band Journal, published in engraved pocket-sized parts that could easily fit on the lyre or an instrument.  The Journal, complete at 24 selections, is about the earliest band music printed in America for saxhorns.  This family of valved brass-winds, developed in Paris in the 1840s by Adolph Sax, was popularized in the United States about 1850.

G.W.E. Friederich was the composer-arranger of the Brass Band Journal and we can only speculate about his life.  His scoring epitomizes the most attractive features of the early American band style, characterized by a simple, transparent texture, with the "agile" flugelhorns or cornets in the leading role. Conceived for amateurs, the music is naïve and uncomplicated, but never amateurish.  

 Typical Saxhorns (pictured at right) included, soprano, alto, tenor, base, and contrabass.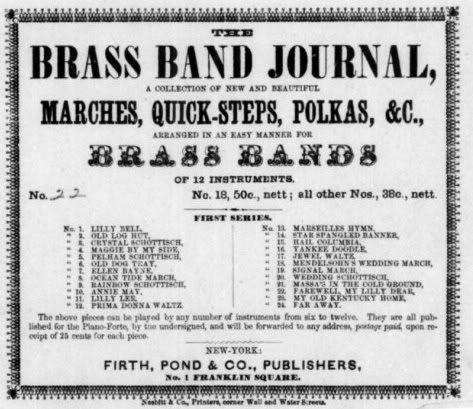 Hail, Columbia was the unofficial national anthem of the United States until its replacement in 1931 by the officially mandated "Star-Spangled Banner". It was originally composed by Philip Phile in 1789 for the inauguration of George Washington, titled "The President's March", arranged with lyrics by Joseph Hopkinson in 1798. It was used by the USA as a national anthem for most of the 19th Century, but lost popularity after World War I. It is now the entrance march, or the official song, for the Vice President in a similar fashion as "Hail to the Chief" is for the President.

Yankee Doodle's origins were in a pre-Revolutionary War song originally by British military officers to mock the disheveled, disorganized colonial "Yankees" with whom they served in the French and Indian War.  The word doodle first appeared in the early 17th century to mean a fool or simpleton.  After the British defeat at Concord, the Americans adopted the tune for their own.
Farewell, my Lilly Dear, as a tune, has nothing to do with a farewell, but rather is set in the context of a quickstep that flirts with the stomping rhythm of the polka.  The piece was composed by Stephen Foster (both music and lyrics) around 1851.

Star Spangled Banner was a national air probably published to round out the repertory of an all-purpose band. What may sound to the listener like irreverent liberties were once considered standard, or at least appropriate, embellishments to our forbears.  The tune has undergone many changes since 1814, when Francis Scott Key first set his enduring words to the melody of "The Anacreontic Song." This musical counterpart to the flag of the United States, for whose words or tune there has been no federally-authorized standard version before or since it was made our national anthem in 1931, has and probably will continue to vary in details of style, according to changing taste.
By early January 1870, efforts were under way to revive the Medina Band by way of raising money for the instruments.  A set of instruments for 14 musicians was purchased from E.G. Wright & Company of Boston, Massachusetts for about $550, and all but the drums arrived by December. A band association had been organized in November. A constitution was adopted and officers of the association elected.  The association owned the instruments, and probably the bandwagon from the previous band. The musicians commenced twice-a-week practices in their room in the Empire Block (directly northwest from the square).  The drums having arrived in January, 1871, the MSCB began this reincarnation at a donation party with "half a dozen pieces" at Empire Hall on February 1st.

Next came a "grand ball" at the same place on 22 February for the benefit of the band. Evidently the band members had purchased some furniture for their practice room, paid rent for use of the room, and probably paid the "accomplished" or "competent" teachers who helped them learn their instruments, thus needing assistance in meeting these expenses.  It was helpful that the Medina Gazette's publisher was one of the band's directors.  The newspaper exhorted its readers to "buy tickets (to the ball) / go yourself / take your wife / or your sister / or some other person's sister." The band played for a half hour before dancing commenced and a half hour at intermission.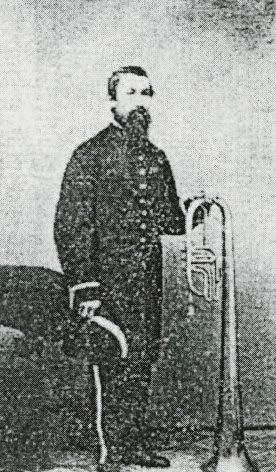 Thereafter, the band performed the functions of a 'community band' at irregular intervals and in a variety of venues.  Members of this version of the MSCB had only one holdover from the first band, their leader William F. Sipher. Musicians ranged in age from a 13-year-old cymbal player to a 60 year old baritone player, with most in their teens or 20s as in the first band.   Unlike the first band, this group was mostly 'hard working mechanics' which typified town bands.
 
William Sipher (pictured at left) was the band's director in 1870. Having emigrated from Germany, he was trained a shoe repairman; however, in attempting to make a living in Medina, then engaged in the manufacturing of bricks, producing half-a-million bricks a year. In the fall of 1863, he joined a company of National Guards who were called into active service in May. 1864. They formed Company E. 166th O. V. I. and served until September following. Sipher was chief musician in the regiment. In 1871, he was elected Corporation Treasurer for Medina. Sipher played bass in the Medina Silver Cornet Band prior to becoming conductor.  It is also noted that he played 1st cornet in the band during the 1870s.
The second portion of our first concert is devoted to music that was published and probably performed by bands throughout the United States.  While it is difficult to determine if any of this music was actually performed by one of the Medina Bands during the period 1859 through 1875, the chances are good.
Fan-Tan (Chinese march – characteristic) by Bert B. Anthony and arranged by M. L. Brazil.  This particular composition is from the Chester Nettrower Collection donated to William Park for use in the North Royalton Community Band Digital Music Library.  Published in 1800, the march is within public domain the two-step's title probably refers to a once favorite pastime of the Chinese in America.  Fan-tan, having been replaced by modern casino games, and other traditional Chinese games such as Mah Jong and Pai Gow, was described by Jacob Riis in his famous book about Chinatown fan-tan parlor: "at the first foot-fall of leather soles on the steps the hum and talk cases, and the group of celestials, crouching over their game of fan-tan, stop playing and watch the comer with ugly eyes.  Fan-tan is their ruling passion.
Light Cavalry by Franz von Suppé (pictured at left) was the father of the Austrian operetta which was to reach its summit with Johann Strauss II.  Like so many of his German compatriots, Suppé was a profound admirer of Offenbach.  His aim was to carry the techniques of opera-bouffe in Germany and Austria to the new form he had developed.  Actually, what he did was to create his own genre:  the operetta, which placed more stress on humor and less on satire; more on tenderness and sentimentality and less on burlesque; and in which the waltz became the favorite dance form.  The Light Cavalry Overture, written in 1866, is martial music at its best. Beginning with those wonderful fanfare calls in the brass, we are treated to one of the best examples of Saturday morning cartoon cavalry gallops imaginable.  The delicate transitional section is actually a broad Hungarian-like song guiding us back to the vigorous military melody and opening brass calls and pushing us toward the "blood and guts" finale.
Wood Up Quickstep was an instrumental piece written in 1835 composed by John Holloway The piece became closely associated with Edward "Ned" Kendall who was a virtuoso on the keyed bugle in the days before valved cornets.  Despite the invention of valves, Kendall continued to play the keyed bugle all his life.  In 1856, he took part in a famous contest with himself on the keyed bugle playing against Patrick Gilmore on the valved cornet.  The contest, which consisted of the two soloists playing sections of Wood Up Quickstep after each other, ended in a tie of virtuosity for both men.  However, it sounded the death knell for the keyed bugle and signaled the rise of the valved cornet.


Carnival of Venice by Charles "Del" Staigers (pictured at right). Staigers was born on August 20th, 1899 in Muncie (Indiana).  He father was in the state of Delaware at the time of this birth and so he chose Delaware for his son's middle name. The kid didn't like the name much, but he was OK with "Del" and so the name stuck.  When Del was just six years old, he experienced his first great thrill, that of the Muncie Boys Band parading in their blue and red uniforms up Main Street.  It was an experienced that convinced him that he wanted to be a bandsman. With his mother's permission, he soon applied to Professor E.W.Garrett of the Muncie, Indiana Conservatory of Music. Professor Garrett rented the young lad a horn for 10 cents a week, and Del proceeded to drive his mother crazy with his constant practicing, to the point where she insisted that he do his practicing outdoors in a nearby empty lot. Undeterred, Del continued to work hard and two years later he occupied the first chair in the Muncie Boys' Band. During his long career, Staigers played with Patrick Conway's band; John Philip Sousa's Band; the Ziegfeld Follies; and, the Edwin Franko Goldman Band. He was chosen to play "taps" over Sousa's grave at Sousa's funeral.  No small feat when you consider the talent available for the task at hand.
Washington Grays by Claudio Grafulla (pictured at left), was written in 1861 for the 8th Regiment, New York State Militia and has been called a march masterpiece, a band classic, and the prototype of the concert march.  Showing the stylistic influence of both German and Italian marches, the march has a marvelous balance of technique and melody in a continuous flow of musical ideas. It dared to break the old formulas; however, because it has no introduction, no break strain, and no stinger.

Grafulla was born in 1810 on Minorca, a Spanish island off the coast of Spain.  He immigrated to the United States at the age of 28 to become a member of the Lothiers Brass Band in New York City, which was attached to the 7th Regiment of the New York National Guard. His major contribution to the literature was composing and arranging the "Port Royal Band Books" for the 3rd New Hampshire Regiment Band when it was formed for service during the Civil War.  He was one of the first band directors to add woodwinds to his band in 1860.


Pasquinade was not published until the year after Louis Moreau Gottschalk's death (picture at right). However he performed it all across our nation and in Europe and it was extremely popular. The earliest record of Gottschalk's performing this jaunty and sparkling gavotte is from 1863. However, it is almost certain that there were earlier performances. According to Gottschalk's biographer, S. Frederick Starr, Pasquinade "has often been credited with being a forward-looking anticipation of ragtime and jazz." Around 1899, author W. O. Eschwege wrote an article in which he credited Gottschalk with initiating the ragtime genre. The following is from that article:

"Rag time" sympathized singularly with [Gottschalk's] idiosyncrasies as a composer, as is indicated clearly in every bar of his Pasquinade, a composition deemed by leading pianists of the present day worthy to be included in programs of a high order. The measures [are] fairly dense with wild, constant changes of rhythm which constitute the foundation of what we are pleased to call "rag time", probably a contraction of "ragged time."

Scott Joplin's Maple Leaf Rag was published in 1899 and is often credited with starting the ragtime craze. However, it is clear now to music historians, as it was to some scholars then, that Gottschalk, and particularly his Pasquinade which preceded Joplin's Maple Leaf Rag by at least thirty-six years, should be given much more credit.

Tippecanoe Quickstep was composed by Henry Schmidt and dedicated to Whig presidential candidate William Henry Harrison.
  

Die Fledermaus: Chacun a son Gout is sung in the second act of Strauss' operetta "Die Fledermaus."  The Russian Prince Orlofsky is giving a magnificent ball, but he appears to be the only one not enjoying himself -- everything and everyone bores him. He tells the crowd that at his parties there is only one rule -- that each does according to his own taste -- "Chacun à son goût."  Die Fledermaus (The Bat) is Johann Strauss II's (pictured at left) opera of 1874.

My Country Tis of Thee. Samuel Francis Smith (pictured at right) wrote the lyrics to "My Country, 'Tis of Thee" in 1831, while a student at the Andover Theological Seminary in Andover, Massachusetts. His friend, Lowell Mason had asked him to translate the lyrics in some German school songbooks or to write new lyrics. A melody in Muzio Clementi's Symphony No. 3 caught his attention. Rather than translating the lyrics from German, Smith wrote his own American patriotic hymn to the melody completing the lyrics in thirty minutes. He had never heard Clementi's symphony before and had no idea of its derivation or associations with the British national anthem, "God Save the King." Smith gave Mason the lyrics he had written and the song was first performed in public on July 4, 1831, at a children's Independence Day celebration at Park Street Church in Boston. First publication of 'America" was in 1832.
---
Medina Community Band
Celebrating its' 150th Summer Season - Summer 2009
(updated as of May 30, 2009)
Medina Community Band will open their Sesquicentennial season on Friday, June 5th at 8:30 p.m., on Medina Courthouse Square Gazebo featuring music from their beginning seasons (1859 through 1875).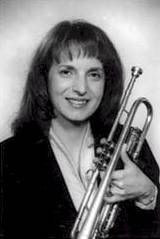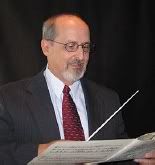 Marcia Nelson-Kline (cornet soloist) will appear as featured guest cornet soloist on the evening's concert. She will perform Charles "Del" Staigers Carnival of Venice. She began her trumpet studies with parents, Milton and Sarah Nelson and Lloyd Haines. She continues her studies with Harry Herforth while earning an associate degree in medical assisting at The University of Akron.  Marcia has performed with Cleveland Women's Orchestra, Goodyear Band, and Mill Street Brass Quintet.  She currently performs with The Brass Band of the Western Reserve, Sounds of Sousa Band, and is in her 25th year as a member of Medina Community Band.  Marcia is an ophthalmic technician and resides in Copley with husband, John.
William Park, (guest conductor), founded the North Royalton Community Band 11 years ago. He is a retired elementary and secondary instrumental music teacher with 35-years of teaching in Ohio and Michigan. His band and ensemble music is published by Band Music Press, JPM Publishers and Great Works Publishing and is performed throughout the US and appears on several state contest lists. Additional works are published by his company, Dynamic Music. He currently is deeply involved in research and presentation of public domain music for the use by wind band directors.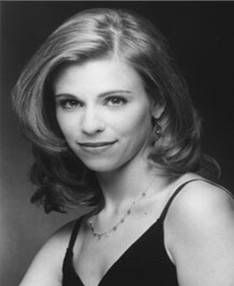 Denise Milner Howell (mezzo-soprano) is equally at home on the opera, musical theatre or concert stage. Her solo engagements include performances with Opera Cleveland, Chautauqua Opera, Akron Lyric Opera Theatre, Tanglewood Festival, Akron Symphony Orchestra, Carousel Dinner Theatre, Sounds of Sousa Band, and Buffalo Philharmonic. Recent roles include Mercedes (Carmen), Hansel (HANSEL AND GRETEL), and Celia (IOLANTHE). She can be heard in a CD release on the North/South recording label singing "Sappho Songs", composed by Ira-Paul Schwarz. Ms. Howell lives in Sharon Township, OH with her husband, Gregg, and their sons, Miles and Wesley. 
George Paidas (guest narrator) came to Medina to accept a position at Medina High School to teach math in the fall of 1968.  During that time, he also coached four sports both at the junior and high school.  While teaching, George was also working to secure a law degree from The University of Akron and in 1979 left teaching and joined Old Phoenix National Bank's Trust Department.  In 1994, George was appointed as president and CEO of Old Phoenix National Bank.  He relinquished his position to Ron Paydo in 2001 and relocated to Akron to manage FirstMerit Bank's Wealth function and eventually to become responsible for the Retail, Commercial, and Wealth segments of the company.  He retired at the end of 2007.  George received his bachelor's degree from Mount Union College (1968), masters degree in math from Western Washington State University in Bellington, Washington (1968), and his jurist doctoral degree from The University of Akron (1979).  He is also certified life and executive coach through the Hudson Institute of Santa Barbara (2004).  In his retirement, George continues coaching, consulting, and teaching and has co-created and co-facilitated a leadership institute for bankers in Columbus (OH).  His community involvement included serving as president or chair of: the Medina Kiwanis Club, the Medina Area Chamber of Commerce, the Medina County Economic Development Corporation, Leadership Medina County, the Ohio Bankers Association, and the task force to create and build the Medina County University Center. 
Program – Friday, June 5th, 2009
1859 through 1875
(Selections either published or performed by Medina Community Band on the listed year)
Words of Welcome:
Cindy Fuller, president of city council, City of Medina
Sharon Ray, commissioner, County of Medina
Tom Borror, president, Medina Community Band Association
George Paidas, guest narrator
Anthem, Hail Columbia (1789) .......................... arr. Friederich/Neiman
Tune, Yankee Doodle (1758) ............................. arr. Friederich/Neiman
Quickstep, Farewell, My Lilly Dear (ca. 1850) .... arr. Friederich/Neiman
Patriotic, Star Spangled Banner (ca. 1850) ........ arr. Friederich/Neiman
Recreation of the Medina Silver Cornet Band

Characteristic, Fan Tan (1800) ......................Bert B. Anthony/M.I. Brazil
Overture, Light Cavalry (1866) ...............Franz von Suppé/Henry Fillmore

Quickstep, Wood Up (1835) .......John Holloway/Richard Franko Goldman
Bill Park, Guest conductor

Cornet Solo, Carnival of Venice (1928) ............................... Del Staiger
Marcia Nelson-Kline, soloist

March, Washington Grays (1861) ........Claudio S. Graffula/G.H. Roberts

Dance, Pasquinade (1863) ..........Louis Moreau Gottschalk/Erik Leidzen

Quickstep, Tippecanoe (1840)....................................... Schmidt/Elkus

Die Fledermaus: Chacun a son gout (1874) Johann Strauss/Percy Hall
Denise Milner Howell, Mezzo-soprano soloist

Polka, Schüler (1860) ................................................ Offenbach/Reed

Patriotic, My Country Tis of Thee (1831) ............................................... Mason
Dedicated to the memory of Susan L. Hambley
* It should be noted that information provided by a published Medina Community Band history by band member (and band historian) David Van Doren was instrumental in descriptions of Band activities given in this and all concert publications in this sesquicentennial celebration series.