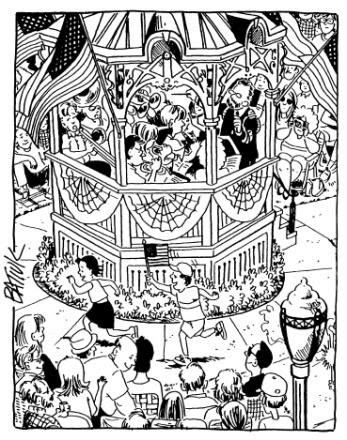 This material covers the 2nd concert – Friday, June 8th, 2012, 8:30p – 9:30p

Site: Medina's Uptown Park Square (intersections of Rts 18, 42, Broadway and Liberty Street)

Cancellation of concerts due to the weather will be posted on the website! 
MEDINA:  Medina Community Band will continue the 2012 summer season, a celebration of 153 years of presenting community concerts in Medina, on Friday, June 8th, 2012, at 8:30p, in Medina's Uptown Park Square Gazebo.  
Featured soloists and conductor on this hour-long concert will be: Maria Jacobs, soprano; Sue McLaughlin and Amy Thach-McArtor, piccolo duet; and the Lichtenberg Family Dixieland Band; as well as associate conductor Curtis Amrein. 
The Medina Community Band is under the baton of conductor Marcus Neiman, starting his 39th summer concert series, and associate conductor Curtis Amrein beginning his second summer season.  The 60 minute concert will feature works by Holst, Mendelssohn, Spears, Arlen, Coleman, Saint-Saens, Fillmore, and Sousa.  Medina Community Band is sponsored by the Medina Community Band Association, a standing committee of the Medina Breakfast Kiwanis Club.
Featured Soloists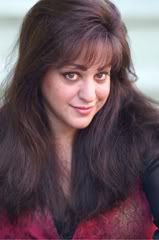 Maria Jacobs
, soprano voice, Maria Jacobs (soprano) was form in Cleveland (OH).  She is a former traffic reporter and disc jockey, who lived in Los Angeles (CA) for 11 years and sang The Langham Huntington (formerly the Ritz Carlton), The Four Seasons (Westlake, OH), Chava (Beverly Hills), and The Torrance Civic Center. She has released three albums:
No Frills, Free as a Dove
, and
Chasing Dreams.
Maria opened for jazz trumpeter Chuck Mangione at The Coach House (Columbus, OH), was featured with the opening act for Bob Doroguh.
While back in the Midwest, Maria performed at the Elmhurst Jazz Festival with The Kent State Jazz Band, and won the attention of judges Mike Abene, Dennis Mackrel and Byron Stripling. She was then invited by Byron Stripling to perform with him and the Columbus Jazz Orchestra.
Maria began singing in the Melkite Catholic Church at a very early age, and soon began sharing the bandstand with her father Mike Jacobs, a drummer in the Cleveland area. Maria has always wanted to sing and began so by doing her rendition of favorite standards, a few of which are heard on her first album entitled "No Frills," available on iTunes.

In the fourth grade Maria began fifteen years of classical flute study and some piano, gaining a new appreciation for European melody and harmony through much practice and listening. All of these rich, early experiences lead to superior ratings in flute competitions throughout high school, a music scholarship at The Ohio State University
and singing jobs in area night clubs.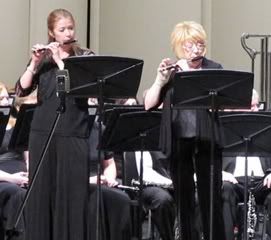 Amy Thach-McArtor
(piccolo soloist, pictured at right, on left) originally from Lyme, Connecticut, moved to Ohio to study music education at Oberlin Conservatory in 1991.  She graduated in 1995 and taught strings for two years at Willard City Schools.  She then taught instrumental music at Buckeye High School, in Medina (OH) and in the fall of 1999, became the elementary band teacher for Buckeye Local Schools.  In the fall of 2001, she began teaching elementary instrumental music at Central Intermediate School in Wadsworth.  Amy also plays flute/piccolo and piano and teaches private lessons, in addition to being a member of Medina Community Band and Sounds of Sousa Band.
Sue McLaughlin (piccolo soloist, pictured at right, on right) has been a member of the Medina Community Band since 1994 and is a former student of Deidre McGuire.  While in school, she was a member of the band, orchestra and jazz band, playing clarinet and saxophone.  In addition to playing flute and piccolo in the Medina Community Band, Sue has also performed with Marcus Neiman & The Sounds of Sousa Band, Symphony West Orchestra, and several area churches.  She is a systems analyst at Southwest General Health Center in Middleburg Heights.  Sue lives in Medina with her two cats, Truffles and Kokopelli.
The Lichtenberg Family Band
(left to right: Kyle Snyder, tuba; Rob Lichtenberg,  trombone; Christopher Burdick, trumpet;
Beth Burdick, tenor saxophone; and Ed Lichtenberg, clarinet)

Conductors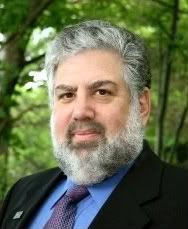 Marcus Neiman
(left) celebrates his 40th season as conductor of the Medina Community Band and 39th summer season.  Neiman is a part-time assistant professor of music education at Kent State University where he teaches the "Music Education as a Profession" course and supervises music education student teachers.  He was interim director of the Kent Concert Band during the 2010-2011 academic year, and also taught the "Instrumental Methods for Choral and General Music Majors."
He received his bachelor of science in music education degree from The University of Akron; master of music in music education degree from The University of Michigan; and, post-degree doctorial work at The Kent State University.
He is a member of the 1993-94 class of Leadership Medina County.  Neiman remains active with Ohio Music Education Association (OMEA), having served as state president of that organization from 1998-2000, and currently serves as a woodwind adjudicator and state historian.  He is the recipient OMEAs highest honor, the "Distinguished Service Award," presented to him on January 29th, 2010.  Neiman is the artistic director and founding conductor of the professional concert band – The Sounds of Sousa Band and appears throughout the nation as a guest clinician and conductor.
Marcus and his wife Mary Ann, who is a professional clarinetist and program administrator - preparatory and continuing education department for the Cleveland Institute of Music, reside in Medina with their two cats Sasha and Dmitri. Marcus has two daughters (Nancy and Jennifer) from a previous marriage, three granddaughters, one grandson, and a godson.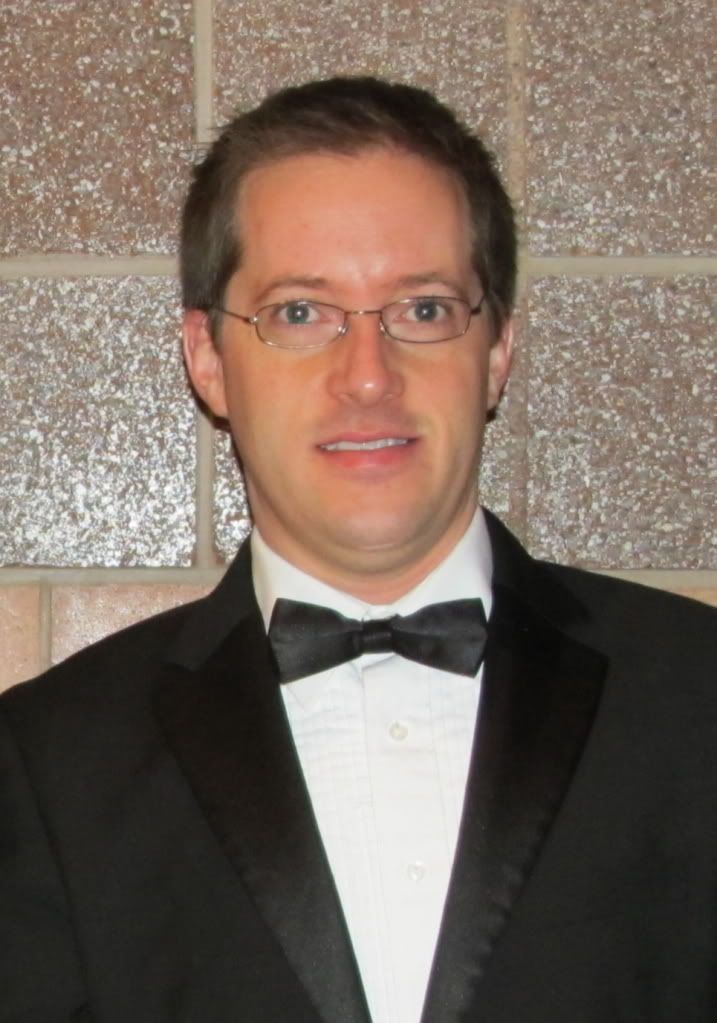 Curtis Amrein (associate conductor, at right) is a band director at Barberton Middle School in Barberton, OH. His responsibilities include teaching sixth-ninth grade bands in addition to fifth and eighth grade general music. Under his direction, students in Barberton have received superior ratings at Ohio Music Education Association large group and solo and ensemble adjudicated events. 
Curtis received his bachelor's degree in music education from The Ohio State University in 2004, where he graduated Magna Cum Laude. While there, Mr. Amrein performed with the Symphonic Band, Wind Symphony, and Symphony Orchestra. He is a trumpet student of Timothy Leasure and was the 2004 recipient of the Richard Burkart Trumpet Award. Curtis' conducting teachers include Dr. Richard Blatti and Marcus Neiman.
Mr. Amrein serves as both an associate conductor and trumpet player with the Medina Community Band. He also performs with the Sounds of Sousa Band, under the direction of Marcus Neiman. Curtis is an active member of the Ohio Music Educators Association, National Association for Music Education (MENC), and Ohio Education Association. The 2012 season is Curtis' second as associate conductor of Medina Community Band.
.
Program Notes
Star Spangled Banner (John Stafford Smith arranged by John Philip Sousa) uses lyrics from a poem written in 1914 by Francis Scott Key, a then 35-year-old amateur poet after seeing the bombardment of Fort McHenry at Baltimore, Maryland, by Royal Navy ships in Chesapeake Bay during the War of 1812.
The poem was set to the tune of a popular British drinking song, written by John Stafford Smith for the Anacreontic Society, a London social club.  Set to Key's poem and renamed "The Star-Spangled Banner," it would soon become a well-known American patriotic song.  It was recognized for official use by the United States Navy in 1889 and the President in 1916, and was made the national anthem by a congressional resolution on March 3, 1931 (46 Stat. 1508, codified at 36 U.S.C. § 301), which was signed by President Herbert Hoover.
Before 1931, other songs served as the hymns of American officialdom. Most prominent among them was "Hail, Columbia" which served as the de facto national anthem from Washington's time and through the 18th and 19th centuries.  Following the War of 1812 and subsequent American wars, other songs would emerge to complete for popularity at public events, among them "The Star Spangled Banner."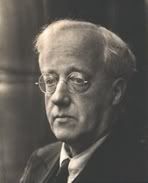 Gustav Holst
(pictured at left). 
Suite No 2 in F, Op. 28, No 2
–
March – Song without words: I'll love my love – Song of the Blacksmith – Fantastia on the Daragason.
It was 1911 when Holst decided to write another military band suite based on English folk songs. In fact, in this piece, he uses seven Hampshire songs, ranging from "Greensleeves" to "I'll Love My Love."
He starts the Suite No.2 in F off with a march, where the baritone melody is the folk song, "Swansea Town." In the second movement, the main song is "I'll Love My Love." The third movement actually gives us a glimpse of a later Holst, with the use of open fourths and fifths as a sparse accompaniment to "The Song of the Blacksmith." But it is in the last movement where Holst shows how easy it had become for him to combine melodies seamlessly. He uses a catchy six eight tune that is woven throughout all the instruments, including a duet between the piccolo and tuba, and combines it with the familiar "Greensleeves." It is this wistful ending that is just right for the suite. In fact, he liked it so much that he used the finale as the conclusion to his St. Paul's Suite for strings.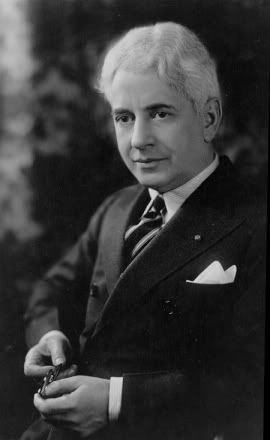 Edwin Franko Goldman
(pictured at right) was a prolific composer and wrote a total of 150 works many in collaboration with Eric Leidzen and Mayhew Lake. His efforts to raise the concert and military band to new heights certainly impacted on Succeeding generations of music in America and had a universal effect on bands everywhere. His inspiration and legacy was felt in every aspect of the wind band field of endeavor. In 1945 he conducted various concerts for American service personnel in the Philippines Islands and Japan and wrote an official report on American service bands. His advice went a long way to change the profile of American military bands.
Goldman was known by more New Yorkers than any other living person of the time. His flowing white wavy hair, his ready smile and brisk cheerful appearance made him loved by one and all. He received more awards than seemed possible. He was a founder of the American Bandmasters Association and the recipient of over two dozen honorary degrees. He was a productive author and writer contributing an enormous wealth of material to schools and universities throughout America. In 1932 he received John Philip Sousa's favorite baton which was presented by his widow.
Goldman passed away in 1956 at age 78 and his death marked the end of an era, John Philip Sousa had glorified the band, Goldman raised its station, giving it new stature in the world of symphonic music. He contributed a great deal to the public's understanding and love of band music. 
His Kindergarten march contains a number of child-friendly songs including: There's Music in the Air; Hansel and Gretel; Go In and Out the Window; Little Bo Peep; Au Claire de la Lune; and, The Jolly Farmer. The march was dedicated to Goldman's grandson, Michael Walter Fried and published in 1945, which is probably why many of the songs included in the piece are no longer "child-friendly" to today's young listeners.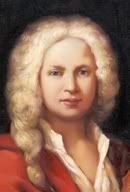 Antonio Lucio Vivaldi
wrote many concertos for solo instruments and orchestra.  Nicknamed
Il Prete Rosso – "The Red Priest"
because of his red hair, Vivaldi was one of the best-known Italian Baroque composers and virtuoso violinists.  His influence, during his lifetime, was widespread over Europe.
The Concerto for Two Piccolos.  Despite the fact that there are only 12 opus numbers, Vivaldi published more than 100 works, in that each opus contains multiple works, usually 12. Opus 10 is a collection of 6 flute concertos published in 1729-30 in Amsterdam - the first flute concertos ever published. In addition to his assigned opus numbers, there are several methods of identifying or cataloguing his music.
John Philip Sousa
(pictured at right)
Transit of Venus. 
It is not known whether or not Sousa witnessed either of the two transits of Venus that occurred in his lifetime, but the phenomenon was the basis for the title of this march and also for one of this three novels.
The march received its premiere at a concert of the U.S. Marine Band on April 19, 1883, with Sousa conducting.  The occasion was the unveiling of a statue of Joseph Henry, first secretary of the Smithsonian Institution, who had died in 1878.  Henry, as president of the National Academy of Sciences, had been responsible for proper observation of the transit of Venus in 1874.
There is nothing in Sousa's or Henry's memoirs suggesting that the two were personally acquainted, but it is possible because they both lived in Washington at the same time.  Inasmuch as several members of the National Academy of Sciences were present at the unveiling of Henry's statue, it is likely that the march was intended as a salute to both Henry and the Academy.  The most recent transit of Venus occurred last week, between June 5th and 6th (2012) with the next being in December of 2117.
Harold Arlen –
pictured at left -
(February 15, 1905 - April 23, 1986) was an American composer of popular music, having written over 500 songs, a number of which have become known the world over. In addition to composing the songs for The Wizard of Oz, including the classic 1938 song, "Over the Rainbow," Arlen is a highly regarded contributor to the Great American Songbook. "Over the Rainbow," in fact, was voted the twentieth century's No. 1 song by the Recording Industry Association of America (RIAA) and the National Endowment for the Arts (NEA).
Over the Rainbow" (often referred to as "Somewhere Over the Rainbow") is a classic Academy Award-winning ballad song with music by Harold Arlen and lyrics by E.Y. Harburg and was sung by actress Judy Garland in her starring role as Dorothy Gale. Over time it would become Garland's signature song.
In the film, part of the song is played by the MGM orchestra over the opening credits. About five minutes into the movie, actress Judy Garland playing the lead character, Dorothy, sings "Over the Rainbow" after unsuccessfully trying to get her aunt and uncle to listen to her relate an unpleasant incident involving her dog, Toto, and the nasty spinster, Miss Gulch (Margaret Hamilton). Dorothy's Aunt Em tells her to "find yourself a place where you won't get into any trouble", prompting Dorothy to walk off by herself. She muses to Toto "Someplace where there isn't any trouble. Do you suppose there is such a place, Toto? There must be. It's not a place you can get to by a boat, or a train. It's far, far away. Behind the moon, beyond the rain.....", and begins singing the song. The famous sequence itself, as well as the entirety of the Kansas scenes, was directed (though unaccredited) by King Vidor.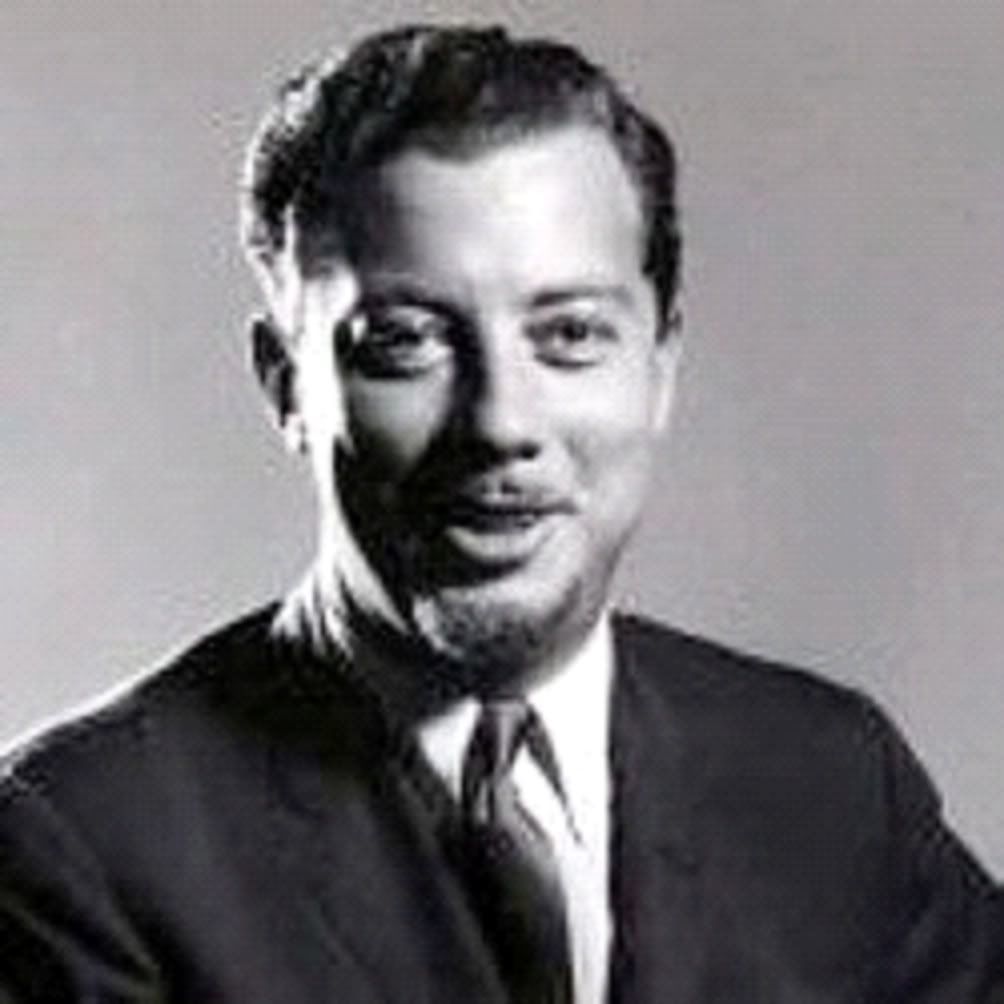 Cy Coleman
(at right) was born Seymour Kaufman on June 14th, 1929, in New York City to Eastern European Jewish parents, and was raised in the Bronx.  His mother, Ida was an apartment landlady and his father was a brickmason.  Coleman was a child prodigy who gave piano recitals at Steinway Hall, Town Hall, and Carnegie Hall between the ages of six and nine years of age.  Despite the early classical and jazz success, he decided to build a career in popular music.  Coleman's career as a Broadway composer began when he and Carolyn Leigh collaborated on Wildcat  (1960), which marked the Broadway debut of comedienne Lucille Ball.
If My Friends Could See Me Now, with music by Cy Coleman and lyrics by Dorothy Fields, was a number from the 1966 Broadway music Sweet Charity. In the musical, the character of Charity, played in the original New York cast by Gwen Verdon, reflects on her charmed life as she spends time with Vittorio.  The 1969 film adaption retains the song, where it was performed by Shirley MacLaine.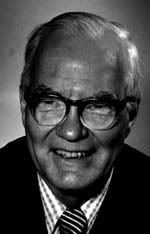 Radio Rag
(Dixieland) by Rod "Red" McLeod. Minnesota born and educated, his career included a rich diversity of activities. Red's 19-year tenure as musical director and arranger for The Golden Strings serves as an invaluable reference in his preparation of editions for student performers. In addition, he has written hundreds of arrangements for radio programs, touring acts, ice shows and more, and was entertainment director for the Minnesota Vikings football team for 25 years.
Featured in this Dixieland selection will be The Lichtenberg Family Band: Ed Lichtenberg, clarinet; Beth Burdick, tenor saxophone; Christopher Burdick, trumpet; Rob Lichtenberg trombone; and Kyle Snyder, tuba.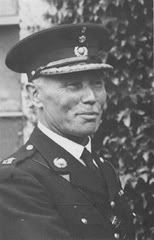 Kenneth Alford
(pictured at right)
– Colonel Bogey
is arguably the most famous march ever written. It is certainly the most profitable.  First published in 1914 - a portentous year for marches if ever there was one - it quickly made the best-seller sheet music lists. By the early Thirties it had sold well over a million copies, had been recorded innumerable times and had already begun clocking up useful performing rights from the BBC. Even better, in 1958 it was chosen as the theme tune for the splendid film
The Bridge on the River Kwai
- and the mind boggles over the financial implications of that.
It is of course a fine march whose opening has proved totally irresistible for the best part of a century. Its composer was Lieutenant F J Ricketts (1881-1945), a military bandmaster who was Director of Music for the Royal Marines at Plymouth. Because at that time Service personnel were not encouraged to have professional lives in the great big world outside, Ricketts published 'Colonel Bogey' and his other compositions under the pseudonym Kenneth Alford.
So much for the composer -- but who in fact was Colonel Bogey? The story goes that this was a nickname by which a certain fiery colonel was known just before the 1914 War when Ricketts was stationed at Fort George near Inverness in Scotland. One of the composer's recreations was playing golf and it was on the local course that he sometimes encountered the eccentric colonel. One of the latter's peculiarities was that instead of shouting 'Fore' to warn of an impending drive, he preferred to whistle a descending minor third. This little musical tag stayed and germinated in the mind of the receptive Ricketts -- and so the opening of a memorable march was born. One wonders if the two men ever met again. If so, let us hope that the composer at least stood the Colonel a generous double at the Nineteenth Hole.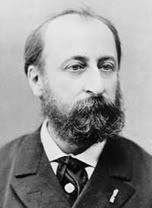 When
Camille Saint-Saëns
(pictured at left) composed this "Grand Zoological Fantasy," early in 1886, he had no intention of offering the work to the public; he simply thought to provide an entertainment for his friends at Carnival time. The public premiere took place on February 26, 1922, a little more than two months after the composer's death, and
The Carnival of the Animals
quickly became one of Saint-Saëns's most popular works.
The original score called for only a dozen instruments: two pianos, a flute, a clarinet, a glockenspiel, a glass harmonica, xylophone, string quartet, and double bass. Nowadays the glass harmonica is replaced by a celesta (an instrument not yet available in 1886), the strings are usually beefed up to orchestral proportions, and some performances include recitation of verses written for the work by one of several poets or humorists. The first such text was provided by Ogden Nash, about sixty years ago.
The bandstration of this orchestra piece has been done by Jay Bocook.  Of the original work's 14 sections, the following are included in Bocook's arrangement:
Introduction And Royal March Of The Lion. Prefatory rumblings in the pianos and strings lead to a fanfare from the former and a majestic march from the latter. The band gives a roar as the march proceeds, and then take it up themselves.

The Elephant. Yet another famous French piece is parodied here: the exquisite Dance of the Sylphs from Berlioz's Damnation of Faust, not only slowed down but assigned to the tuba section for a truly elephantine character.
Fossils. A tune from Saint-Saëns's own Danse macabre, in somewhat altered rhythm, is played on the xylophone; the clarinet burlesques a French folk song and the aria ";Una voce poco fa," from Rossini's Barber of Seville.
Finale. A grand vaudeville conclusion à la Offenbach, with some of the earlier tunes recalled and the long-eared personages ascendant at the end, and the whole polished off with a brisk Rossinian cadence.
Bones Trombone
(characteristic).  The characteristic (or trombone smear) was published in 1922 by The Fillmore Brothers Company (Cincinnati, Ohio).  Fillmore, who was considered the "father of trombone smears," wrote 15 characteristics, over a period of 21 years.  All were ragtime pieces reflecting the minstrel show idiom of vaudeville and all were deeply in the ragtime style.
The series was advertised with a drawing of a minstrel figure playing the trombone followed by this testimonial: "an attroupement uv unprecedented dithyramb premonstrating dejocosenses uv de perambulatin' trombone."
Stars and Stripes Forever
(John Philip Sousa – pictured at left) The march is considered the finest march ever written, and at the same time one of the most patriotic ever conceived.  As reported in the
Philadelphia Public Ledger
(May 15, 1897)
" ... It is stirring enough to rouse the American eagle from his crag, and set him to shriek exultantly while he hurls his arrows at the aurora borealis."
 (referring to the concert the Sousa Band gave the previous day at the Academy of Music).
The march was not quite so well received though and actually got an over average rating for a new Sousa march.  Yet, its popularity grew as Mr. Sousa used it during the Spanish-American War as a concert closer.  Coupled with his Trooping of the Colors , the march quickly gained a vigorous response from audiences and critics alike.  In fact, audiences rose from their chairs when the march was played.  Mr. Sousa added to the entertainment value of the march by having the piccolo(s) line up in front of the band for the final trio, and then added the trumpets and trombones join them on the final repeat of the strain.
The march was performed on almost all of Mr. Sousa's concerts and always drew tears to the eyes of the audience.  The author has noted the same emotional response of audiences to the march today.  The march has been named as the national march of The United States.
There are two commentaries of how the march was inspired.  The first came as the result of an interview on Mr. Sousa's patriotism.  According to Mr. Sousa, the march was written with the inspiration of God.
"I was in Europe and I got a cablegram that my manager was dead.  I was in Italy and I wished to get home as soon as possible, I rushed to Genoa, then to Paris and to England and sailed for America.  On board the steamer as I walked miles up and down the deck, back and forth, a mental band was playing 'Stars and Stripes Forever.'  Day after day as I walked it persisted in crashing into my very soul. I wrote it on Christmas Day, 1896."
The second, and more probable inspiration for the march, came from Mr. Sousa's own homesickness.  He had been away from his homeland for some time on tour, and told an interviewer:
"In a kind of dreamy way, I used to think over old days at Washington when I was leader of the Marine Band ... when we played at all public functions, and I could see the Stars and Stripes flying from the flagstaff in the grounds of the White House just as plainly as if I were back there again."
"Then I began to think of all the countries I had visited, of the foreign people I had met, of the vast differences between America and American people and other countries and other peoples, and that flag our ours became glorified ... and to my imagination it seemed to be the biggest, grandest, flag in the world, and I could not get back under it quick enough."
"It was in this impatient, fretful state of mind that the inspiration to compose 'The Stars and Stripes Forever' came to me."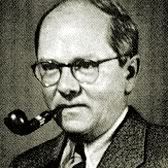 That America's entry into the First World War helped end it and most likely prevented a German victory is fact.  In popular music, 1917 and 1918 were almost exclusively patriotic with one of the most popular being Richard Whiting's
Till We Meet Again.
With music written by Richard A. Whiting (at left) and lyrics by Raymond B. Egan, the song tells of the parting of a soldier and his sweetheart.  As Whiting's sister Margaret tells it, the song was intended for a 1918 contest at a Detroit Theater.  Dissatisfied with the results, Whiting threw the manuscript in the trash.  His secretary retrieved it and showed it to their boss, publisher Jerome Remick, who submitted it in the contest, where it won top honors.
The Medina Community Band 
Marcus Neiman, conductor
Curtis Amrein, associate conductor
Friday Evening, June 8th, 2012
8:30 p.m. 
Program
National Anthem, The Star Spangled Banner (1931)................... Francis Scott Key/John Philip Sousa 
Suite, Second Suite in F, Op.  28, No 2 (1911)............................ Gustav Holst
     March
     Song without words: I'll love my love
     Song of the Blacksmith
     Fantasia on the Daragason 
March, Kindergarten (1945)....................................................... Edwin Franko Goldman 
Piccolo duet, Concerto for Piccolos........................................... Antonio Vivaldi/Charles T. Yeago
Sue McLaughlin & Amy Thach-McArtor, piccolo soloists 
Vocal solos 
   Somewhere Over the Rainbow (from Wizard of Oz) (1938)........ Harold Arlen/Warren Barker 
   If My Friends Could See Me Now (from Sweet Charity) (1966)... Cy Coleman/Warren Barker
Maria Jacobs, soloist 
March, Transit of Venus (1883) ................................................. John Philip Sousa/Loras John Schissel 
Dixieland, Radio Rag (1974)....................................................... Red McLeod
The Lichtenberg Family Band 
March - Whistle, Colonel Bogey (1914)...................................... Kenneth Alford 
Short Suite, Carnival of the Animals (1886)............................... Camille Saint-Saëns/Jay Bocook 
Trombone Characteristic, Bones Trombone (1922) ..................... Henry Fillmore 
National March, The Stars and Stripes Forever (1896)................ John Philip Sousa 
Patriotic, Till We Meet Again (1918)......................................... Richard A. Whiting/William Teague  
Medina Community Band Personnel



Flute/Piccolo




  Anna Ayoub, physician (Akron)

  Elizabeth Burdick, teacher (N Royalton)

  Sue McLaughlin, systems analyst (Medina)

  Amy Thach-McArtor, band director (Wads)

Oboe

  Lisa Klatka, med epidemiologist (Strsvl)

Bassoon

  Lynne Herrle, retired music teacher (Med)

E-flat Clarinet

  Mary Ann Grof-Neiman, music admin (Med)

B-flat Clarinet

  Ben DiFranco. retired (Strongsville)
  Mary Ann Grof-Neiman, music admin (Med)
  Nancy Leahy, retired CSU associate (Litchfld)
  Edward Lichtenberg, retired school adm (Medina)
  Catherine Palcza, private music teacher (Stow)          
  Vicki Smith, band director (Wadsworth)
  Ken Stern, software engineer (Doylestown)

B-flat Bass Clarinet

  Al Clapp, retired materials receiver (Spencer)

 

E-flat Alto Saxophone

  Carly Schafer, trans biller (Cleveland)

  Tommy Walker, retired band director (Medina)

 

E-flat Baritone Saxophone

  David Igoe, perfusionist (Akron)

Horn

  Michael Robinson, music teacher (Brunswick) 
  Chelsea Smith, college student (Seville)
  Alexis Trout, HS student (Medina)

 

Cornet

  Glenn Baughman, retired – chemist (Wads)
  Christopher Burdick, band director (N Royalton)
  Michelle Clayo, medical assistant (Medina)
  Marcus Collins, mechanical engineer (Copley)
  Marcia Nelson-Kline, Ophthalmic tech (Copley)
  Mason Rorapaugh, HS student (Medina)
  Jeremy Ulm, HS student (Medina)

Trumpet

  LuAnn Gresh, music teacher (Wadsworth)

Trombone

  John Connors, college student (Medina)
  Lee Harper, retired postal worker (Medina)
  Robert Kason, retired elec eng (Brunswick)
  Rob Lichtenberg, sales engineer (Copley)

Euphonium

  Matthew Kreglow, college student (Medina)
  Clayton Van Doren, teacher (Lodi)

Tuba

  Robert Jones, retired (Berea)
  Kyle Snyder, insurance spec (Elyria)

Percussion

  Gerald Carasea, retired band director (Clinton)
  Mark Munyon, college student (Medina)

Conductors

  Curtis Amrein, band director (Akron)
  Marcus Neiman, college professor (Medina)

 

Listing as of 6/6/12