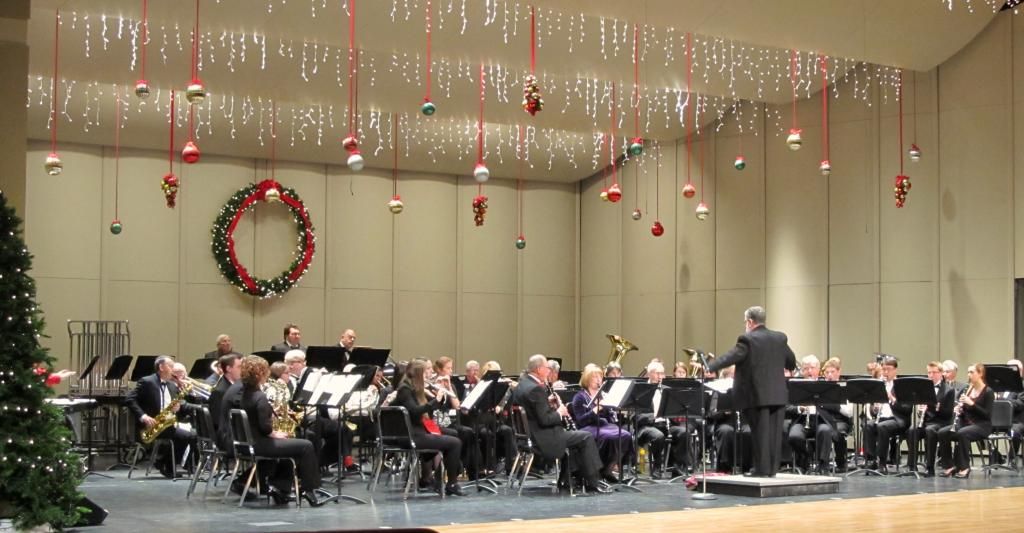 Medina Community Band Presents a 'Winter Concert'
Sunday, December 14
th
Medina High School Main Stage, 2 pm
Medina:  The Medina Community Band, under the baton of Marcus Neiman, will present their annual Winter Concert on Sunday, December 14th, at 2p, at Medina High School Main Stage auditorium, 851 Weymouth Road, Medina. The one-hour concert is free and open to the public.
The concert will feature selections from Johann Strauss II's Die Fledermaus (Overture and vocal solo Chacun à son goût); Rossano Galante's Cry of the Last Unicorn; Steve Bulla's Hanukkah Rhapsody; David Lovrien's Minor Alterations; and, Leroy Anderson's holiday classic Sleigh Ride.
Denise Milner-Howell will be featured mezzo-soprano for the evening.  She will be featured in the Strauss and Rossini's Barber of Seville: Una Voce Poco Fa and Irving Berlin's White Christmas from Holiday Inn.
The concert is free and open to the public with ample free parking in the performing arts center lot!
Medina Community Band is sponsored by the Medina Community Band Association composed of members of Medina Community Band proudly supports the community band.  The board of directors for the association consists of Dr. Thomas Kenat, president; Gail Sigmund, vice-president; Amy Muhl, treasurer; Sue McLaughlin, secretary; Lee Harper, financial secretary; directors Lu Ann Gresh, Alan Parkhurst, Paul Rocco, and, Kyle Snyder.  
Membership is open and there are no dues or auditions; however, members are expected to maintain a regular attendance.  The band rehearses on Wednesday evening from 7p through 9p in the band room of the Highland High School (4150 Ridge Road, Medina) September through the end of July; providing three to four concerts during the fall, winter, and spring months both at home and on the road.  The band also presents their popular summer series every Friday, June through July, in Medina's Uptown Park Gazebo.  Each year the band presents at a holiday season concert, spring concert, and the popular "Sousa Concert" at EHOVE Career Center (Milan, OH).
For additional information on the 2014-15 concert season or Medina Community Band, contact Neiman at 330.725.8198 or MarcusNeiman@medinacommunityband.org
Program
Die Fledermaus Overture

(Strauss/Cailliet)



Die Fledermaus Chacun à son goût

(Strauss/Hall) – Denise Milner Howell, soloist



Barber of Seville Una voce Poco Fa

(Rossini/Barrow) – Denise Milner Howell, soloist



Cry of the Last Unicorn

(Galante)



Hanukkah Rhapsody

(Bulla)



White Christmas

(from

Holiday Inn

) (Berlin/Moss) – Denise Milner Howell, soloist



Minor Alterations

(Lovrien)



Sleigh Ride

(Anderson)







*music selections are subject to change